Our first just-the-two-of-us adventure of the year
This week marked the return of Kevin having to go back to work after 12 amazing days together. I was a little worried that it was going to be a bit of a hard transition for Nixie because she had been loving having him with us everyday and has become so attached to him. She wouldn't even let him out of her sight for a second! But she really surprised me with her maturity, the first morning she woke up and noticed that Kevin was gone, she just said, "daddy's at work, I miss him, I love him," and just gave me the biggest cuddle and that was it! The last three days have been so wonderful, there's been no upsets, bad moods or anything. It completely surprised me!
We've been having such crazy weather these past couple of weeks, so many storms and epic winds and today there was a pause in the rain and the temp went all the way up to 12 degrees so we had to get out of the house for an adventure, our first just-the-two-of-us adventure of the year!
But before this could happen I needed to get her dressed and ready to go and this triggered some worry within me. OK a lot of worry because for the past few weeks this has been a bit challenging, she's been refusing to get her outdoor clothes on. When Kevin was home it wasn't really an issue because she could just walk to the car and once we arrived at the place we were going to she was more than happy to put on her outdoor outfit which consists of her waders underneath her onesie waterproofs but to try to get those on at home has felt like world war 3. So as soon as we woke up this morning I began telling her that we were going have an amazing adventure today and that we were going to ride the train and find the most amazing puddles to play in and that she was going to need to get dressed and wear her outdoor puddle outfit and that she'd have to be in the backpack to start out with. I kept reminding her of this all morning. I gave myself an hour to start getting her dressed. When the time came, to my absolute surprise, she gave me no fuss whatsoever when I suggested it was time to get dressed but when the time came for the outdoor stuff she started to protest, yelling, "no!" and running to hide in the kitchen. I let her be for a little bit and then told her, "but if we don't put this on now we're gonna miss our train and I really want to get some fresh air and be outside". After a few more attempts and a few more no's she came over to me and nonchalantly sat in my lap so we could get her waders on. This was going good! But right before I was about to put her in the backpack she became so sad and started to cry. It took me by surprise, I didn't know what the reason for her sadness was but then through her tears, she cried, "I miss daddy!! I want daddy!!" Since this was the first outing just the two of us in over a couple of weeks, I think it made her think about Kevin and how he wasn't with us. It just broke my heart, I so wish we could have a life where we could just be together as a family always and be on a forever holiday. I felt so sad for her and told her, "I know you do, I do too." And then as quickly as her tears came they were gone and she ran off to get one of her schleich horses who she in that moment named Daddy and was determined he was coming with us. While hugging 'Daddy' she said, "I'm better now." She just melts my heart.
I put her in the backpack and I don't know if I've gotten weaker or if she's gone through another growth spurt because I kind of struggled at first with getting her on my back! It felt twice as heavy than usual but once we got going it felt fine. She has such a deep intense love for the moon and as we were on our way to the station she was in search of it everywhere, I told her that, "she's asleep now but when the sun goes to sleep she'll wake up," and this really upset her because she wanted to see the moon now and half-cried, "I miss her, I love her!!" I just love how deeply she loves the moon! We arrived at the train station with just 10 minutes to spare.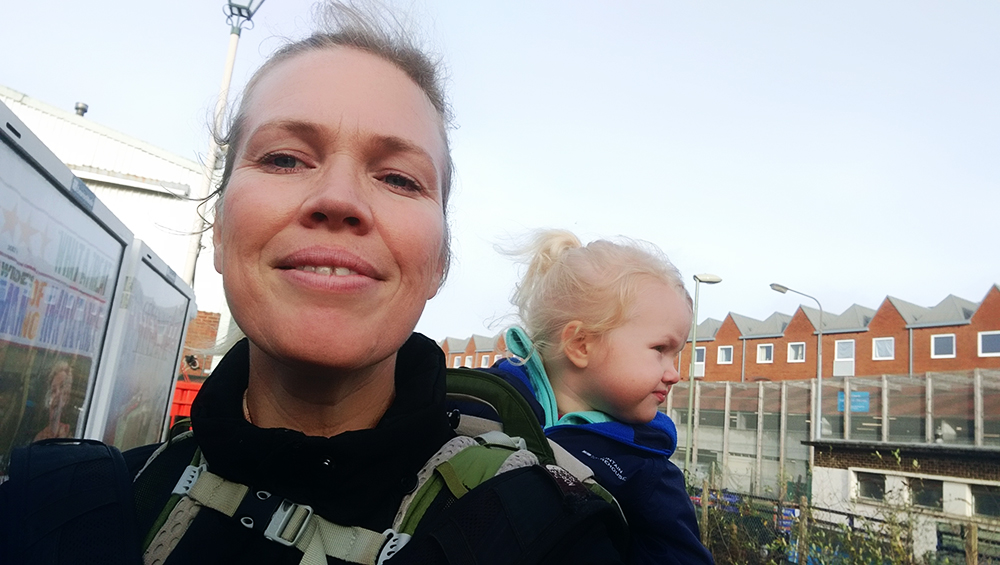 When the train pulled up she got so giddy with excitement jumping up and down in the backpack waving her hands and arms frantically shouting, "My train! My train coming! Yay!!" I had told her I'd take her out of the backpack if she promised to sit nicely on the train and not run around and I can proudly say she sat the nicest she's ever sat on a train. She was clutching her horse, Daddy and holding him so he was facing towards the window so that she could show him all the sheep and all the horses that we passed by, it was the sweetest thing ever. She was even having little conversations with him.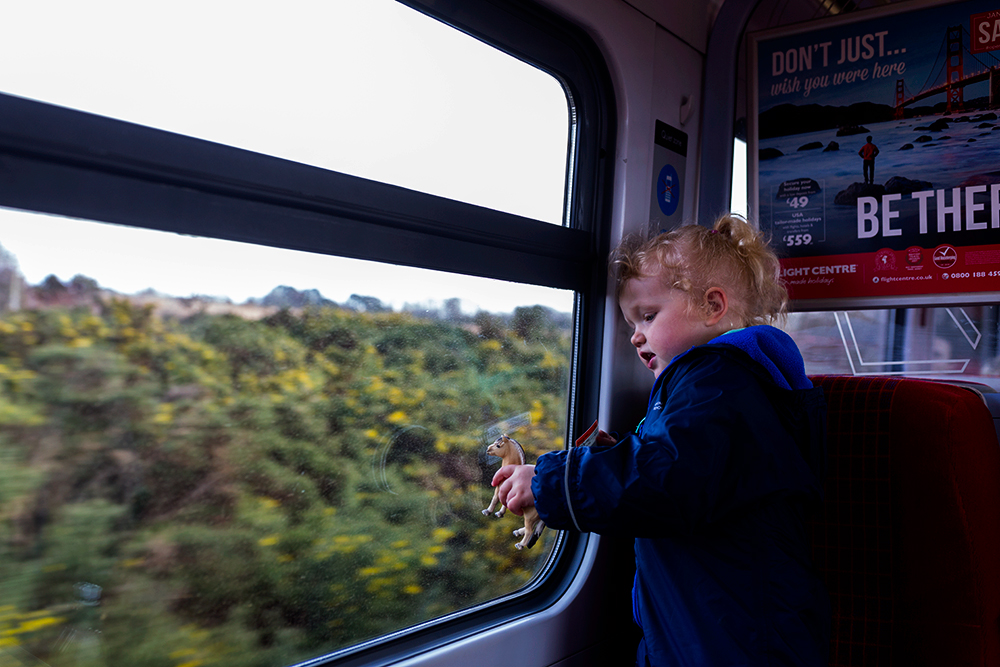 As a special treat we stopped by my favourite bakery in brockenhurst for some lunch to bring with us and then off we went to our destination: Black Knowl.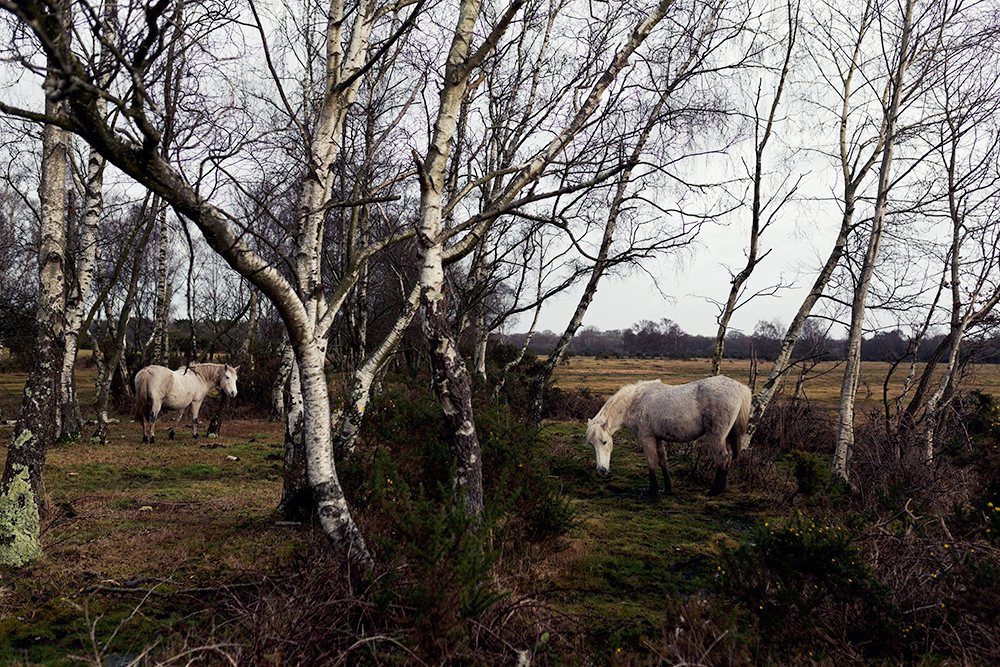 We headed down the main path that cuts diagonally across the heathland which was mostly covered in giant puddles. We were surrounded by so many beautiful horses, and when Nixie first laid her eyes on them she had to make sure Daddy saw them too. I'll never grow tired of this sight, I just love being in the presence of horses. But what I hadn't anticipated was the crazy wind!! Because we were in a very exposed area it felt like we were in the eye of a tornado OK so that's a bit of an exaggeration but it did feel like it could blow us over at times! I had kind of wanted to head to the woods where we'd be more sheltered but Nixie's favourite thing in the whole wide world at the moment when we're outdoors is to play in puddles and this was the perfect place for that even with the crazy wind...I had asked her if she wanted to get out and walk or if I should get us somewhere where there was less wind and to that she responded, "No, not walk! Want to run, together!!" So with that answer out she came and immediately as her little feet touched the earth off she went running in the direction of the path jumping and splashing in the never ending line of puddles. But the path bored her and she decided to head off the path to our right and here the land was wet, soggy and incredibly waterlogged. It had a lot of the same kind of mounds you find at balmers lawn and we spent the next 20 minutes jumping from one to the next as fast as we could.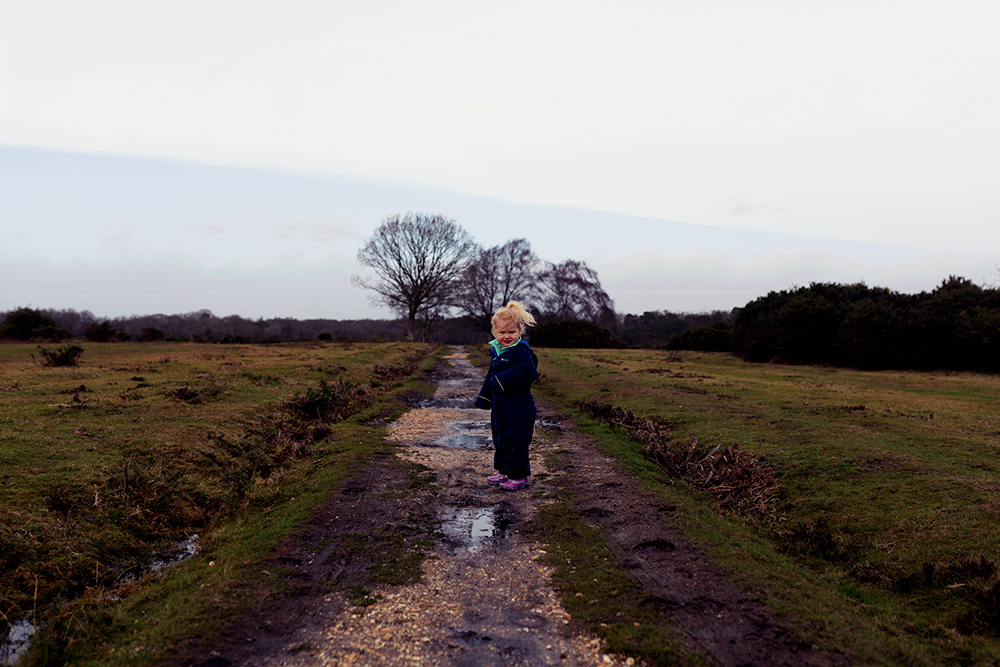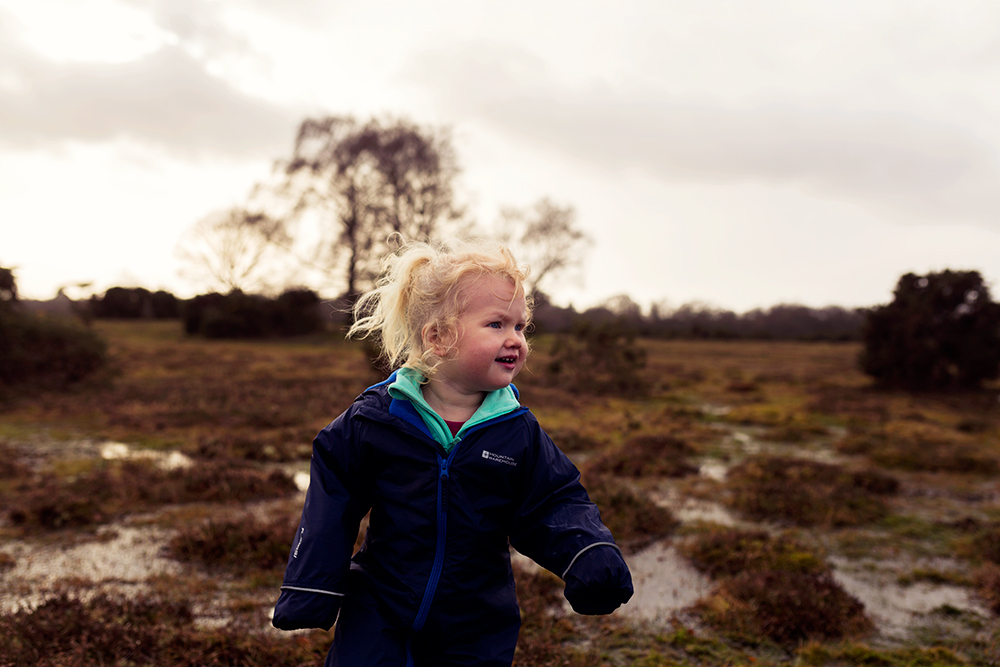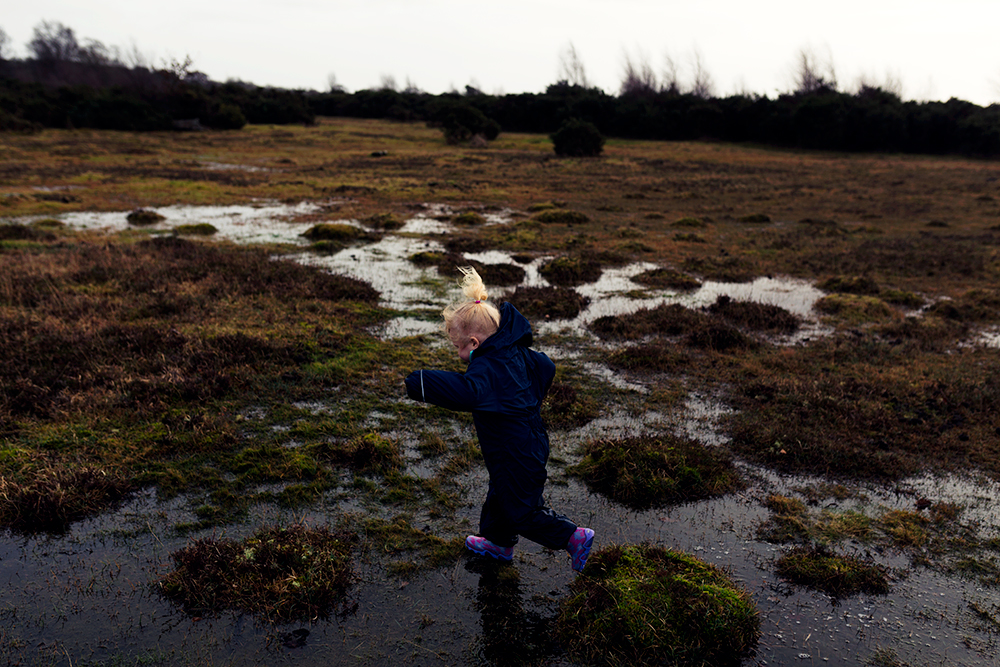 This area has a few streams crossing it which makes it really hard to go anywhere that's not a path because more than likely you'll find yourself stuck and with all the rain and storms we've been having these streams were overflowing in places and some areas were way too deep to cross even with my wellies. Nixie was free as a bird though and none of this seemed to be an obstacle for her; she doesn't mind in the slightest if she gets wet! We did manage to find a place to cross but only because Nixie hopped straight into the water and sat down before I had a chance to stop her! I seriously have never met anyone like her! She's like a fish drawn to water.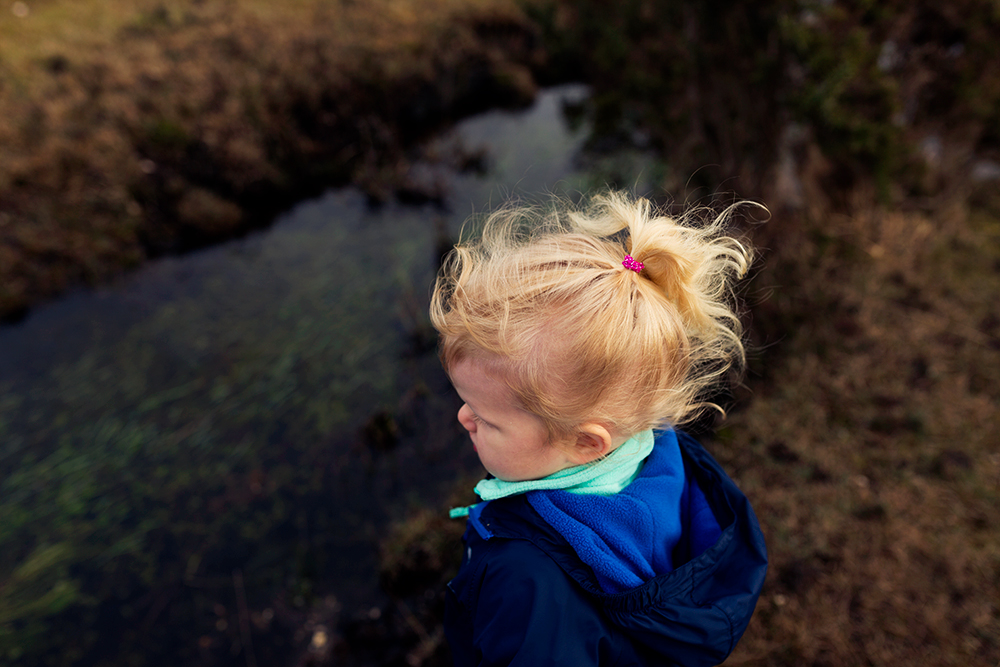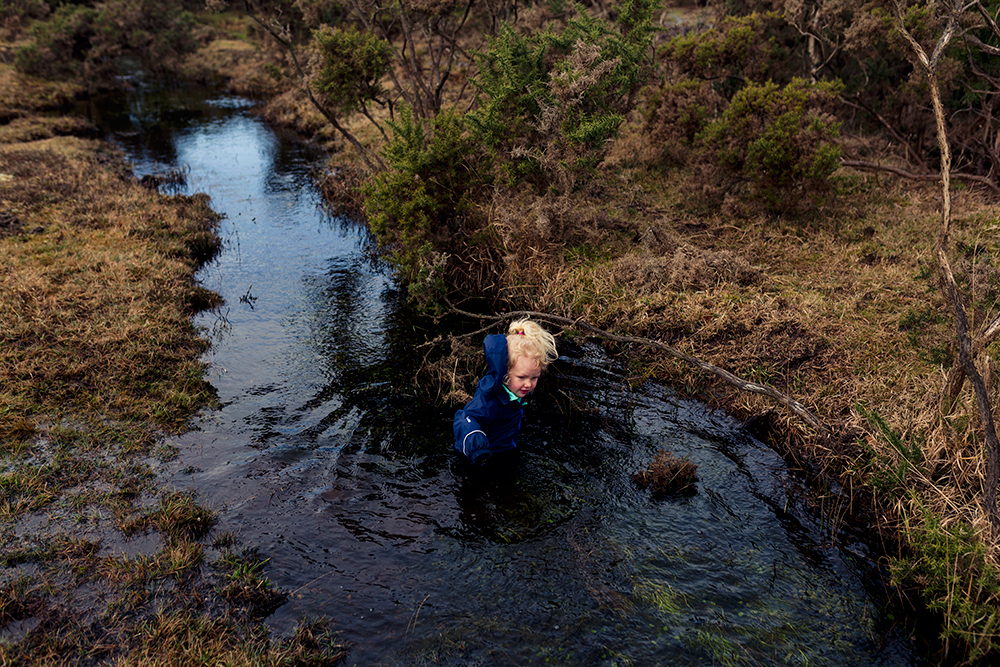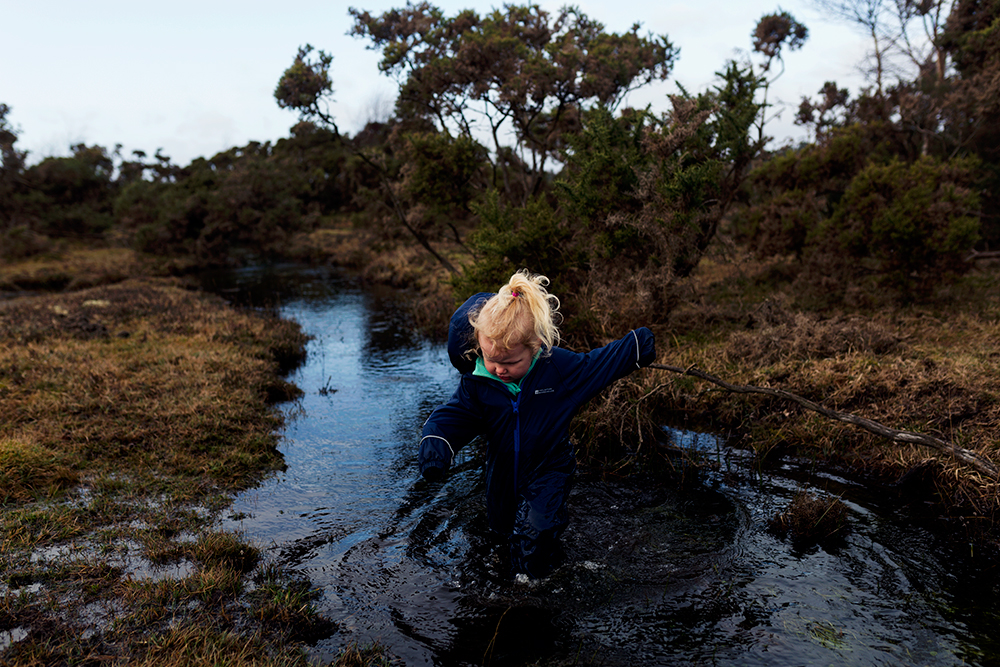 This area seemed even more waterlogged, in some parts the puddles looked more like small to medium sized ponds but this is exactly the kind of environment that Nixie loves. Anywhere there's water of any kind well any kind that she can jump, sit or lay in she will be in her happy place.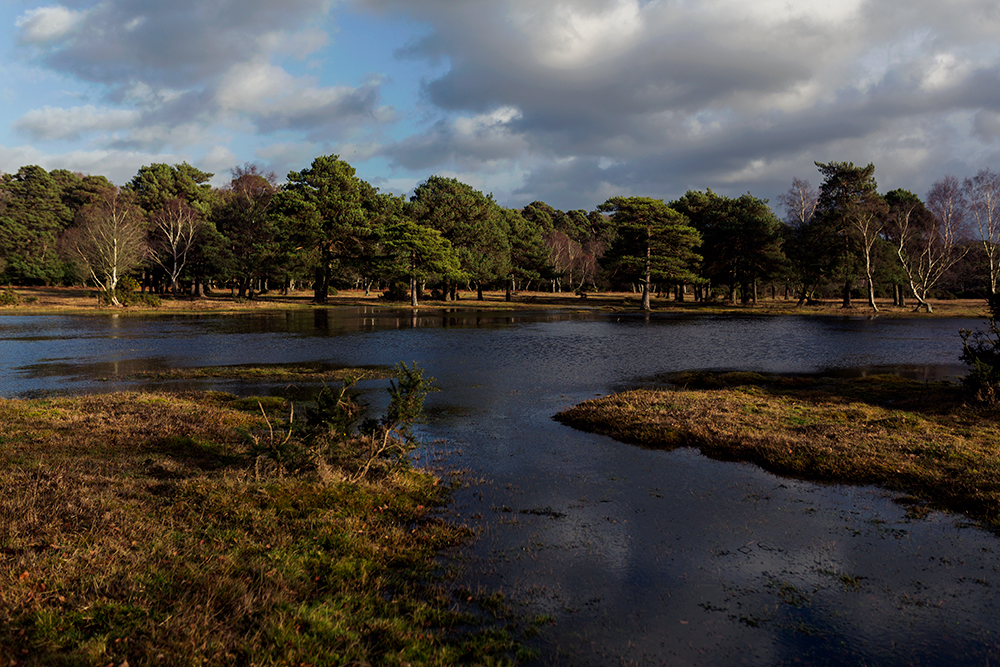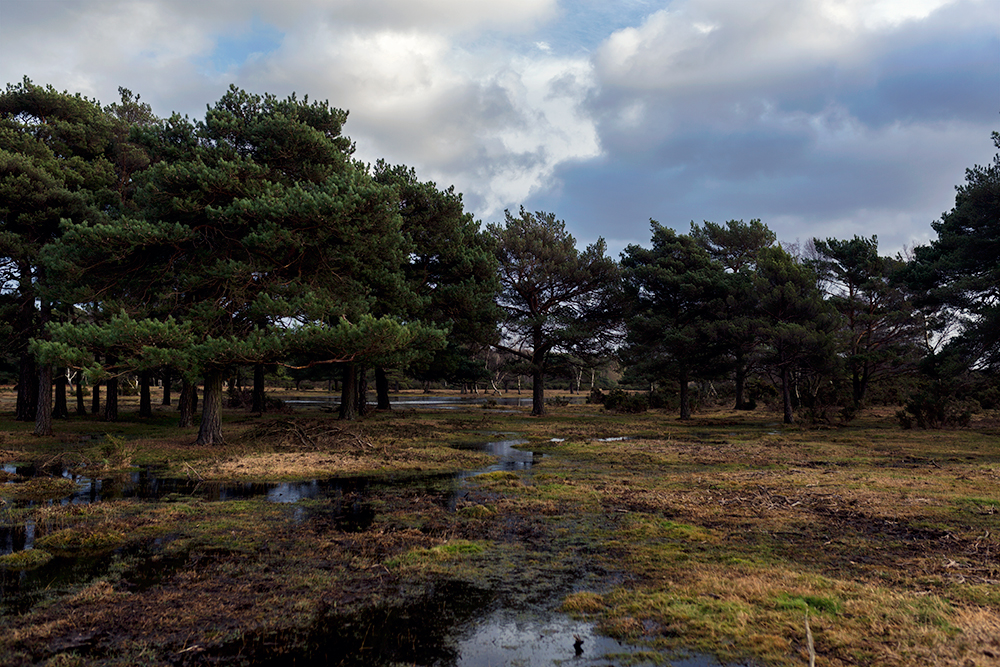 This is the first year where I've truly loved this season, there's just something so magical in the winter air, a certain freshness that I don't feel any other time of the year. I'm even loving the crazy wind, it wakes you up and shakes away all the cobwebs.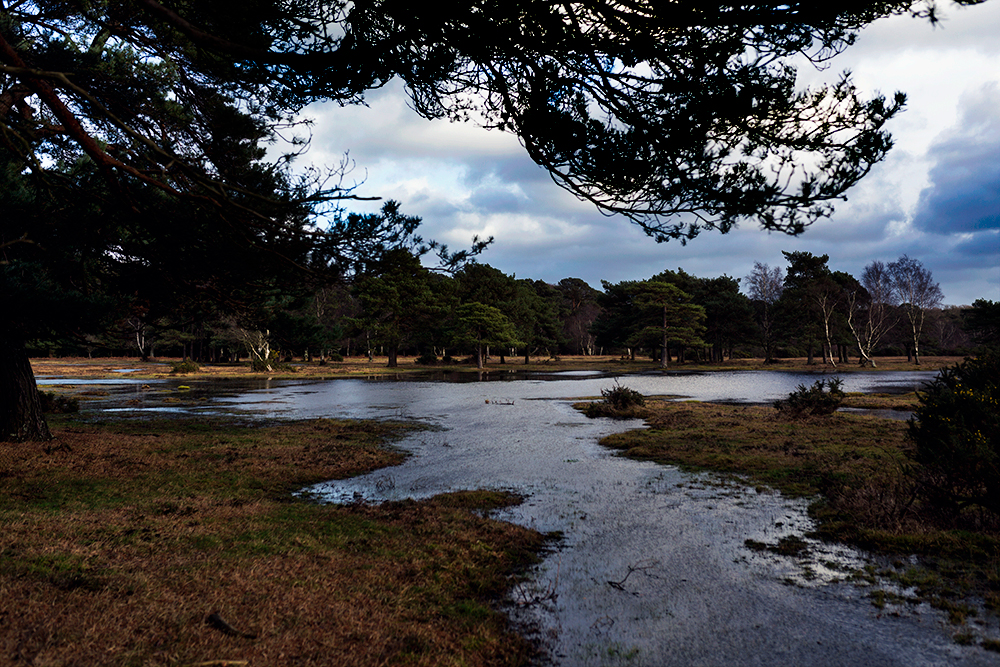 After sludging our way through some of these newly created ponds we came upon another couple of horses who were taking cover from the wind amongst the gorse and as soon as Nixie spotted them she just wanted to be close to them because as she passionately told me, she, "loooooves them". I'm trying to teach her that the horses around here are semi wild horses and not like the horses she meets in the stables and that we need to give these horses space but we still have a ways to go with that one. At one point she was trying to be sneaky, nonchalantly walking in and out of the gorse and finding puddles right next to the horses and then pretending to be surprised that she'd ran into them again. She kept saying, "my horses, I love them, want to ride them!" And I kept having to guide her away from them. At one point she was pretending to gallop and she even stuck her bum out and backed herself into the gorse pretending to be a horse having her bum scratched! At this point in time she's definitely becoming a horsey girl, I wonder if she'll keep this interest as she grows older?!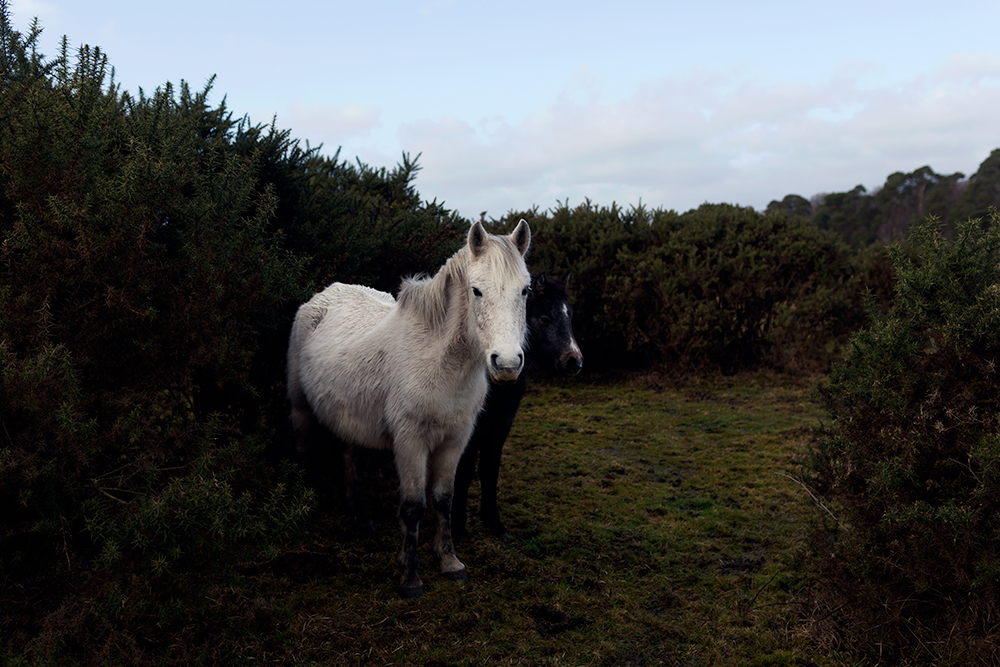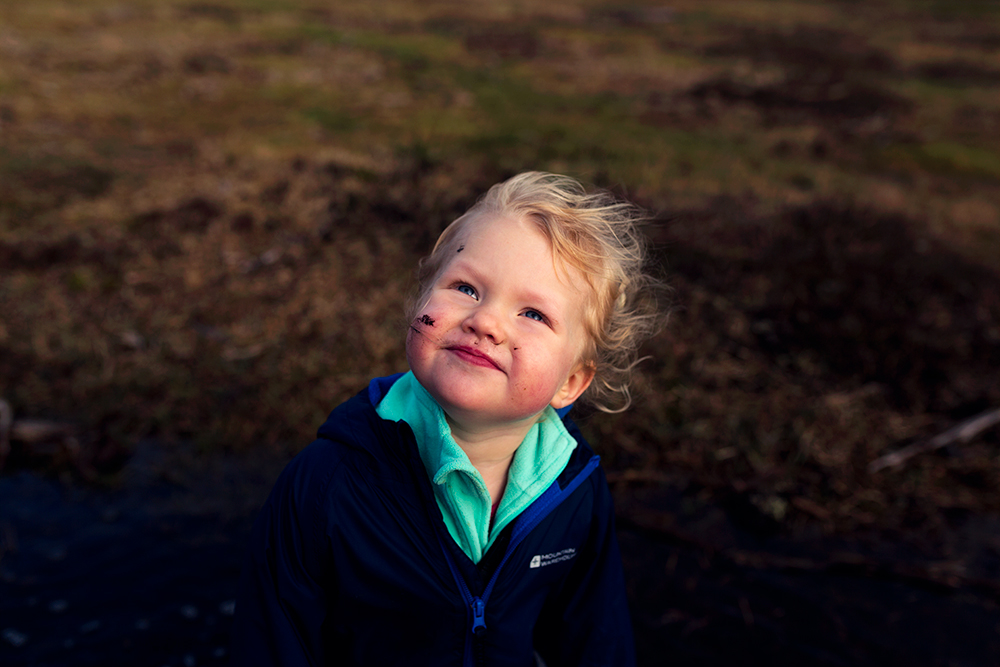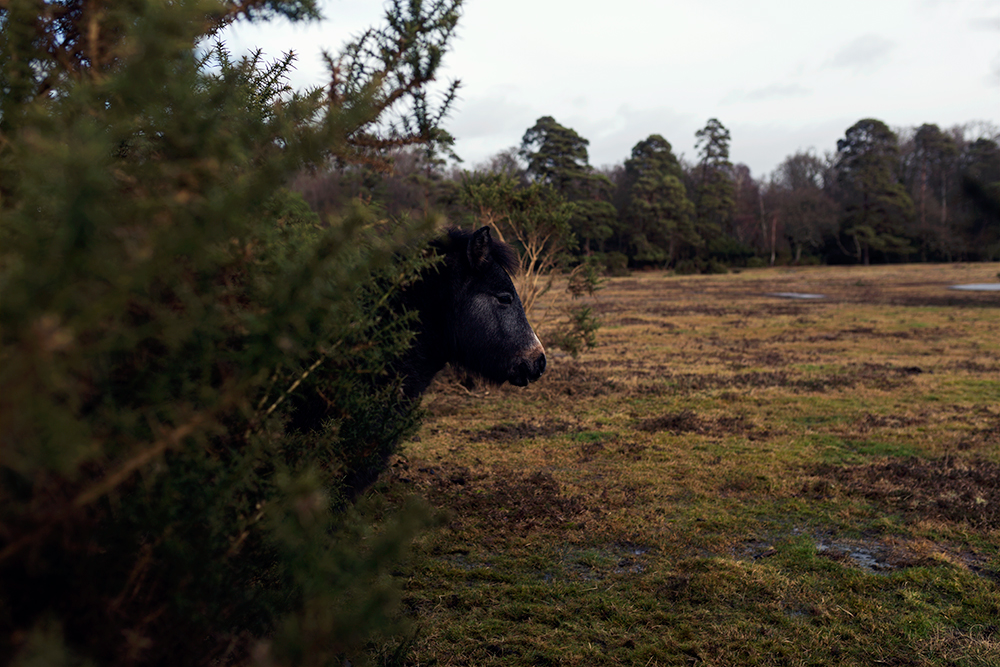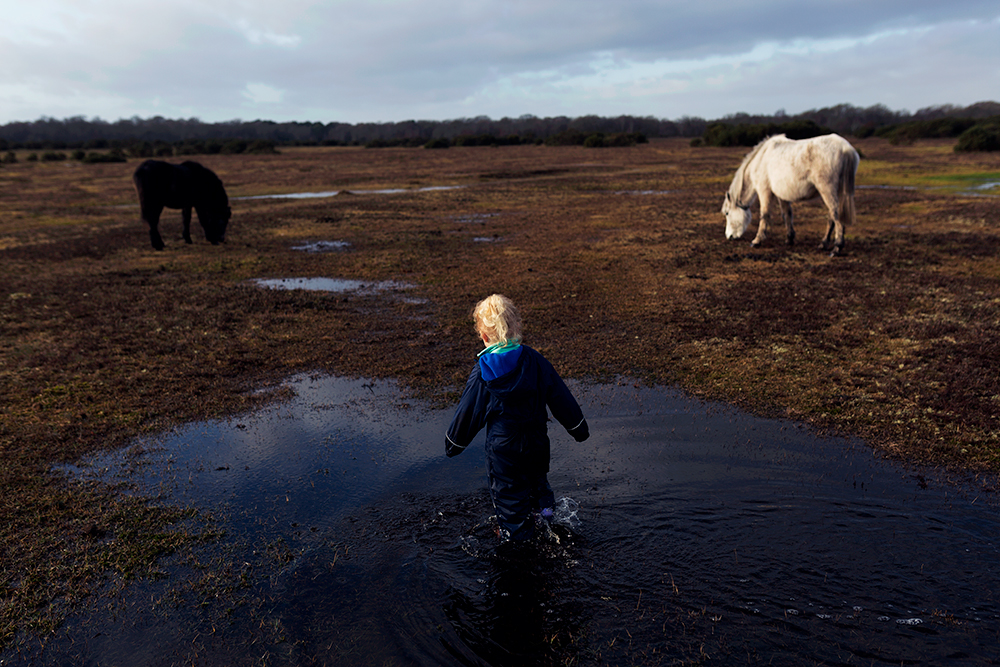 These days I'm no longer fazed by her puddle antics, I remember in the beginning of summer when she first started being really into puddles and how everytime she sat in one I used to think it was the funniest and sweetest thing but now it's just become her normal. But now she'll jump, run, skid, roll, and lay down in them, nothing can stop her, she's such a force of nature! At one point she was on all fours dipping just the top of her head in! She's definitely her own little person and she's definitely the coolest person I've ever met.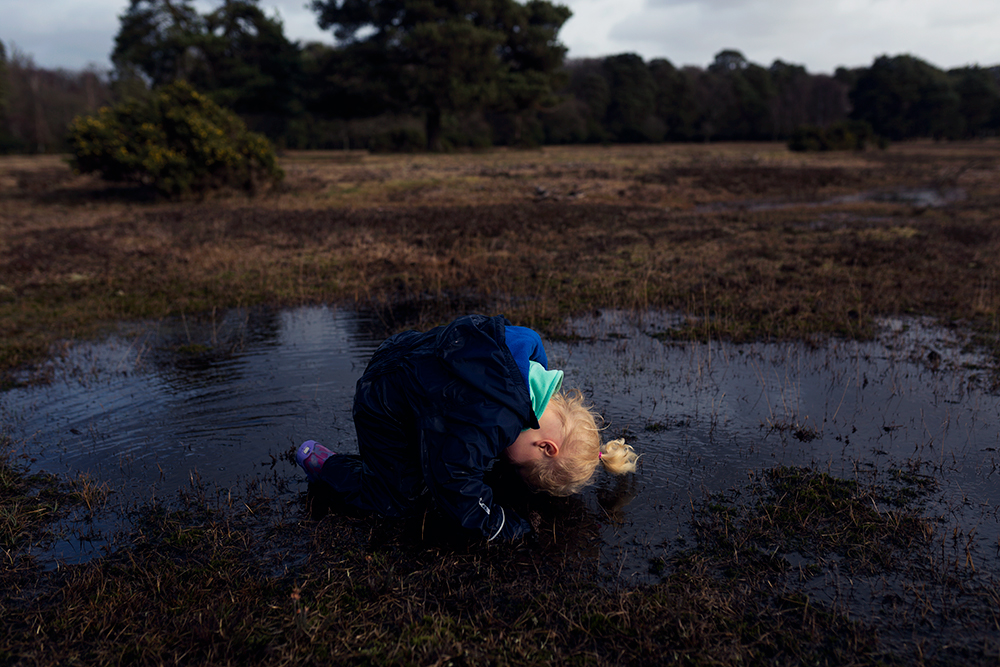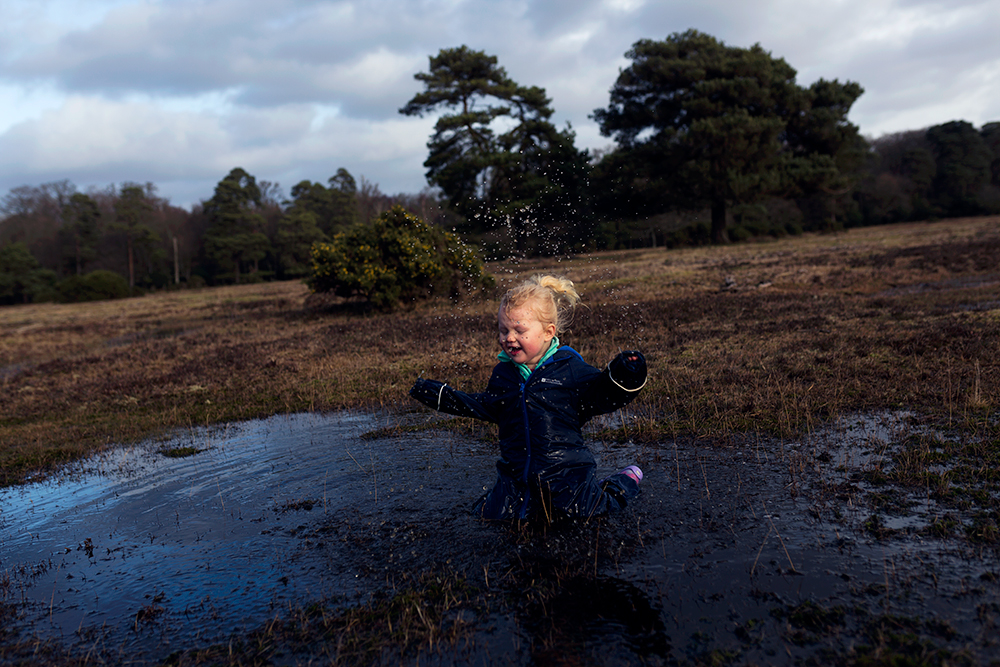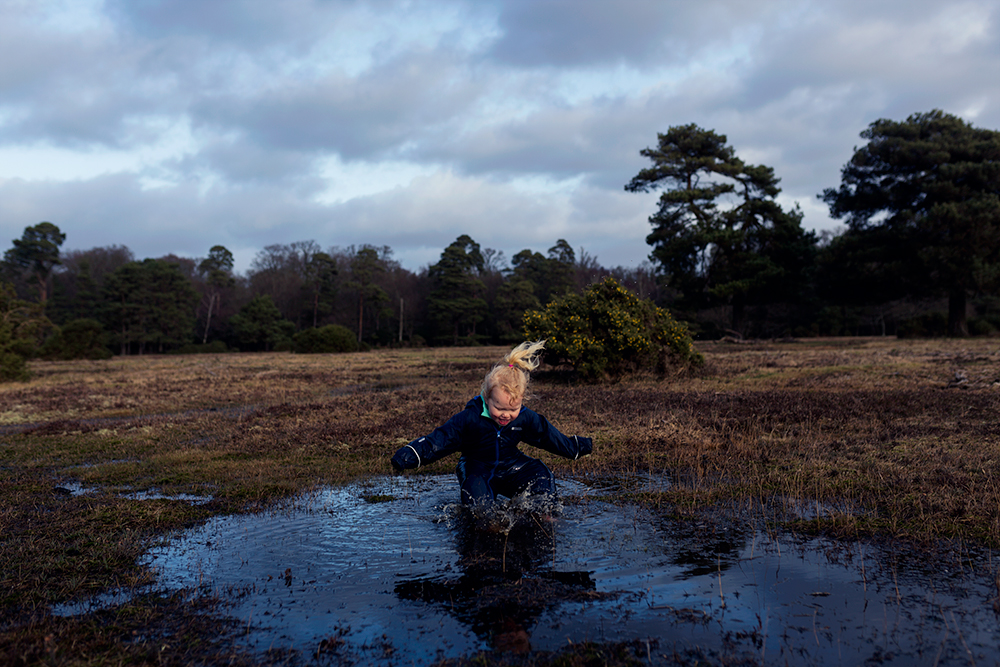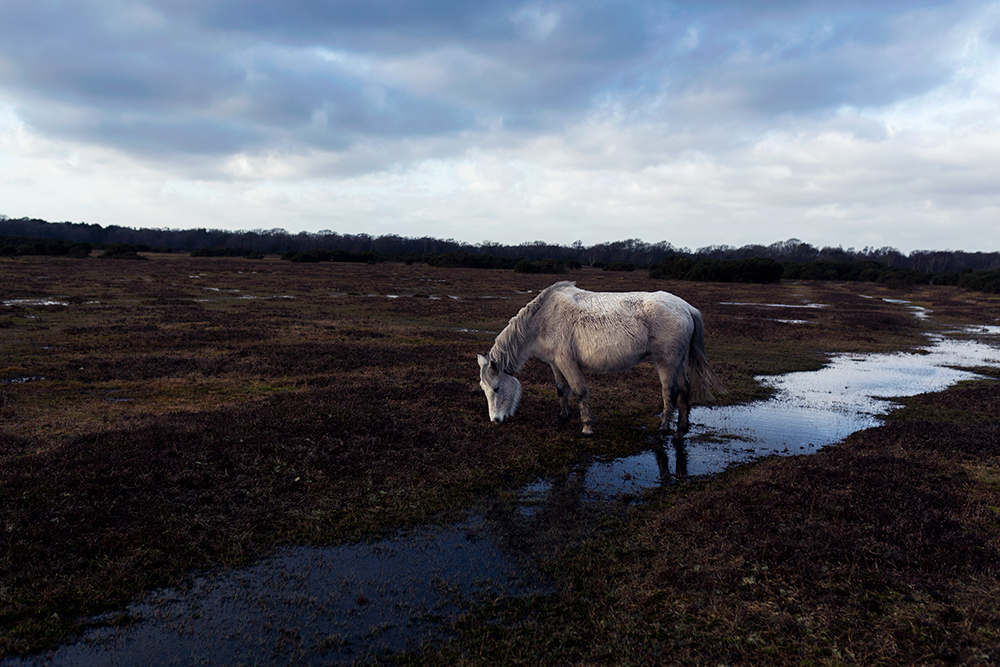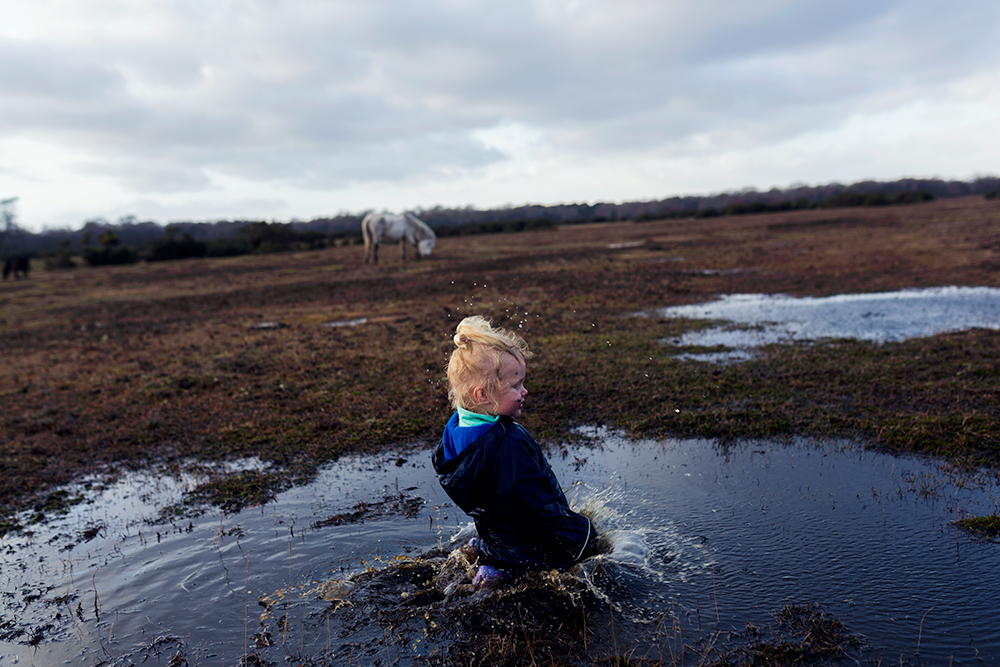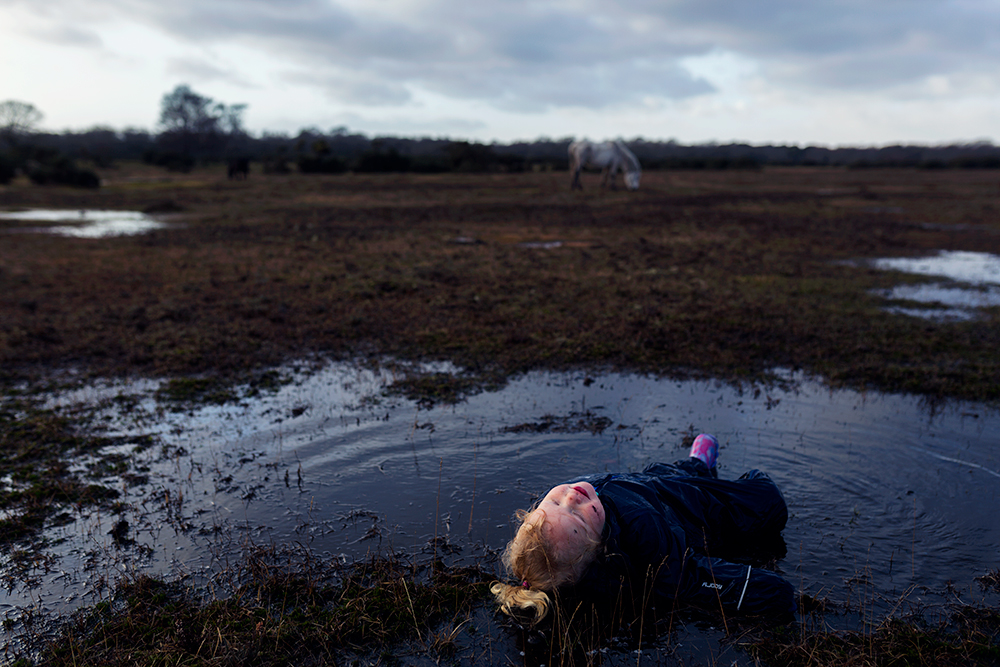 After a while she started to head back into the direction of the path again and if I'm honest I was very pleased because I was beginning to worry that her outfit wouldn't be able to keep her dry for much longer and with the intense wind we were experiencing i was concerned about her getting too cold but there was a big stream stopping us from getting to where we needed to be. We held hands walking along the streams edge hoping to find a place where we could cross. Eventually we found this one spot that seemed possible and as I put my foot in to see how deep it was I slipped and my foot just went down into the water all the way to my knee filling my boot with water and in the exact same moment Nixie tried to step in as well and fell too and somehow bumped the side of her face which made her cry...there's nothing I hate more than seeing her get hurt..but I managed to pick her up straight away and couldn't see any marks or anything, I think she got more startled than anything, after seeing that she was alright I could finally take my boot off and dump all the water out.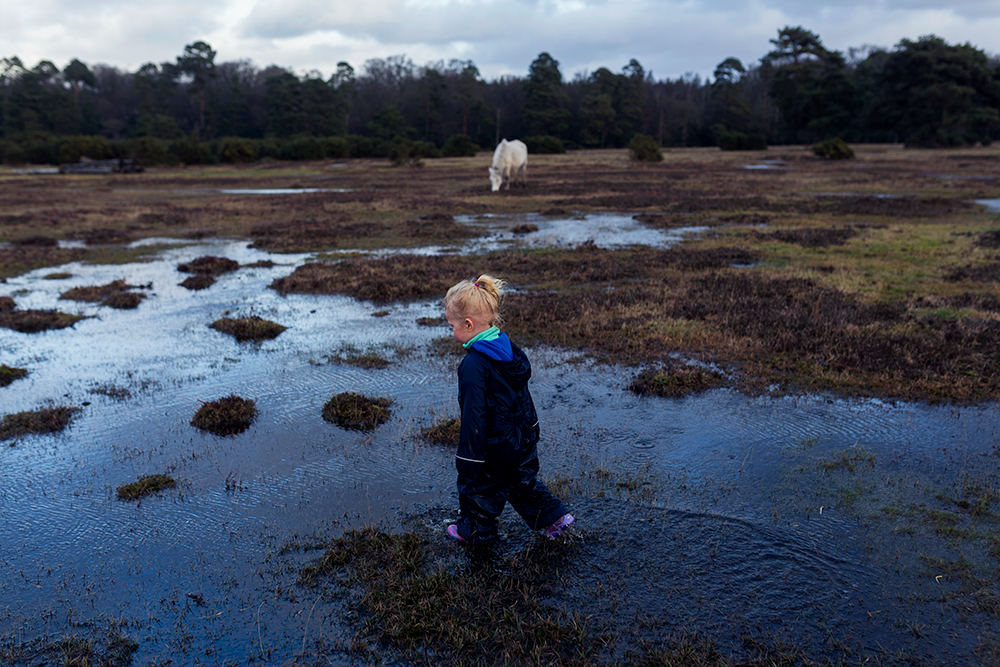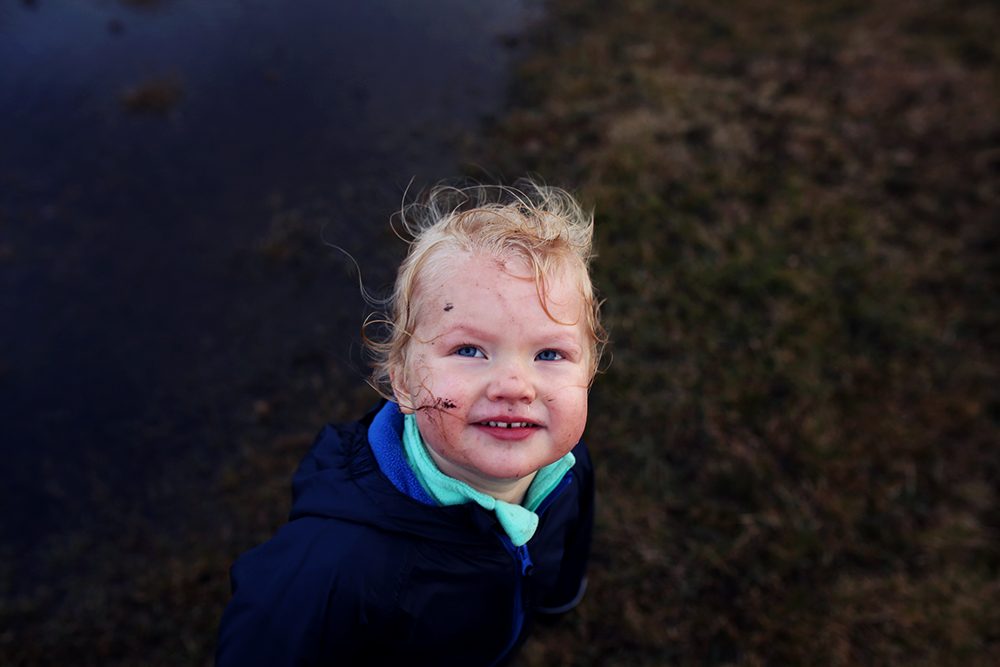 After this incident I felt it was best to put her in the backpack so that I could find a safe place to cross. But before putting her in I took off her waterproofs and waders and to my absolute delight she was completely dry other than parts of her arms. I took off one of her layers that had the wet arms, put on a new fleece and put her other fleece over it and a flannel that I had been wearing, I was mad at myself for not anticipating this scenario and that I hadn't brought an extra jacket with me.
It felt like it took ages to make our way back to the path, we had to cross two streams and my hips were beginning to feel tired from carrying her but eventually we made it and walked back to the station where we had 20 minutes to wait. The whole way there Nixie was holding Daddy and showing him our surroundings. The 20 mins flew by, she happily stayed in the backpack while I sat hugging her from behind trying to block her from the wind until the train arrived and once on the train we both just sat pretty much in silence the whole way I think we were both feeling pretty tired and weathered!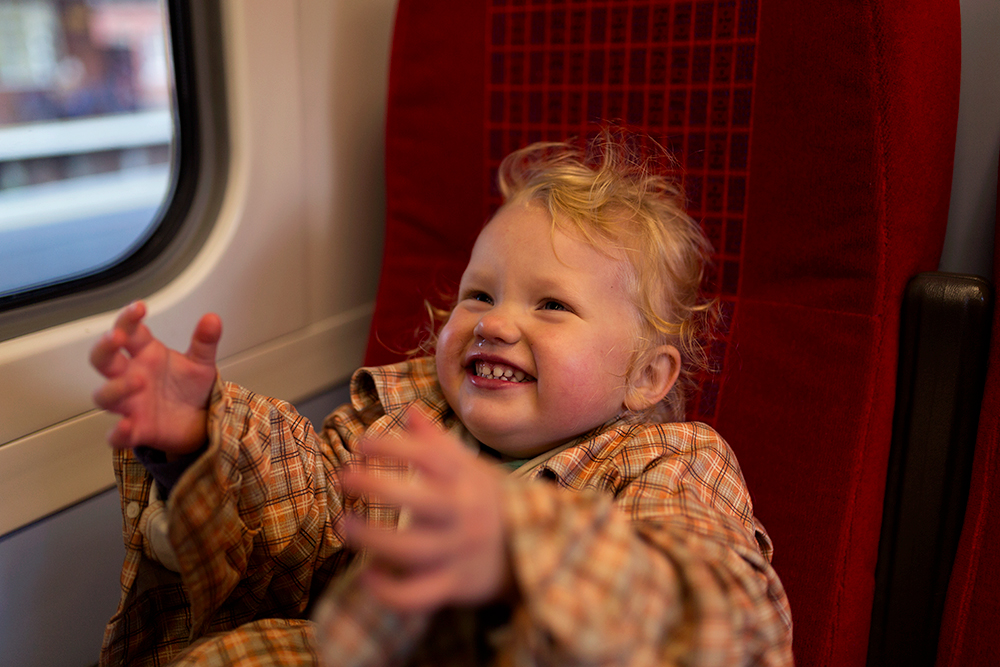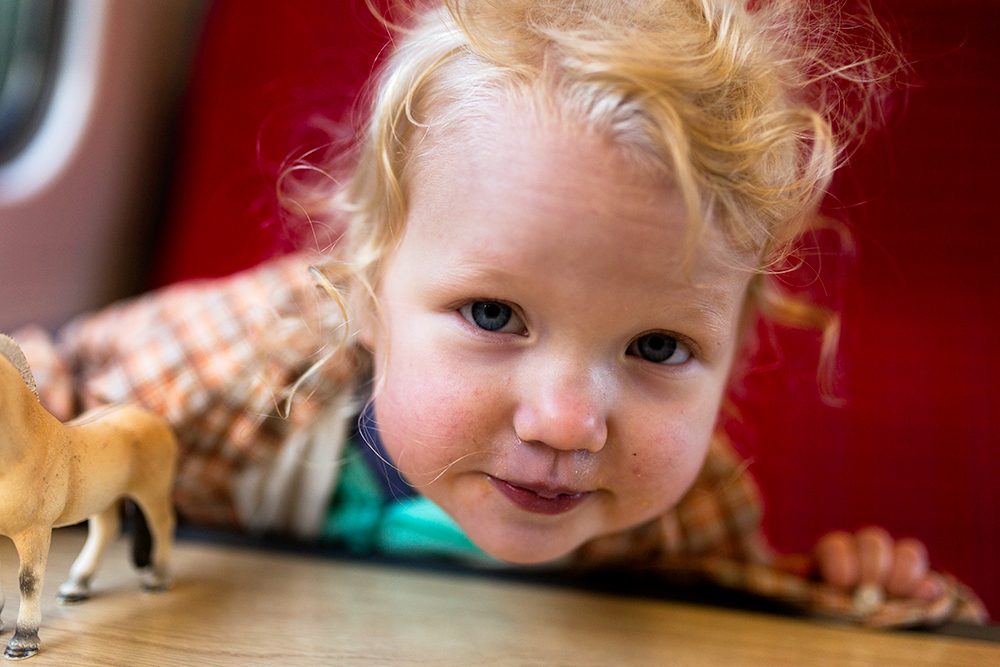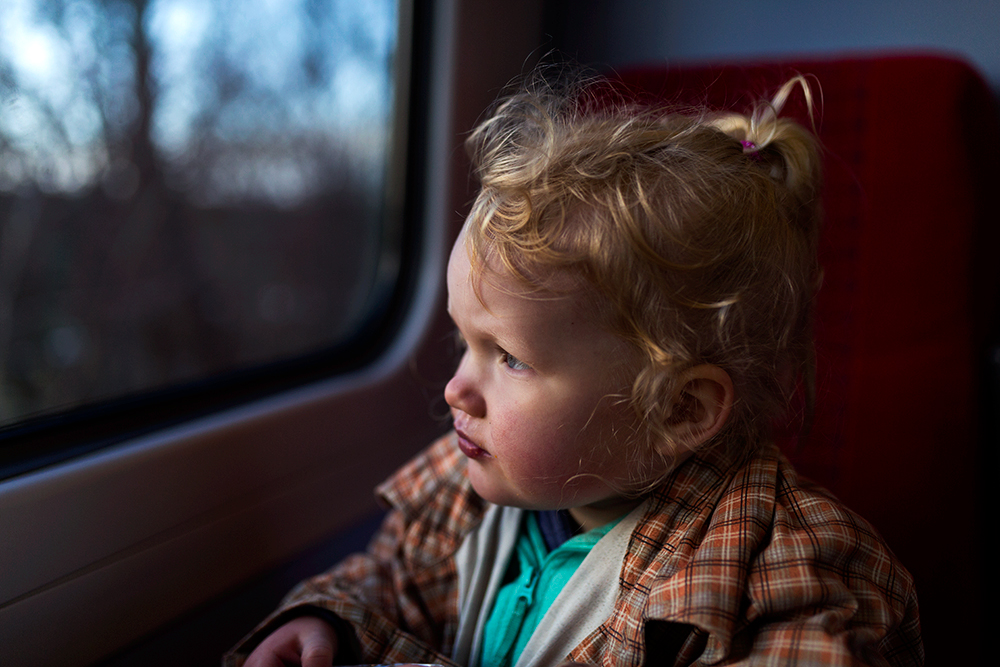 And now it's 18:45 and Nixie is sound asleep! We've been in this amazing evening rhythm for a good couple of months now, I'm almost hesitant about even sharing it because I don't want to jinx it because I know it'll change again but for now it's been dinner at 17:00, bath at 17:45 and asleep by 18:30. And it's such a fun, relaxing and blissful experience. I think it's the first time since becoming a mama that I've felt that I've consistently been able to have a little time for myself in the evenings. It's such a great feeling!
Although tonight I'm feeling pretty sleepy so after I've done a bit of studying for my driving theory test I think I'll have an early night and join her.