Streams, Puddles & More Puddles
The day didn't start so great, I woke up not feeling so good: headache, period still heavy and a very slight temperature and Nixie didn't seem to feel that great either, she was getting sad a lot which isn't like her but I really felt we needed the energy of the woods. I really needed to clear my head. I asked her if she felt poorly or if anything hurt and she said no. I asked her if she wanted to stay home or hop on a bus and go to the forest. She really wanted to ride the bus to the forest. I've only been on the bus with her once since we moved here and that was almost a year ago and we used the buggy. I told her that if we are going to ride the bus that it's not like the train where she can run around that she would need to sit in the seat until we got there. She nodded her head. I really didn't know how it was gonna go but the ride there was such a great experience! Both of us loved sitting on the top deck and being able to see a whole new perspective of the usual places we go.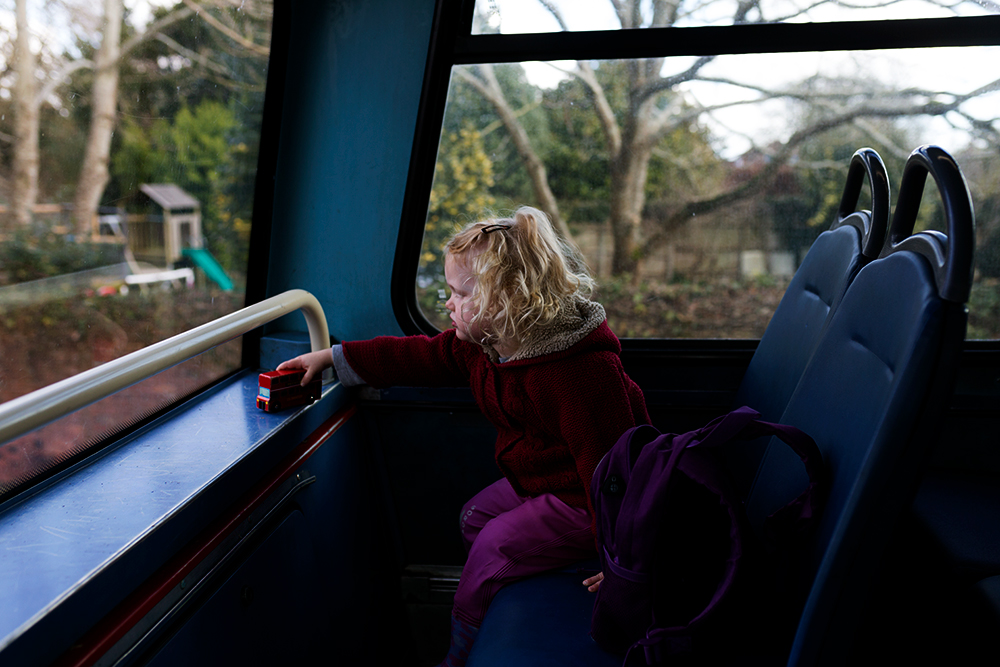 I had really been missing one of our main areas from last summer/autumn so we got off at new park manor, and headed to Whitley wood. Taking the bus was so convenient and involved barely any pre location walking. Once off the bus we were only 10 minutes away from one of our favorite areas. But it's a walk through the woods so Nixie could be free the whole way once we get off the highway and crossed the cattle grids.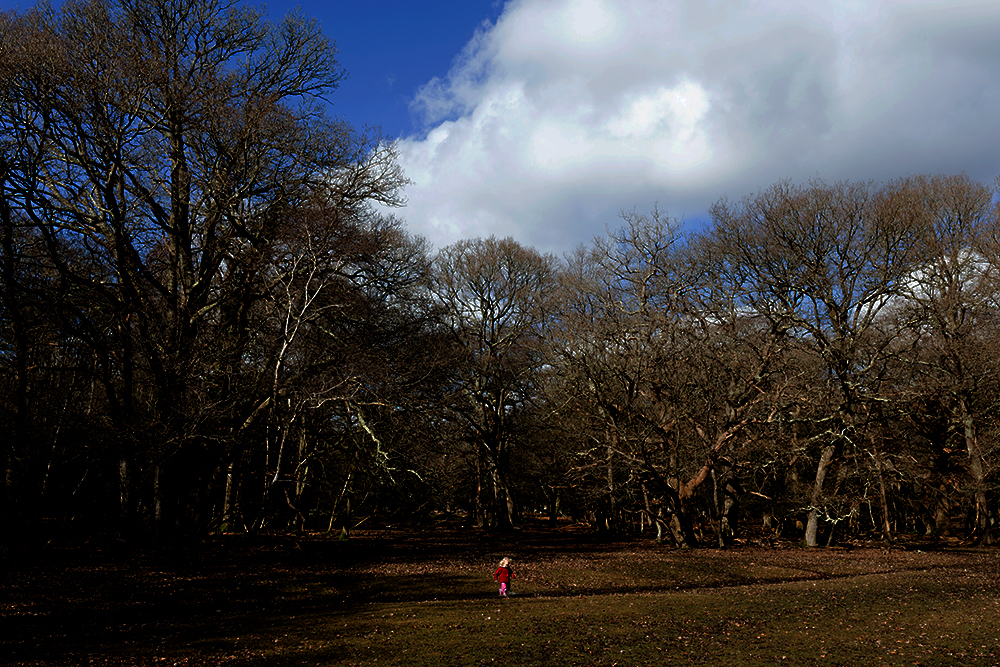 It felt so good to be there. I felt a weight lift off of me. There's something so healing about being in the woods away from it all only the sounds of the wind and the birds singing their spring tune. And just as we reached the path leading to our favourite place, we saw a large herd of deer running past us in the distance, I never ever have the right lens with me to be able to get a photo. The woods were so so wet, and the streams were flowing. This is Nixie's favourite environment and it took her all of 5 seconds before she was off exploring the path of the stream by wading through it and at times sliding down the sides or jumping into it or just sitting in the middle of it.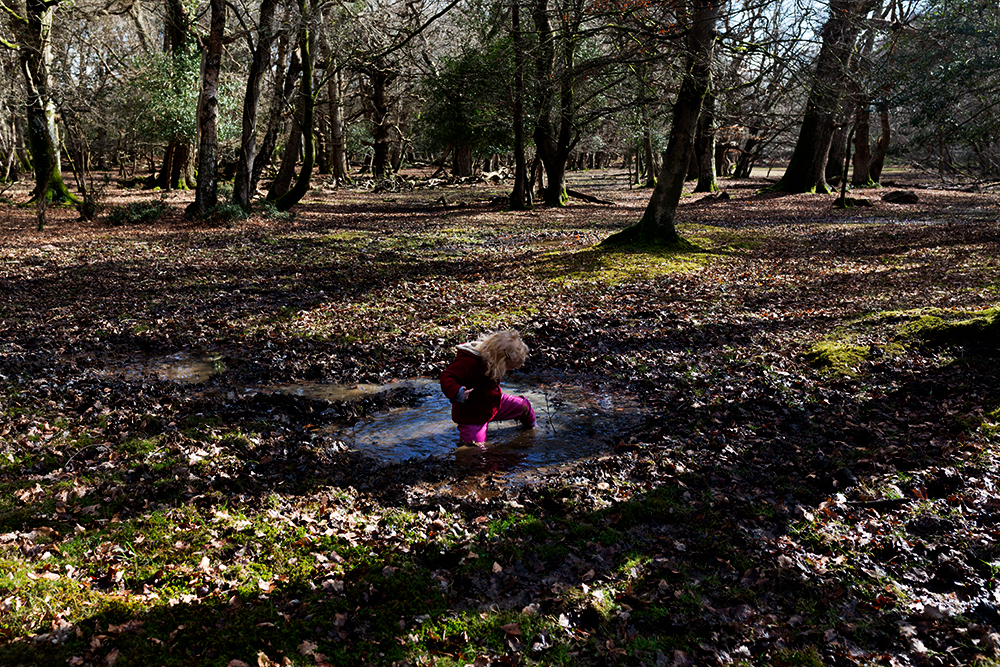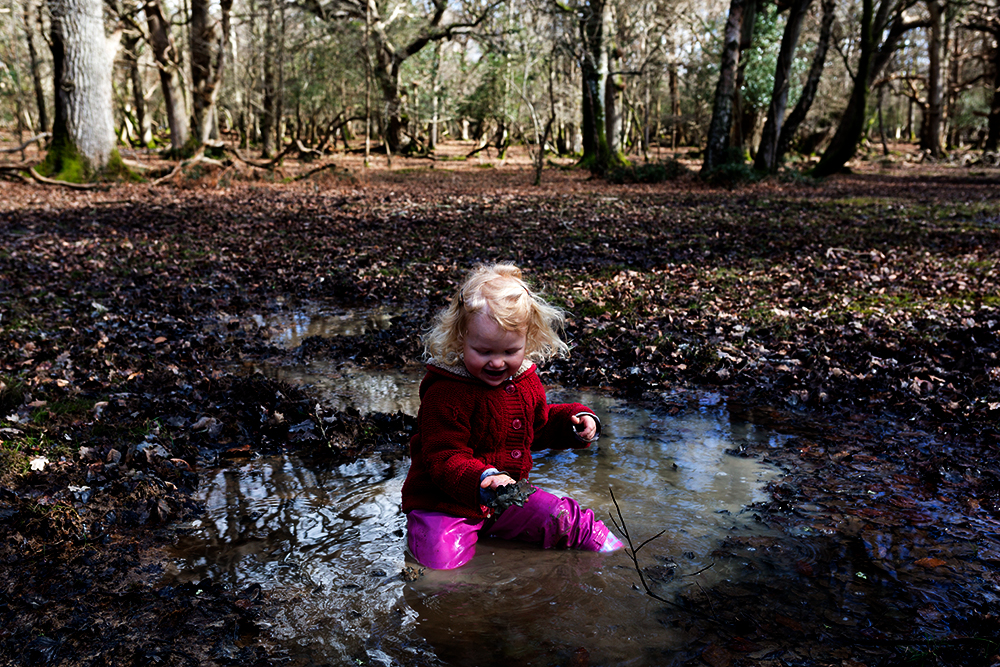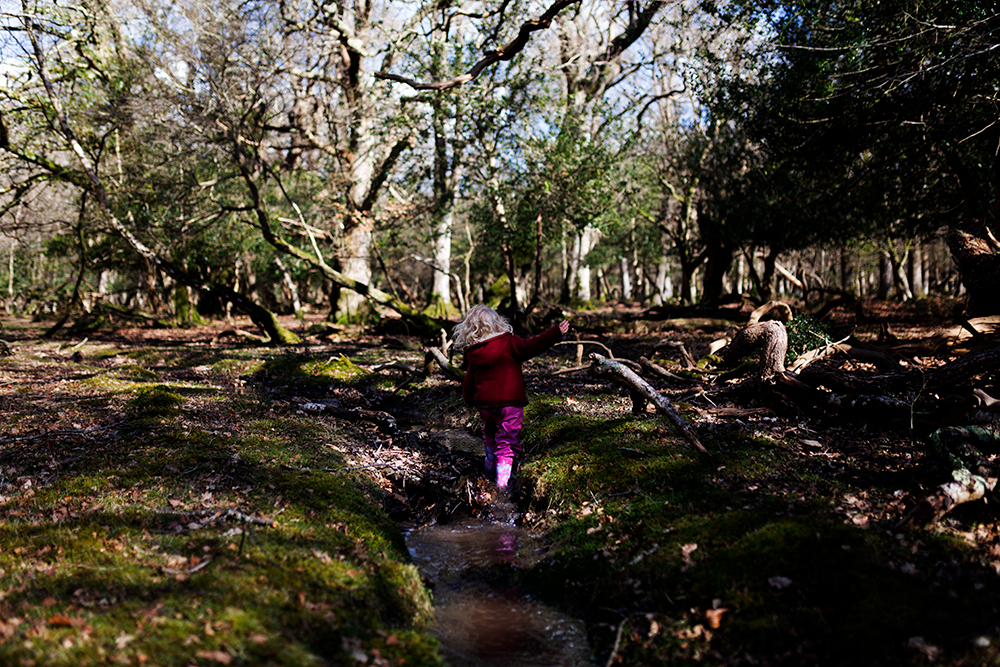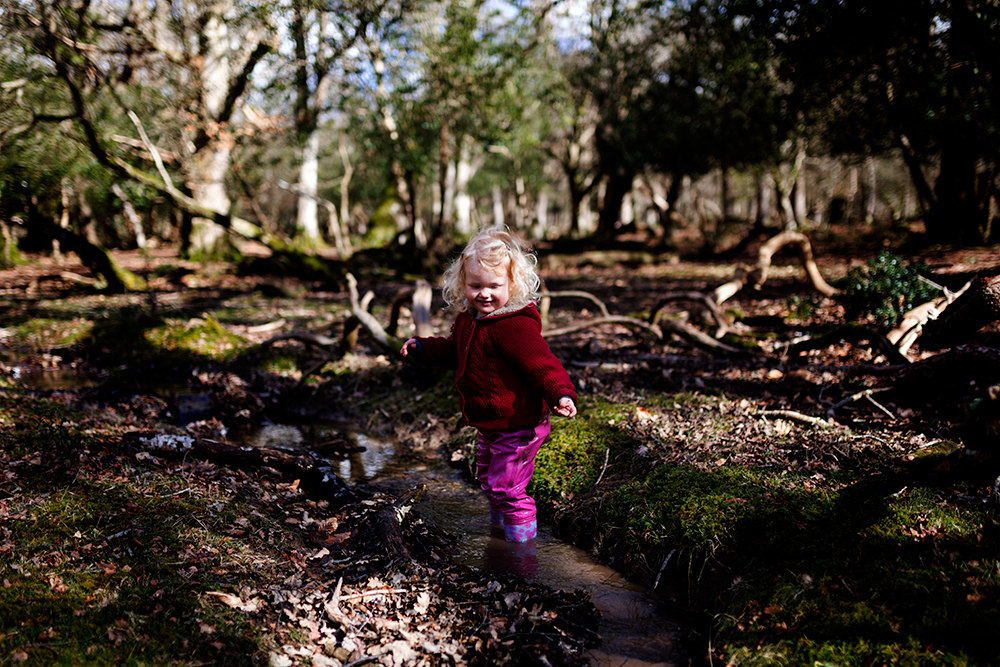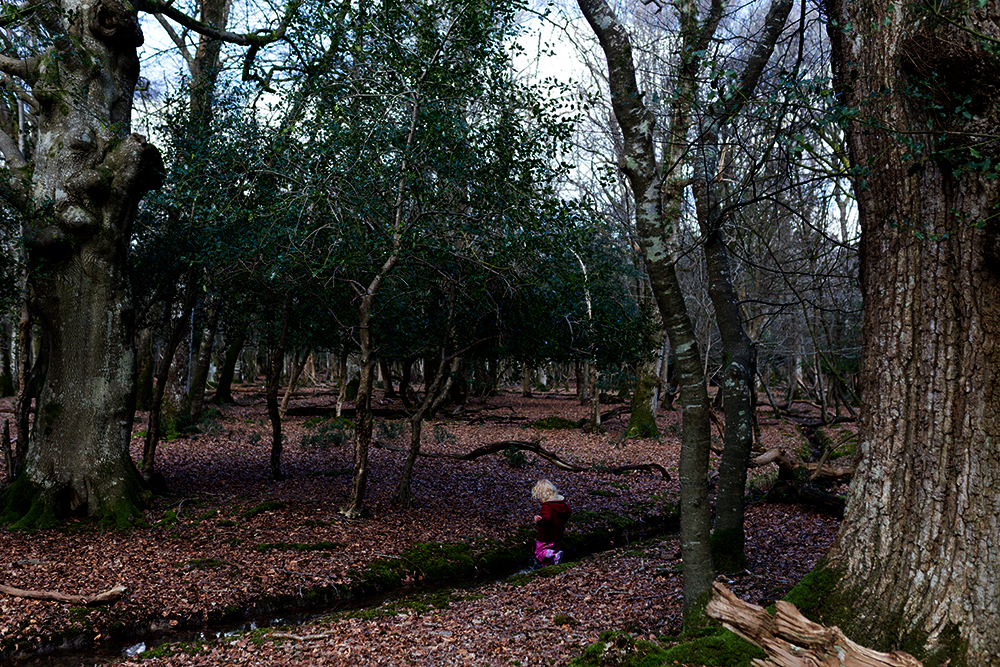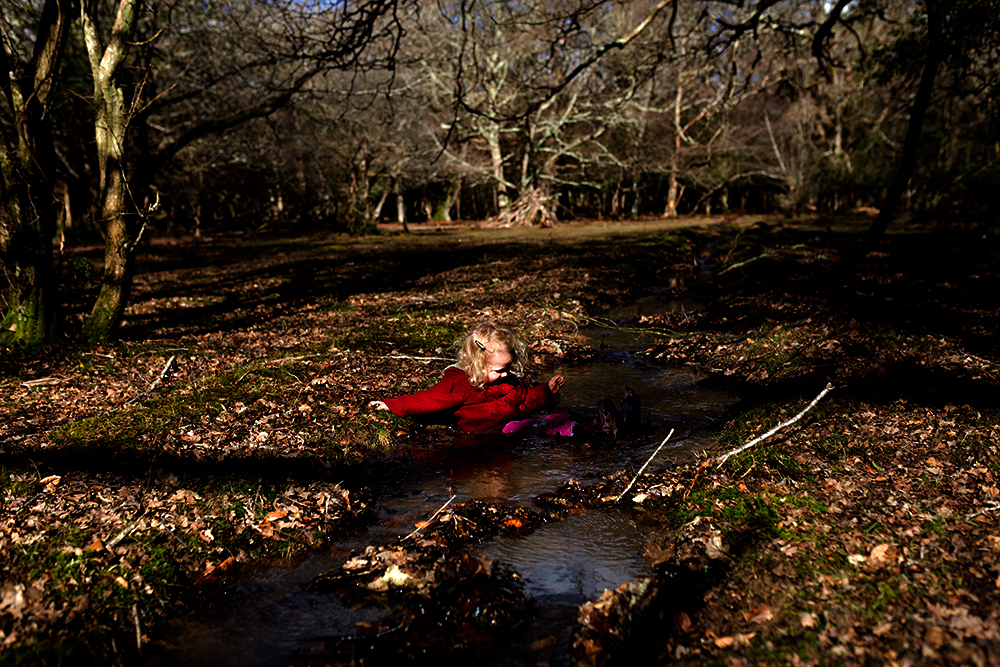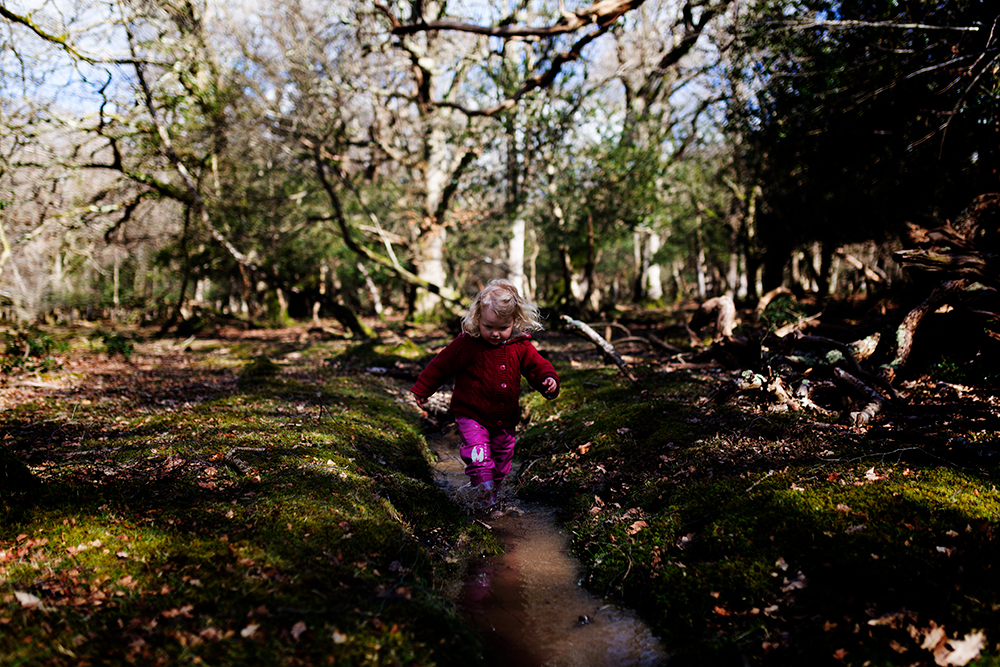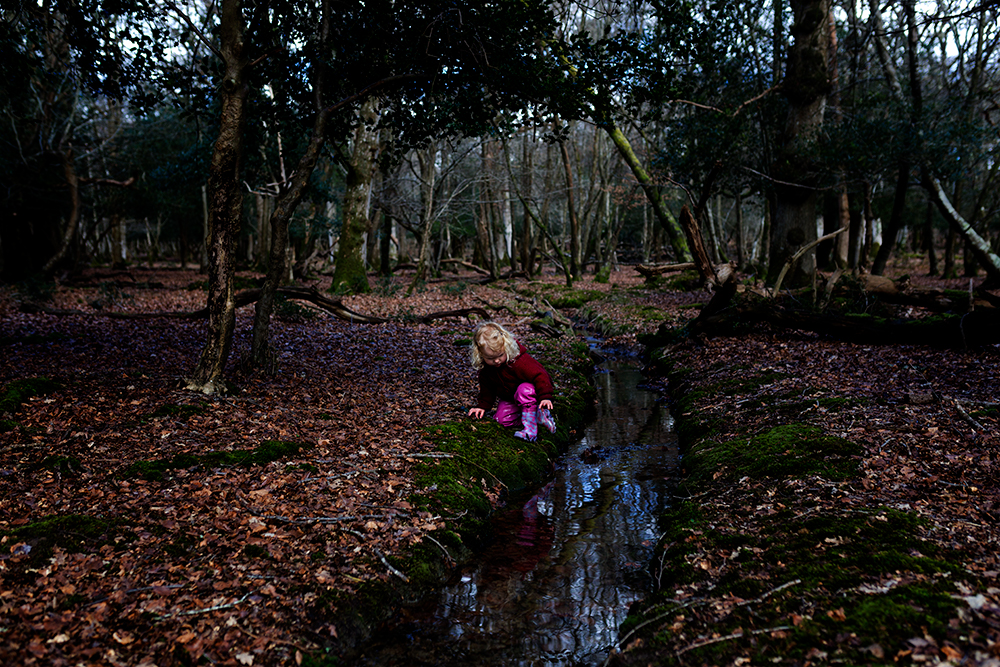 A pregnant white mare came and joined us she was so beautiful and Nixie was so good with respecting her space, she would say hello and have little conversations with her and watch her but she never once tried to rush up to her, I was so proud! And when we had a little snack/picnic on a fallen tree branch and Nixie didn't want to take her eyes off of her.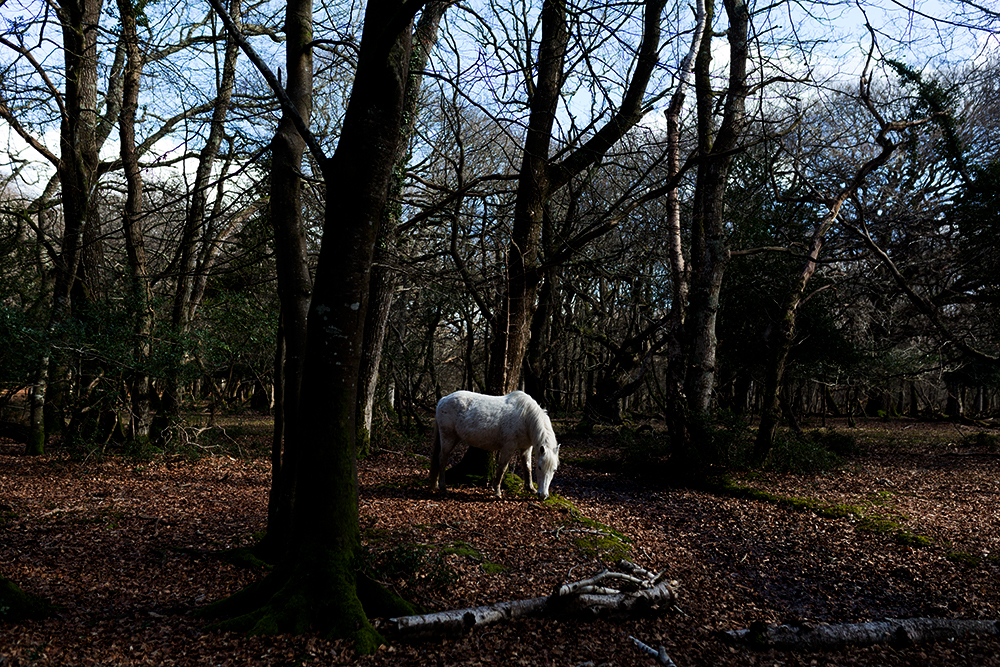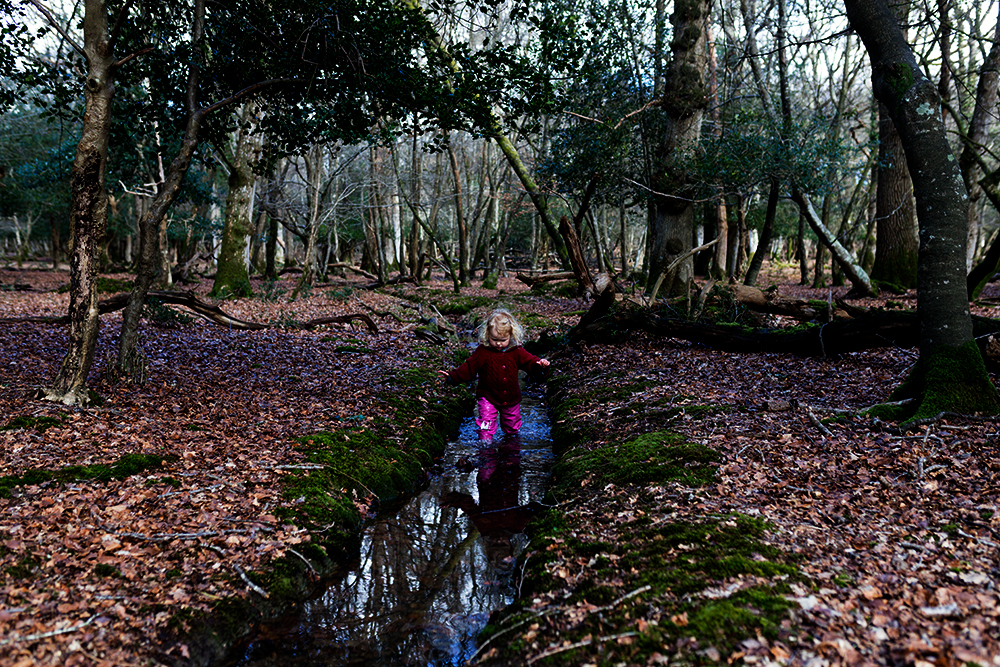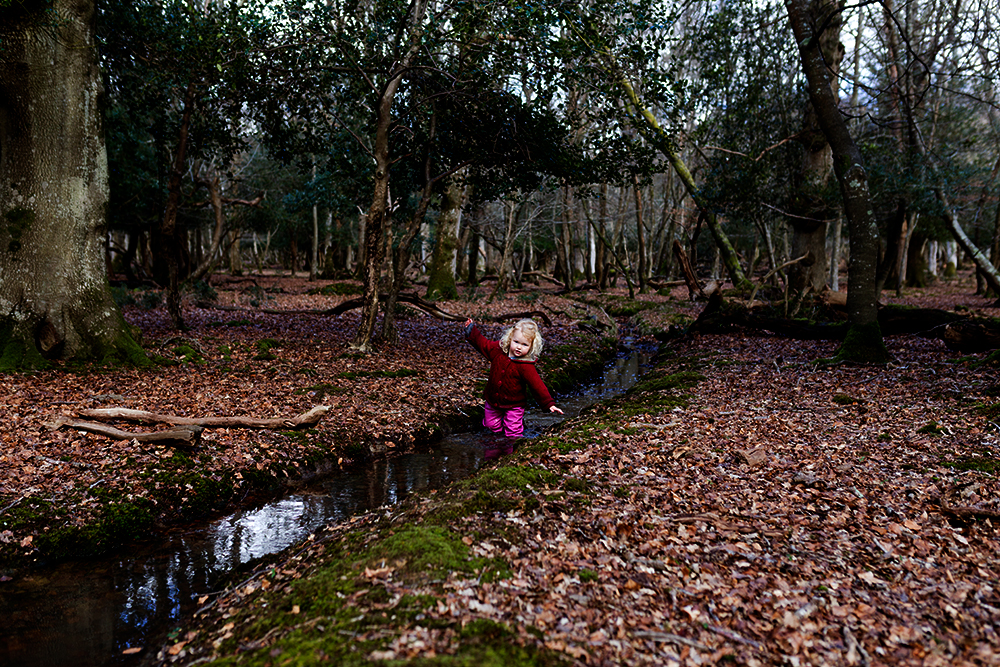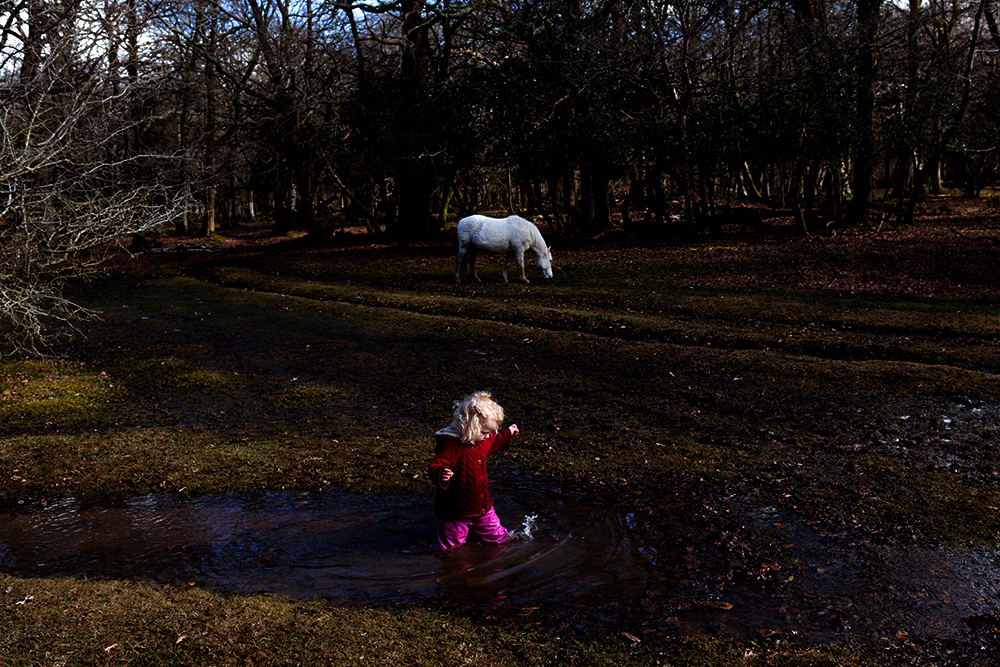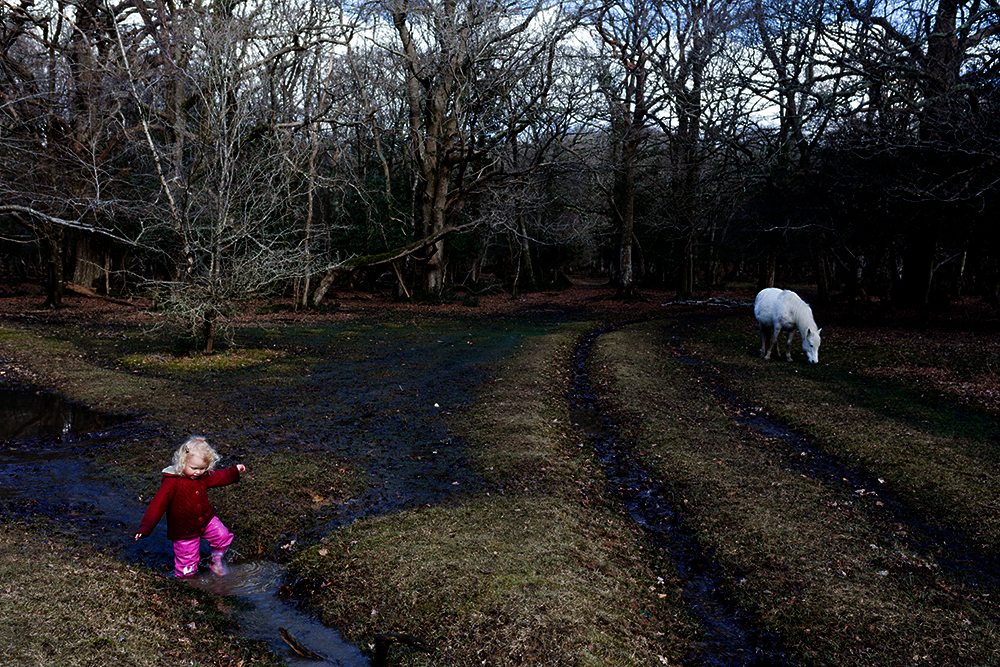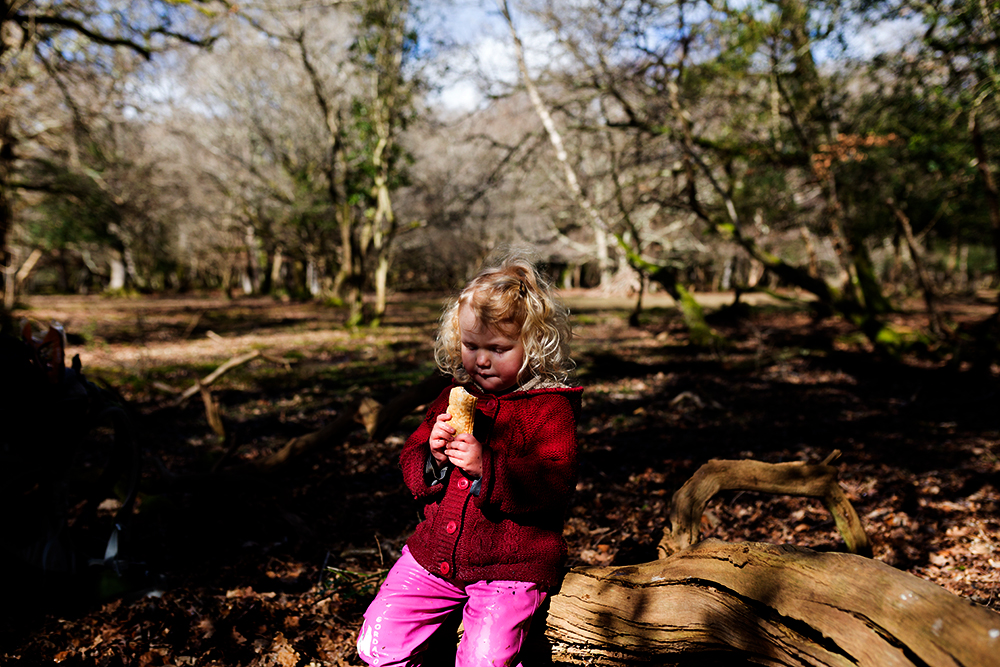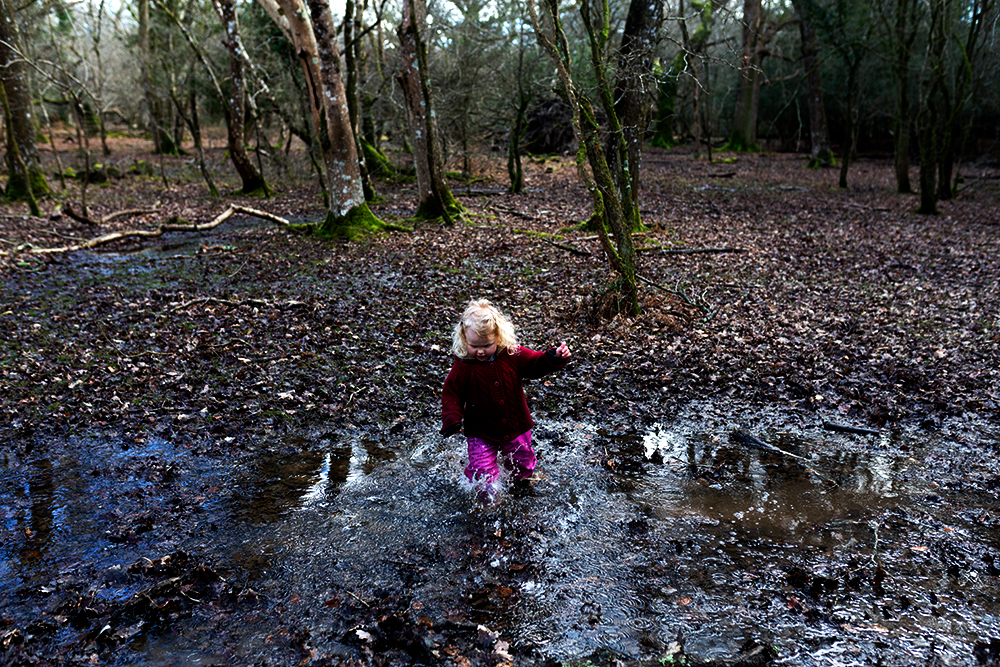 But on this day her waders didn't do much to keep her dry, she was absolutely drenched and soaked through to her trousers. Luckily I came prepared and changed her into warm dry clothes. By this point she was tired and said she wanted to ride the bus. And I asked, "you want to go home? Should I check when the next bus is?" She said, "yeah" in the most sleepy voice and so I did and it was in 20 min. I thought if I rushed and carried her in the backpack that we'd make it otherwise we'd have to wait an hour for the next one and I had no more clothes and was a bit worried that I wouldn't be able to keep her dry. So we rushed through the woods & once we got to the very muddy and waterlogged field, about 2 metres from the road, I slipped and fell and my wellie got stuck and came off and then I was barefoot in the mud but had to get it back on without tipping over and I'm so impressed that I did it although my wellie was filled with the smelliest mudd! I have to admit, It was pretty funny and I'm pleased to say we made it to the bus stop with just 2 min to spare!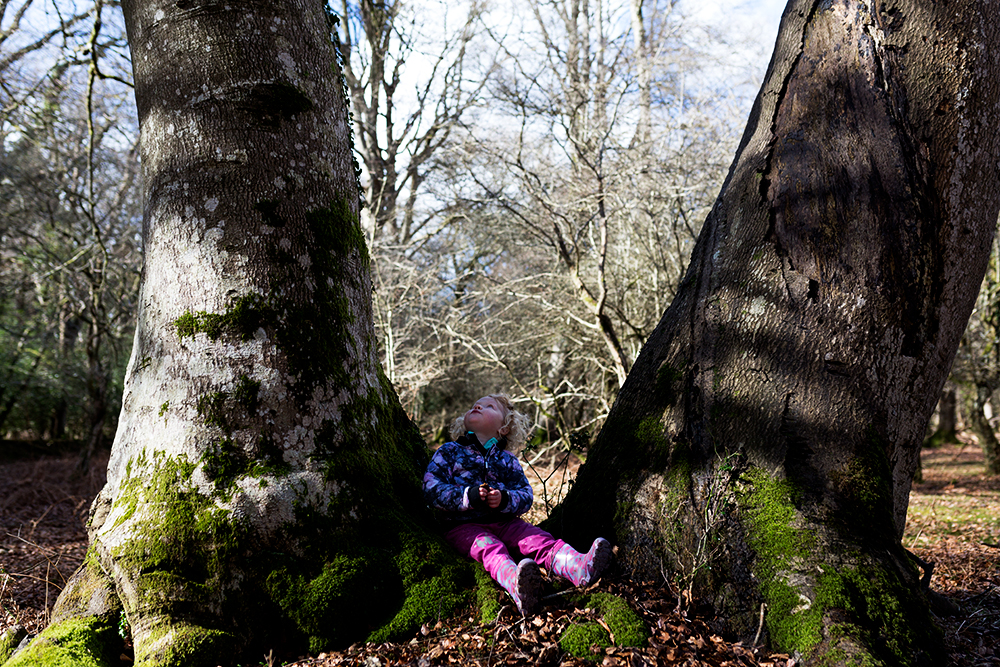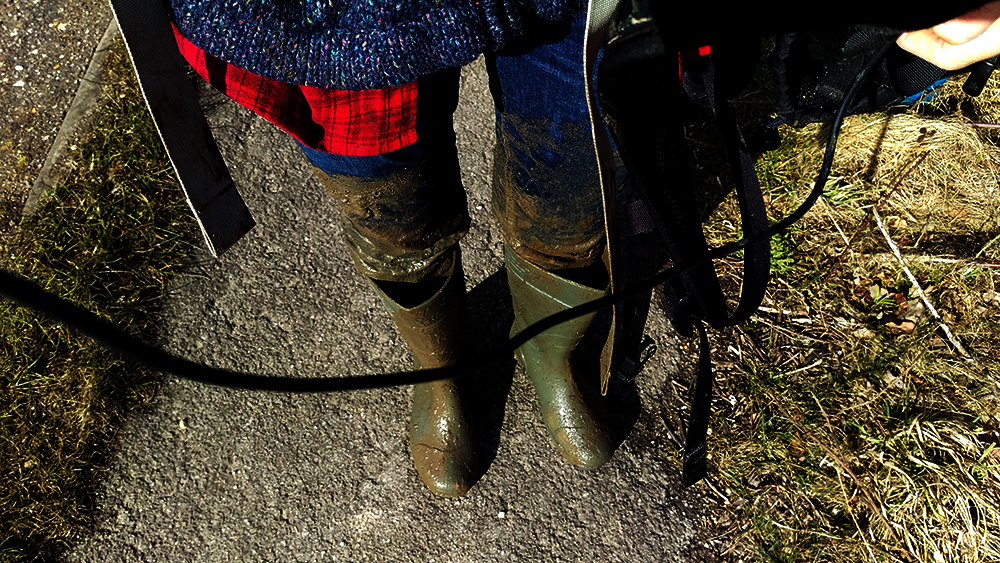 The bus ride home wasn't as enjoyable as getting there. First of all I was incredibly muddy and stinky, my headache was getting worse and I struggled to get her out of the backpack, her boots were stuck in it but I eventually managed with the help of a very lovely lady who also offered us her seat which was the in the way front. But Nixie wasn't in the mood for being on the bus at all. There were a lot of big intense upsets, she did not want to sit and stay in one spot, she didn't want her clothes on, she really showed me how loud her vocals were, & she kept trying to climb over the seat to get to the woman behind us. It was just one of those challenging moments of travelling with a toddler.
The lady behind us was so sweet though and enjoyed the attention Nixie was giving her and she even offered to help with my bags once it was our stop (she was so worried that I wouldn't be able to manage on my own) but I have a system and it would have just made it harder for me. But she did hold Nixie's hand and was able to keep her from running off while I put the backpacks on which was a huge help! But when it was time to go Nixie didn't want to go down the stairs unless she was holding both our hands which wasn't possible and that caused another giant upset but somehow we made it down the stairs and luckily we were all getting off at the same stop. Once we were all downstairs Nixie was able to hold both our hands and did so all the way to the corner of where we live. Nixie really liked this woman and even gave her a hug and a kiss on the cheek! It made the woman so happy, Nixie is my little love spreader!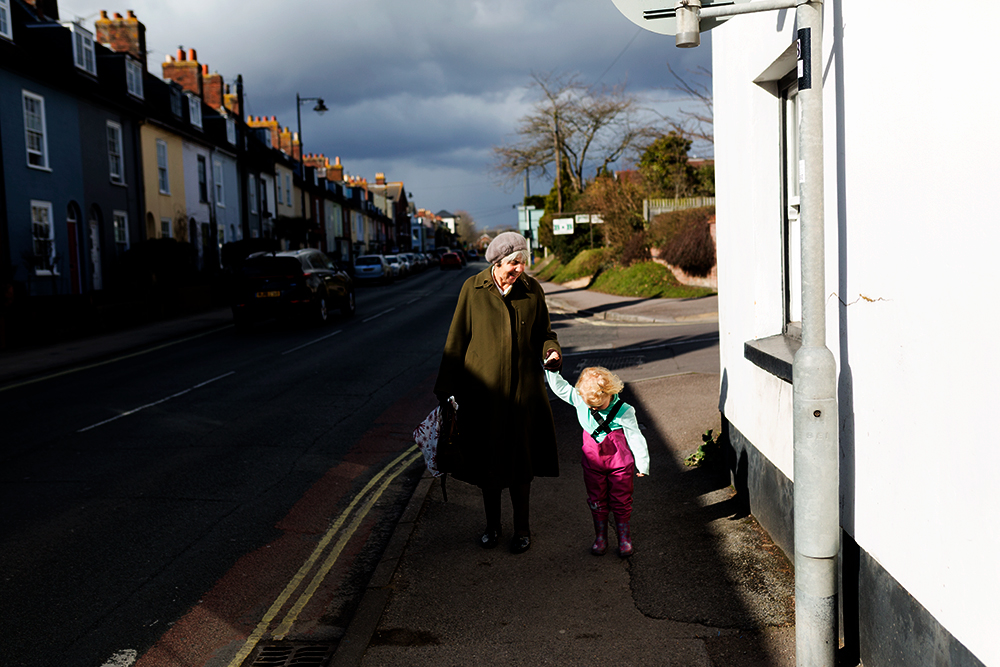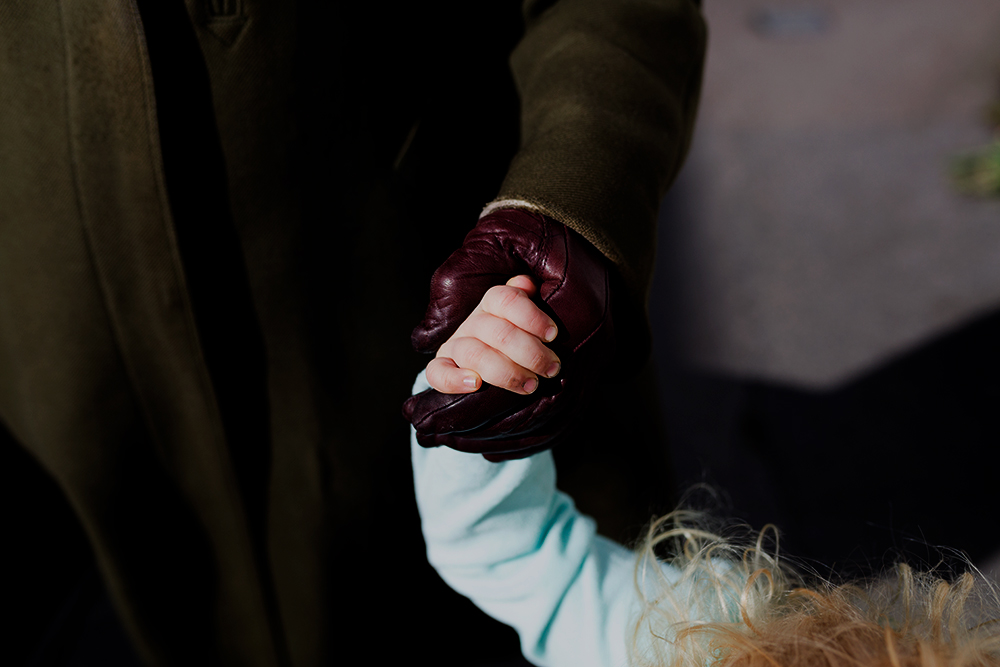 We finally made it home and we were both so exhausted. Nixie couldn't stop talking about the horse with a baby inside and how much fun she had in the stream and even though the journey home was so stressful I was so happy that we made it out to the woods because it still restored a sense of peace that I so needed.