It Finally Happened, Nixie's First Snow!
The snow is all gone now, & it only lasted a day but I feel the need to memorialise it because it was the first time Nixie got to experience snow and I want it on here as a memory. Plus I took lots of photos and I need a place to share them.
Last Tue (Feb 27) we had our first snow, we had looked out the window and saw a crazy flurry of snow falling from the sky. We rushed to get dressed to go outside but just 10 min later once we were finally ready the snow stopped. We went out anyways hoping it would snow on our walk. All we got were a few little snow flakes but they still made Nixie so happy!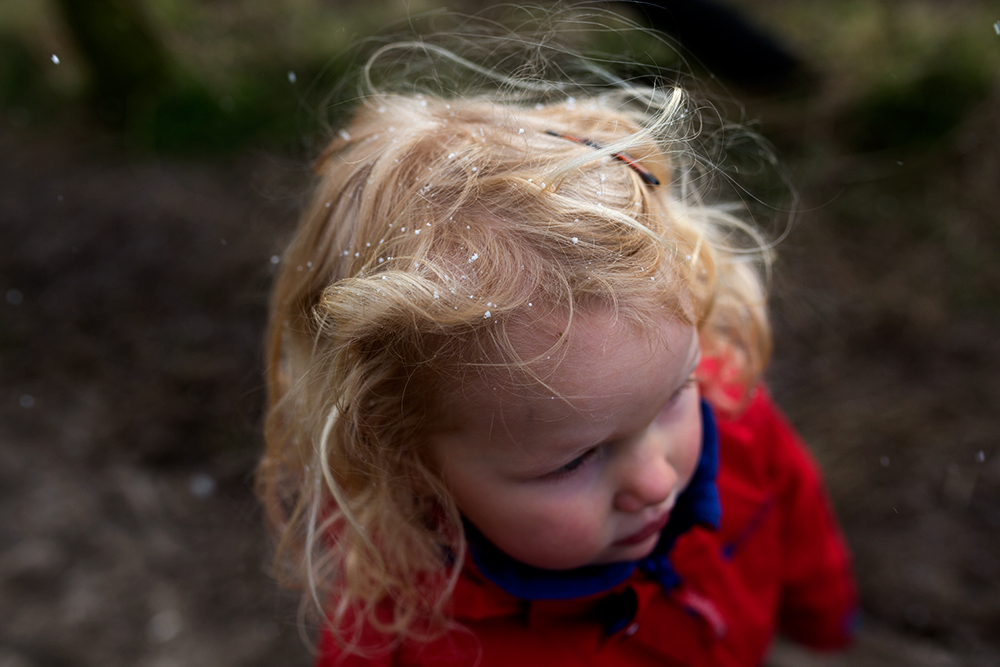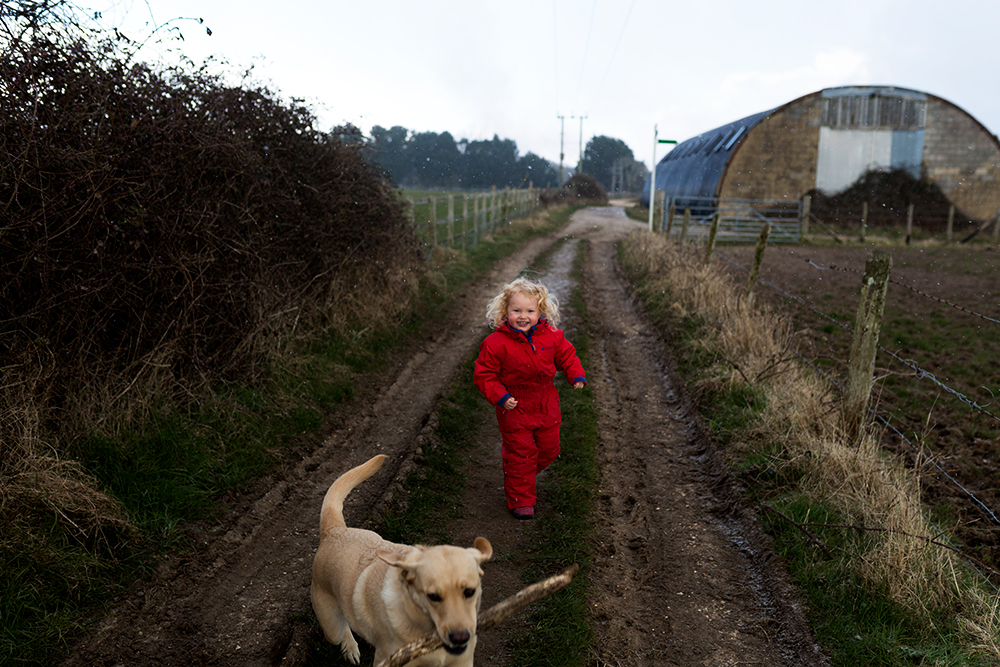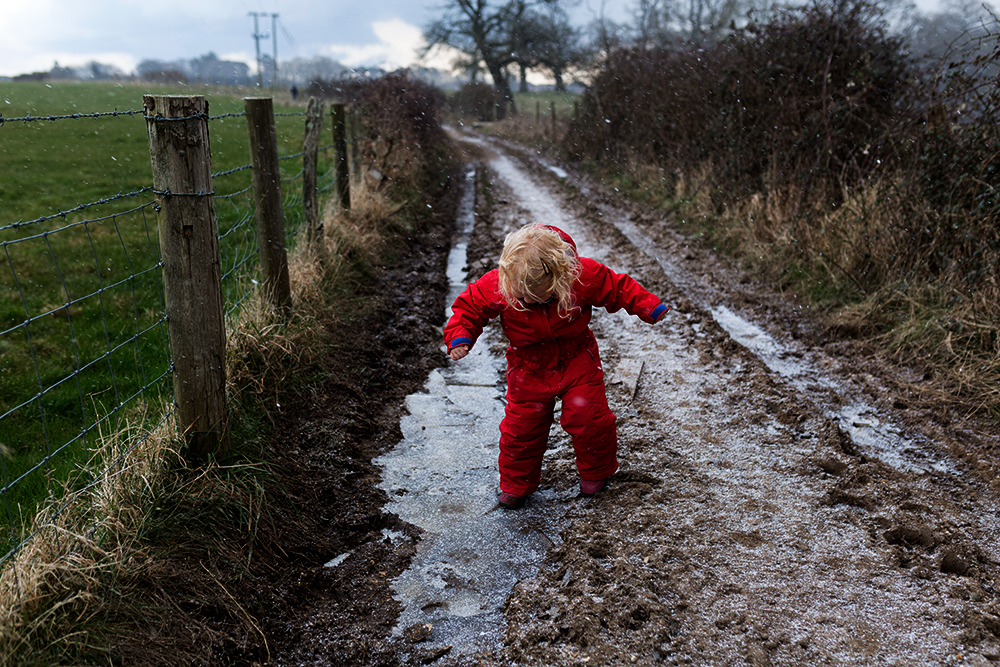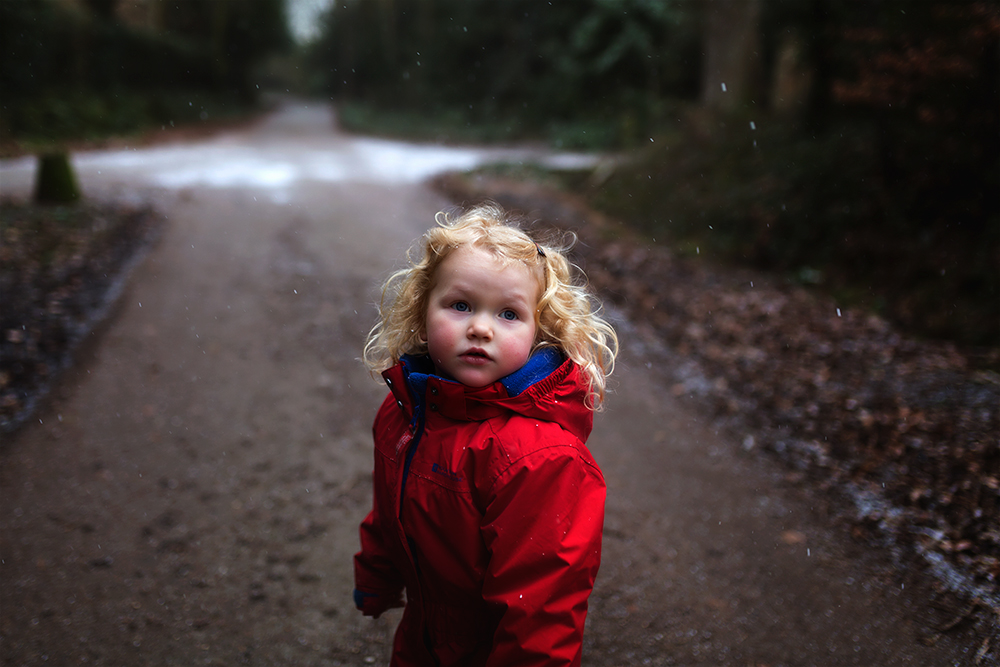 But last Thu (March 1) we had the best day! We woke up and rushed to look out the window and saw everything covered in a blanket of snow, Nixie could not have been more excited! She wanted to go out straight away but I somehow managed to get her to eat some breakfast and then we were off! I've never seen her so excited to put on her snowsuit, her "special outfit" as she calls it. We decided to just head over to Buckland Rings, a bit of woods near where we live. I love the path we take to get there, it's right next to a field of horses and we pass a farm on the way, making you really feel like you are smack in the middle of real country life, which I guess we are!
On this day all the horses were right next to the fence and Nixie loved trying to find grass hidden under the snow to give to them. The horses seemed extra curious and friendly on this day and Nixie took advantage of this and relished in all the attention they were giving her. That is until she spotted another family walking towards us and she just ran up to them and grabbed their hands and called them her friends. She was especially drawn to the older girl, who was around 10 years old or so and wouldn't let go of her hand and even managed to get her to go on a little walk with her! I just love her confidence and how much of a people person she is. She's been doing this a lot this past week to random people we cross paths with on our walks, she's such a little love bug!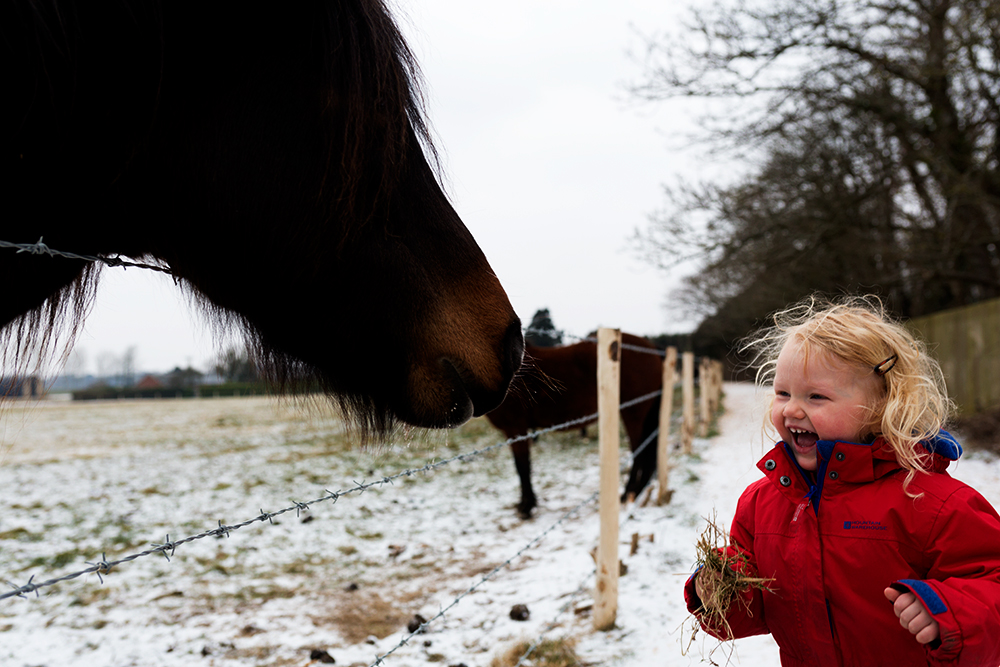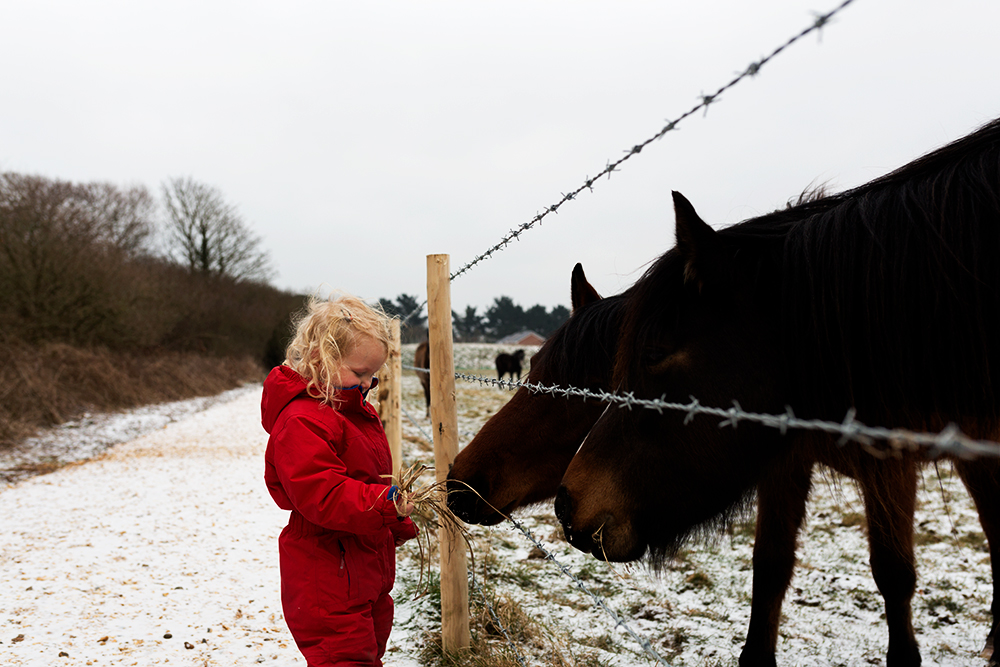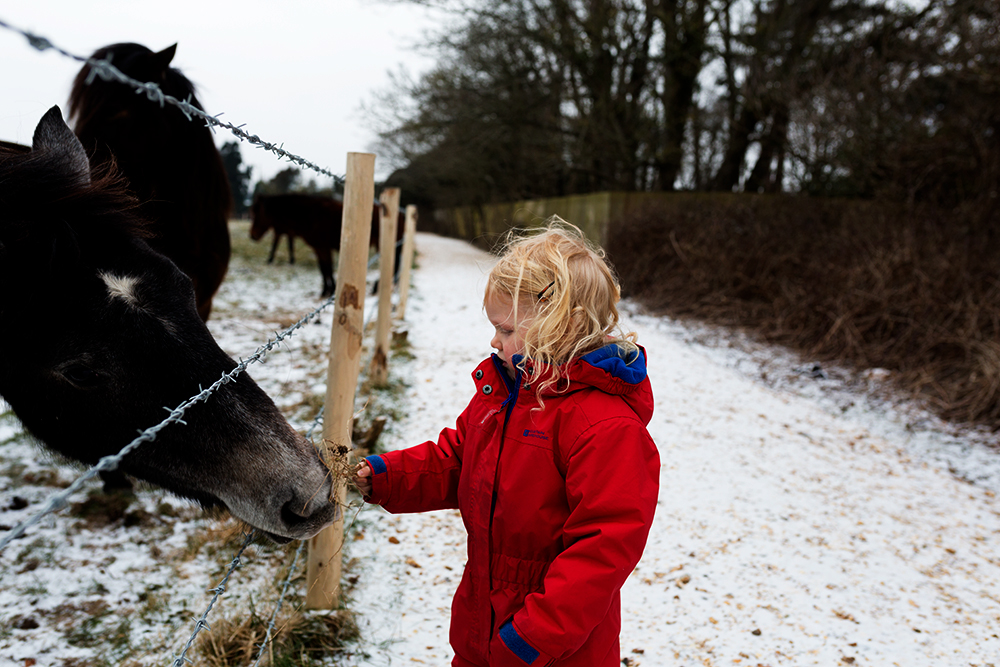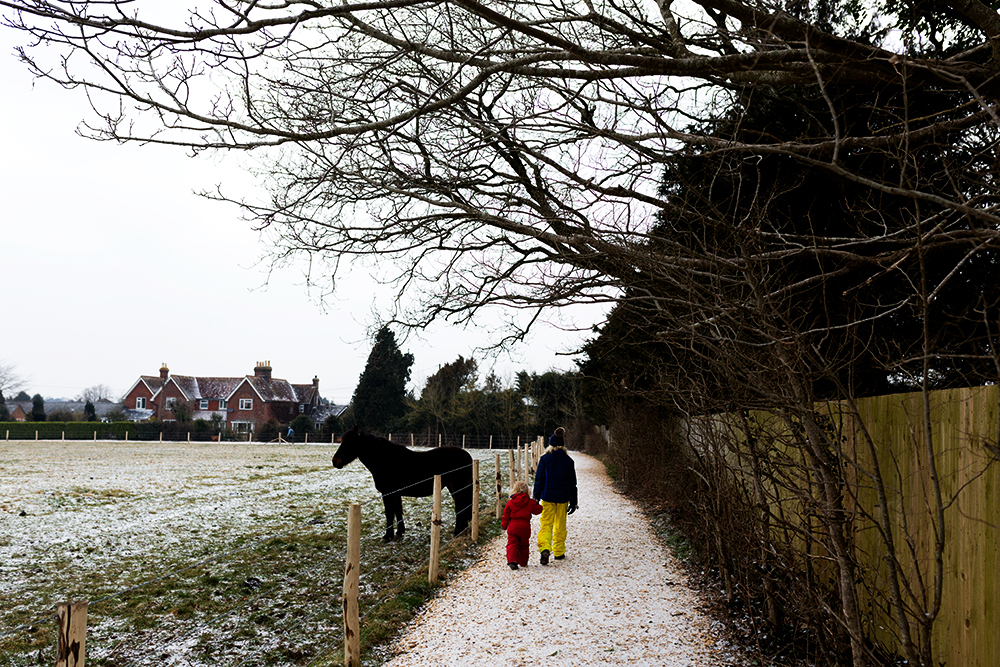 We continued on our way to the woods and once there decided to head straight for the big sand hills that are used by bmx riders. This is one of our favorite places to play and thought it would be extra special with a bit of snow covering. What I hadn't anticipated was how many other kids would be there! All the schools had been cancelled which I hadn't realized until then and everyone was having so much fun sledging down the hills. I felt really bad that we didn't have one but Nixie didn't seem to mind, she had a whale of a time just watching the other kids and climbing up and down the hills and just gliding down on her bum! It was so cold out though and my feet were going numb, Nixie refused to wear her hat or gloves telling me that she wasn't cold and didn't need them, I figured if she did start feeling the cold she'd ask to have them.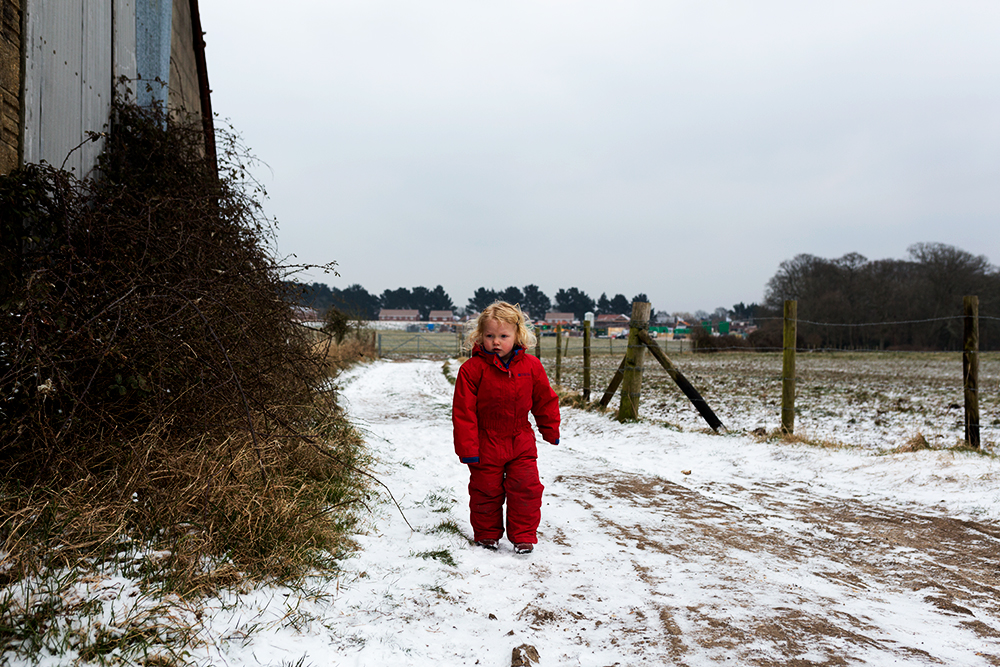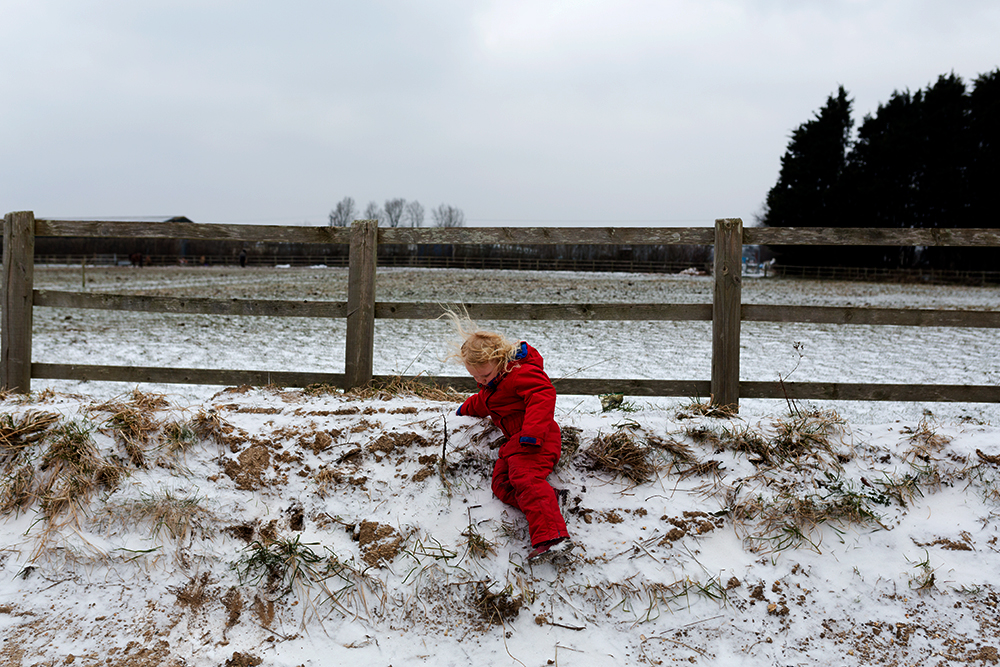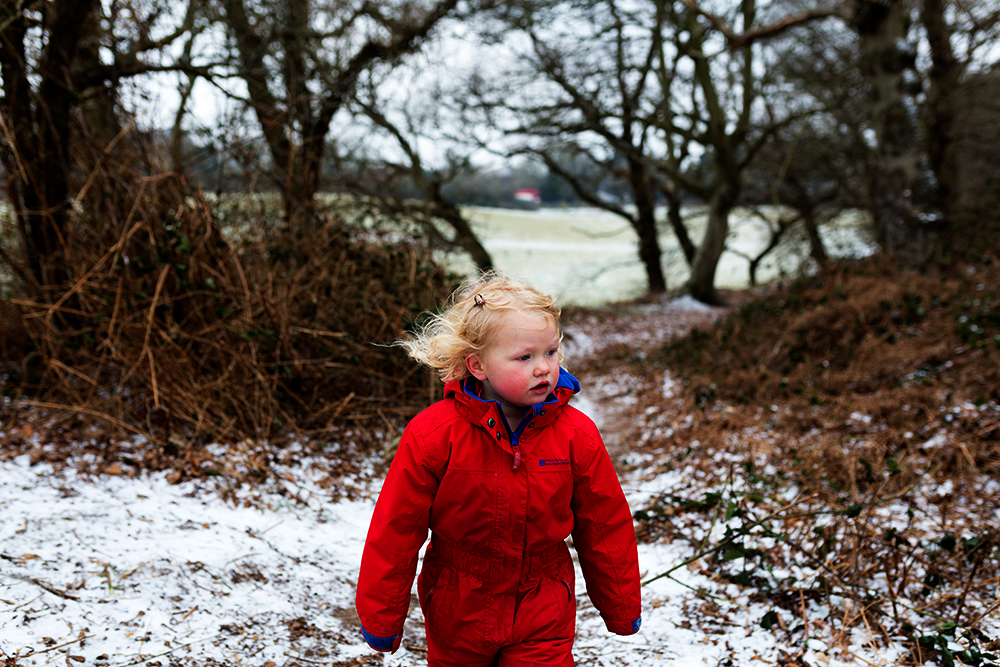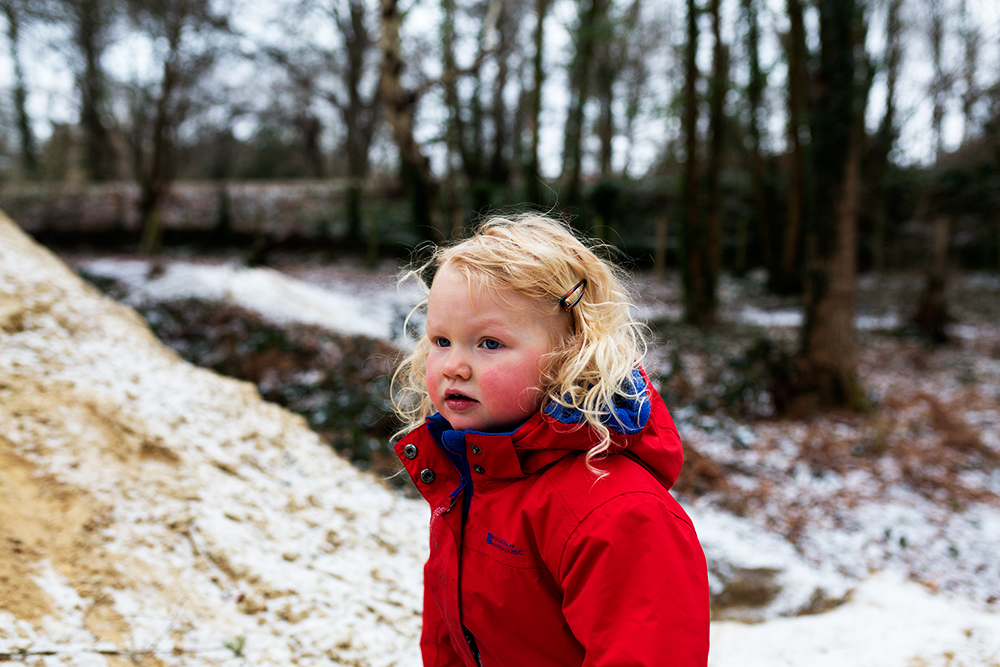 All of a sudden she saw a little puppy dog running down and then back up to the top of the edge of the ravine and was determined to stroke her. Usually it is so hard to get her to leave this area but once she had spotted the puppy all that mattered was that she was going to get to meet her and off she darted in the most incredible speed up the side of the ravine to the top. We headed along one of the paths towards the parking lot and all Nixie was interested in was finding her little puppy. I really didn't think we'd find her but sure enough we did and Nixie got so excited! By this point I was getting so cold and needed to head back home, the great thing was that they were headed in the direction we were so once again we tagged along on someone else's walk, we do this pretty much every time we go out at the moment!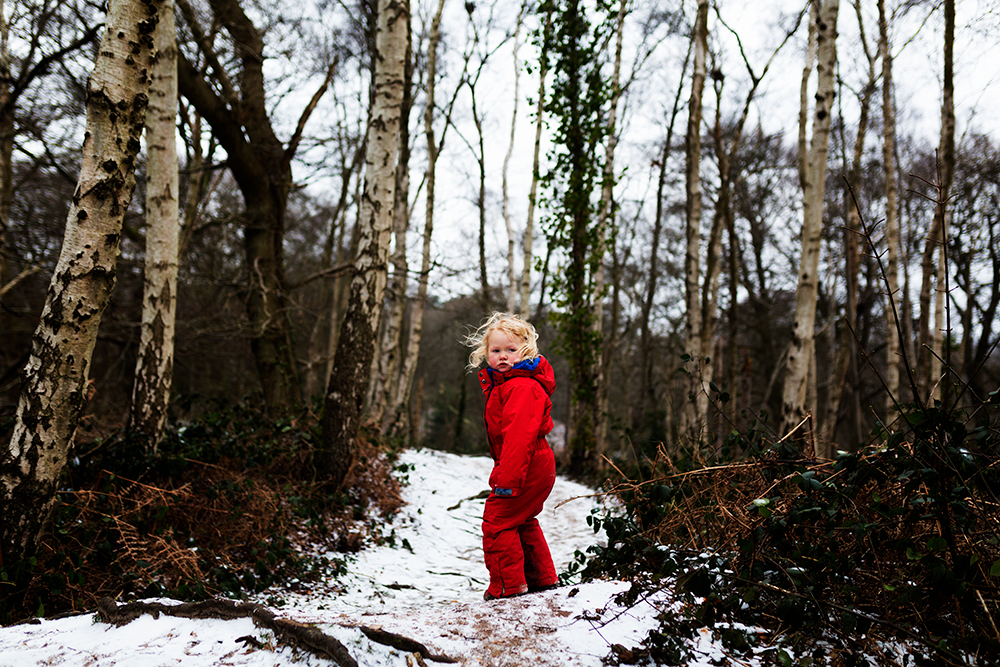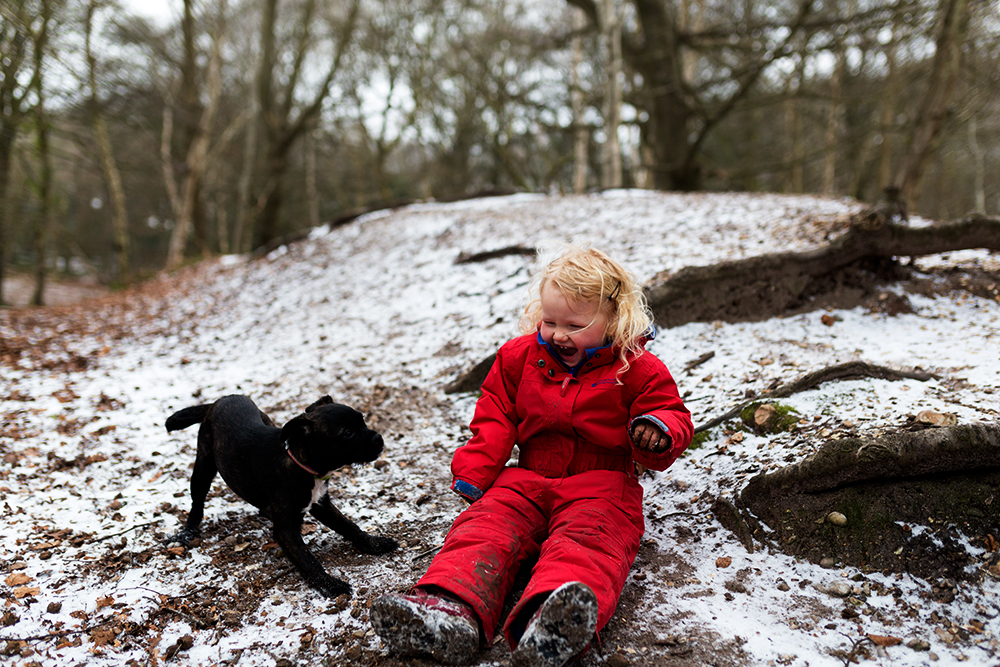 As we got closer to one of the gates we needed to go through, I could see someone with several dogs and young children but because I didn't have my glasses on I didn't see that it was one of our lovely friends, Danni & her two kids. Nixie absolutely loves whenever we go on walks with her and the dogs because she gets to be Danni's little helper and gets to hold the leash of one of the dogs. Honestly running into them made Nixie's morning! She takes her little role as a helper very seriously. So instead of going home even though I was freezing we did another circle of buckland rings before heading back.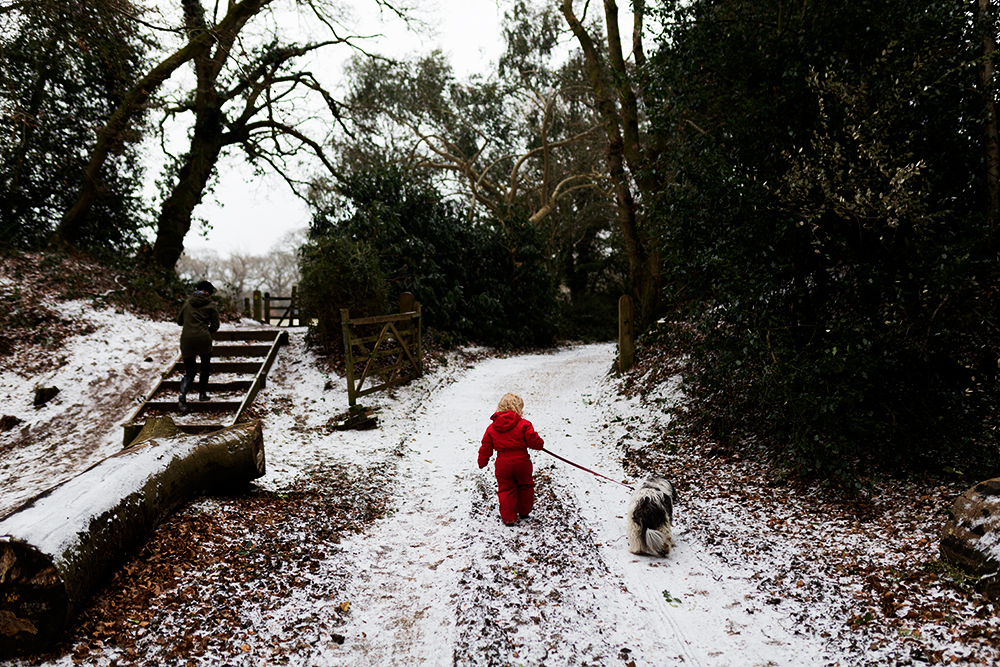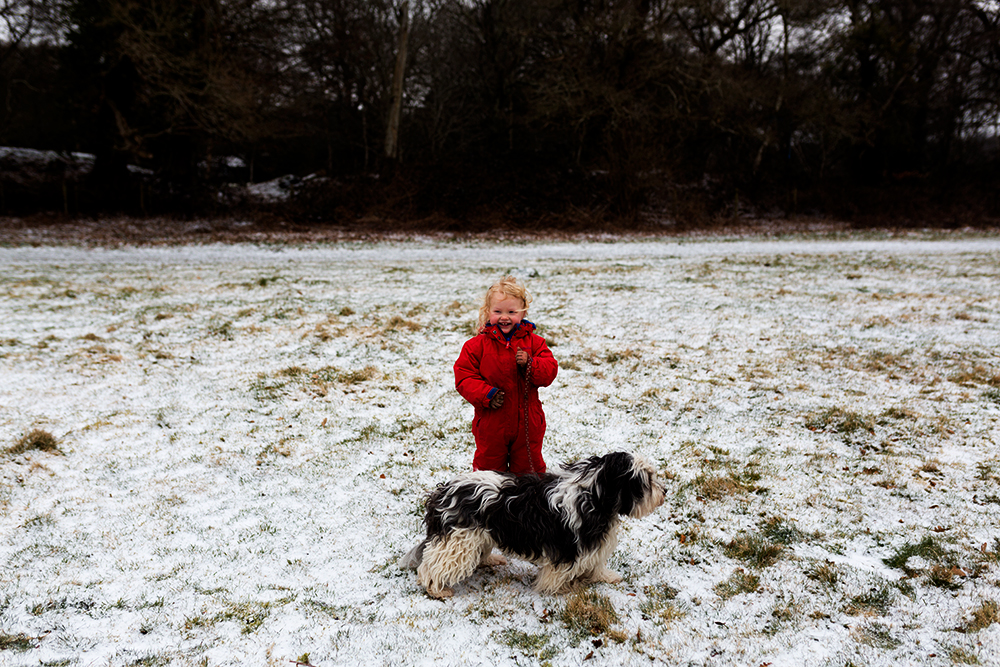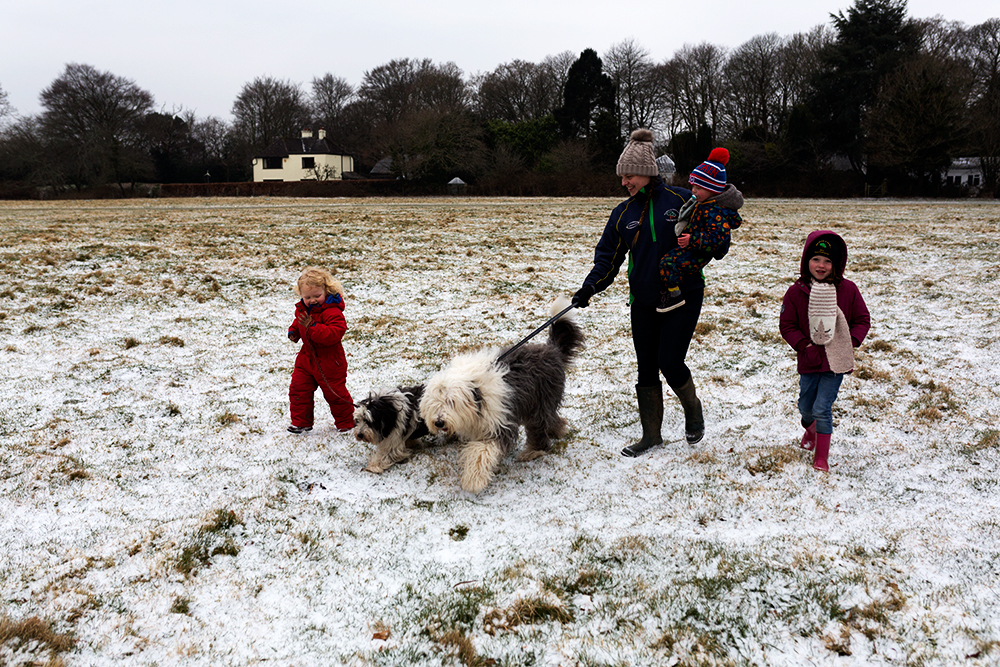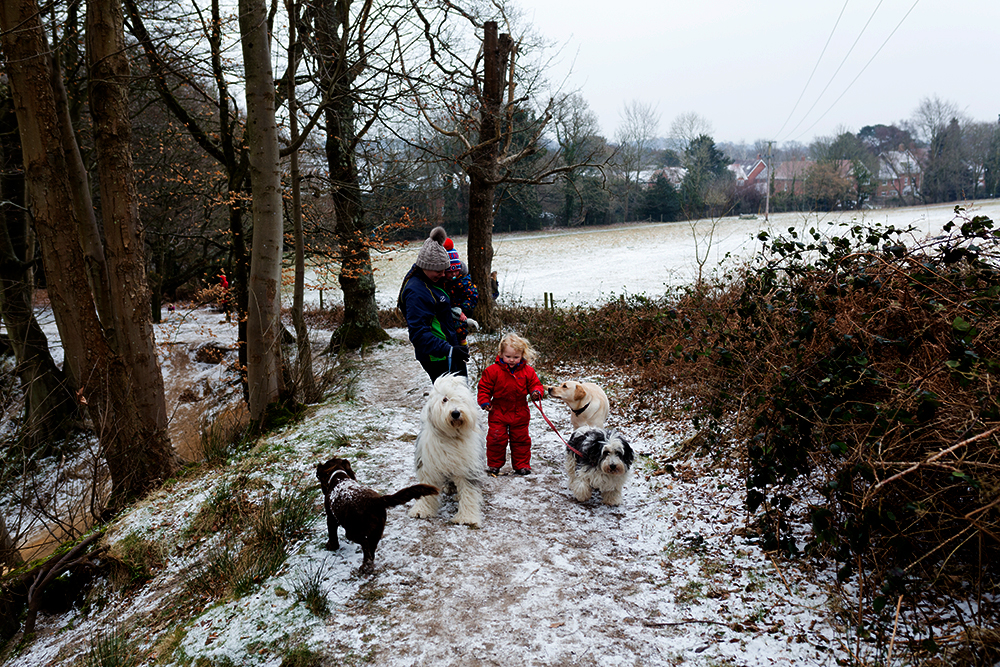 It started snowing again pretty much right when we got back home but just ever so slightly but within an hour it was really snowing and now it really felt like a proper snow experience for Nixie! She was so excited and rushed once more to put on her special outfit so that she could run out into our garden. We spent a couple of hours, throwing snowballs at each other, making snow angels, moving snow from one area to another, we tried to build a snowman but the snow wasn't really the right kind of snow for that so instead we created lots of piles of snow. She was enjoying it all so much and loved seeing all the snow falling from the sky!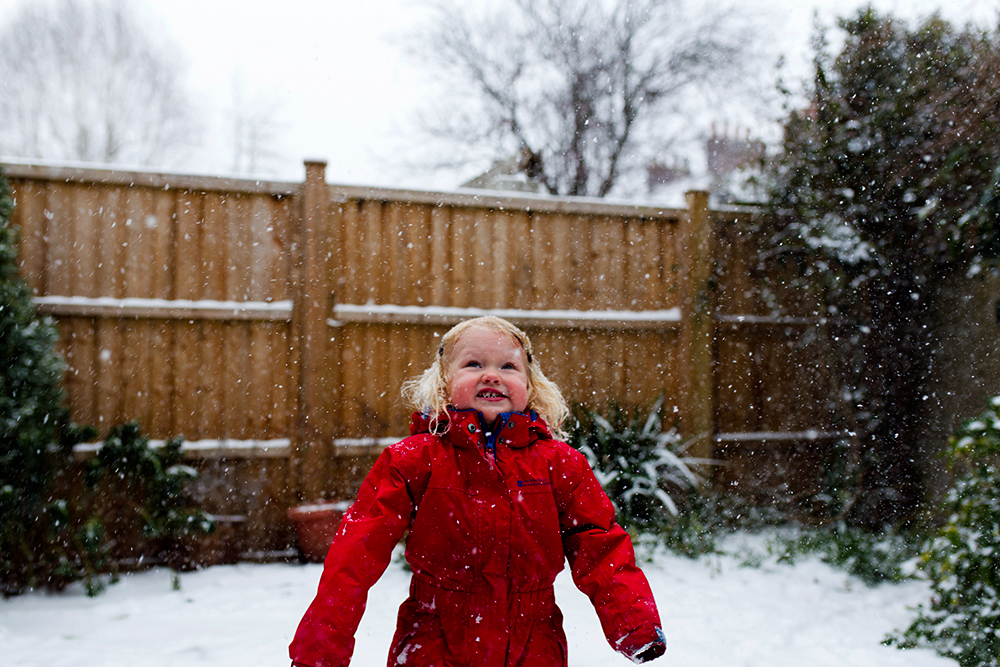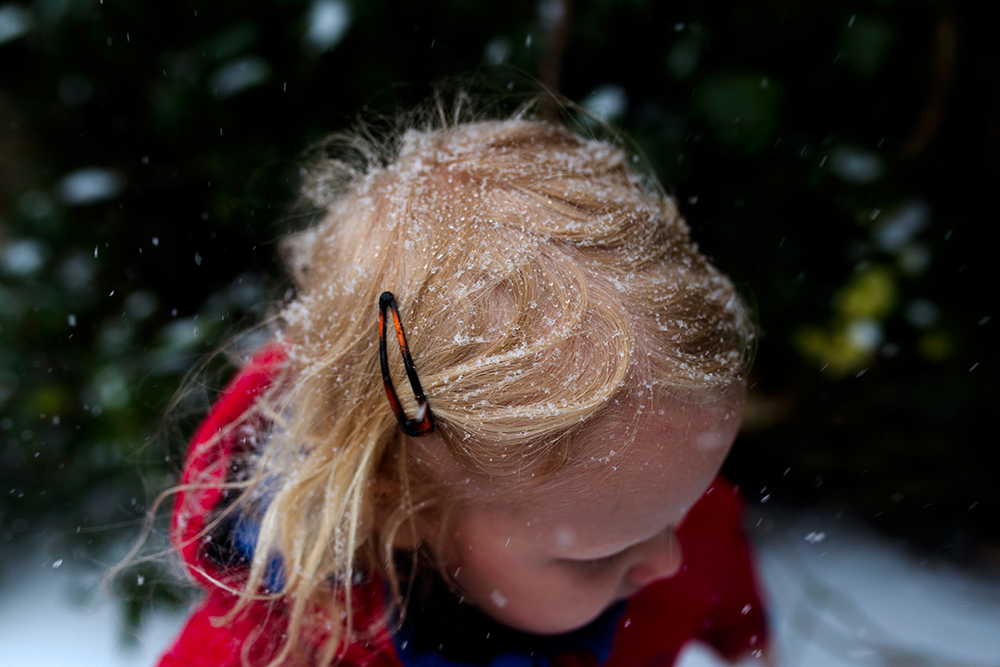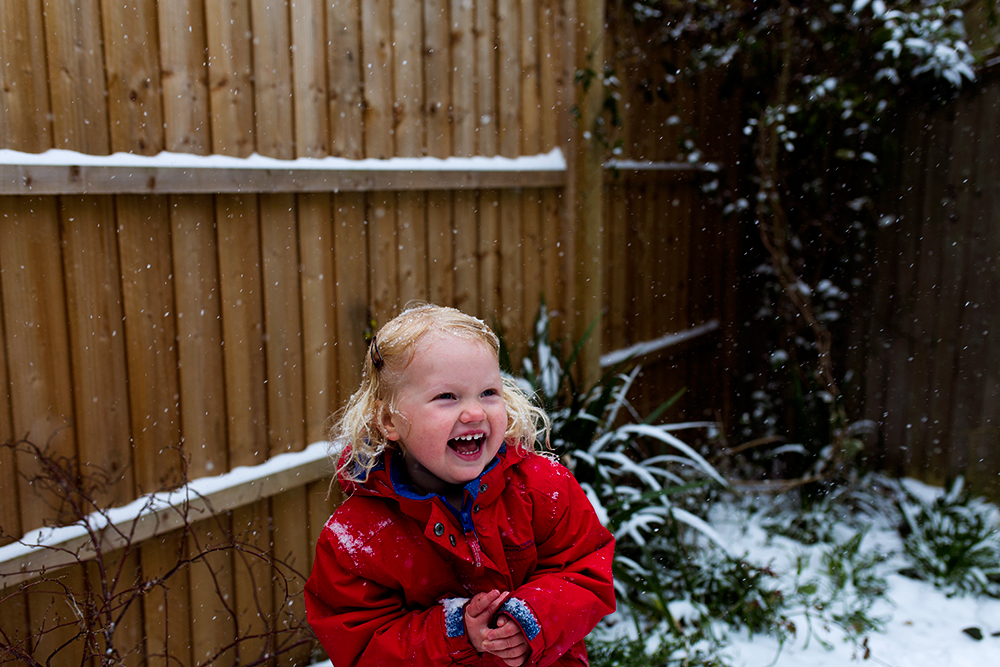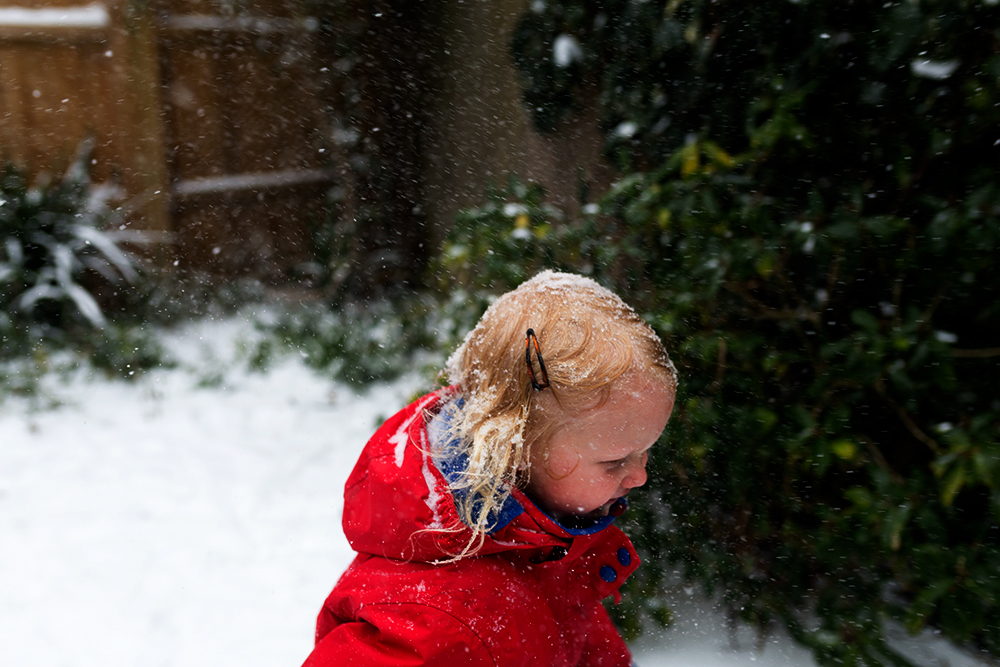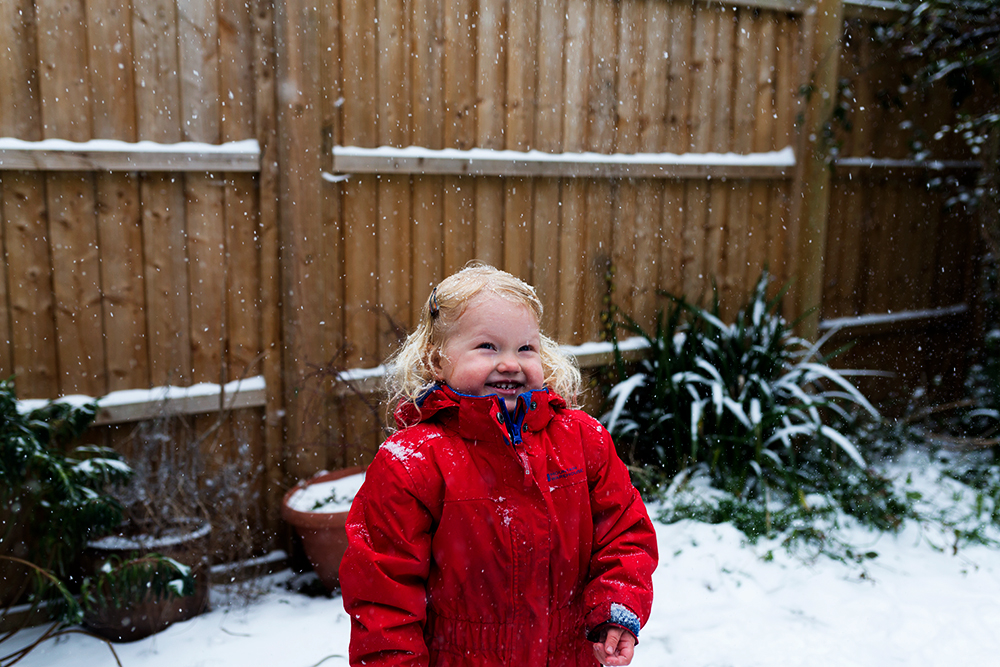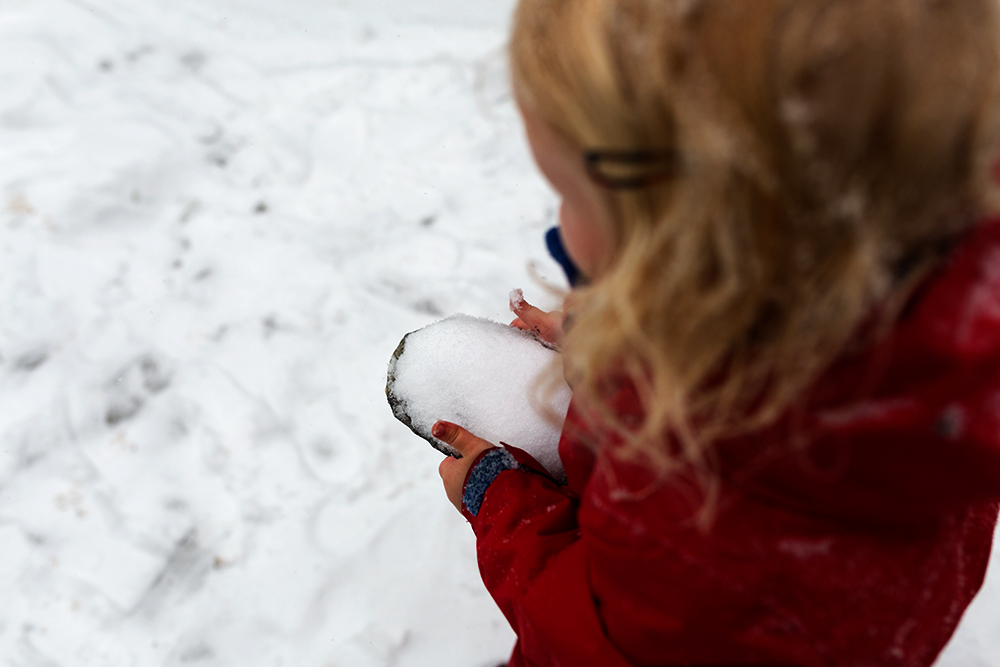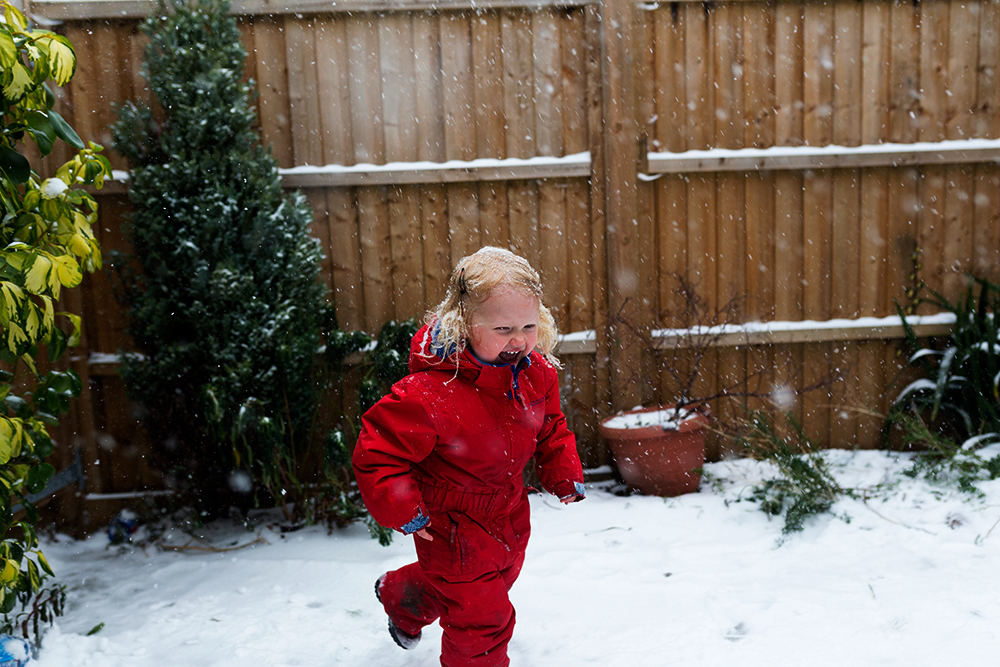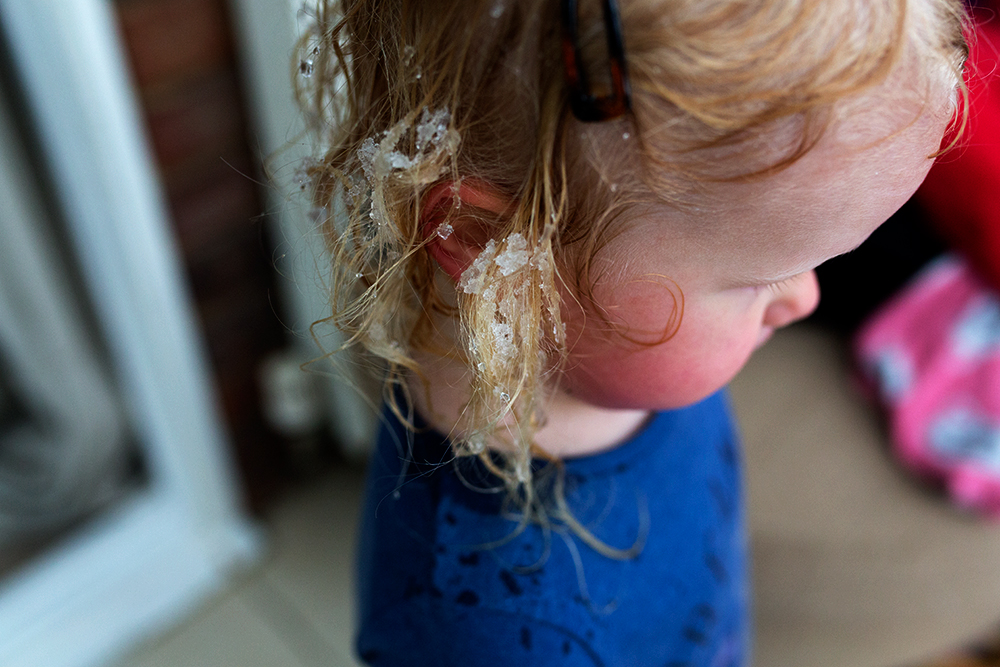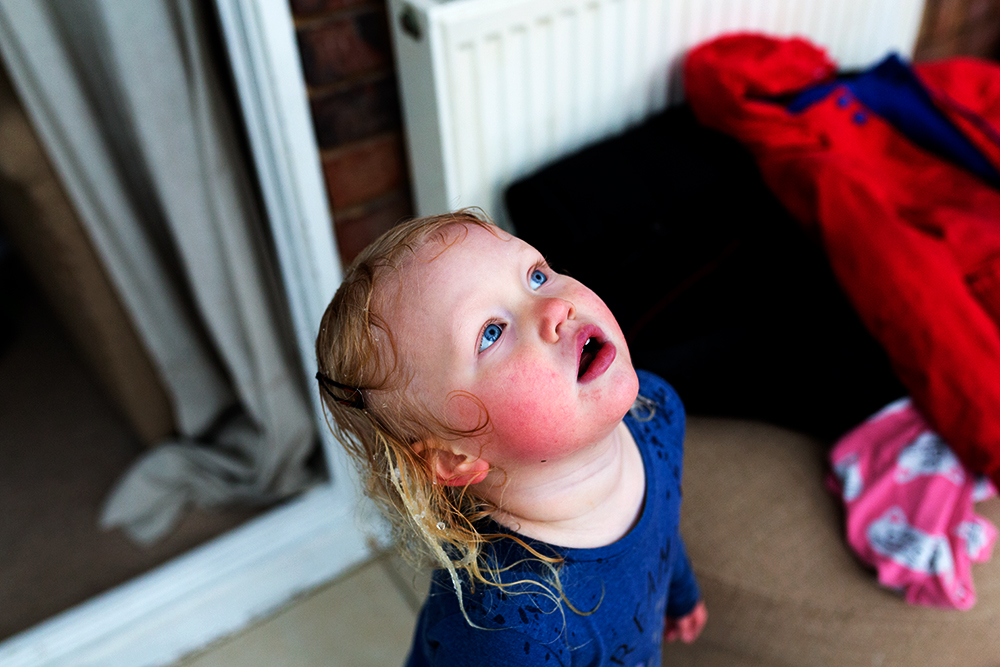 Now I grew up in a place where we would easily get a metre of snow and where the temperatures would plummet to the minus 20's. So the tiny amount of snow we did get wasn't very impressive but in Nixie's eyes it was still ever so magical and I'm so happy she finally got to have her very first snow day!