So many shifts have happened this week. We stopped nursing during the night & it's the 5th night where I have our super king all to myself! Nixie is asleep in her own bed in her own room & Kevin hasn't come home from work yet. It is such a strange feeling, she seems so grown up, like she's jumped 4 steps ahead! I keep thinking she's going to wake up and come in here with me any second. She fell asleep instantly this evening, within 2 min of finishing up her current bedtime favourite, The Gruffalo's Child & if I allowed myself I'd be asleep too but my mind isn't quite ready and I'm laying here writing my next blog post! Sharing & writing down my thoughts and my days has become such a therapeutic part of my life.
For the past couple of weeks, I have really been struggling with energy and feeling tired most of the time. It's something that has been happening more and more frequently and I finally reached a stage where I needed to create some sort of change, I just wanted to feel like myself again instead of a shell of myself. And what I realised was that having 3 years of broken sleep had finally caught up with me, I get anxious, insecure and depressed when I don't get enough sleep. So last weekend in a bit of a desperation I decided to stop nursing during the night. It was a really hard decision to reach because I never had imagined I would be the one making that decision, I wanted it to come from Nixie so I had a lot of guilty feelings mixed in with it but my need for sleep and to feel better trumped all of that. I told her that from now on my boob's need to rest during the night otherwise they will get sore and not feel good & she understood this (she still has boob to fall asleep and during the day). She still woke up asking for boob but I gently told her no and reminded her of the reasons & she protested a little but then just cuddled up with Kevin and fell back asleep.
As hard as it was to make the decision of stopping so abruptly it was the right one and she's been really amazing through it all. The really surprising thing is her sleeping in her own room, we hadn't even thought about that, I really didn't expect that to happen, we had no intention of stopping our bed sharing nights I just needed to stop the nursing but after two nights of not letting her have boob,she just decided she wanted to sleep in her own room! She just said, "sleep in my room, own bed, I'm getting bigger and bigger and bigger!" and that was that! I couldn't quite believe it, we had gotten her a bed in the beginning of December just so she could realise it was an option & we've been decorating her room since then with different things we've made: heart garland going around her whole room, we made a pom pom wall hanging, I made a weave using a stick she chose from the forest and a rainbow raindrop cloud plus added some photos and all this has made it feel really special to her, & how do I know this? Because ever since she chose to sleep in her bed every night she goes through everything we've made telling me how much she loves it and how we made it together and how it looks so nice and she says it with such pride! She does still come in around 3/4/5AM and asks for boob but when I say no she just curls up and cuddles with Kevin.
And today I felt a definite shift within myself, I felt a zest for life returning. It's crazy what a lack of sleep can do to you. I even managed a shower and shaved my legs. Nixie joined me and it was such a lovely experience, she was just playing and sitting in the tub letting the water from the shower flow over her & afterwards I said to her, "thank you for joining me!" and she said, "it's nice to have bath with you mummy, make me happy," while looking up at me in the sweetest way with her big blue eyes, she's been so affectionate all morning, my heart complete putty in her hands. I had told her we were going to have another adventure today after the boiler people came and that we were going to take the bus and that this time I wasn't going to bring the carrier backpack.I asked her what she needed to do and she said, "hold hands!" and I asked what else and she paused and said, "sit nicely!" I thought not having the backpack with us would make her feel really grown up and that she'd love the experience.
And I think today's adventure has been one of my favourite outings of this year. It just felt so different, not having to carry the carrier backpack and instead only needing our regular backpack made me feel so free! And taking the bus is such a perfect way of getting to the woods, it only costs two pounds more than the train & it's way more interesting; today we had to wait for a herd of cows to cross the road & it takes me directly to my favourite bit of forest, Whitley Wood, this area just feels like home, I know the trees around there and it just feels so familiar and comforting. I love experiencing different areas of the forest around here because some resonate more with me than others. Each possessing their own bit of magic.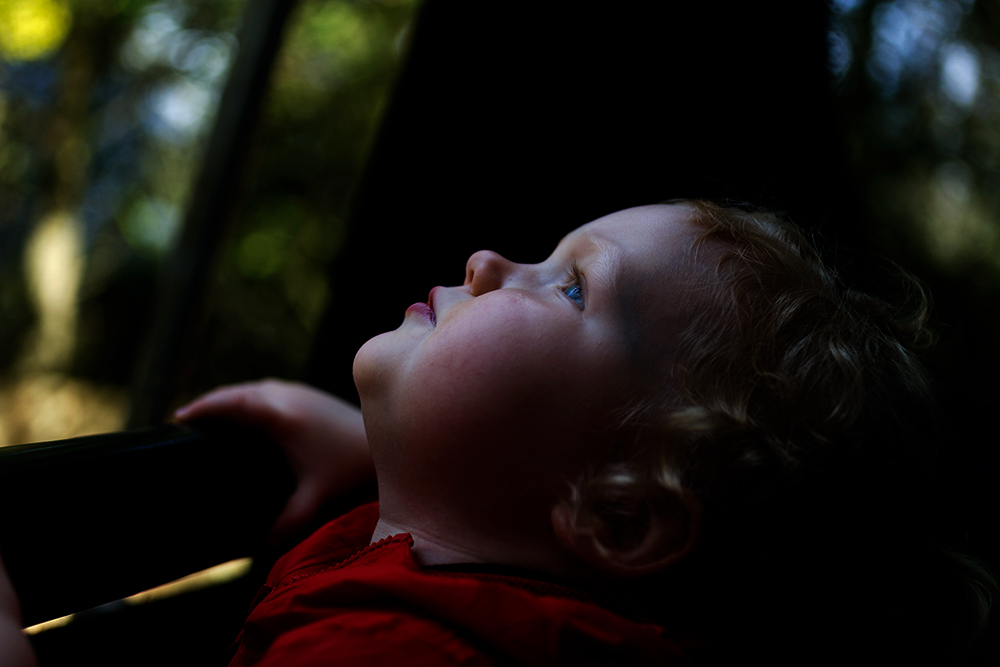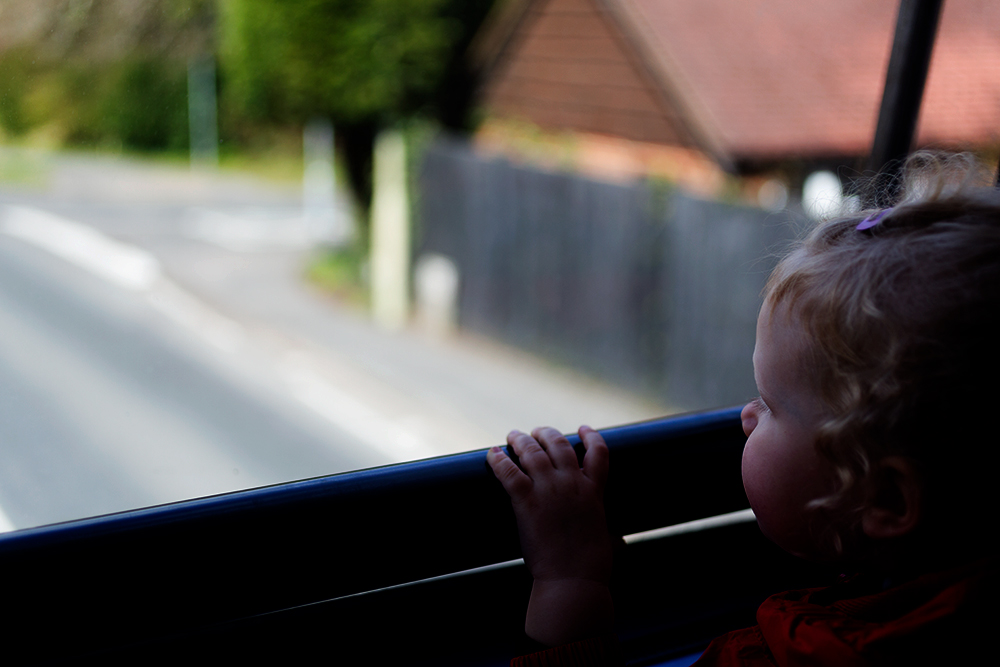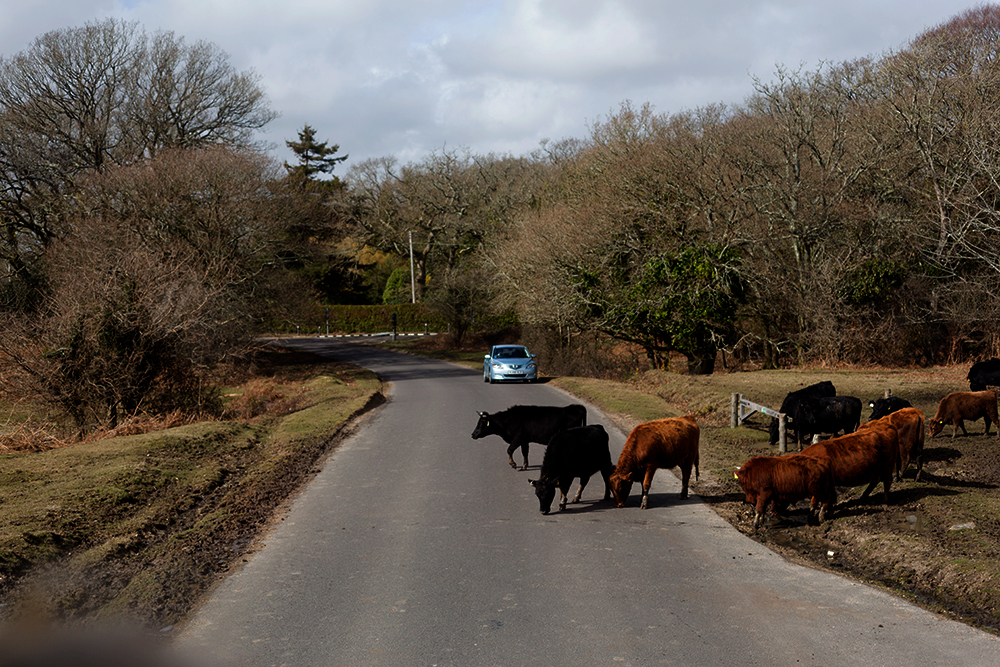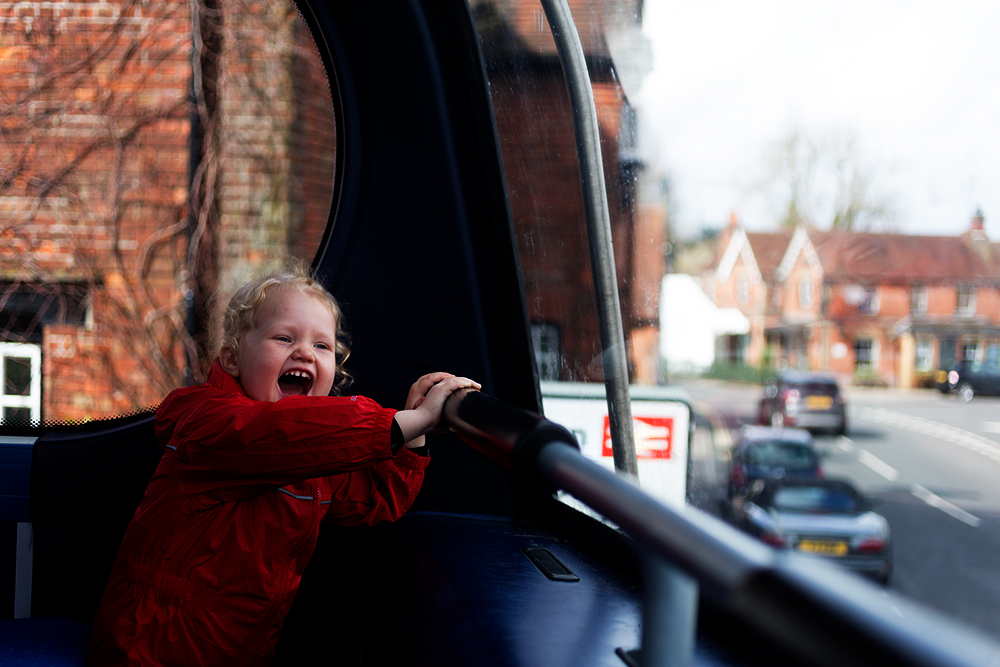 At first when we got to the woods I felt a little bit of jarring because I really wanted to get to my favourite area in the woods as fast as possible but Nixie didn't. She was having so much fun just where we were. And I could totally get that but I wanted to get away from being able to see or hear the road, and you can't really get her to understand or care in that moment that where I want to go is so much better!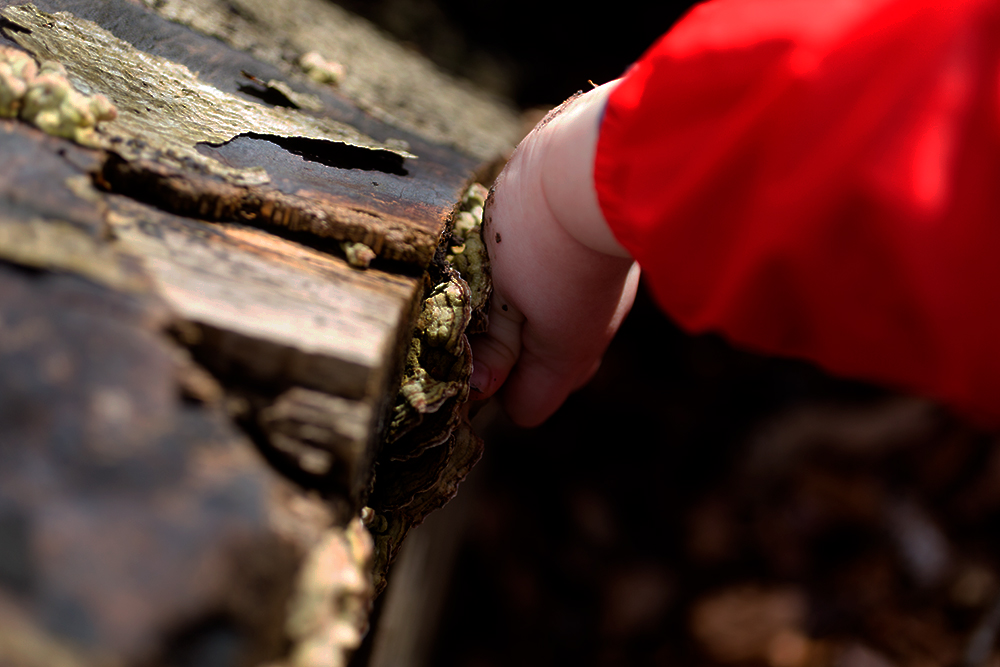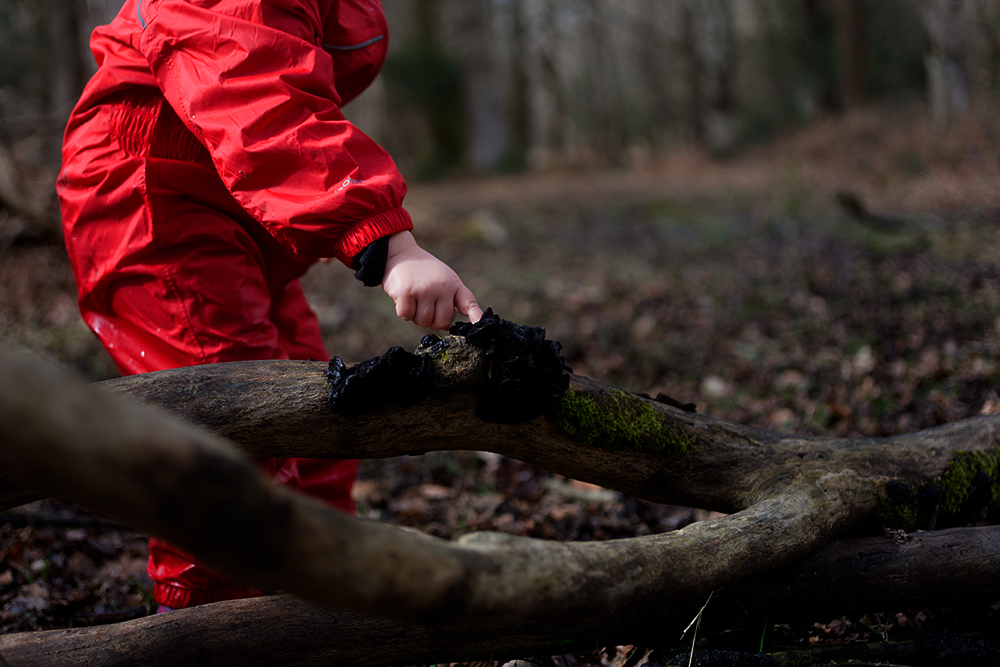 After a little more jarring, I was able to let go and just be where we were and followed Nixie's pace and route. Eventually we made a bit of progress towards the direction I wanted to go in but we didn't make it that far because she found a giant puddle (or a very small pond!) and at first she went in cautiously but then once she had surveyed the area she was running this way and that way through the water, and then it progressed to jumping up and down landing on her bum over and over saying "I'm Pippi!! I'm Pippi!" I've introduced her to pippi longstocking recently, one of my childhood favourites and all I can say is she's a huge fan!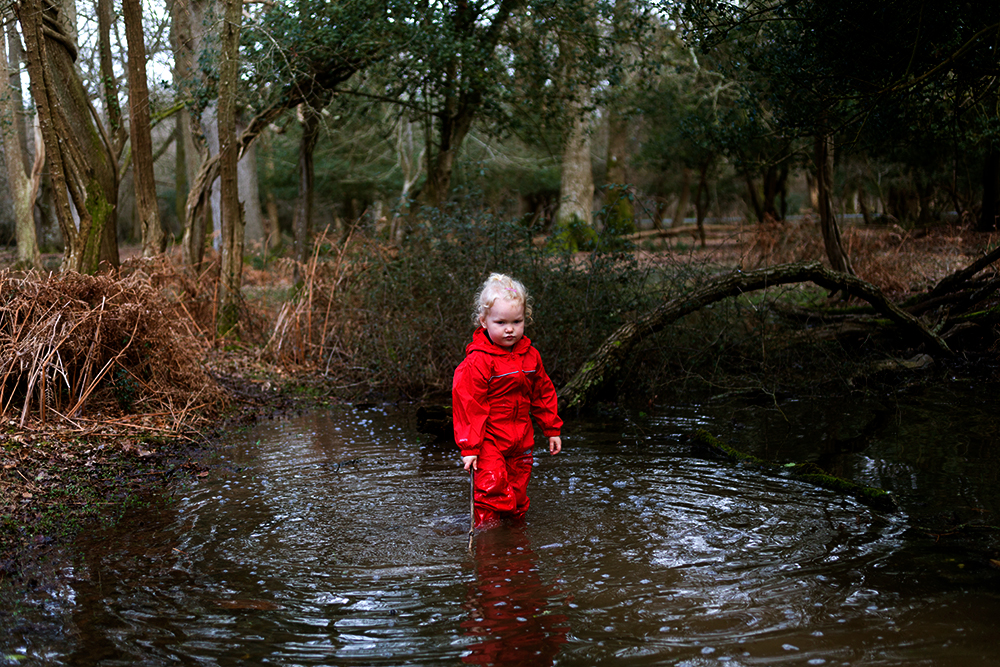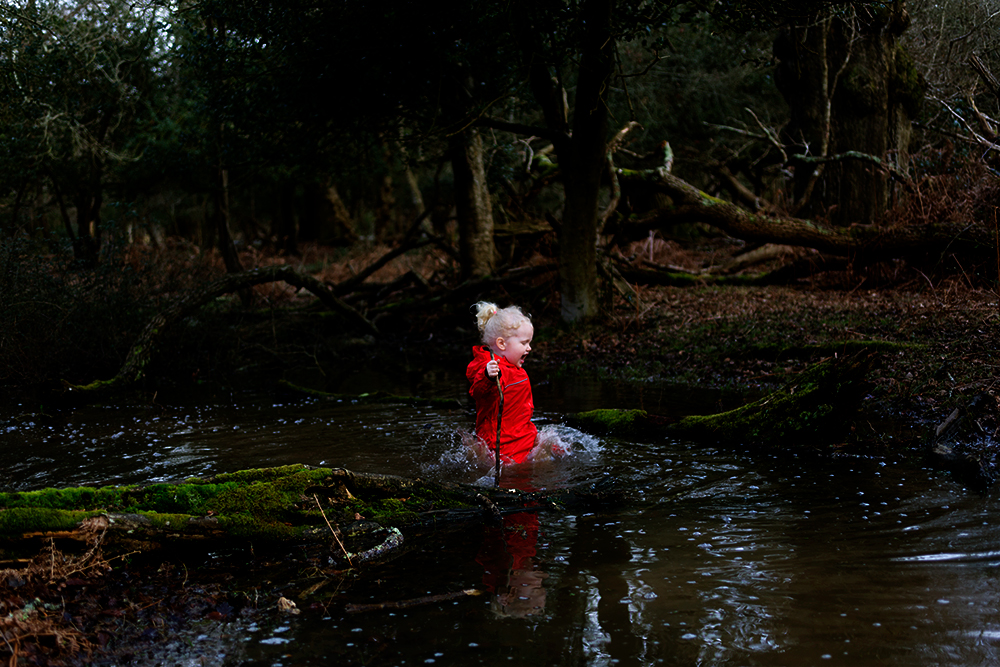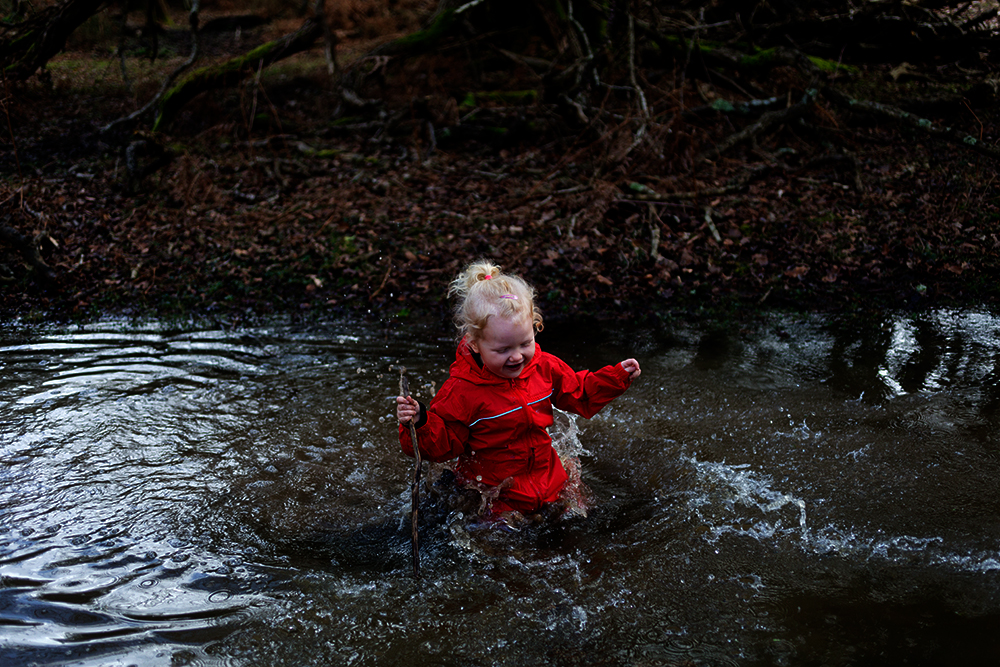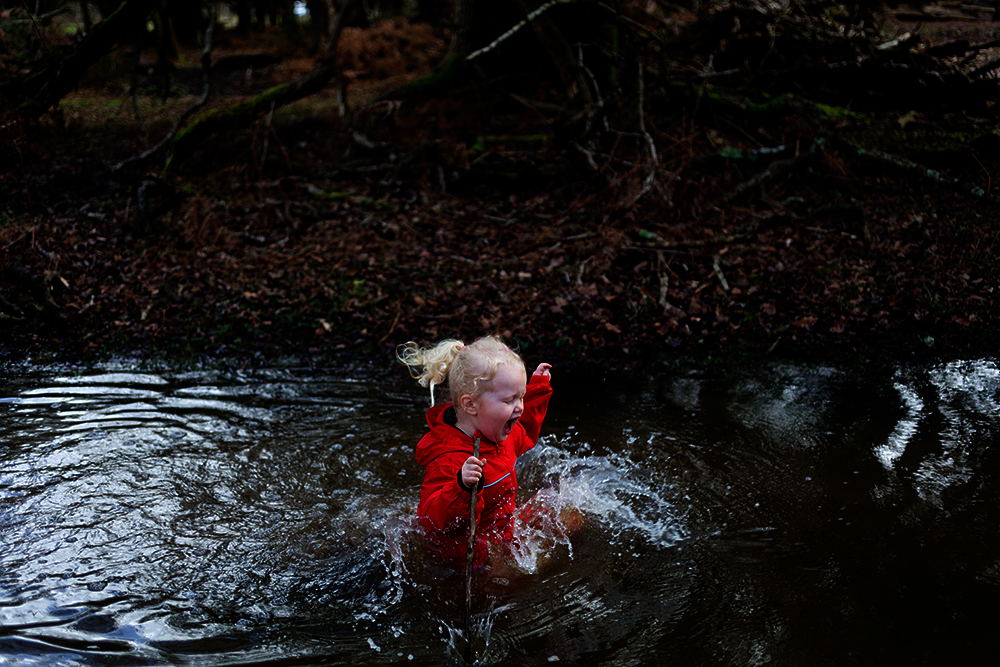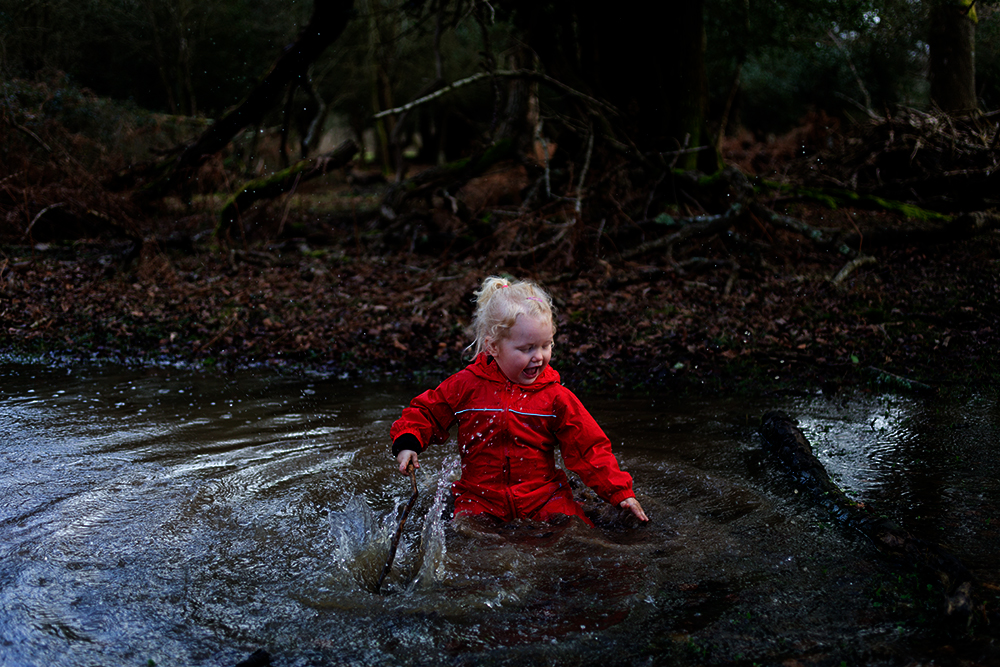 After a long while playing in this puddle she was ready to move on but instead of continuing deeper into the woods she decided she needed to go back to where she was playing before, right next to a fence which borders New Park Manor. I did try to entice her to leave this area but there was a stream and if there's a stream to be played in, I stand no chance of getting my way! At least we didn't have to stay here for too long before she was finally ready to head into the direction I wanted to and it became an urgent thing for her, she grabbed my hand and shouted, "the big bad mouse is coming! Run!" and so we did, we ran across puddles, through swampy fields until she abruptly stopped and said, "oh, it's not the big bad mouse, it's a car." we still continued in my preferred direction but took our time, we stopped to play in lots of puddles and she was determined to walk backwards most of the way which made her giggle so much every time she fell.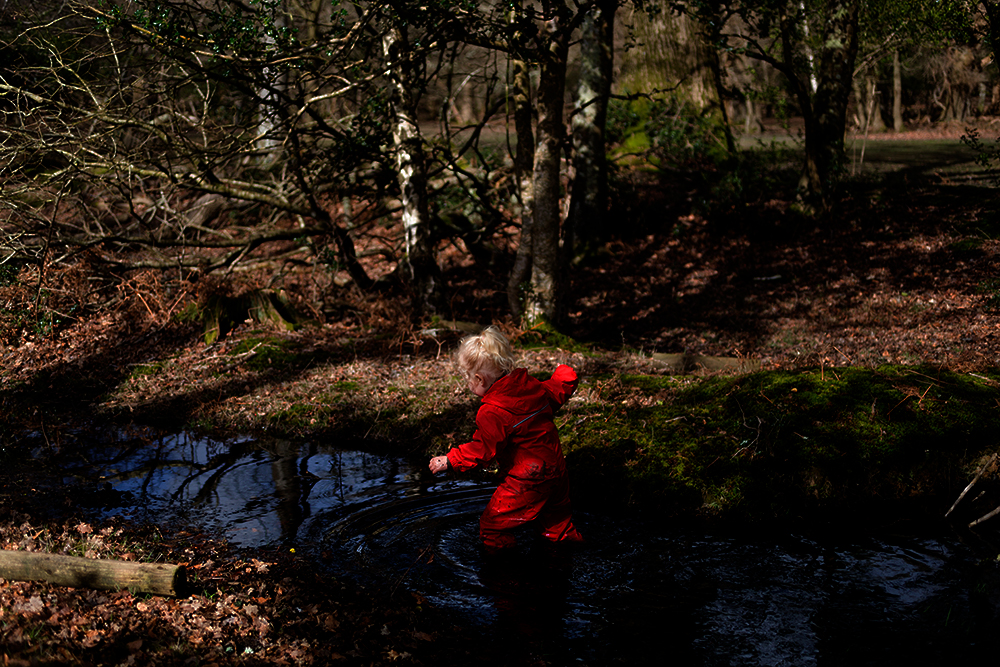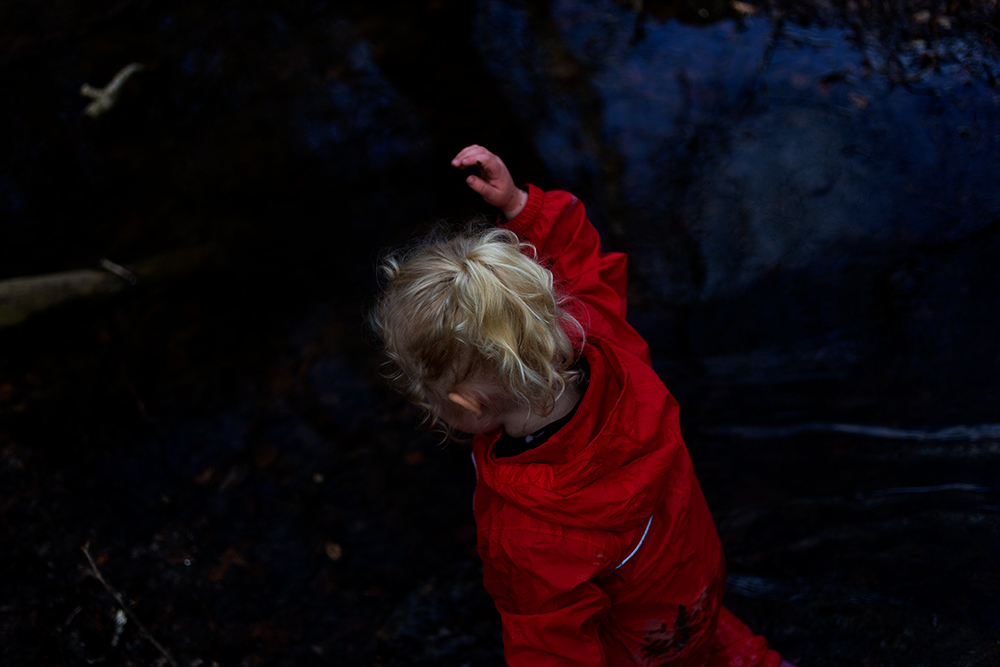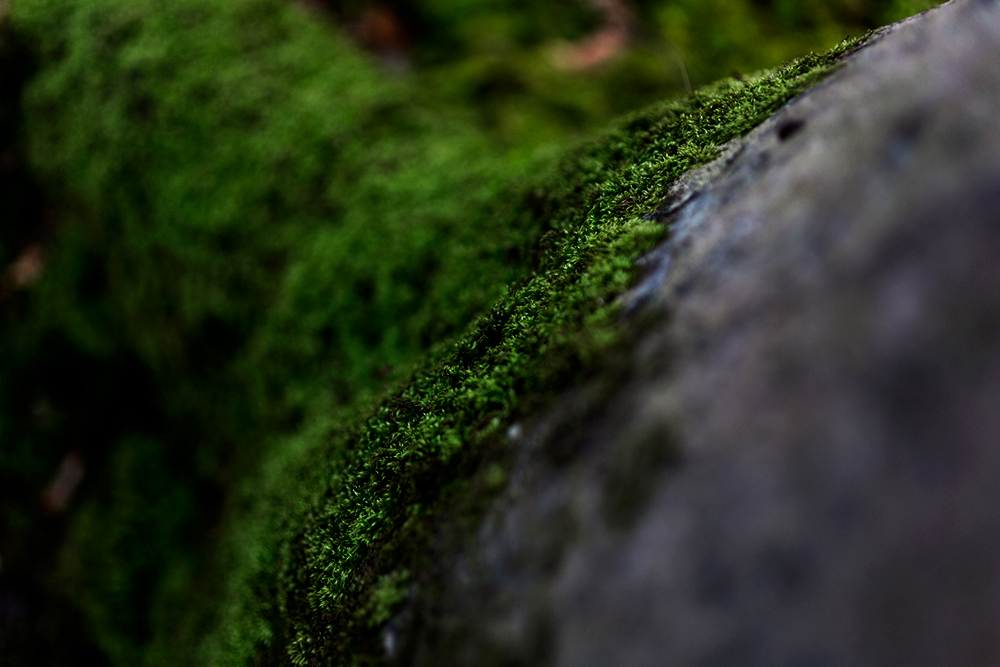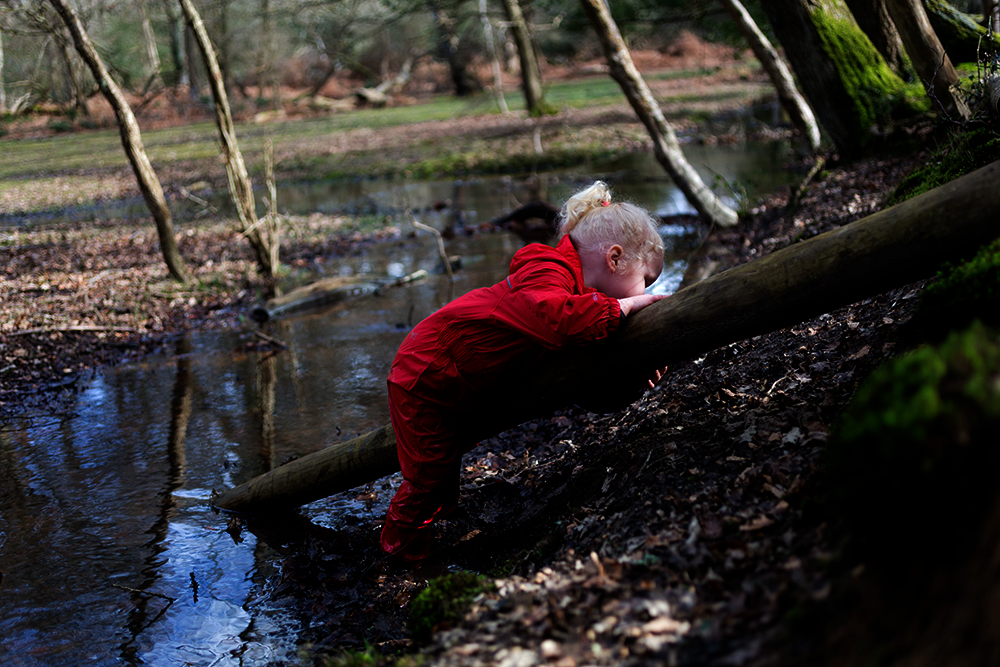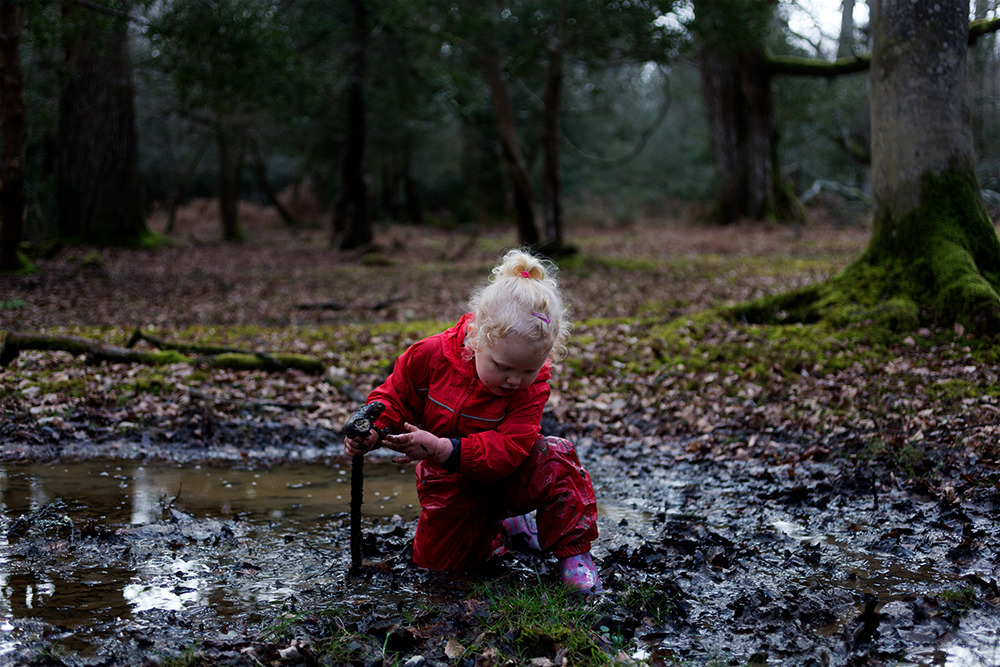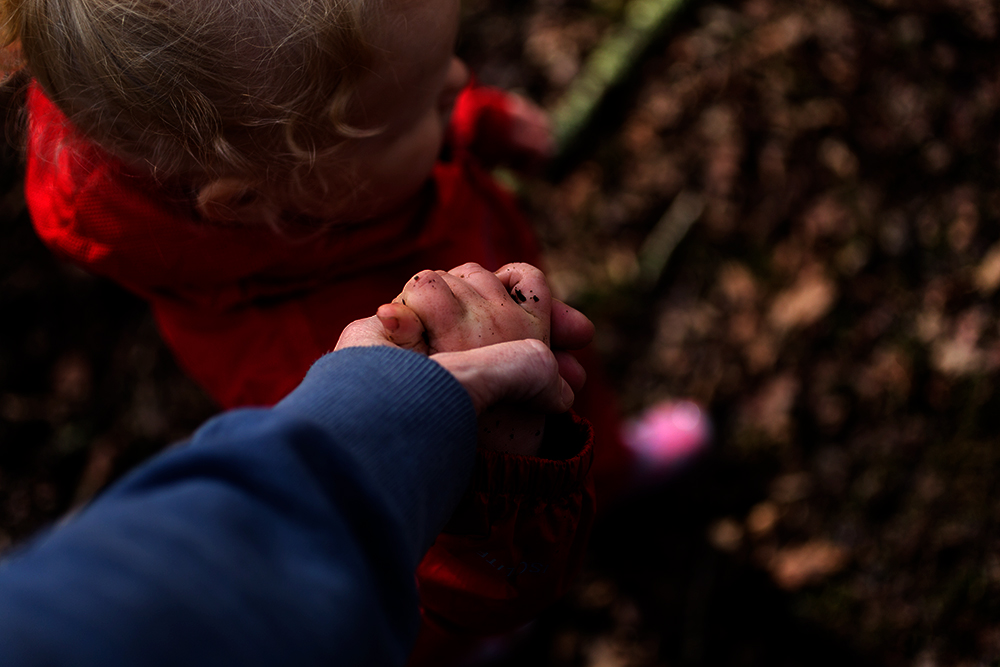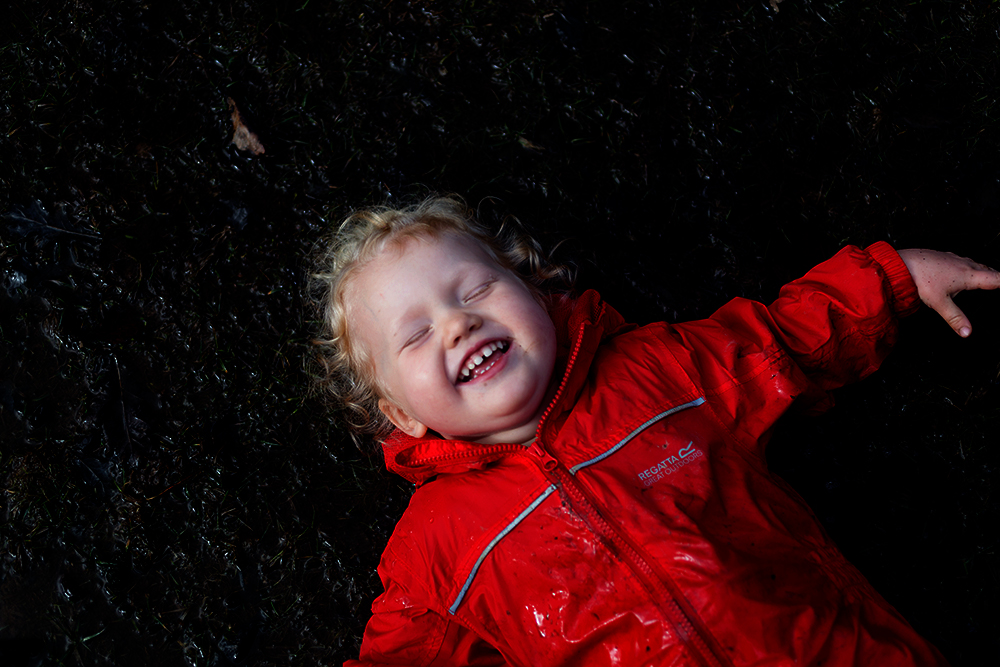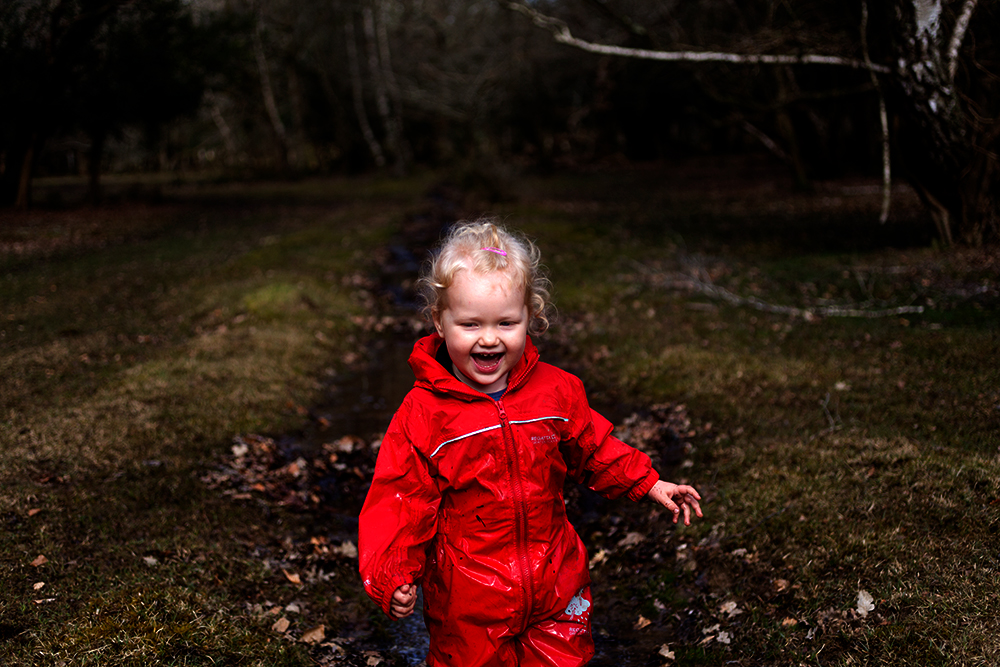 Once we reached the edge of my favourite area, we saw deer again! This time they were closer to us and stayed within our eyesight for a good 10 min. Nixie and I were in absolute silence holding hands and slowly, very slowly walking in their direction. I love having these kind of experiences in the forest with her, there's something so special about sharing moments of awe with someone else by your side. Eventually all the deer ran off and we watched as more and more deer passed us, there must have been at least 100 of them, It was such a beautiful sight!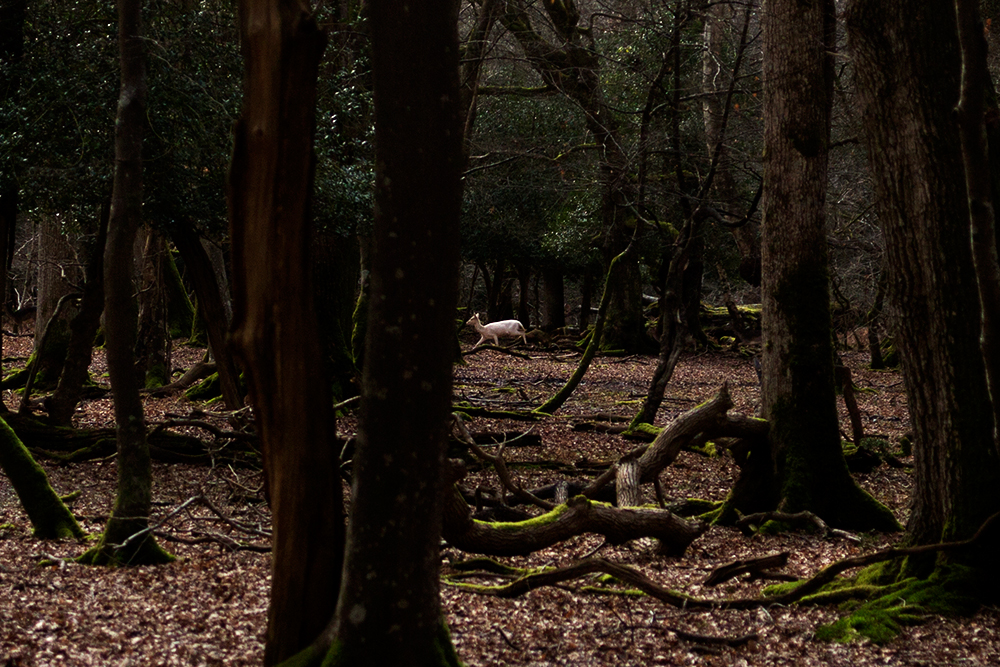 At first Nixie wanted to continue to follow them but quickly changed her mind when I asked her if she was ready for a snack. We found a nice little spot to sit down, Nixie seemed a bit disappointed when i told her I didn't bring a blanket, she's really been into having picnics on a blanket & we've been having lots of them on the floor in our living room for the past week. This was such a special time during our outing, I felt so relaxed, calm and happy just sitting down leaning my back against a tree. I closed my eyes and took some deep breaths and was even able to bring myself into a meditative state. Nixie seemed to be in the exact same state as I was in, we sat mostly in silence just listening to all the sounds of the forest, the birdsong was beautiful, it was getting louder and louder and we did try to mimic some of the songs, me by whistling and then Nixie had to see if she could also whistle and had a go by blowing out air and humming at the same time and then got so excited proclaiming, "I did it! I did it!"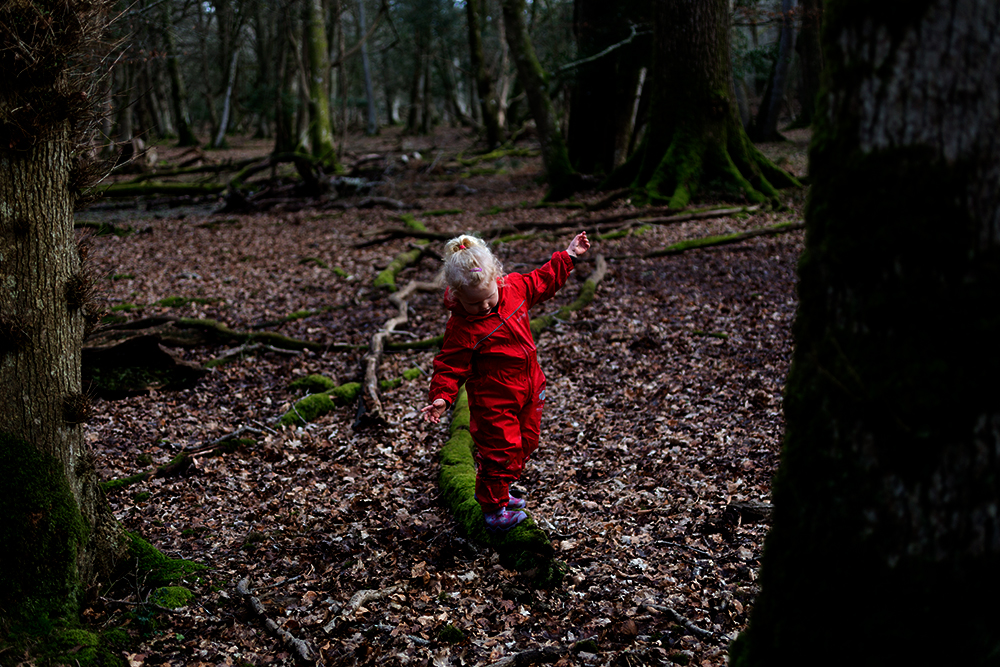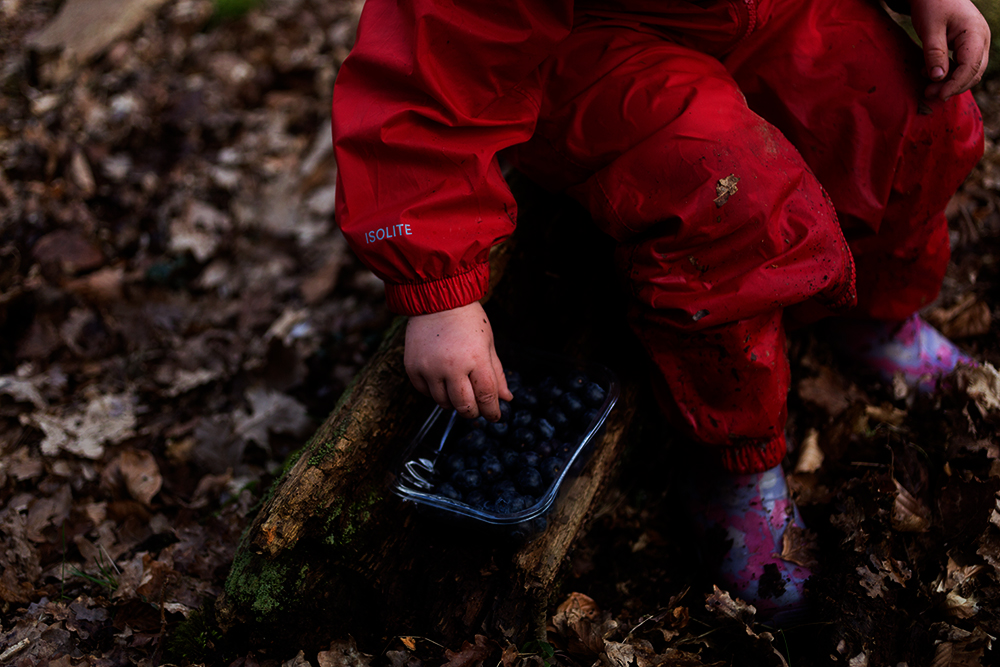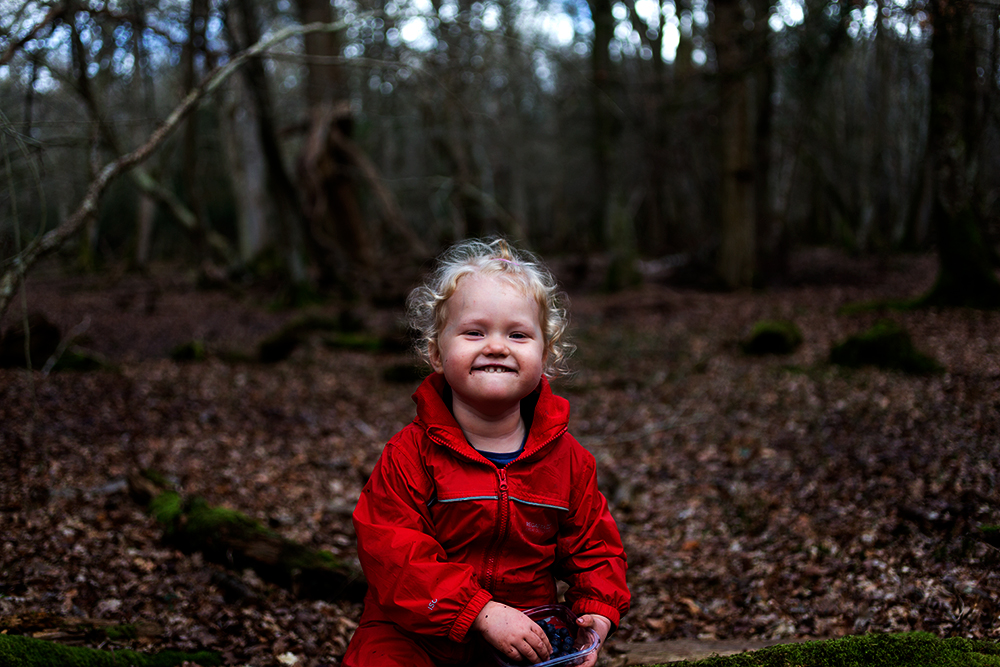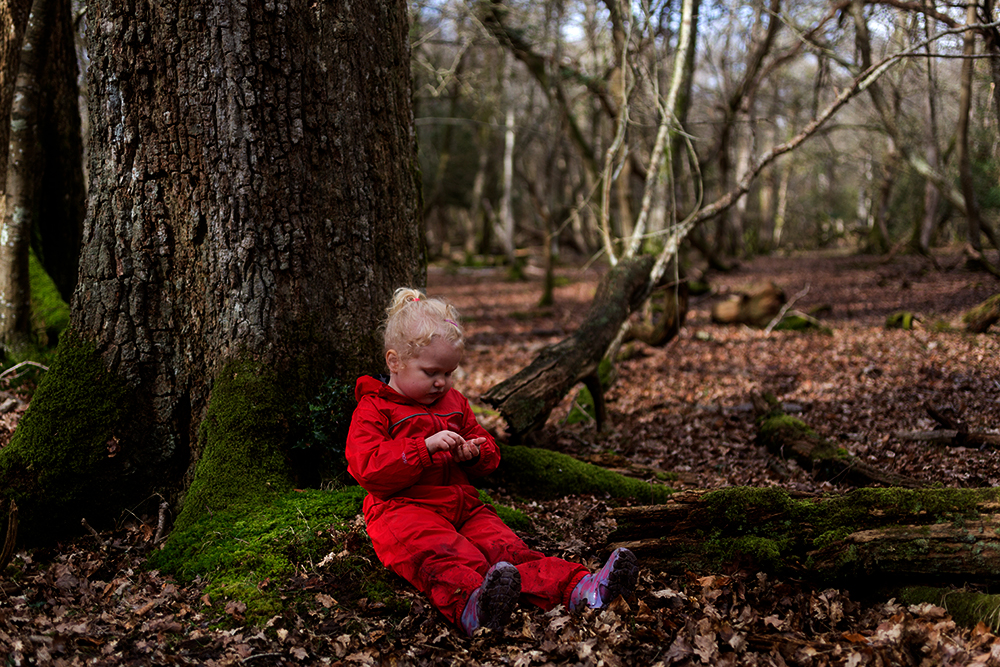 She can climb so much better, her balance is better, it's crazy how much she's developed lately! She's so much more independent and she was taking more risks today but completely at ease with it, it was incredible to see, where did my baby go?! She had spotted a giant ladder that went up a tree (I'm not sure what it's purpose is, but we've always noticed it and in the past I have always stayed away from it except for today) and headed directly to it. Immediately she began climbing it & at first it took her a while to get the hang of it but then very quickly she did and there was no stopping her, she even made it all the way to the top! It was really incredible to see. It did freak me out a bit though, and made me feel so anxious, I was trying my hardest to stay back and allow her the experience but it was so hard! I had to stop her though from getting to the actual top which wasn't easy, she was determined and it did cause a little upset but I told her it wasn't safe, that there was a hole in the floor (which there was, sort of). At first I tried getting her to stop by telling her that the sign on it said do not climb but she just said, "I caaan do it!" and I said I know you can but we shouldn't but managed to get her down in the end by climbing up and guiding her back down & reminding her we will be back next week when we'll be having our first camping trip of the year which made her very excited that she'd be able to show Kevin what she can do and she became convinced that he'd then be able to fix the hole for her. I'm so happy I let her challenge herself, she was so full of pride, and so amazed of herself too, she looked genuinely surprised that she was able to make it to the top! She also knew she was doing something dangerous and I'm pretty sure this added to the thrill of it. It wouldn't surprise me if she ended up being into extreme sports when she gets older!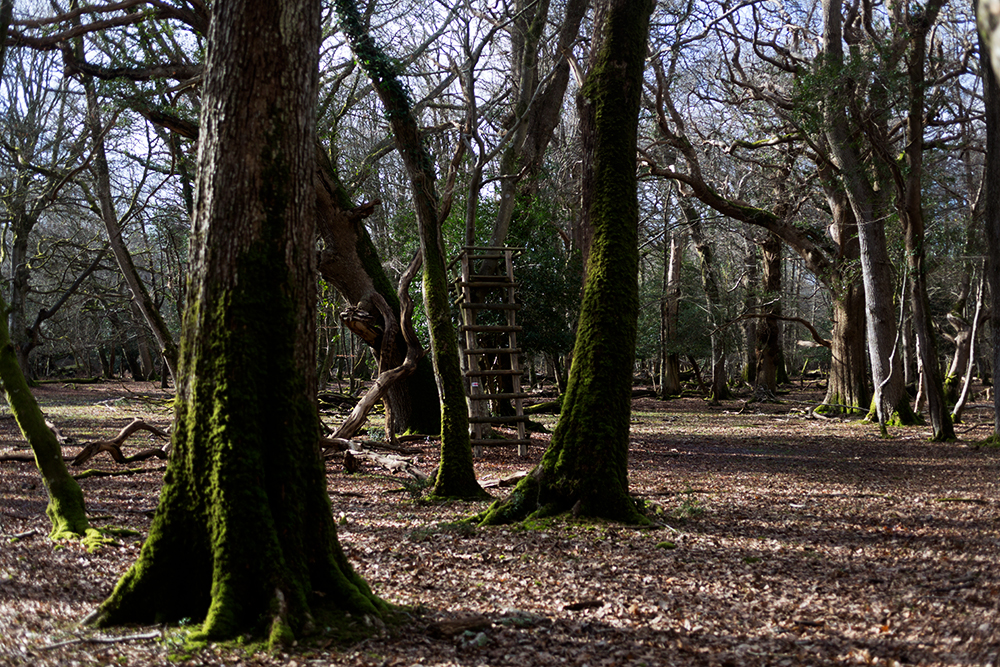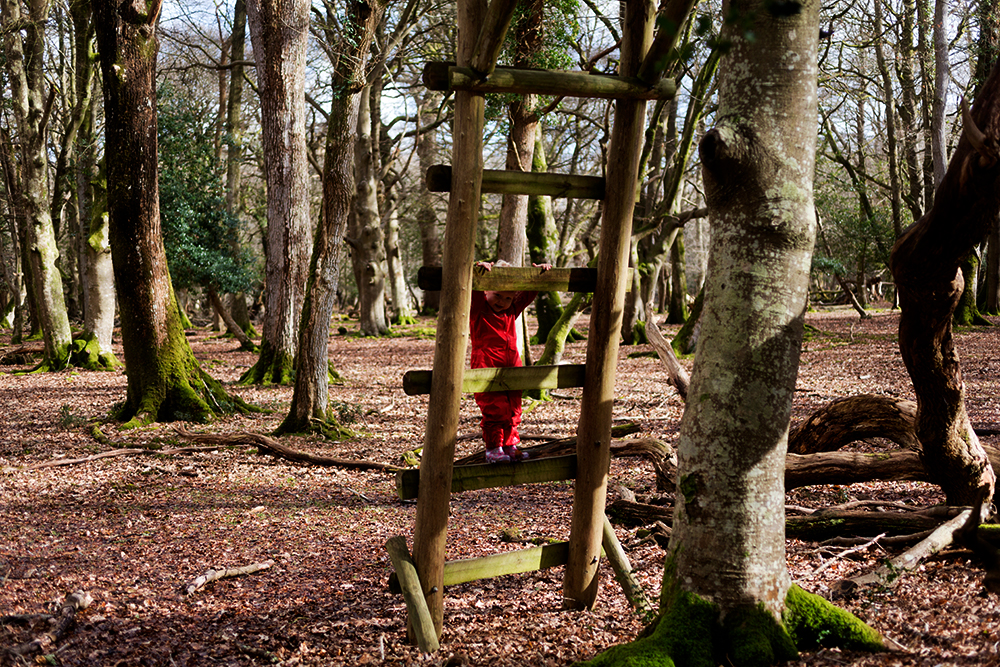 I checked the time and we had an hour until the bus would come so thought it was about the right time to start heading back in that direction. This was the only tricky bit, getting the timing right for the bus home as they only come once an hour and getting Nixie to walk quickly in one direction can be a challenge but with only a few stops on the way including stopping to play on the best bouncy branch we've found to date which included both of us riding it together pretending we were Pippi, she did it, she walked all the way to the bus stop holding my hand and being able to resist the temptations of the many puddles, streams and trees we passed on our way. I was so impressed! We did have the most incredible walking stick with us though that she had found which inspired her to keep going. The only thing that I really do not like is having to wait at that bus stop, it is right next to a crazy busy road with semi trucks rushing past at 60mph! I ended up not getting the timing right and we ended up having to wait longer than I wanted to and this created a lot of anxiety but the great thing was that there was ditch with a stream running through it and I got her to play in it until the bus came. And the journey home went much better than the last time, there were no upsets and I felt so happy that we had an amazing adventure without needing the carrier. And that was our day, now let's see if I can fall asleep, I'm so tired!