The soothing sea & the grounding forest
Today our senses got a special treat, we got to feel the soothing energies of the sea in the morning and the grounding energies of the forest in the afternoon.
It had been a little while since we've been to the seaside and I was really craving it. I put Nixie into the backpack and off we went to the sea wall. There are so many different ways you can get there from our house but today I decided to head to the sailing school and make our way to the marina and quay from there. I specifically wanted to avoid our beach because I didn't want Nixie to get soaked, I'm not sure I'd be able to keep Nixie out of the water without a very big upset, so thought it'd be best to just avoid it entirely. We are so lucky to have the sea wall and nature reserve so close to us, it really is such a beautiful area. It's so peaceful too, even during the high season of summer it never feels too crowded.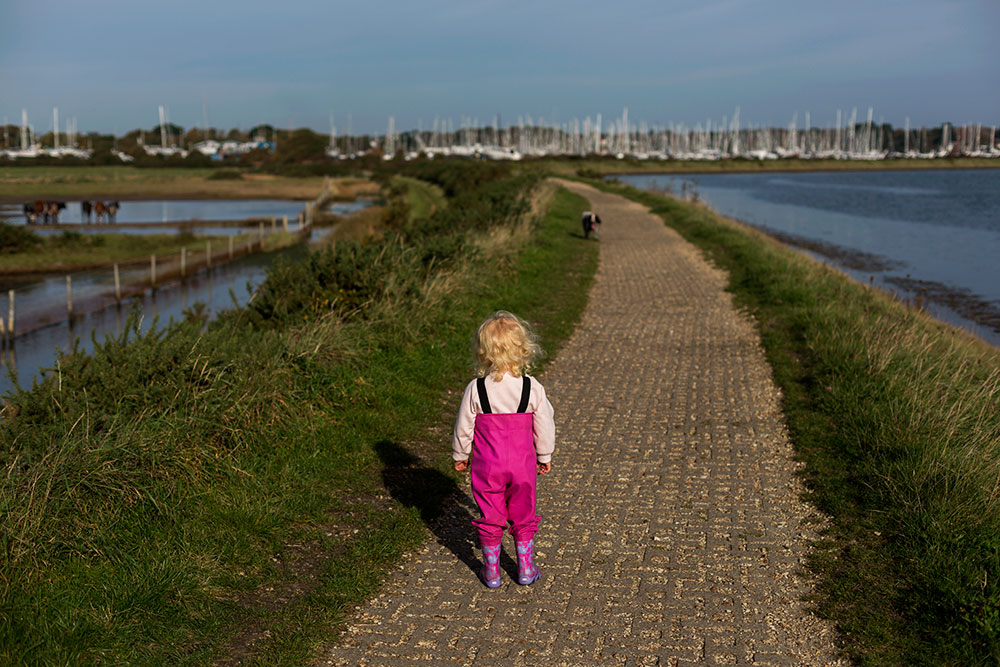 Once at the sea wall I let Nixie walk and we spent ages collecting stones, she's very specific of which ones she considers treasures and she had to carry them all in her hand refusing my offer of a pocket, well not entirely there were some stones which she chose specifically for me and these were allowed into my pocket. But if I tried to get her to put the ones she had in her hand into my pocket she'd get really defensive and shout, "No! Mine!" (she's been going through a very territorial phase as of late) I was just trying to help her out as I had already watched her trip a couple of times and struggle to get back up with just one free hand but I know better than to argue with her in moments like these. She'll learn in her own time. At one point a big flock of geese flew overhead and she turned her head toward the sky and froze in her spot completely mesmerized by the sight of them and the amazing sound that their wings made. I've never really been a birdy person but living here so close to a bird sanctuary has really made me appreciate them more. I pointed out a dancing egret that was trying to catch some fish and Nixie became really fascinated and sat down on the grass and patted the space next to her and told me to, "sit nicely, see bird fishes". I was really impressed that she wanted to just sit and observe this sweet little bird.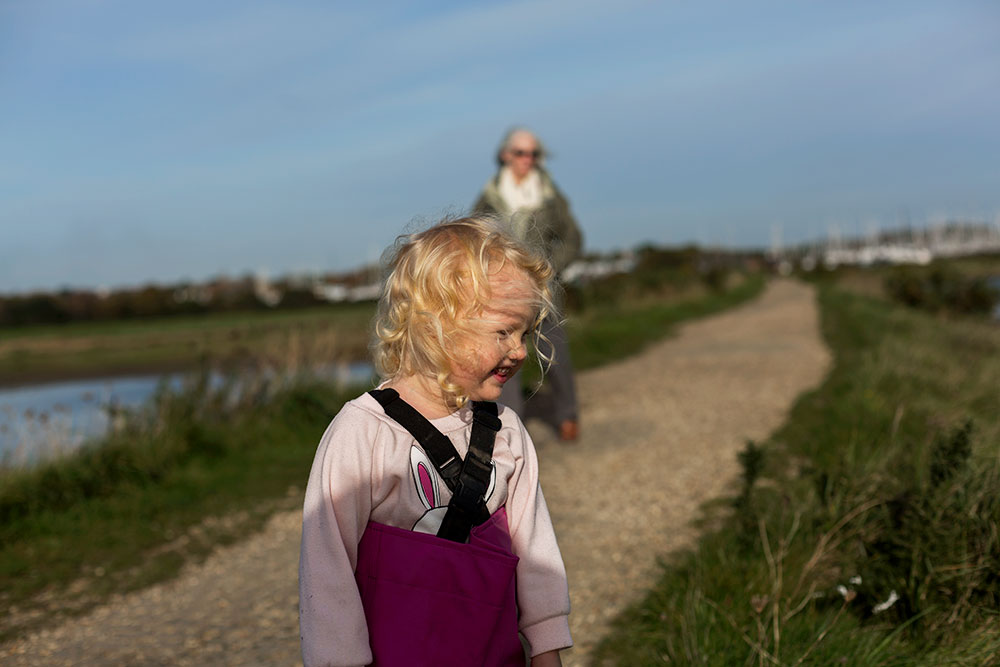 But her moments of stillness were short lived because not long after she made friends with a dog named Bailey. Luckily Bailey's human was a really lovely guy named Adam who didn't mind us joining him on his walk. Like I've said before, everyone around here is so friendly and open. He told me he also has kids but that they're all grown up with their own kids but how he loves being a granddad. I didn't think he seemed old enough to have grandchildren but he told me he started young. We both shared stories of our love of nature and travelling, and how he'd just recently got the travel bug and now just wants to explore the whole world. I just love meeting random people, it always feels so refreshing for some reason! One great thing about having a dog to follow is that it gets Nixie to walk in the direction you want her too! She followed the path of the seawall pretty much from where we started all the way to the marina without any detours! Once we reached the marina, he put Bailey on a leash and even let Nixie hold it, she was so thrilled and took the responsibility very seriously. I was dreading when it was time to go our separate ways because I knew Nixie was going to get incredibly sad, but we had spotted a couple of swans and I had brought our special swan/duck food and this was the perfect thing to keep her occupied with while Bailey and Adam continued their way.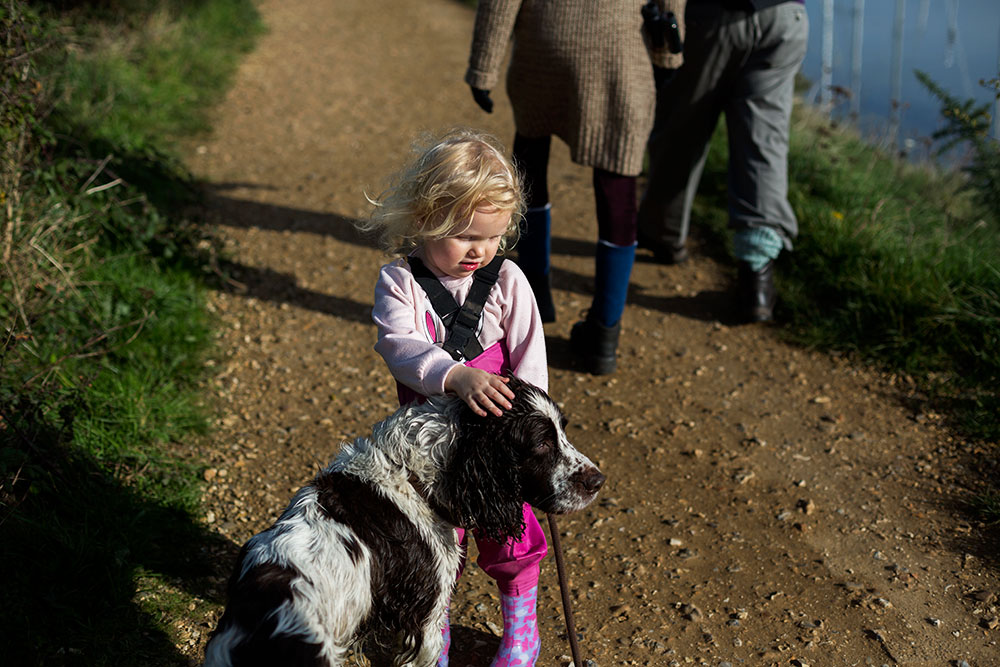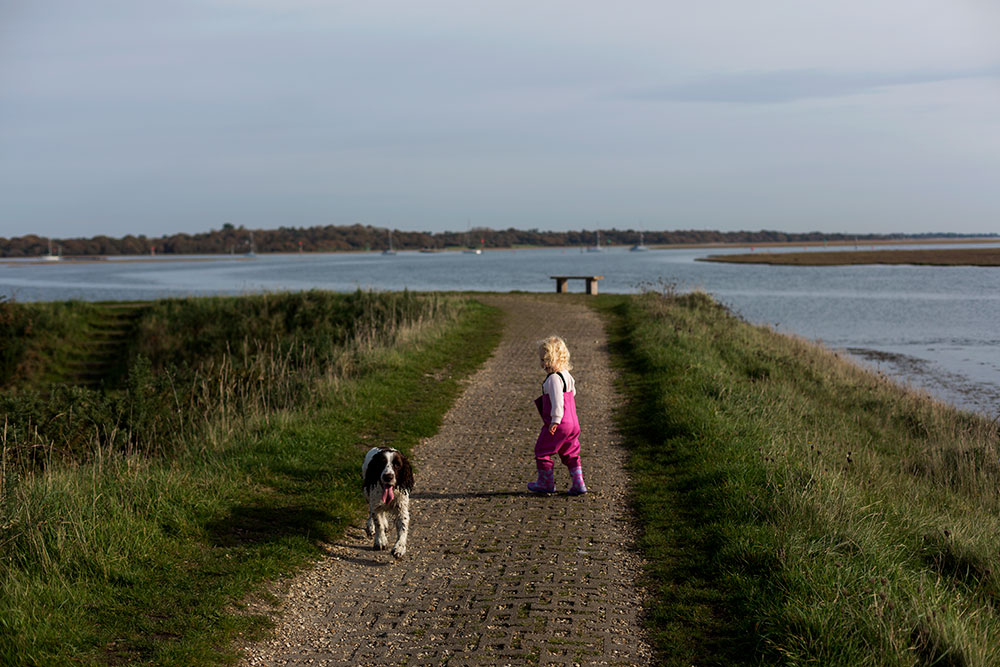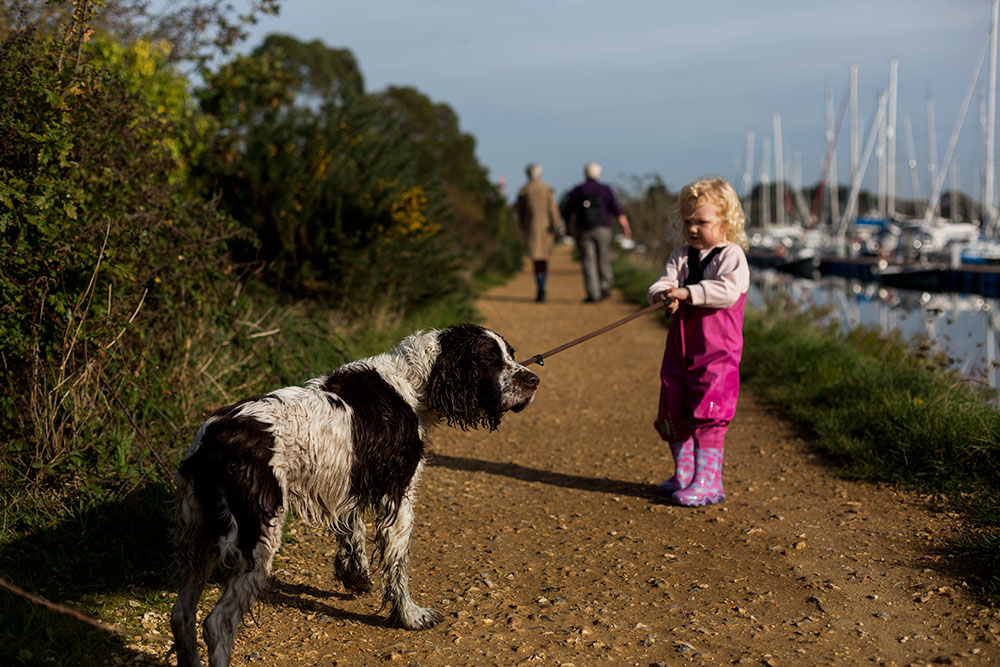 Eventually we made it back home and it was still really early in the day, I couldn't stand the thought of being indoors when the skies were blue and the sun was shining so after lunch I asked Nixie if she wanted to ride the train and head to the woods, and she replied with a very excited yes! The way she's been saying her yesses have changed, they are very accentuated and sound very 'proper' at times, it's really sweet.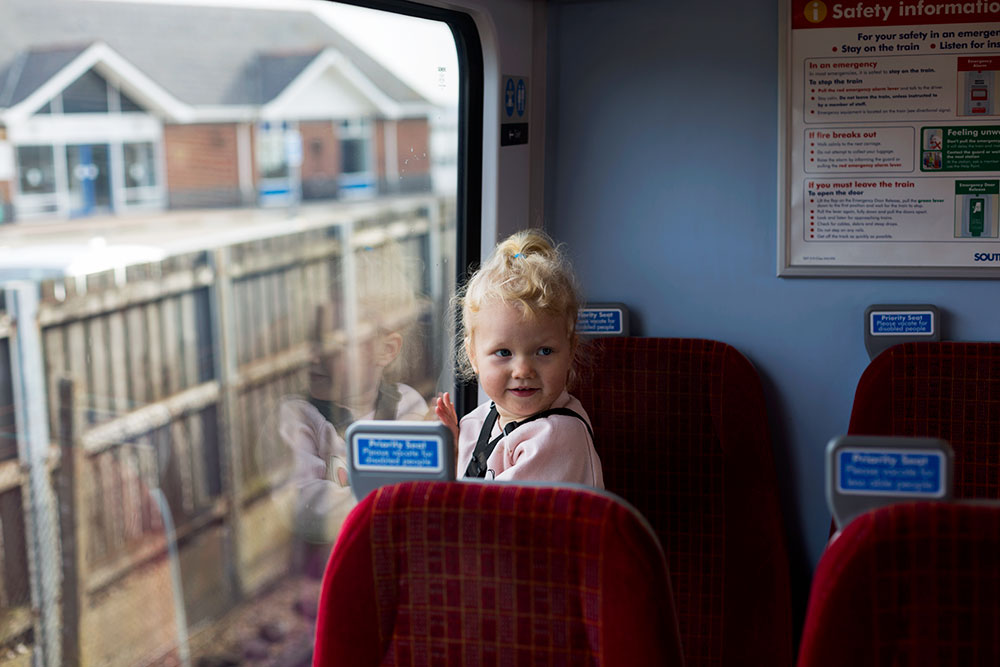 I got all our stuff ready and off we went. This time I decided to just head over to black knowl and start by exploring the woods around there. It felt really special entering the woods because there was such a contrast of light and dark, and it felt exactly as though you were entering the pages of a fairytale, into a completely new world full of possibility. As my eyes adjusted to the new light, and I took in the scene in front of us, I felt a presence, a calmness, something so familiar yet completely unknown. I really liked the area we found ourselves in: we were in a fairly dense part of the forest but an area that got enough light to make the forest floor a blanket of shimmery gold and as I looked around I saw that we were surrounded by so much water (luckily I was prepared and Nixie was wearing her waders). We were right next to the lymington river but there were several little streams and giant puddles between us and the river. Nixie made it her mission to reach the River in the fastest possible time but in order to get there she needed to cross several big ditches filled with water and some were stagnant and very smelly or just way too deep and not the type of water i wanted her playing in so on these occasions I'd make her find another way to cross and instead of getting frustrated she seemed to really like the challenge of finding another way to go, it was like we were going through an obstacle course trying to reach some sacred land to find hidden treasure! When we finally reached the river Nixie wanted to go immediately in it. In some parts of the river it was very deep and in other parts so shallow you could easily walk across & some areas were ever so still and others the currents were so strong and flowed with such force so I didn't let Nixie explore on her own, if she wanted to go in she had to hold my hand and it was non-negotiable. But this ended up being the absolute best part of our day, holding hands, adventuring through the lymington river and giggling our way through its currents in the most beautiful woods completely on our own, with not a single soul in sight, only the sound of birds and the ever so often sound of a rutting deer. Yet again time stood still and we were both in our happy places.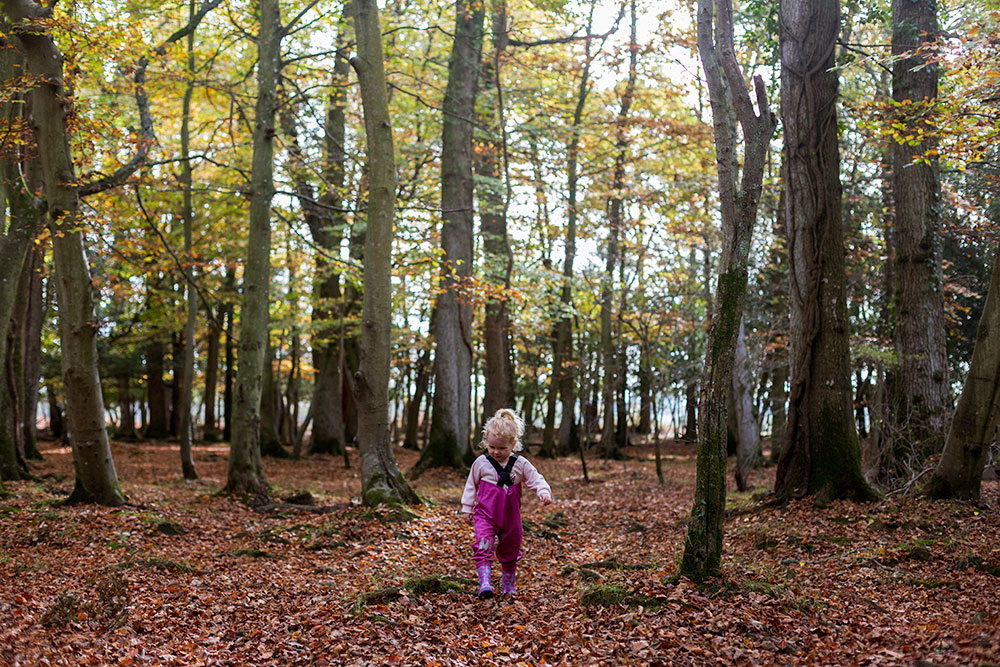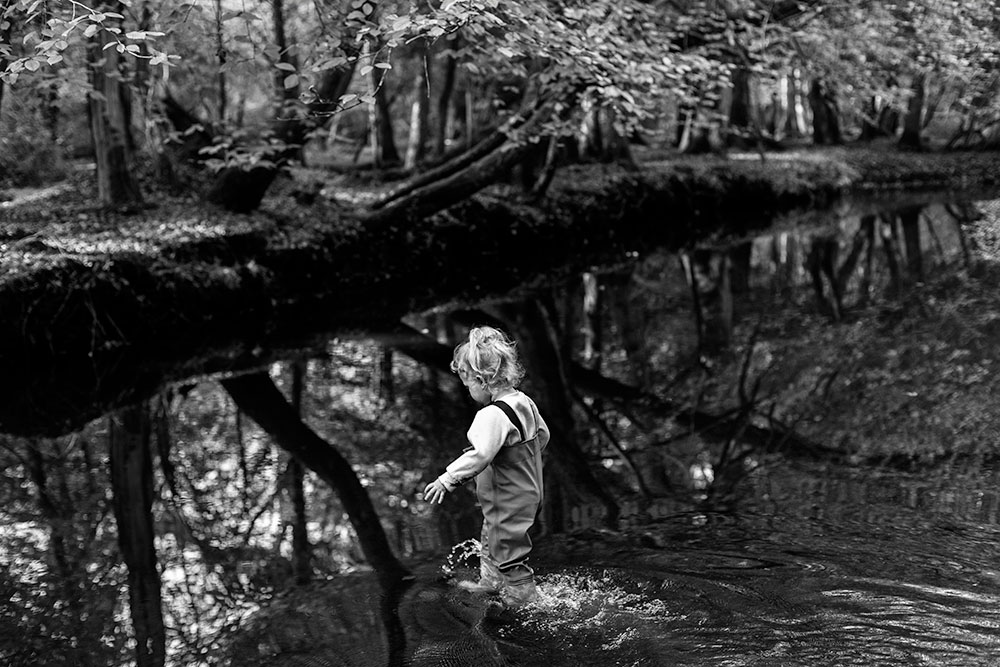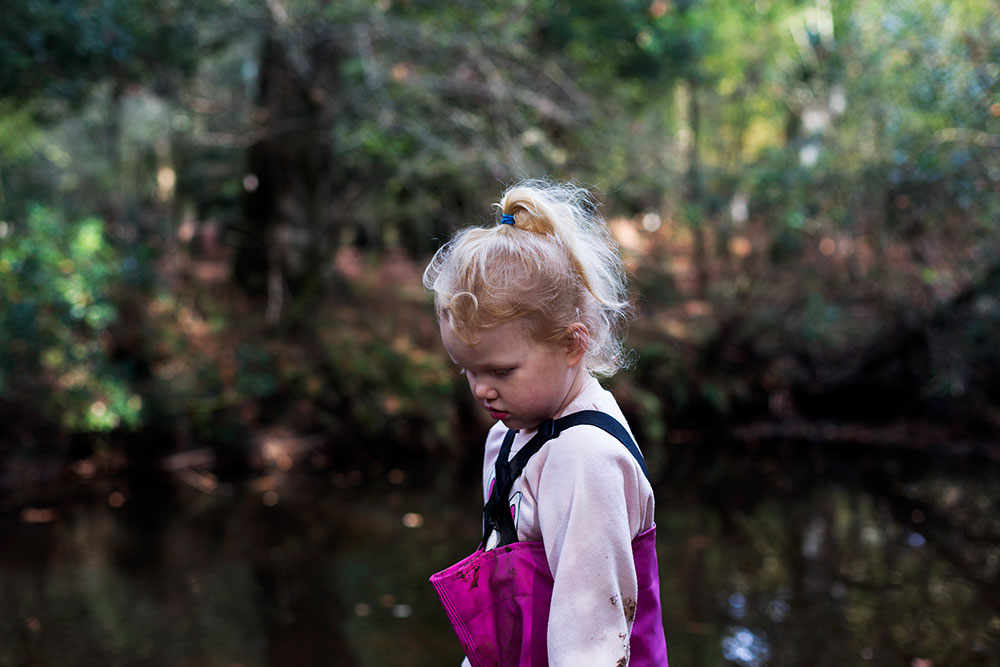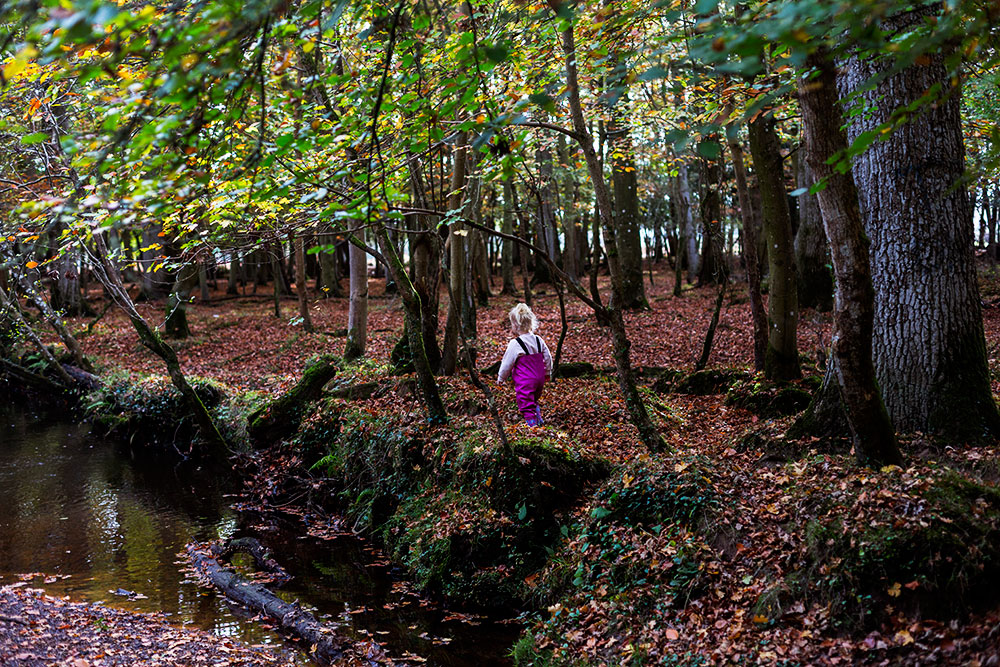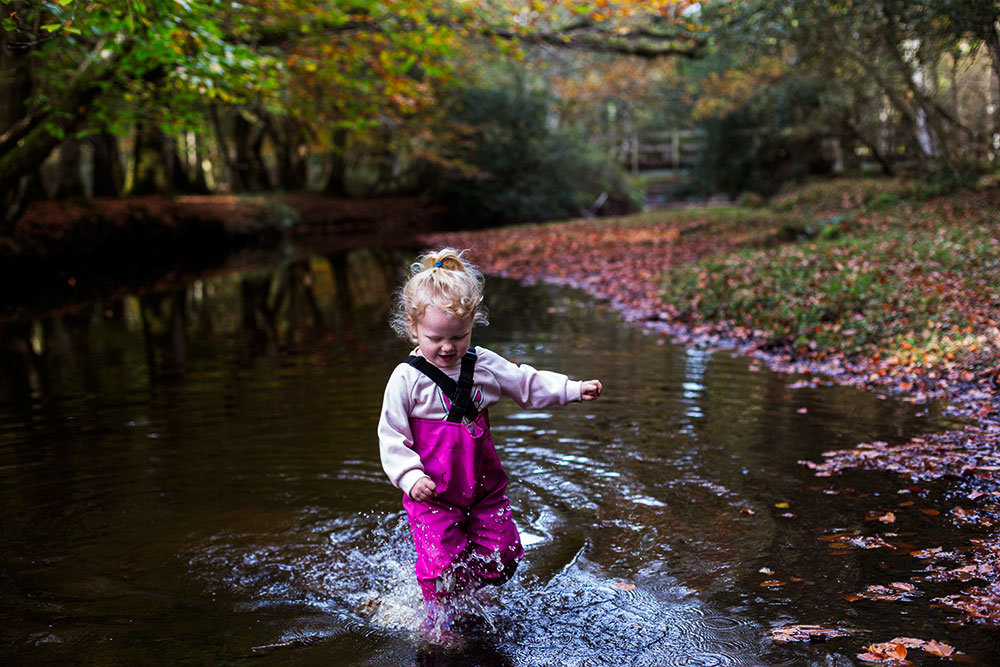 One thing I learned rather quickly though was that as great as it was that Nixie was in her waders, it did make it difficult for me to go where she was insistent of going because I only had wellies on and you can't really go very deep in them but I was so impressed that she was being very conscious of not going in the areas that were too deep completely aware of my limitations, we were a proper team! But it has now inspired me to add waders to my shopping list for both me and Kevin so that playing in streams & rivers can become a regular thing!
We spotted a bridge a bit further ahead and decided to make our way over to it and once Nixie had a chance to cross it a few times running back and forth with a giant grin on her little face she was off guiding us back to the open heathland of black knowl.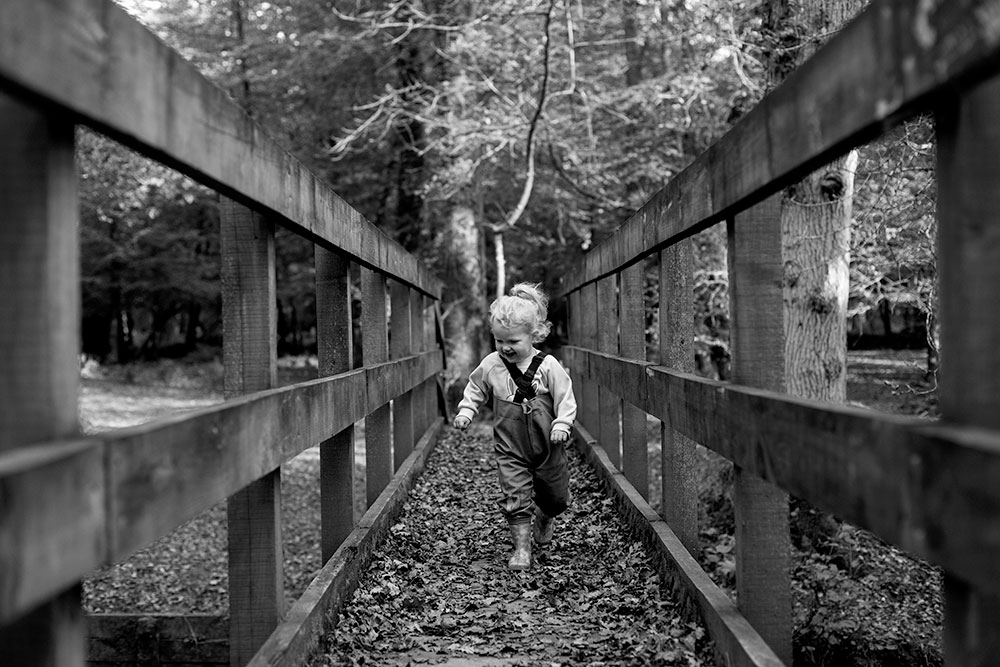 I knew why she was determined to get us there as quickly as possible, she knew there were good puddles there, she had already had her eyes on them earlier when we passed through. And I was right! The first thing she did was find a giant puddle to play in. I had never really hung out in this area before, it's always just been an area that we pass through on our way to somewhere else but today I really felt a connection and fell in love with how beautiful it was around there. Usually to give Nixie her puddle fix, I always go to balmers lawn but now I'm thinking Black Knowl is better...but it's hard for me to choose, each area has its own gifts.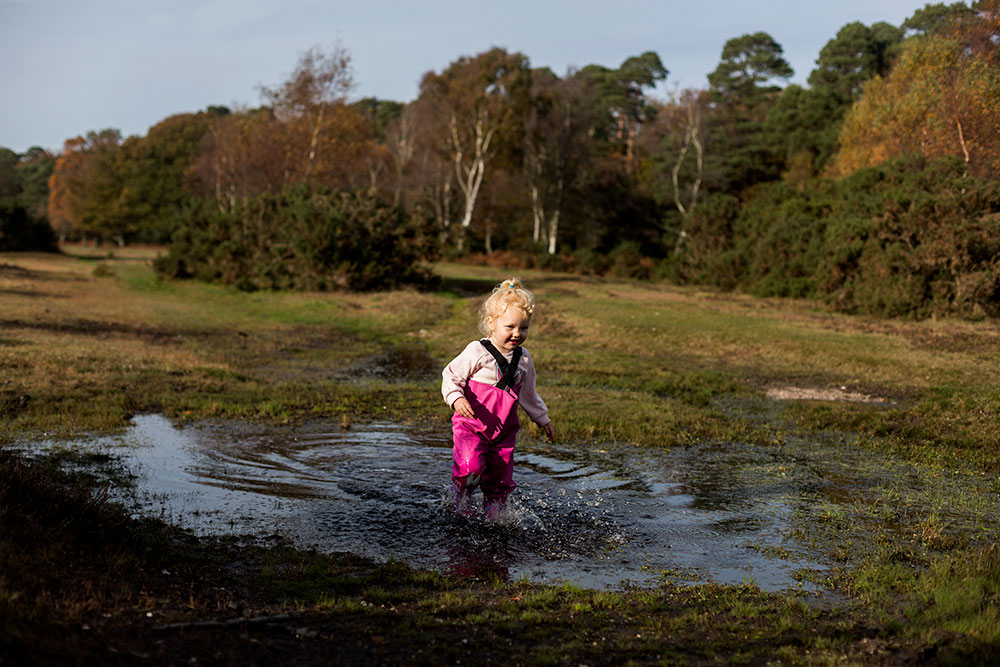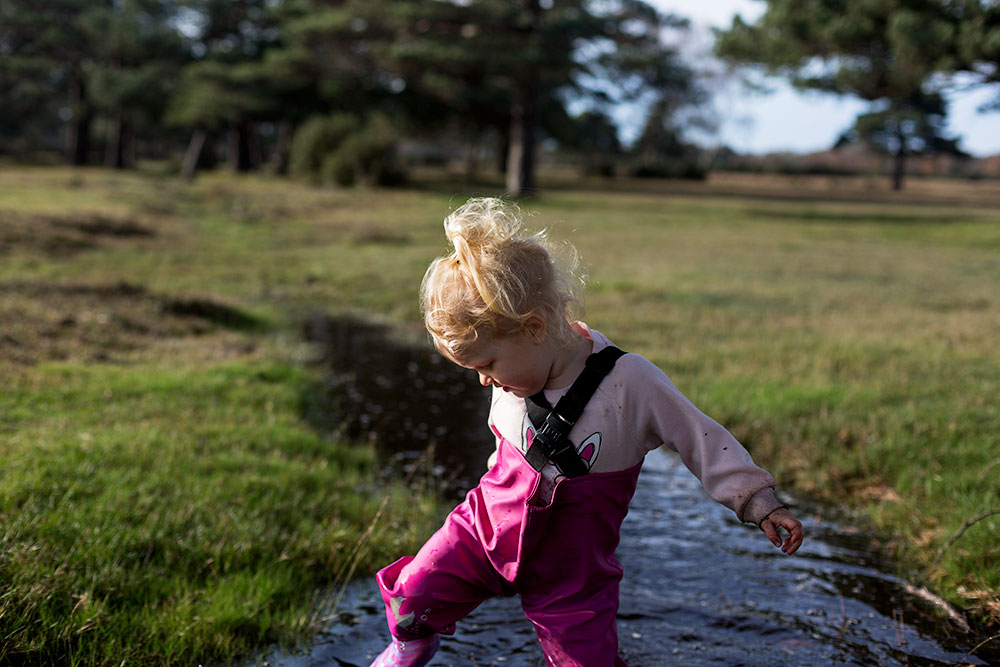 We spent the rest of our afternoon finding more and more puddles. Her waders have been the best thing for keeping her dry so far but today she still managed to get soaked because she got down on her hands and knees in a very deep puddle so water got in from the top but she's beginning to become aware of that happening and is learning not to do that and maybe that will become less of an issue as she gets used to it, today was only her second time wearing them in puddles. Luckily I still came prepared with extra clothes but forgot extra shoes so it meant it was time to head back home. But it was perfect timing because it got us home just in time for dinner. Days like today are my favourites.