Third camping trip of the year: A week of many shifts!
We just got back from our third camping trip of the year (June 9-16) and I know I said that the last one was one of the best weeks of my life well now i'm going to say that this one was! Every new camping experience seems to be better than the last & after over a month of no camping due to having too many photography projects and editing to do, this last trip couldn't have come soon enough.
Again we arrived on the Saturday and it now being June I was prepared for a completely different experience than last time with much more people & it was much busier but we still managed to find a pitch in our favourite area. And now summer was in full force, the trees and flowers in full bloom, the colour green dominated our surroundings and the forest floor was dry, even her favourite ditch had completely dried out and we no longer needed our wellies.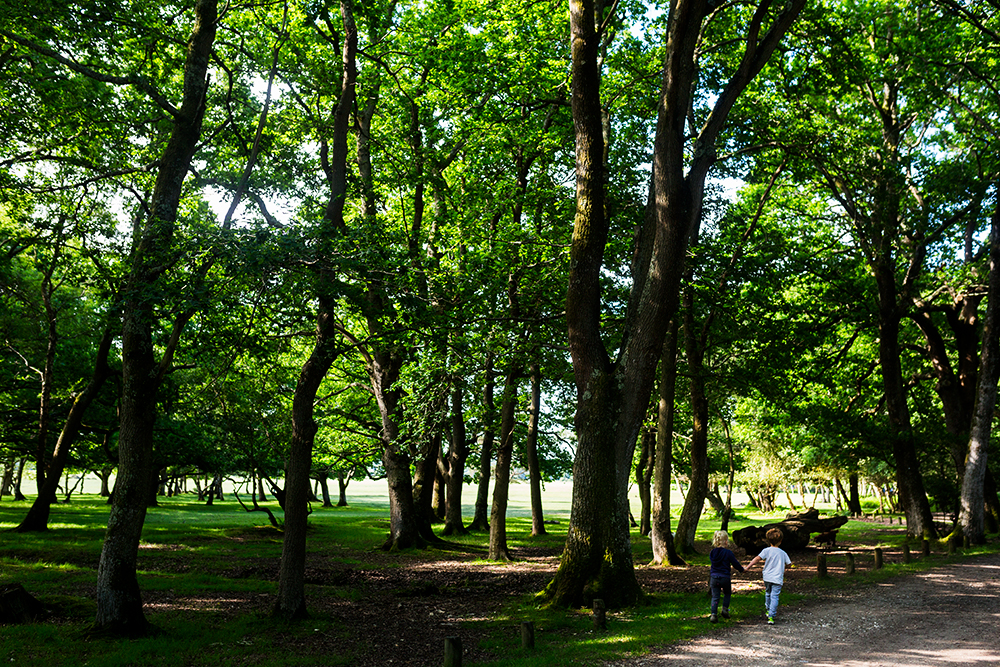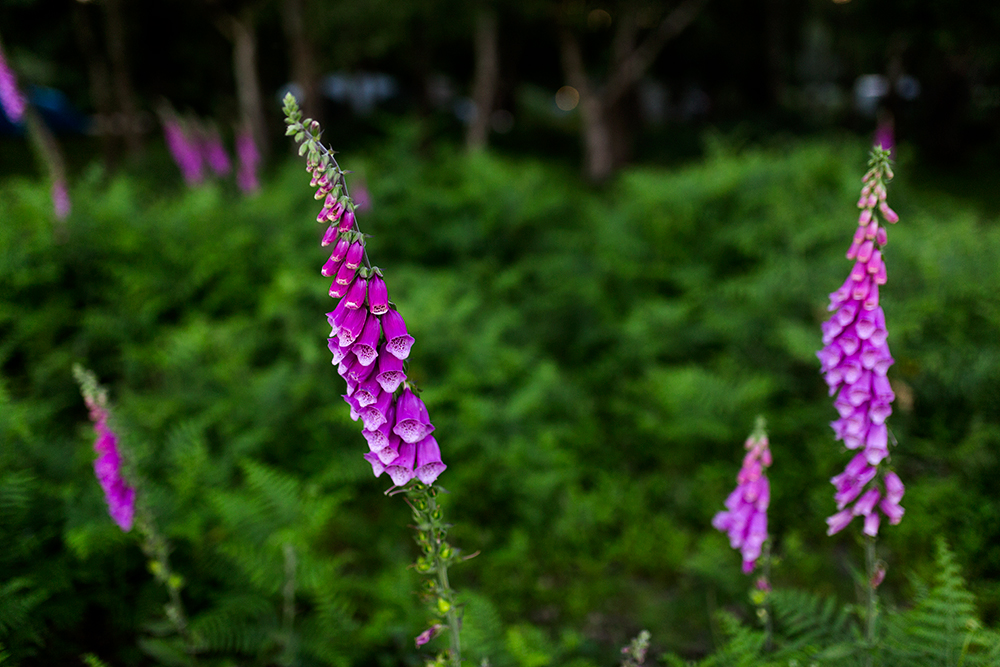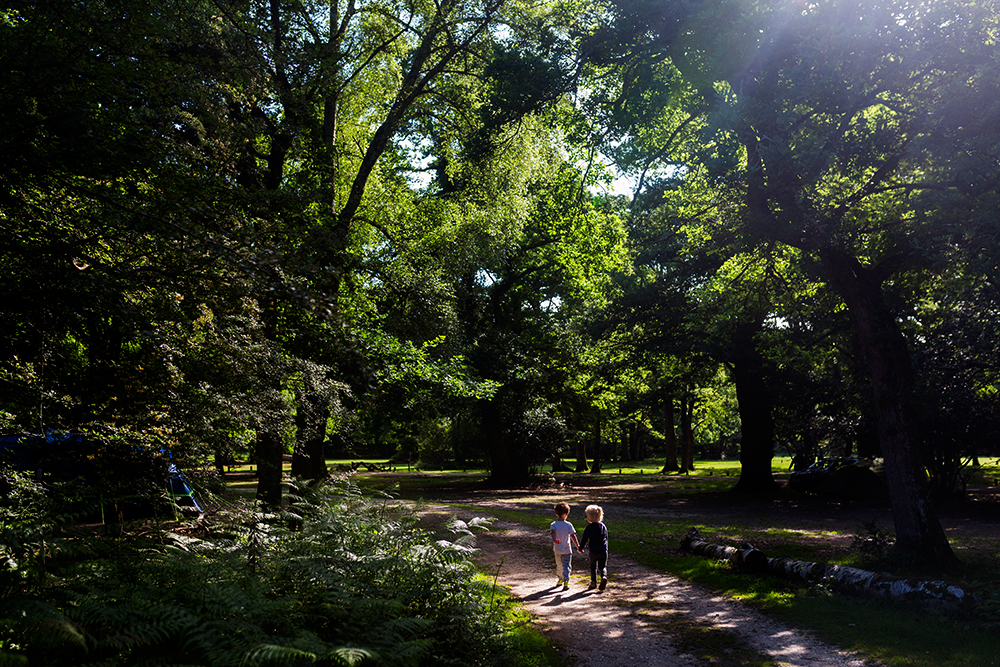 This whole week we were surrounded by so much life, life was everywhere. Besides our usual friends of squirrels, birds, horses, cows, deer, dogs, worms, slugs, beetles, & centipedes our friendship circle expanded to include a crazy amount of newts, frogs and toads.
Right from the beginning, before we even had a chance to unpack anything, we got a glimpse of how our time was going to be spent during this trip; Nixie had run over to a log that she remembered from last time and asked me to turn it over and underneath were the very same green slugs she made friends with from last time plus a few new additions! She didn't hesitate for a second to pick them up and seemed even more comfortable with them than the previous month & after setting up & having our obligatory hot chocolate off we were into the woods in search of more little creatures.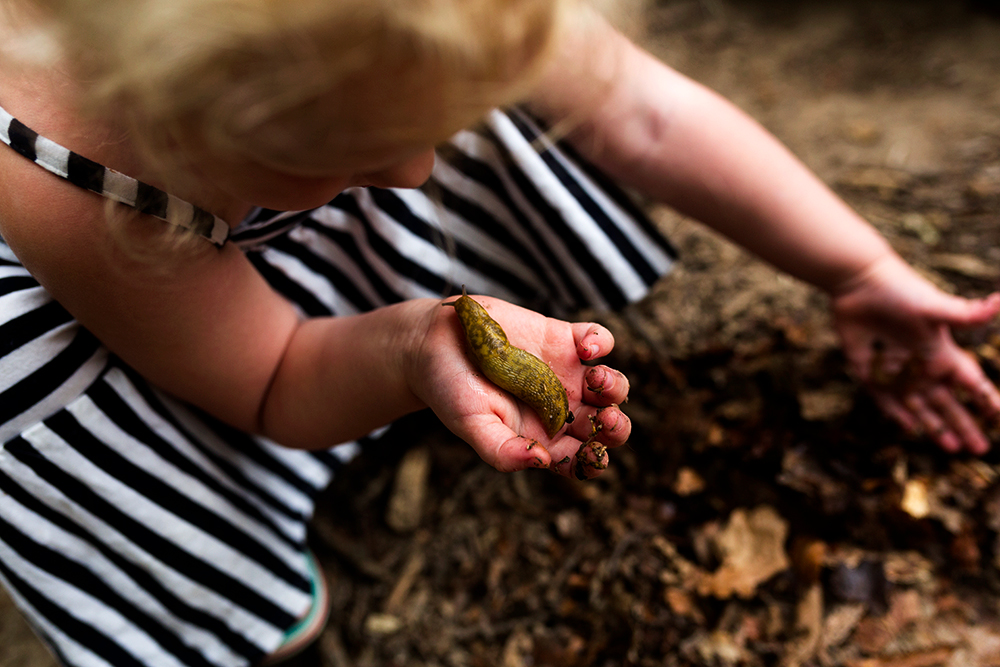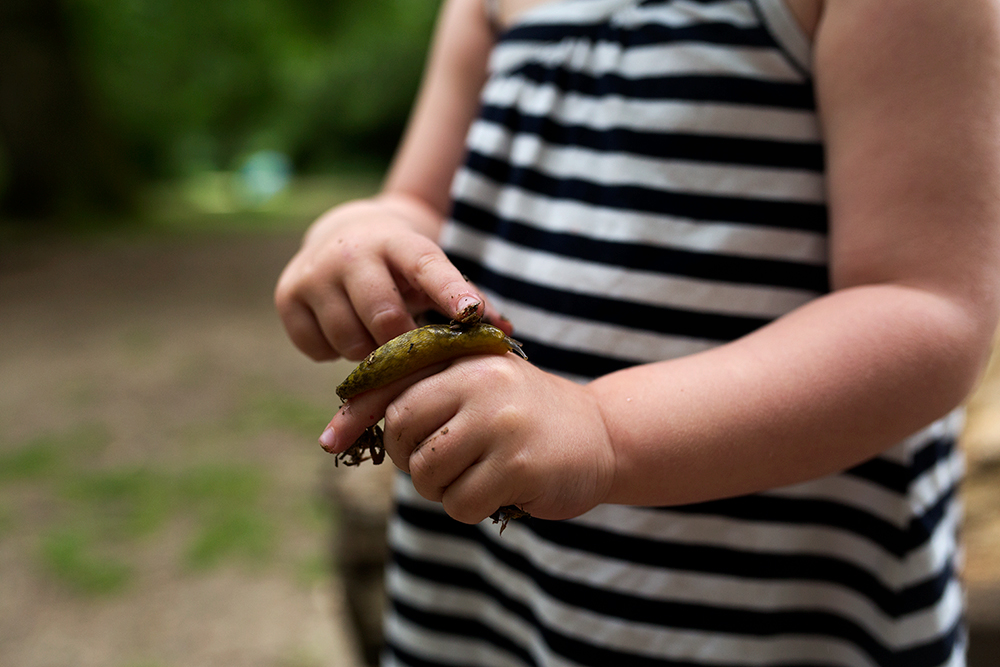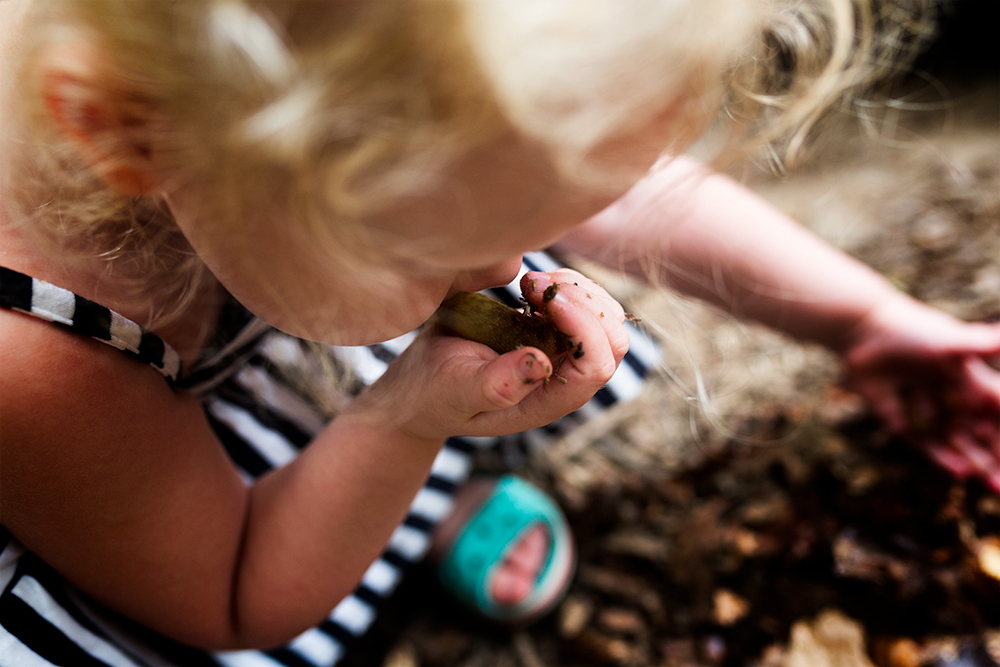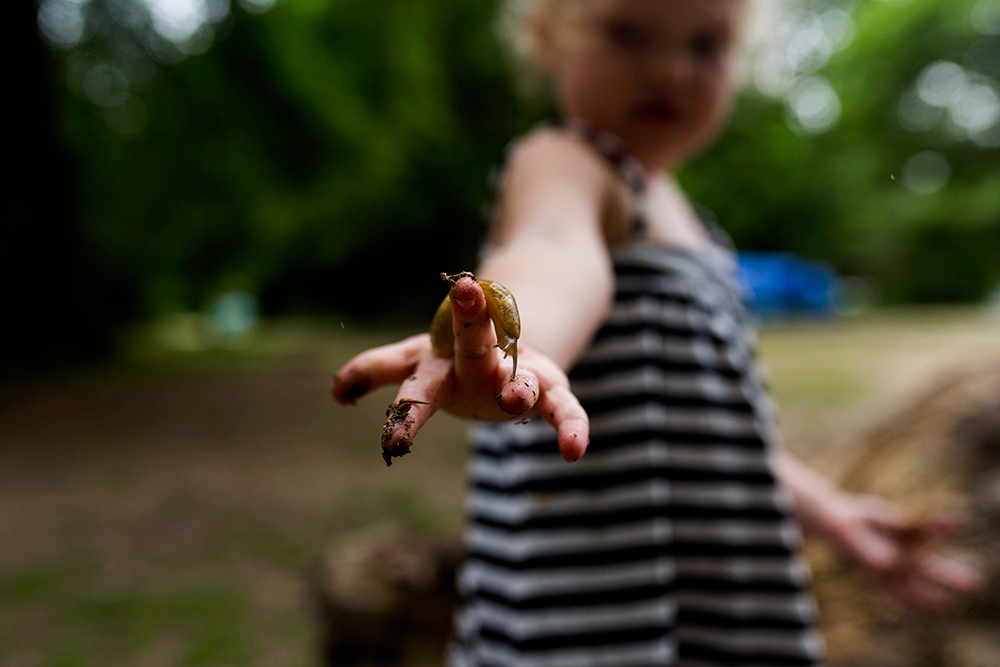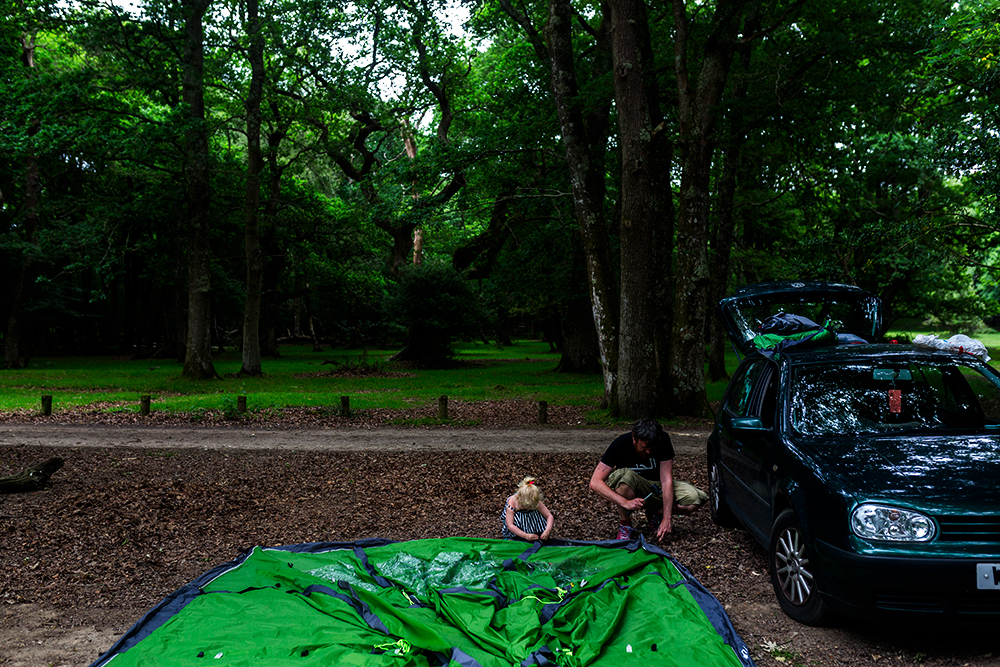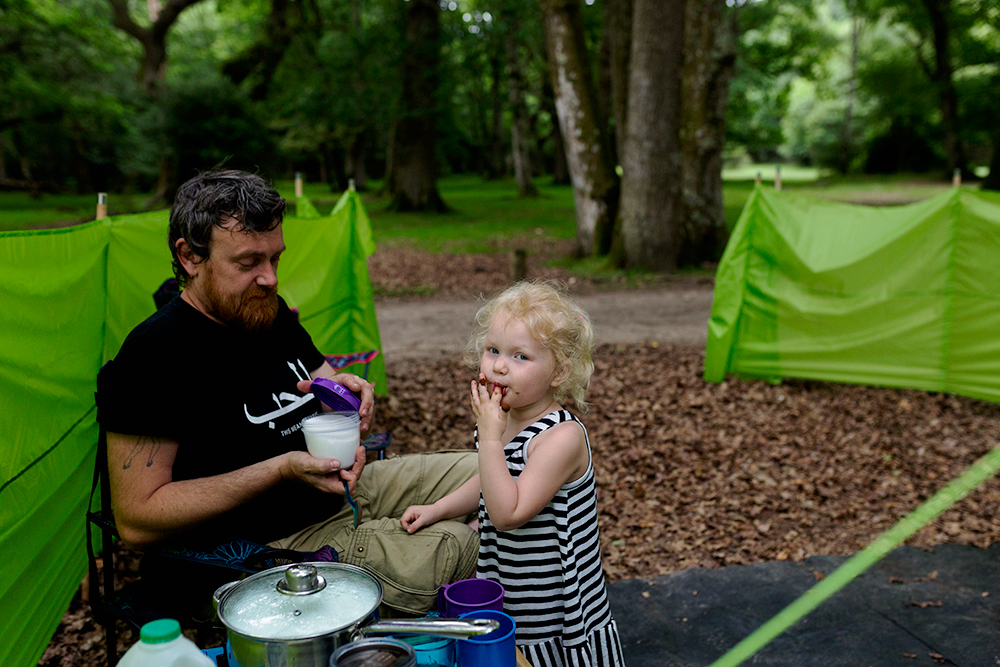 The very first time we discovered a little newt, I became like a child, so incredibly excited about it, I didn't even know that newts existed here! And the newts quickly became one of Nixies favourite new friends and then we began discovering frogs and toads and I think Nixie's little heart was about to burst! This activity pretty much consumed our whole week, it was incredible and it really was one of the best times we've ever had in the woods. Every single day, morning, afternoon and night she'd request that we find some newts, toads or frogs. The very first time we found a toad which happened to be a very big one, Nixie was a bit too afraid to hold him but she so badly wanted to and didn't give up until she was able to, both me & Kevin were so proud of her, it's truly amazing to watch how quickly she's able to face her fears & now one of her favourite things to do is to help other kids overcome their own fears of worms and slugs, it's really sweet. It's crazy to think that last summer was the very first time she held a tiny little frog and it took her such a long time before she had the courage to do so and now she's like a pro! After just a couple of days she began catching her own frogs and toads and I was so impressed with how gentle she was, she'd only give them some love for a little bit before setting them free again.On one of the days we even returned to our stream where we set our little froglets go and there were hundreds of new little froglets, they were everywhere and we had to be very careful where we placed our feet, Nixie loved pretending they were the same ones we set free coming over to us to say hello! Never in my life have I been surrounded by so many newts, frogs and toads. I lost count of how many new acquaintances we'd made, it was definitely the theme of our week.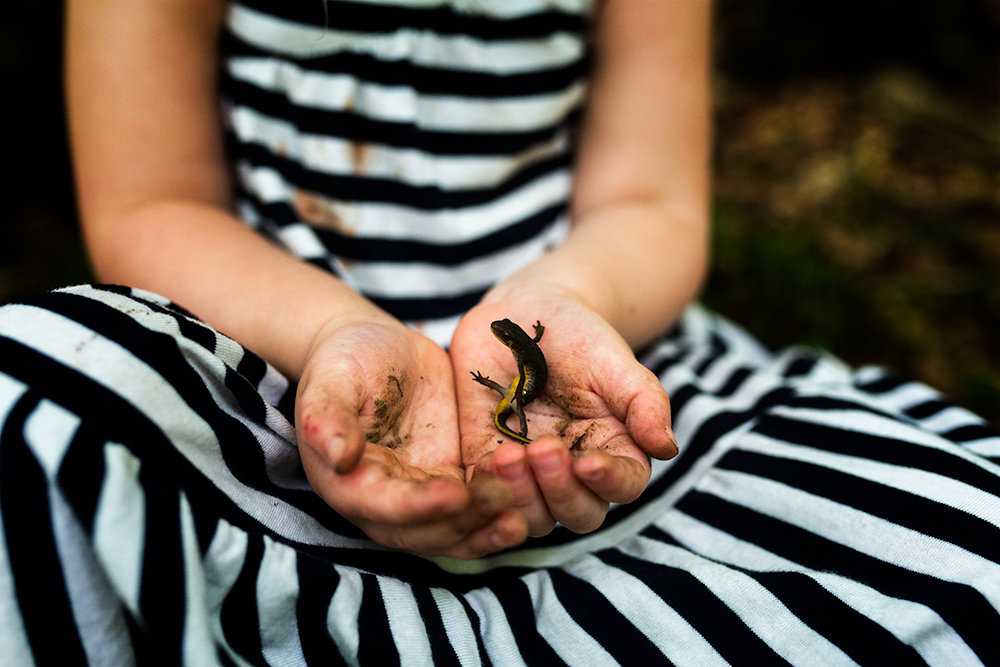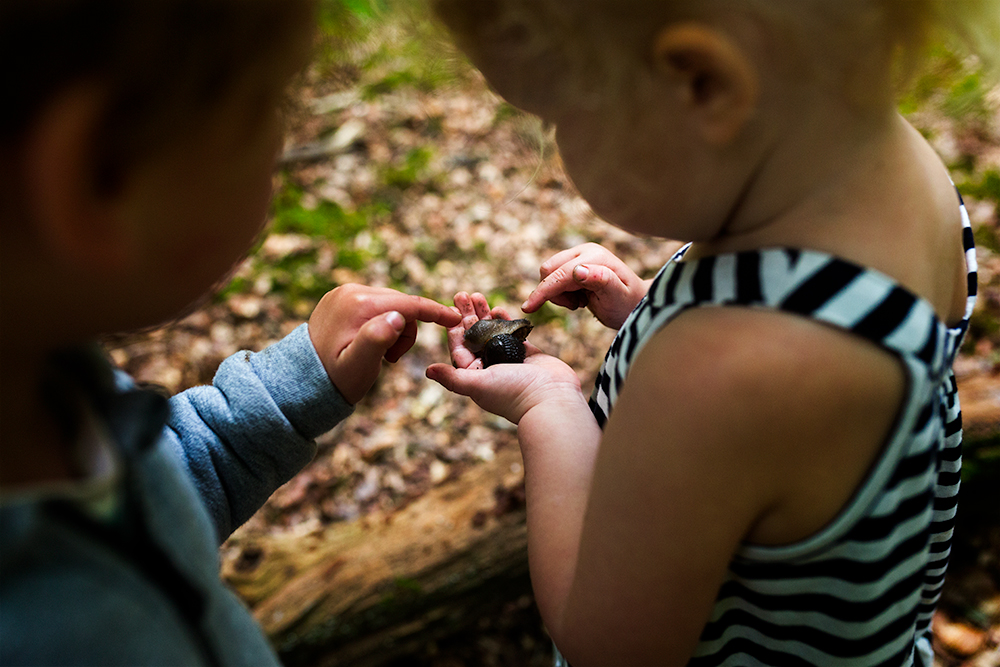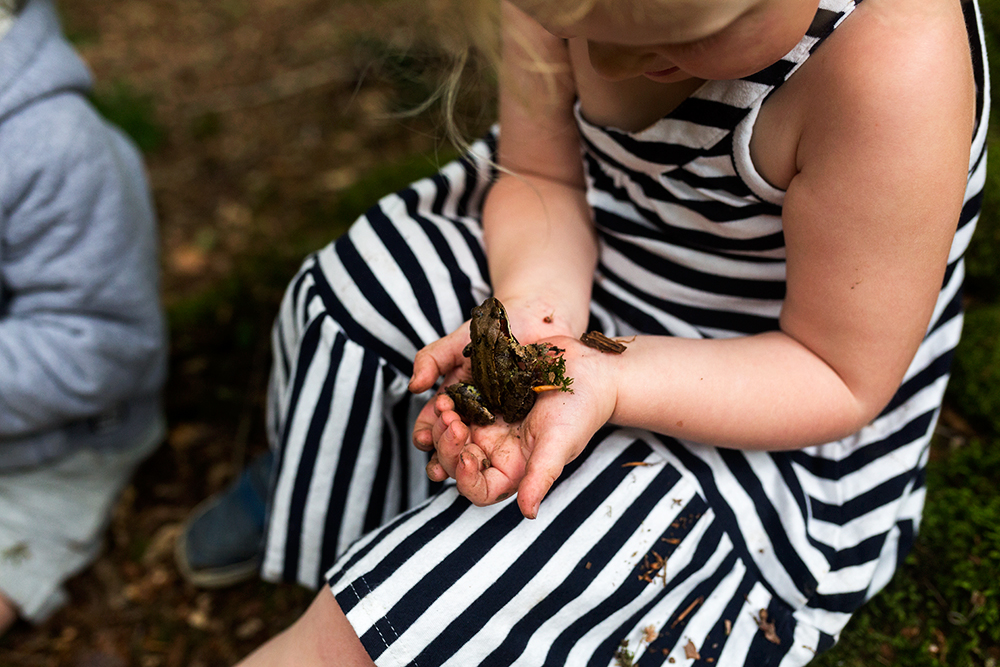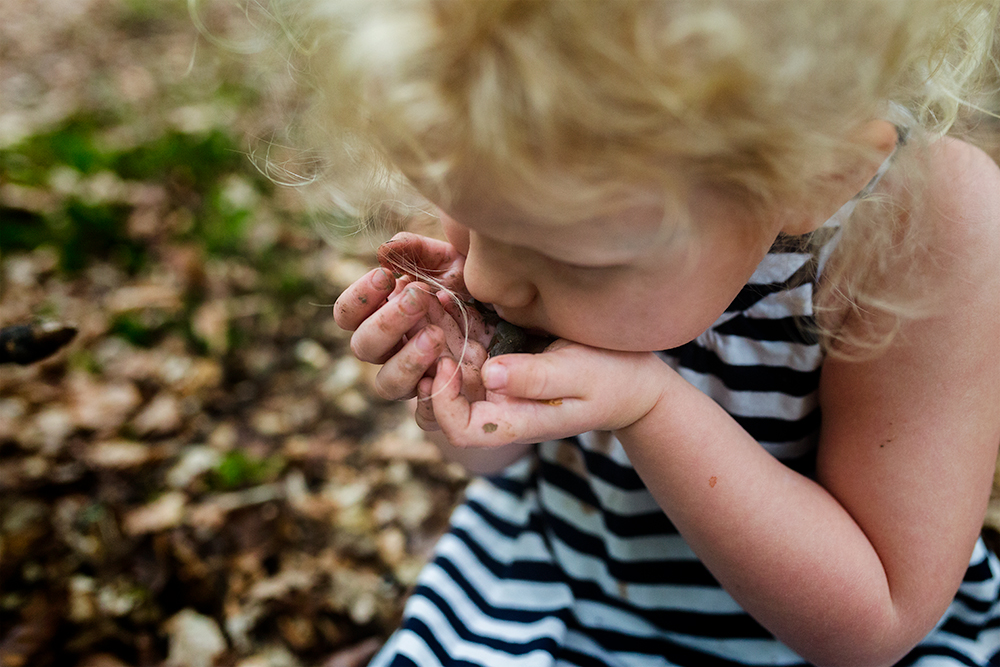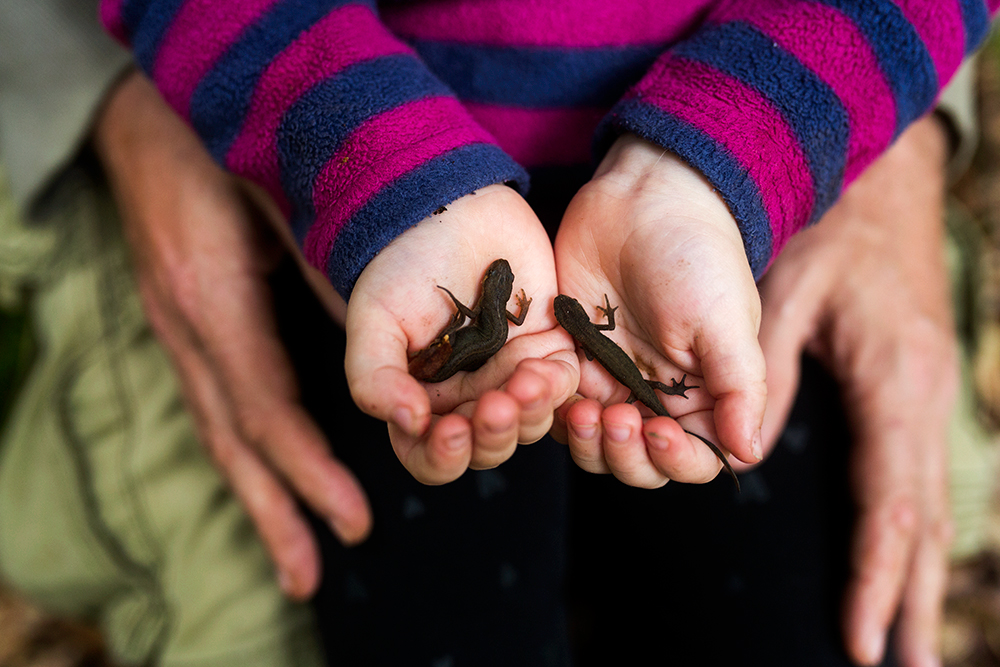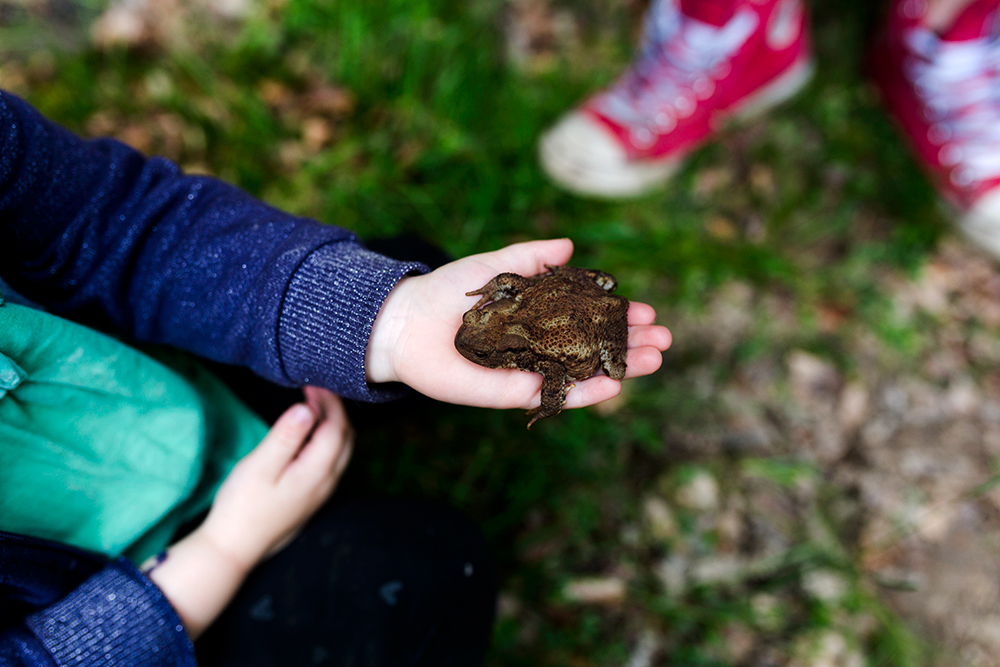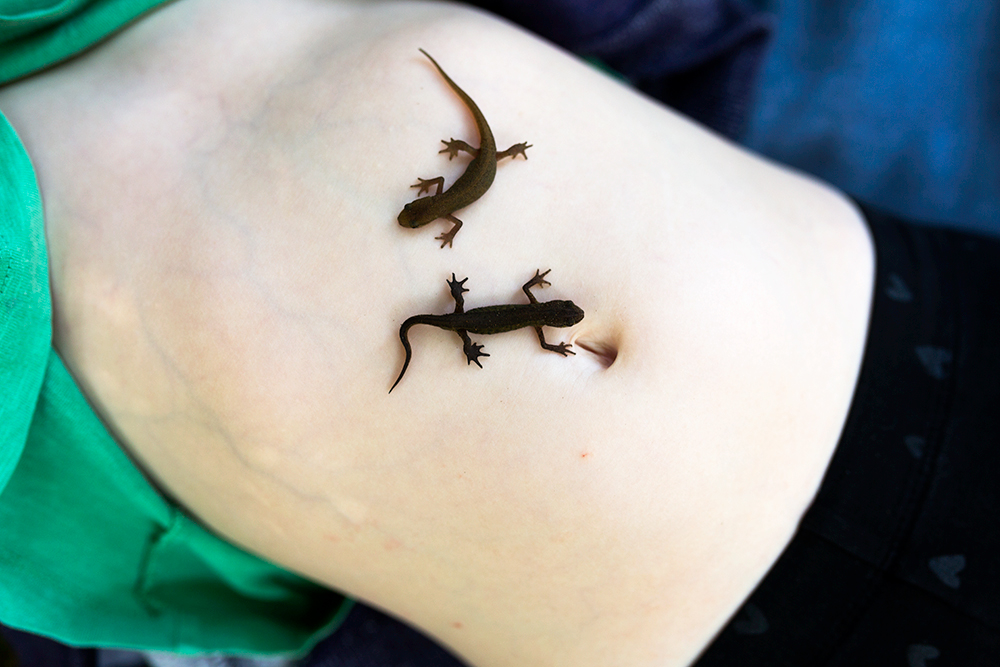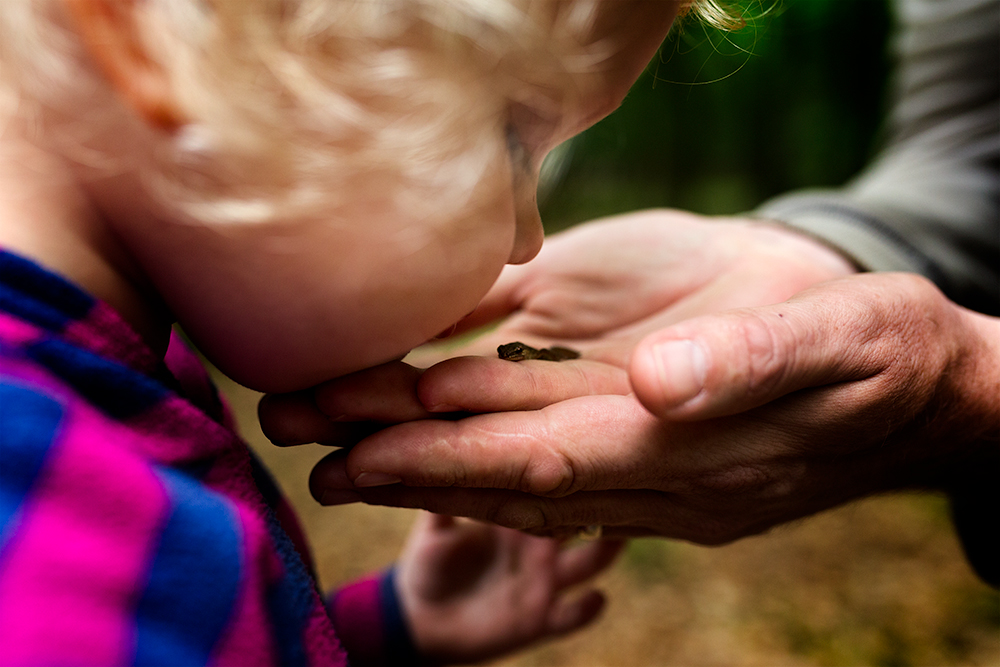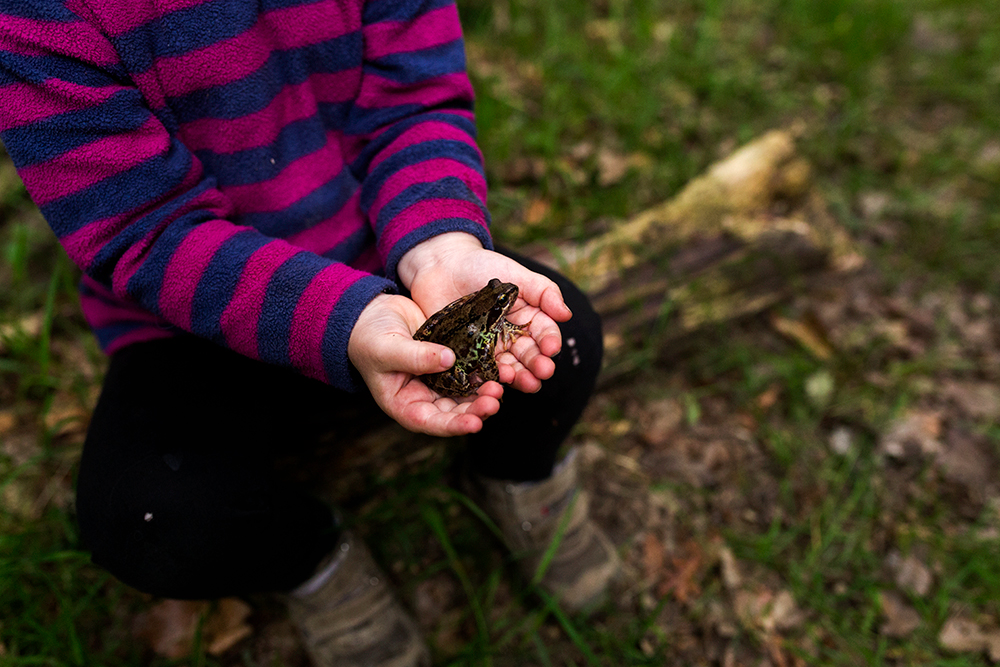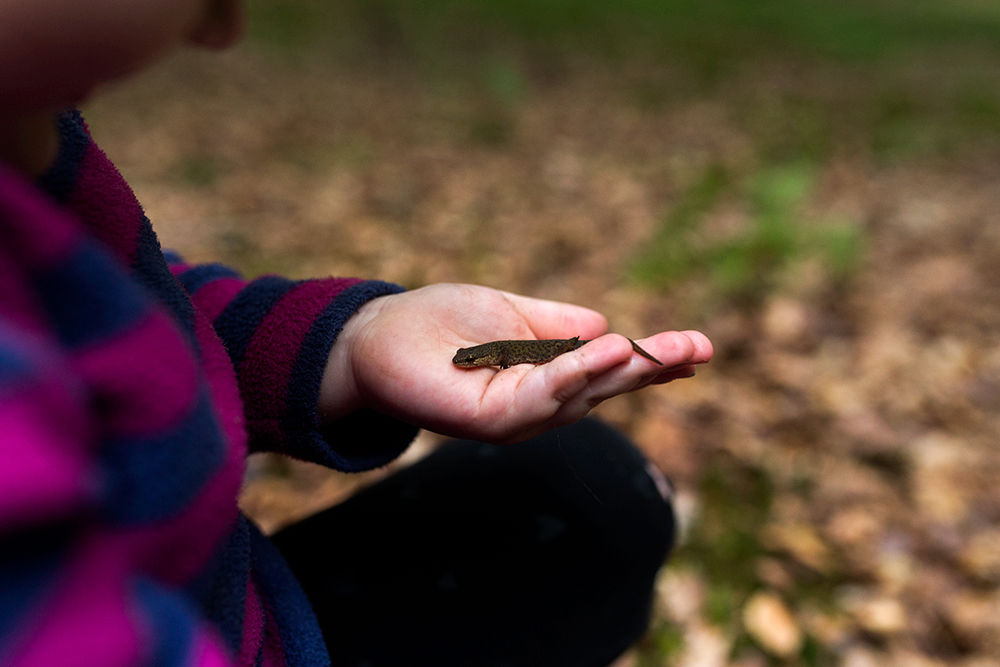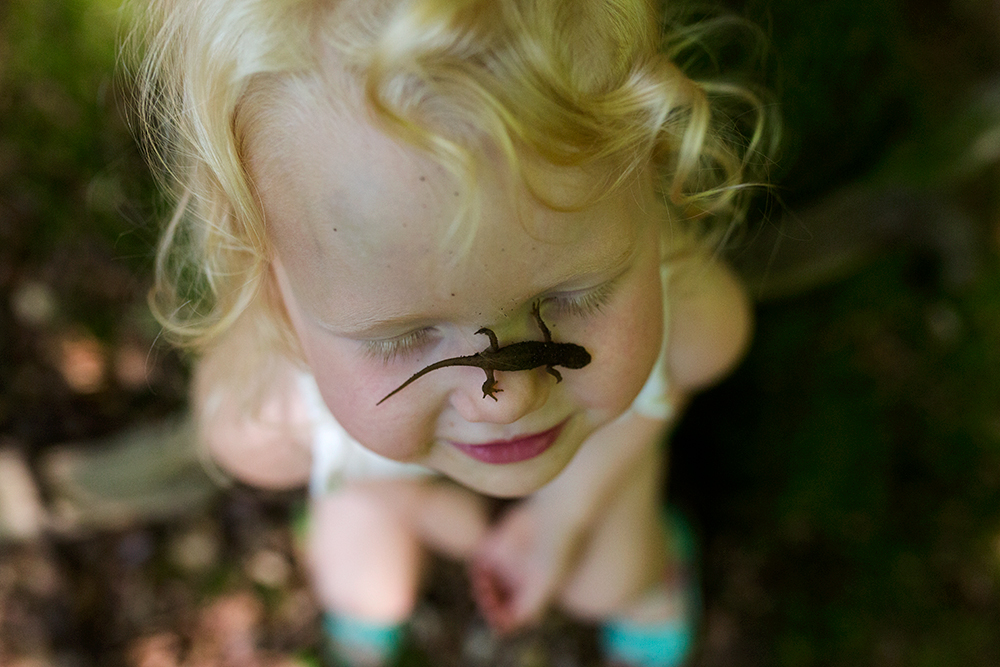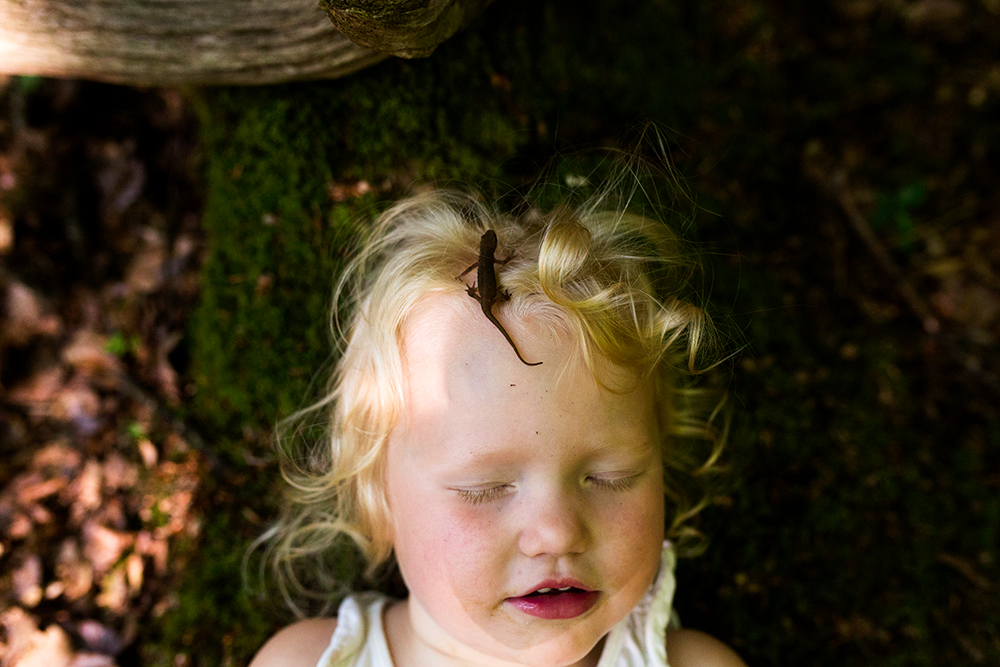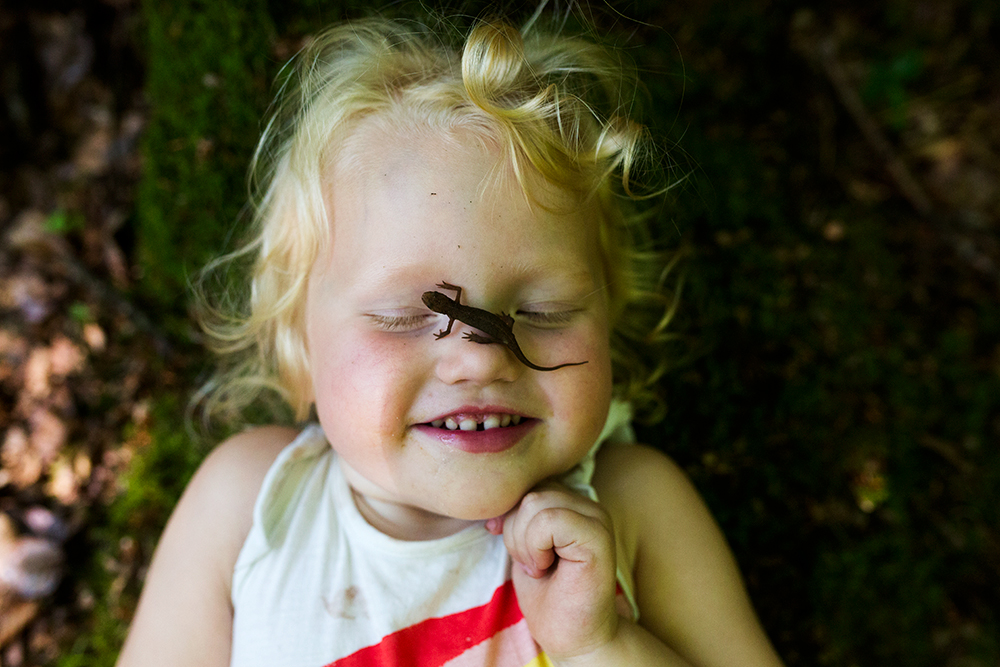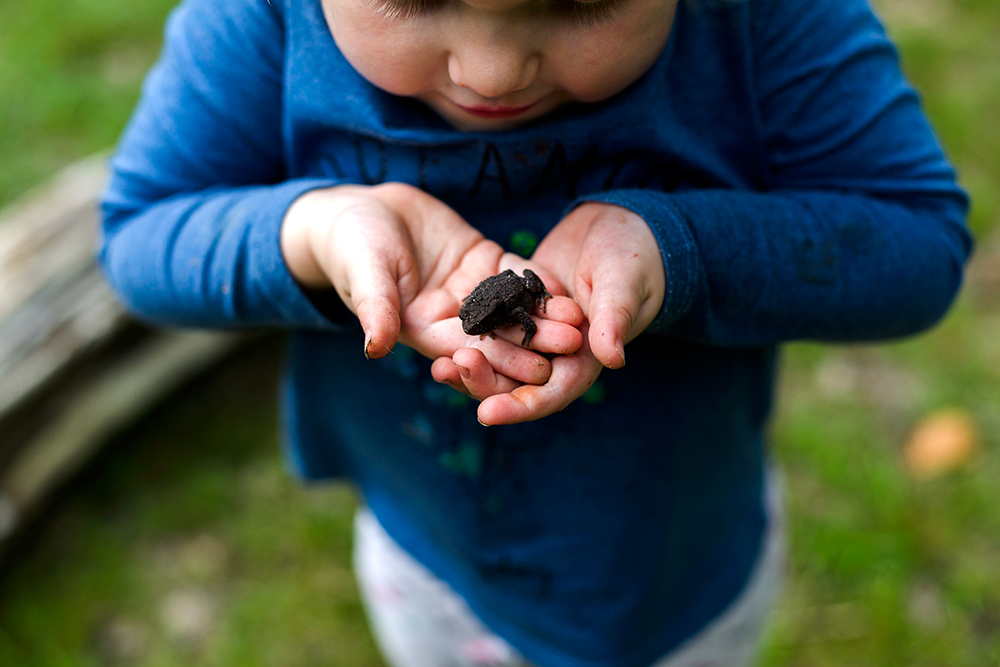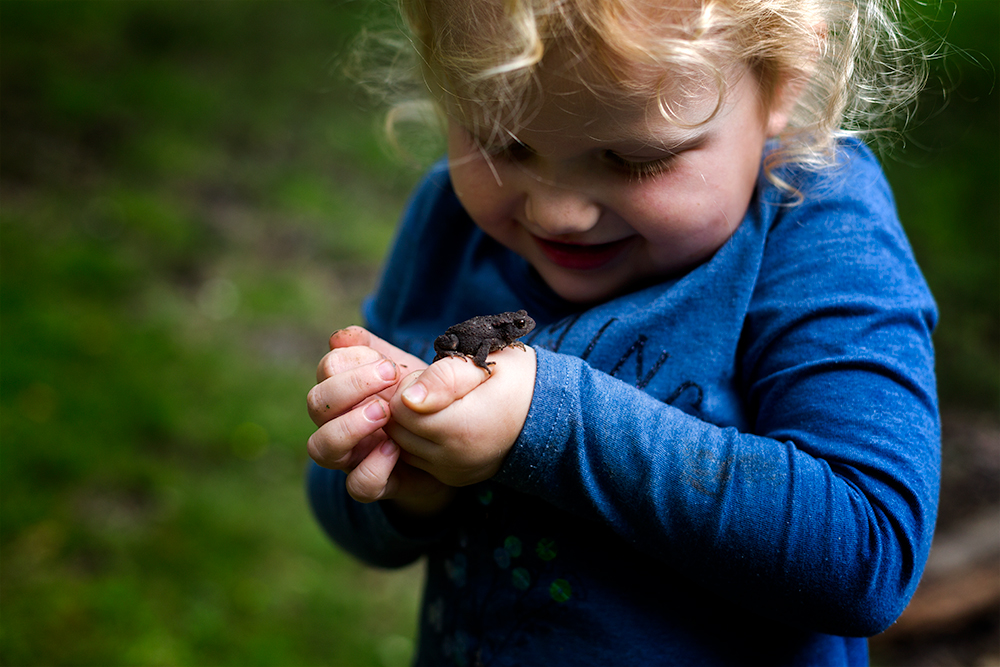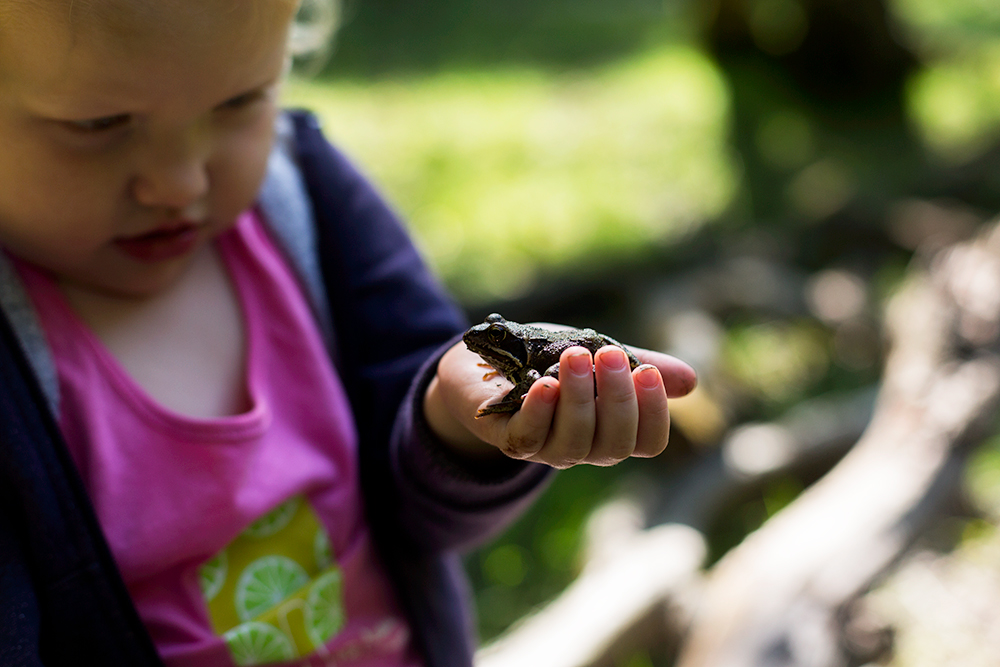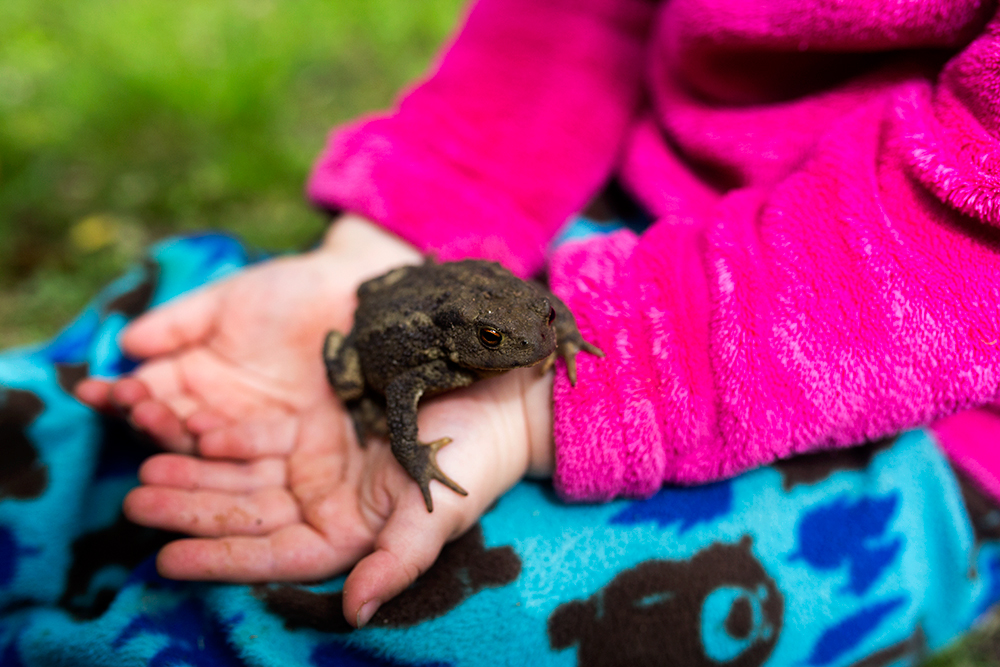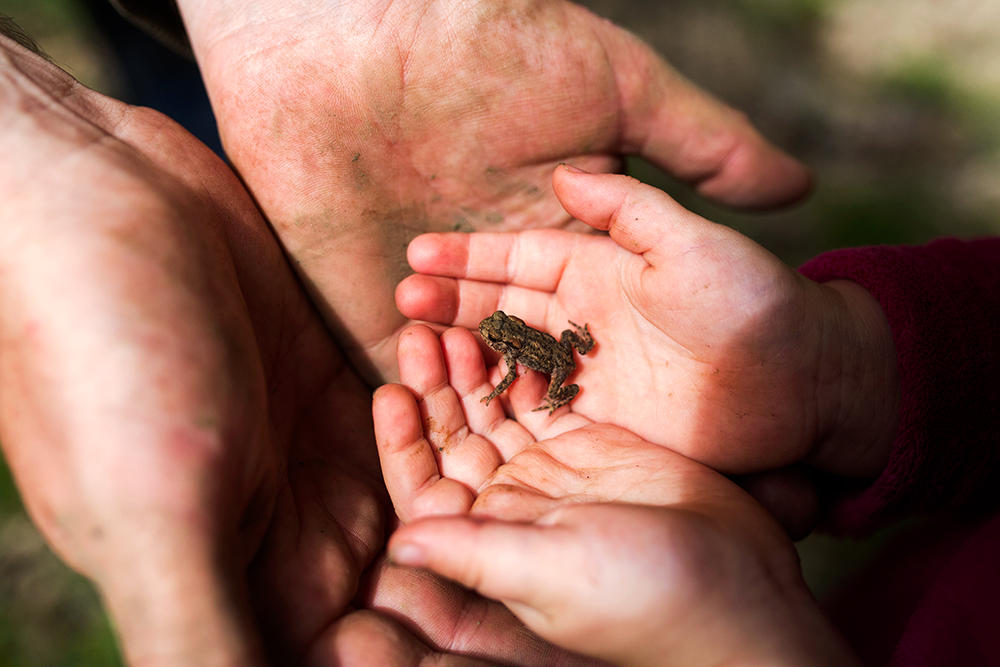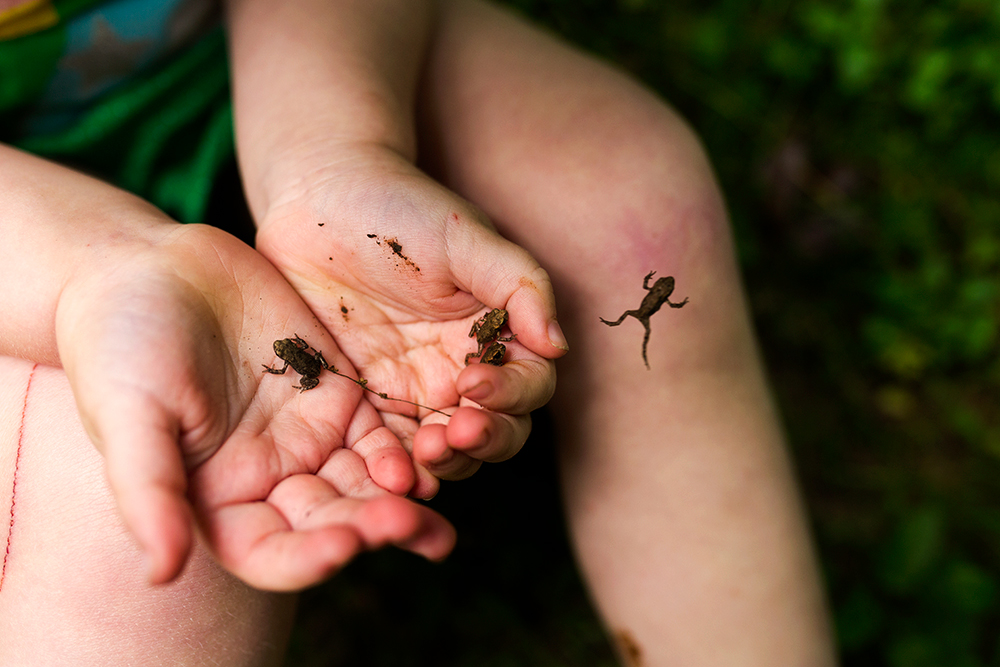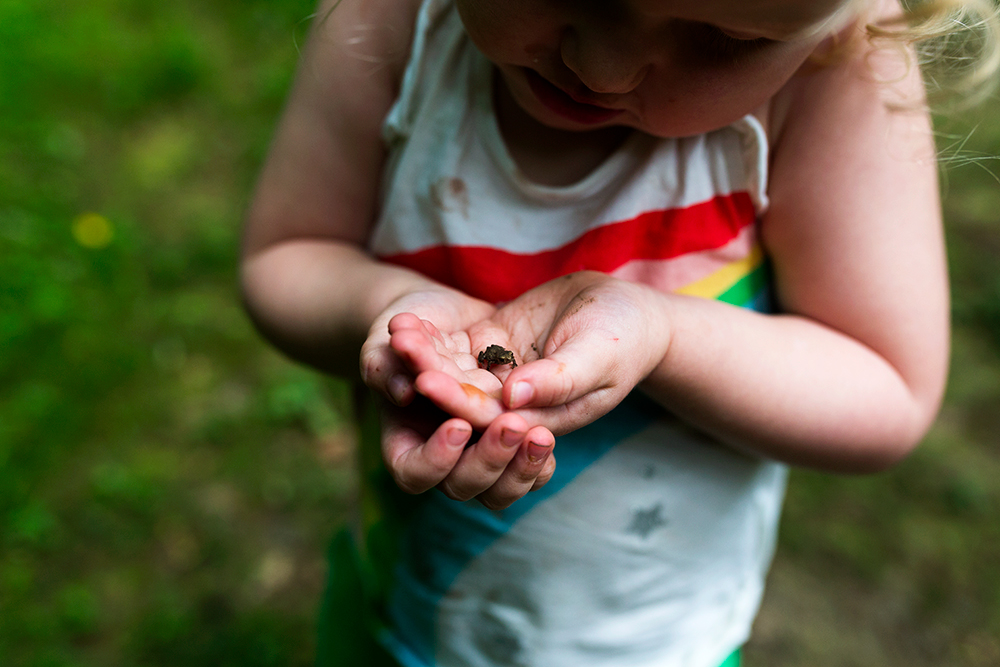 I'm very much interested in symbolism and believe that everything in nature holds a deeper meaning for us if we learn to read the signs and frogs, toads & newts all have their unique symbolism but they are all symbols of transformation. The frog is a reminder of our common bonds with all life & is recognised as a healer in North and South American Native customs, as well as Celtic traditions. When frog enters your life, it is an invitation to leap into your creative power & is yet another reminder to us that life is about evolution, a miracle of change and transformation. And toads tend to come into our lives when we are at a crossroads, when we are going through transitions in some part of our life and they encourage us to enjoy the quiet moments of this shift and to allow everything to develop before we speak loudly about it. To allow time for personal reflection. And when the newt comes into our lives it helps focus our power of vision and helps us with being able to go through transitions with the least amount of challenge & adversity. And it's pretty uncanny because I am going through some big transitions at the moment, some very big personal changes and so is Nixie so these messages from nature couldn't be more fitting.
So much had changed with Nixie in a matter of a month, I could not believe how different everything felt. She just seemed to have grown up exponentially! One of the biggest things was her no longer running off and instead staying close to me and within eyesight of our tent but also being able to understand the concept of people's personal space in the campsite which used to always be a challenge especially last year when she would just run off into people's tents/caravans/vans without a single care in the world. This shift alone changed everything! It made everything feel more relaxed and easy. Even having to go and wash dishes became enjoyable because she would either hang out with me or would just play right outside and I didn't have to worry about her running off somewhere, it was incredible! I hadn't anticipated this shift to happen for another year! There was even a moment after one of our evening walks as we were heading back to our tent when she noticed some kids her age in another tent hanging out with their families and I reminded her of people's personal space when they're camping, and how everyone was busy making their dinner and that it was getting late and even though I could feel that every fibre in her being wanted to run over to them she didn't, instead she kept holding my hand and just watched them but continued on to our tent without any upsets or dramas, I was so proud of her in that moment! I know how hard that must have been for her! Oh and that's another little thing that's also changed; her holding my hand all of the time because she just wants to and not because I'm making her because we're crossing the road and it's been melting me, I do so love feeling her little paw in mine!
Another monumental change in her was her ability to really enjoy stillness and silence. She seemed to have become so much more mindful in such a short space of time, it really surprised me and made me fill up with so much joy! We started every morning with making coffee and hot chocolate and instead of her being so restless and just wanting to run off, every morning she would sit in my lap for an hour or two of and on and we'd have the most amazing cuddle all the while watching the birds that were all around us and in the trees, she loves listening to their songs and loves talking about how the little birds are collecting food for their babies. We even had a really special encounter with a family of chaffinches; we first met either the mum or dad on the very first day when he/she came so incredibly close to us and from that day onwards every morning they would come and say hello to us, eating bits of crumbled up cornflakes and biscuits which we ended up sharing with them. They were really sweet, the mum & dad would take turns coming to collect some food for their baby, and the other parent and their baby would always be close by on a branch waiting and sometimes the baby would become very brave and also come very close to us. What was really sweet was the fact that their baby was just as big as them! I've never really spent much time with chaffinches before and they are really such sweet little curious birds, they have such a sweet little song too and Nixie really loved these daily encounters and looked forward to giving them new food each morning and having a cuddle with me while relaxing and just watching them. They say when a finch comes into your life it holds a very positive and uplifting message, I've read that they tend to show up in our lives as a sign of encouragement to keep doing what we are doing. Finches remind us to enjoy our lives, to savour each moment and to be joyful of all the little things.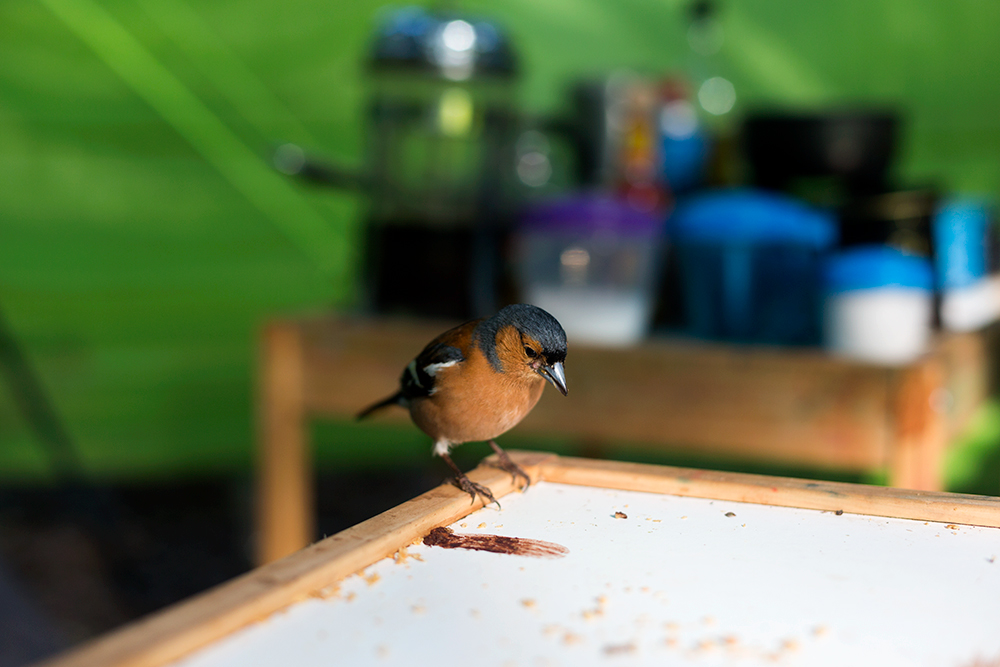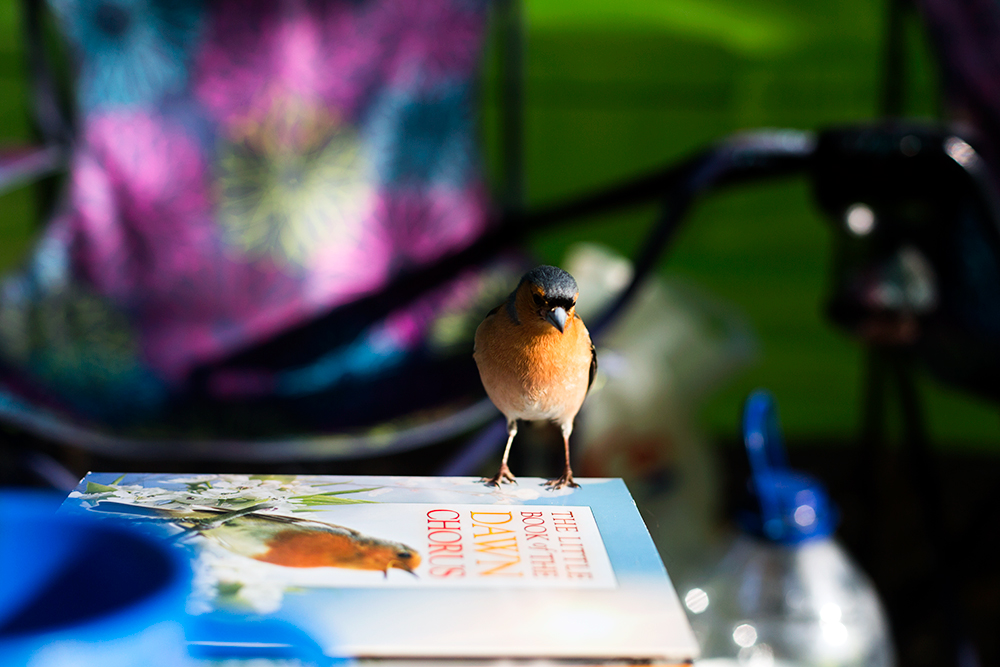 Another new thing that happened is being able to have proper picnics. The first time I became aware of this change in her was on our second day when we were all together as a family and went into the woods in search for a perfect picnic spot and to my surprise as soon as she took her shoes off she was absolutely content with staying on our blanket and even just enjoying laying down listening to the forest and observing our surroundings for a good couple of hours! It was a moment I had been so looking forward to for the past couple of years, to get to a stage where we're able to just enjoy being together in nature and able to just relax and take everything in and now it's finally happened!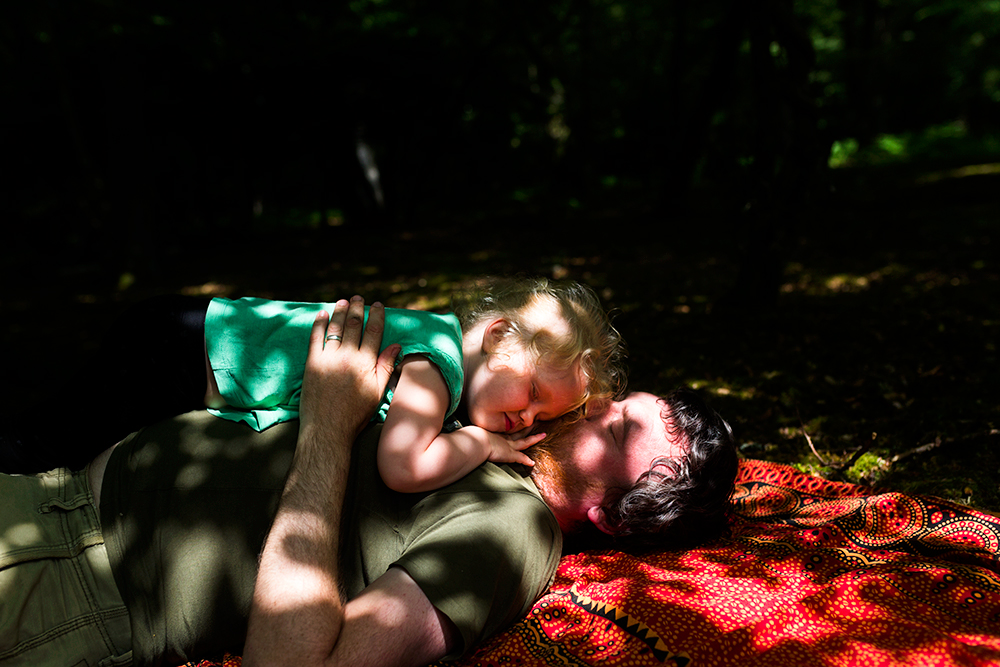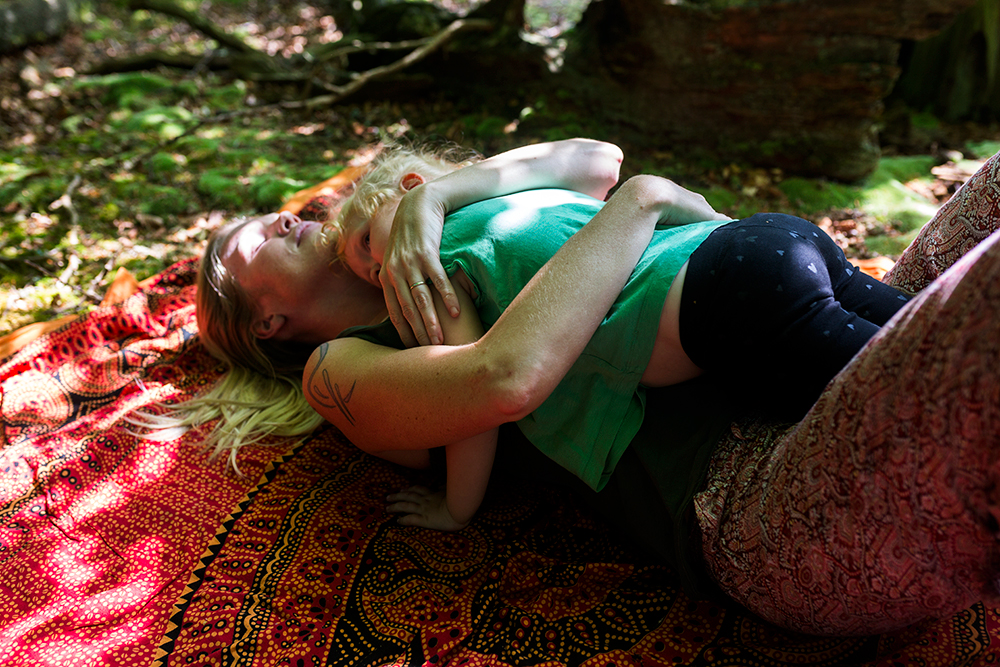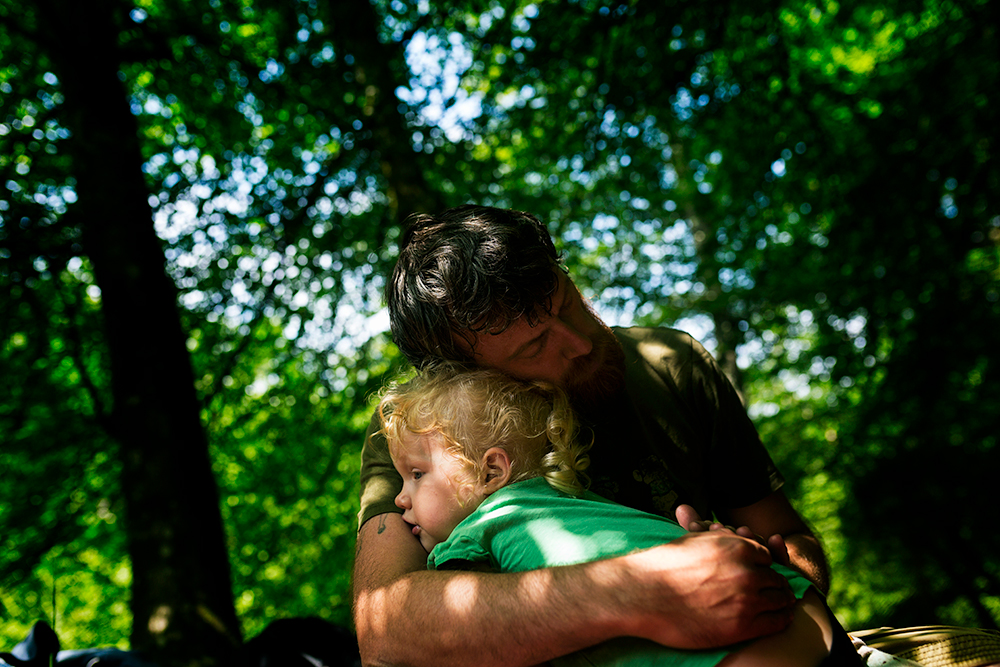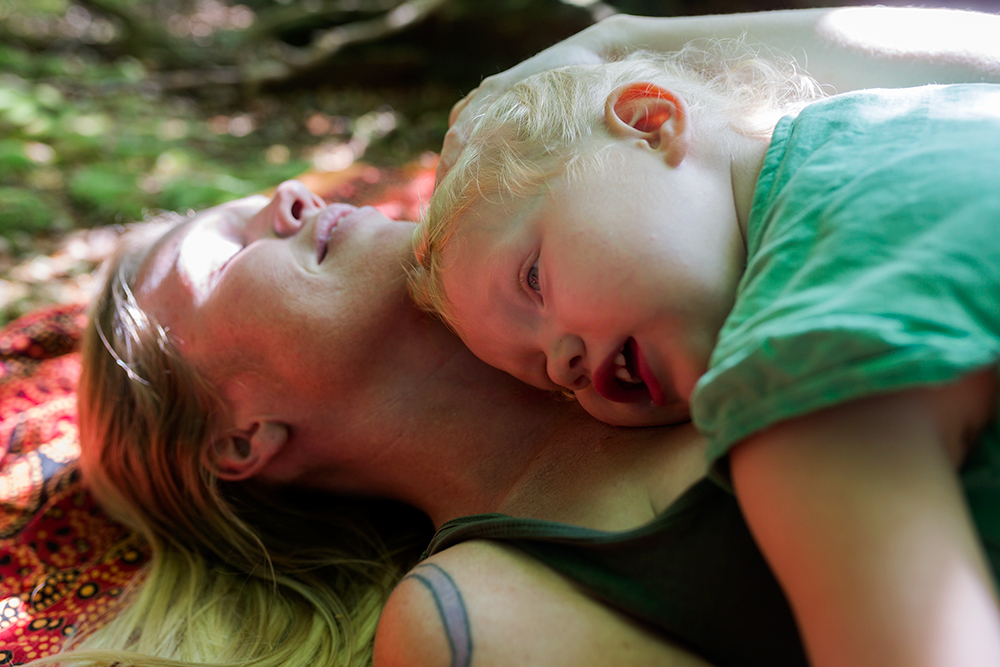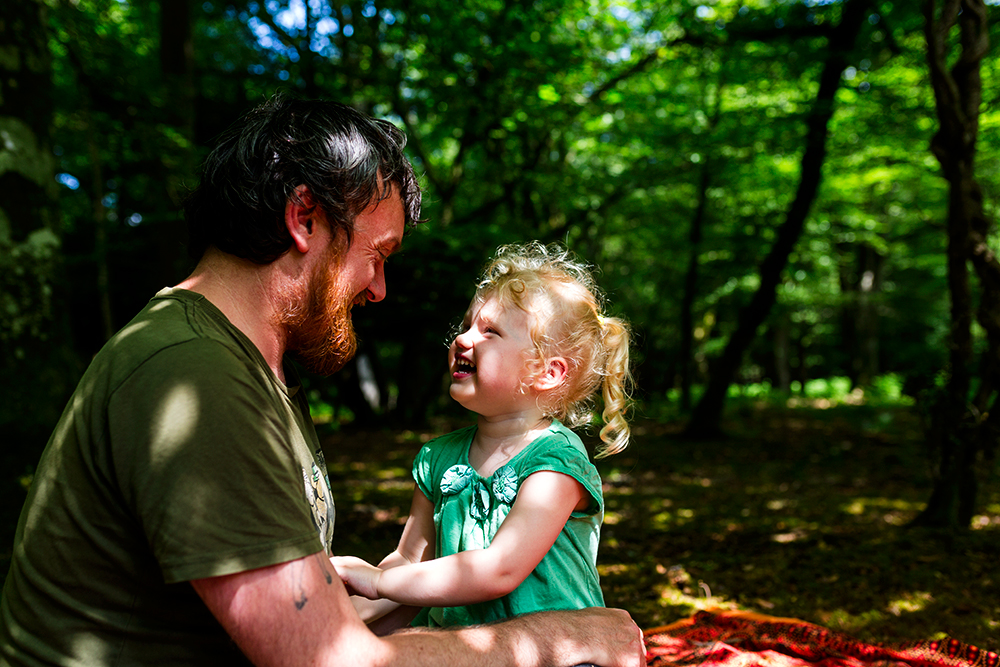 Our whole week consisted of daily picnics and some days even included blissful naps in the wilds & i'm talking about long 2 hour naps, & since I've been feeling a bit under the weather & low in energy for a while now these naps were exactly what my body and soul needed, it was honestly the most relaxing week camping we've had so far.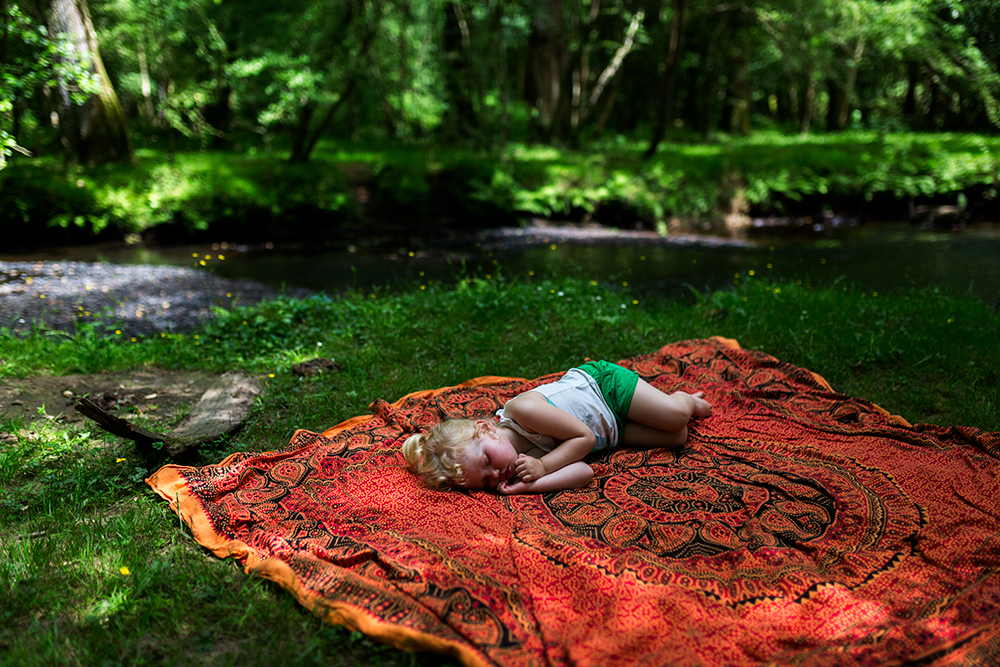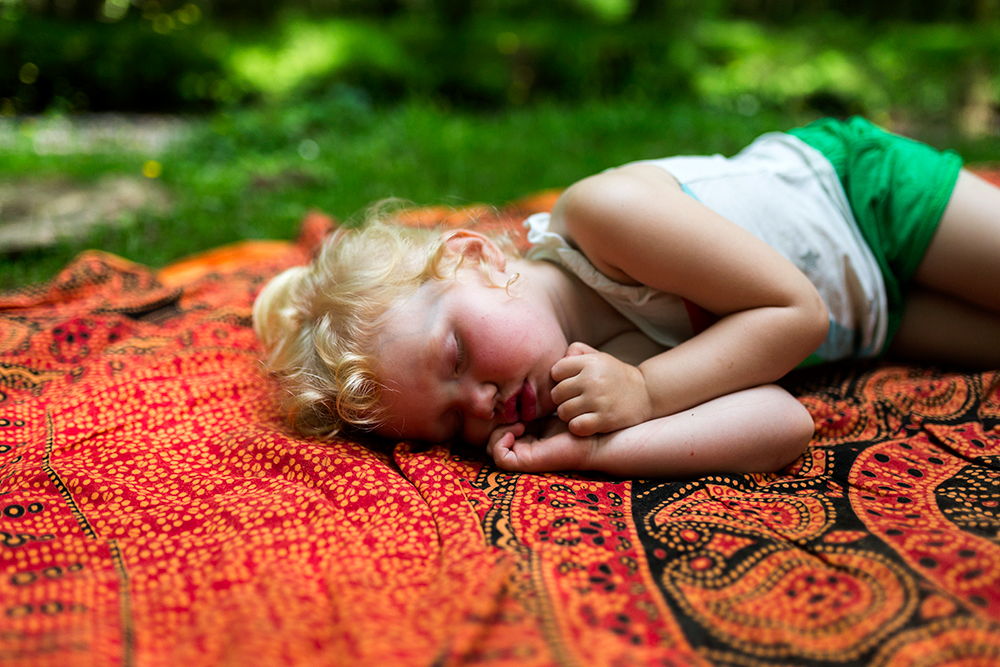 Even the way she plays seems to have evolved, her imagination is constantly sky-rocketing to new heights, she has no problem whatsoever keeping herself entertained and will spend hours upon hours in her own little world creating all sorts of scenarios. She loves to pretend to be a puppy and will have us throw her sticks so she can fetch them! She also loves to pretend to be a kitty or a horse and sometimes can turn herself into a cat, a horse or a dog in a matter of seconds! I've especially loved her new attachment to her stuffed horse, Star. She came with us on almost all of our adventures and she had to be included in everything. Nixie would even put her in the buggy and take her on evening walks to help her fall asleep.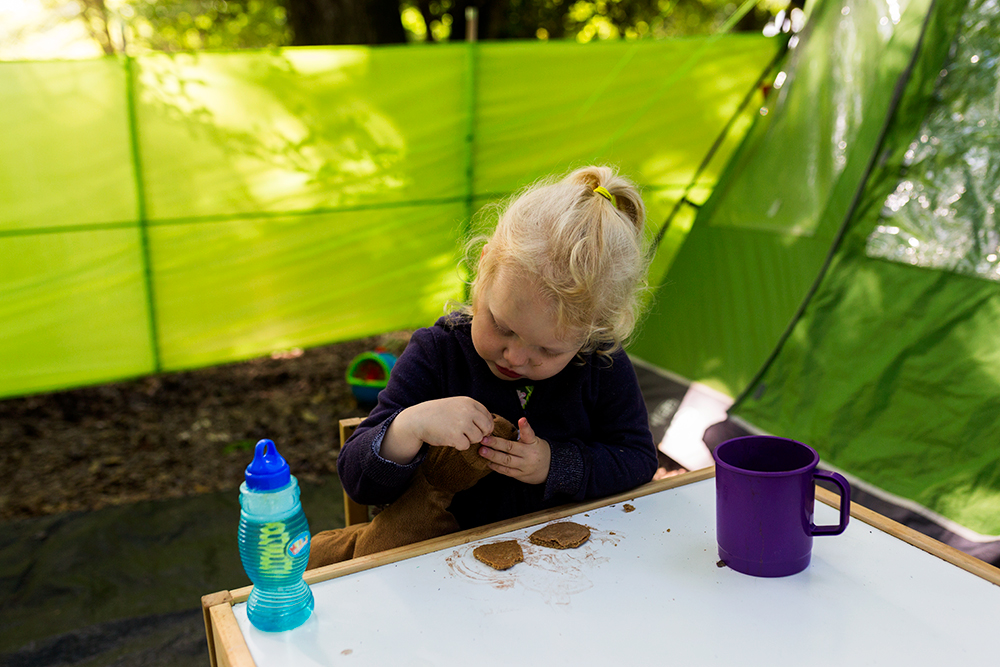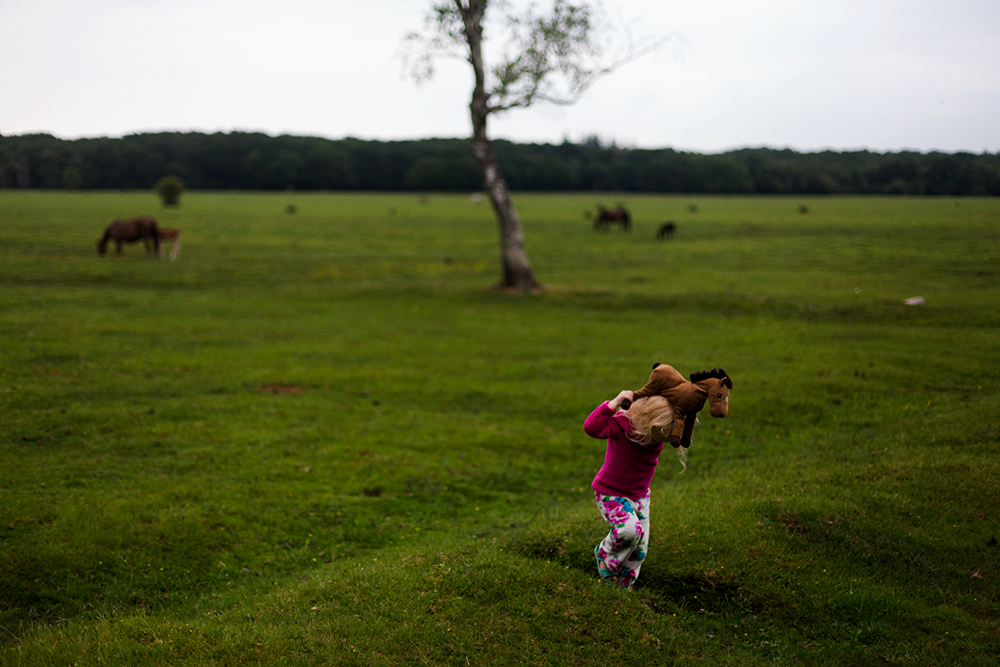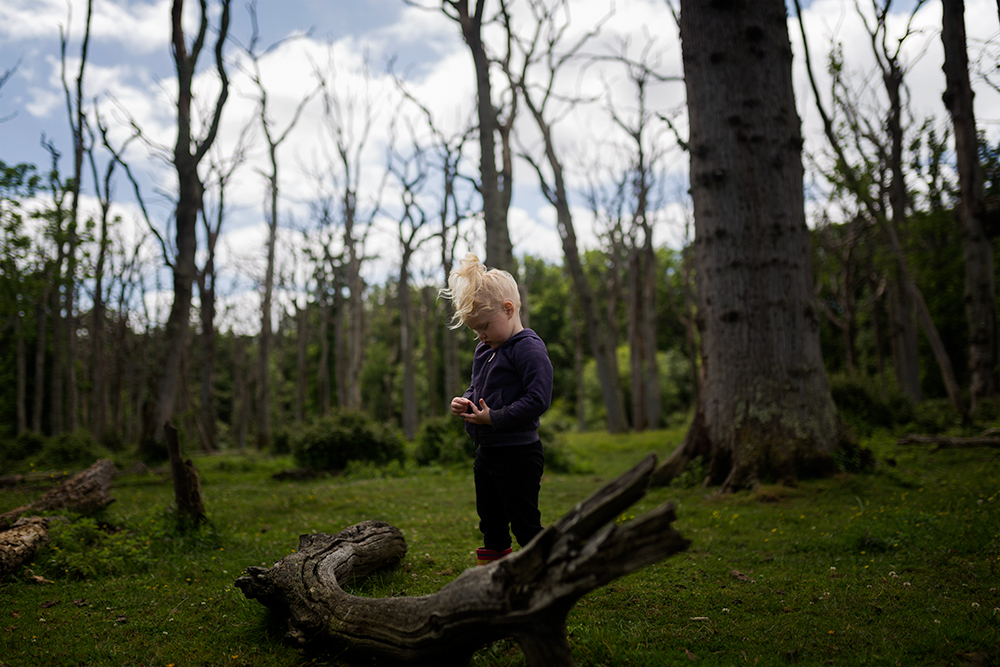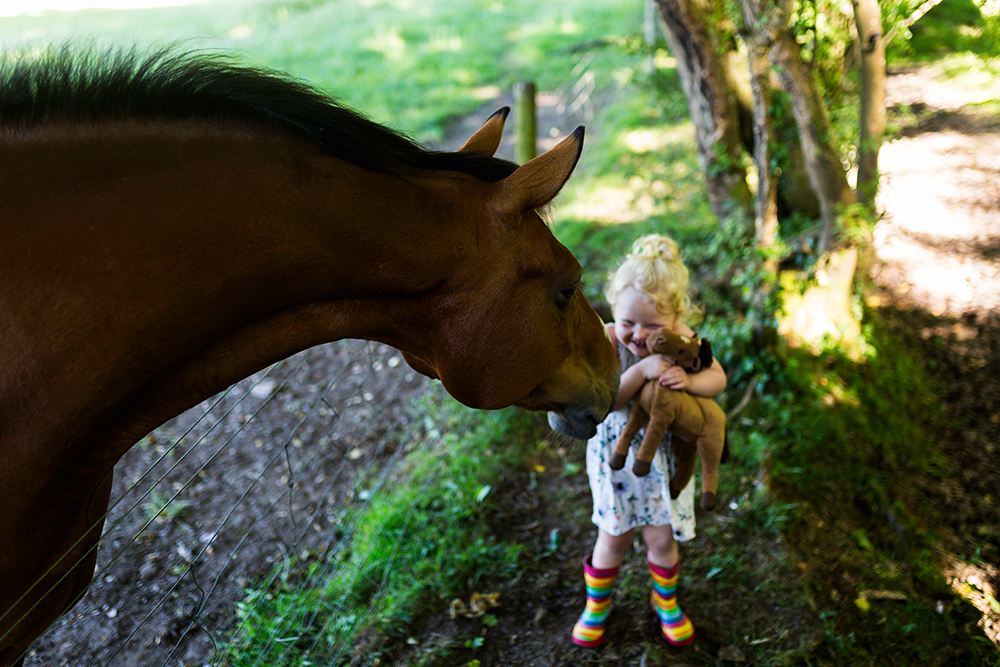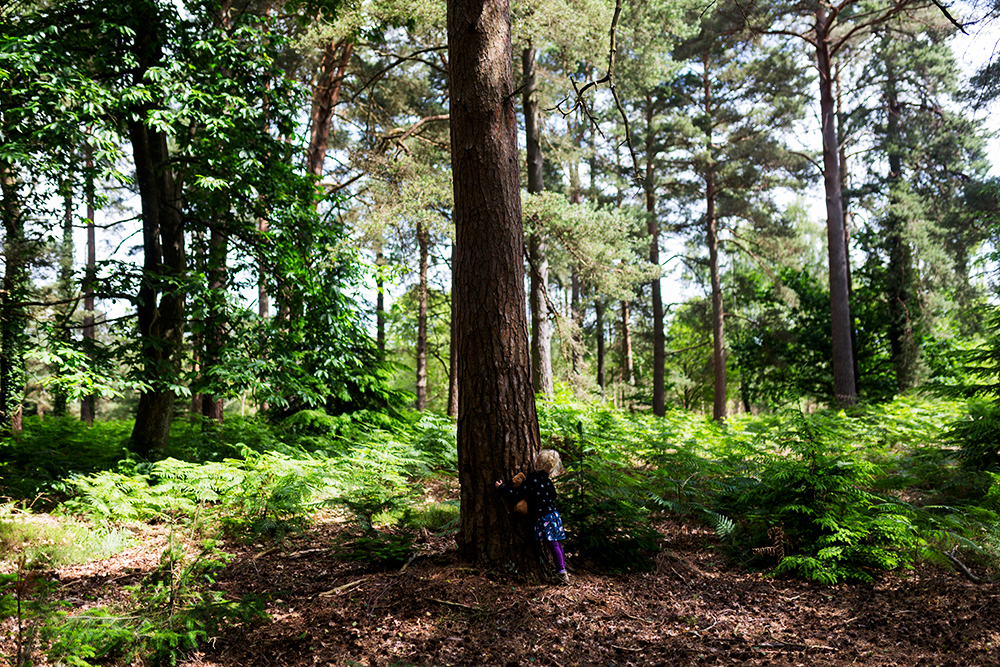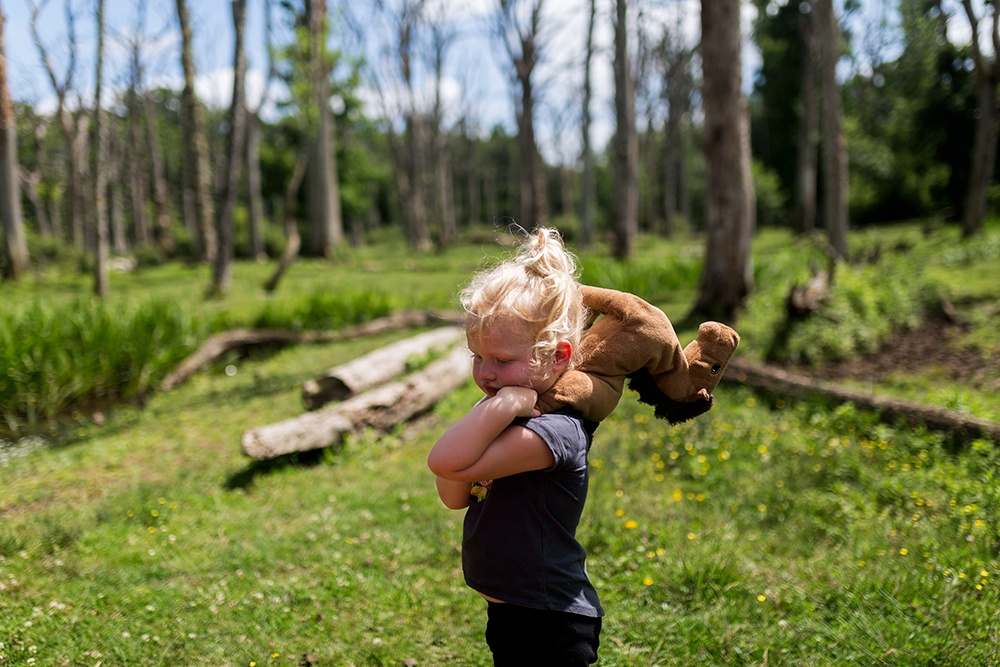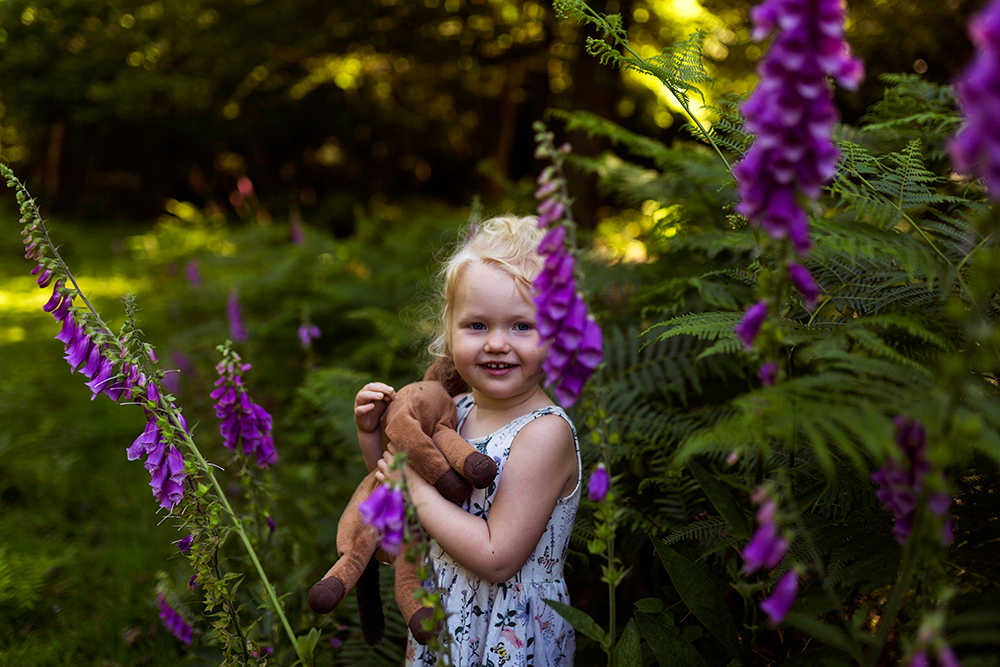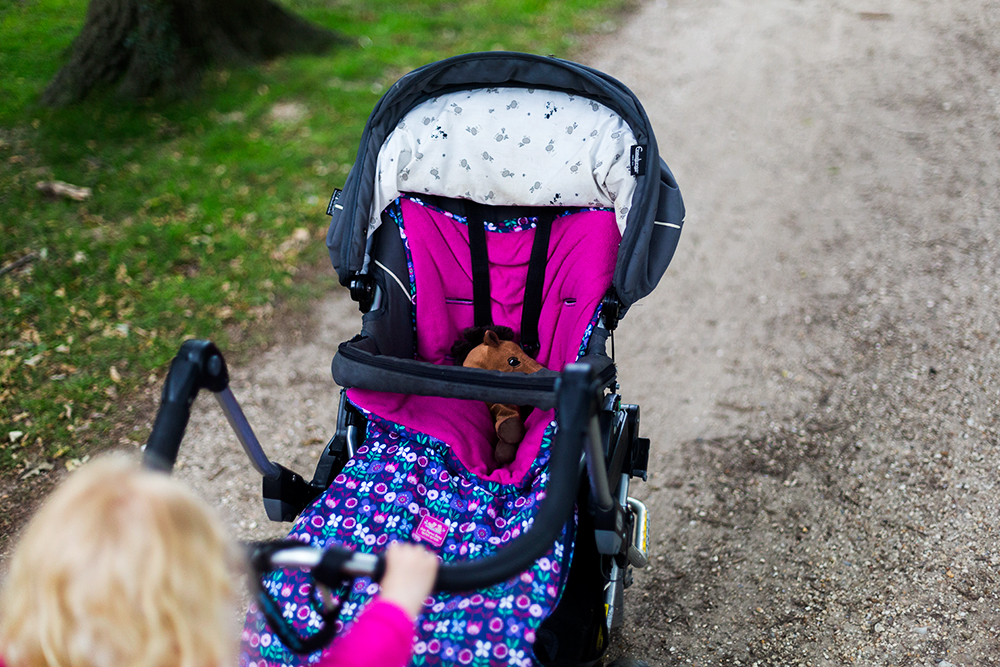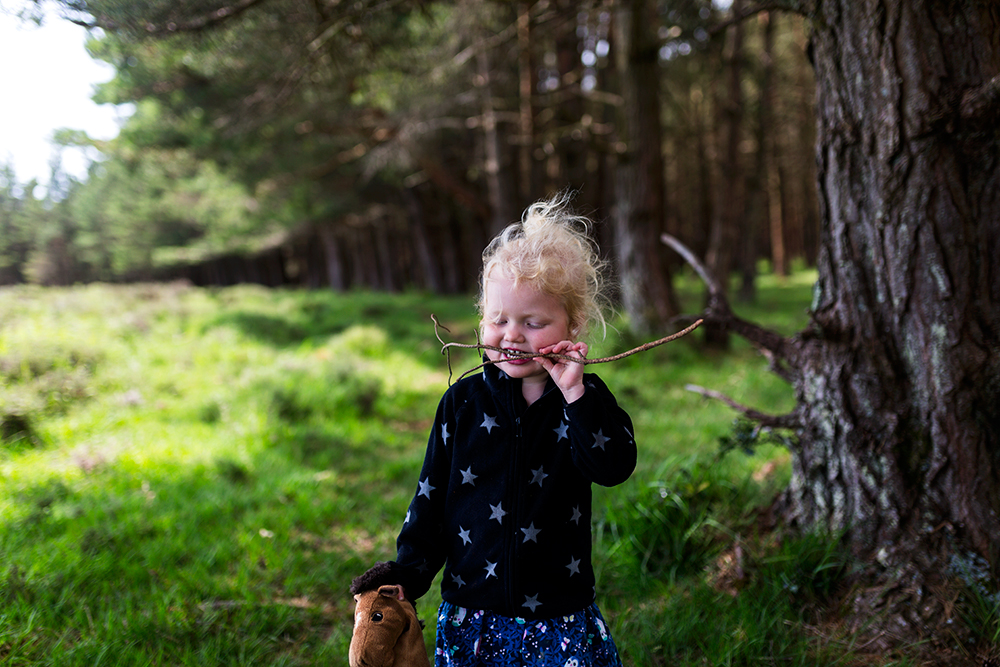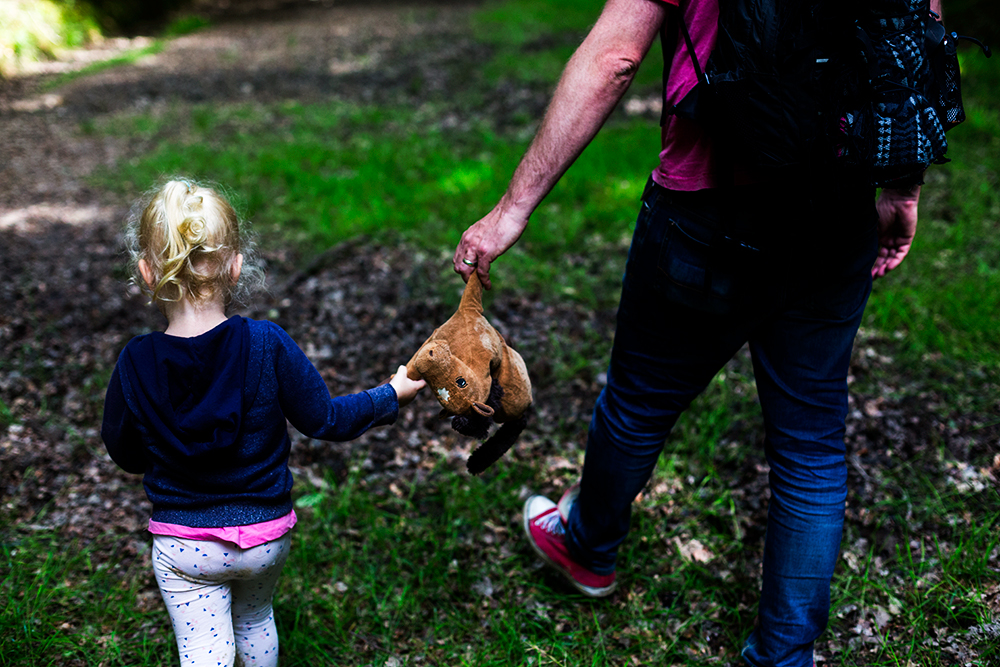 And yet another change in her that has happened is her ability or I should say her willingness to go on very long walks without needing to be carried at all (other than the occasional shoulder ride for 5 min). For the past year our adventures in the woods usually consisted of just arriving in a certain area and staying there, it was never really possible to go on long trail walks with her because all she wanted to do was explore one area which I was more than happy to do but I had been missing going on proper hikes and discovering new favourite spots and this week that's exactly what we did.
The first time it really happened was on the Wed when Kevin had the day off and we went and explored an area that me & Nixie had been the previous day but this time we followed a path that I had wanted to explore but didn't want to do it on my own because I wasn't in the mood to have to carry Nixie for long distances. I'm so happy we decided to explore this area because it was so incredibly beautiful, the day before me & Nixie had seen deer here and the new path we were on led us to a truly idyllic forest glade where we had a picnic & I even saw my first forest fox which i was so incredibly excited about that I kind of lost my cool and I think I freaked out the fox because he saw me immediately and scurried off, was definitely not expecting to see all of us hanging out on a blanket! While laying out in the sun we ended up having a family nap, it was absolute bliss. Afterwards instead of going back the way we came we decided to test going on a longer walk exploring even new areas and to our surprise Nixie was into it!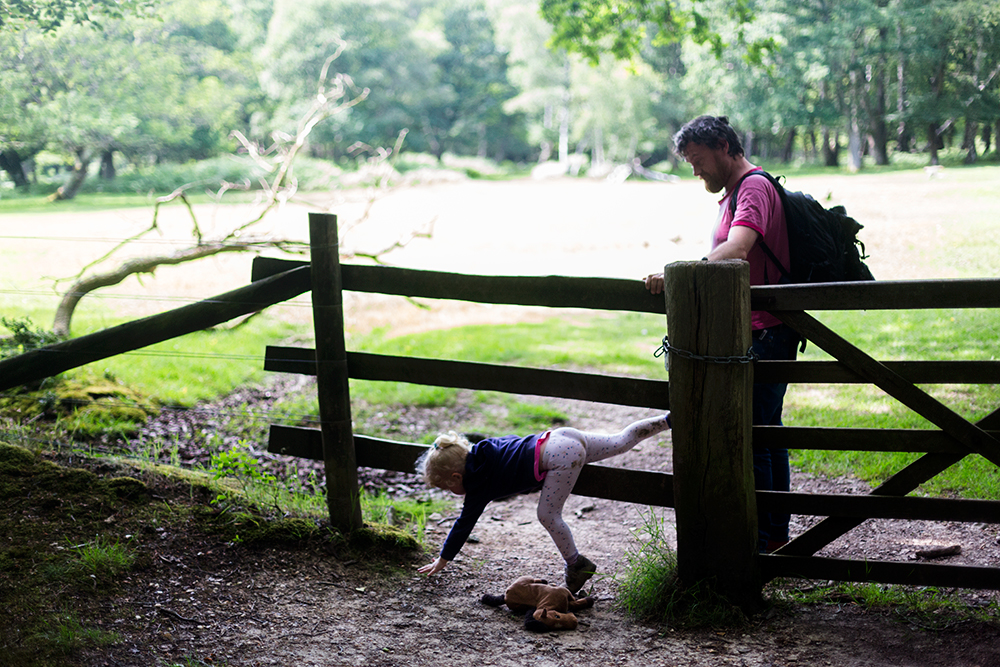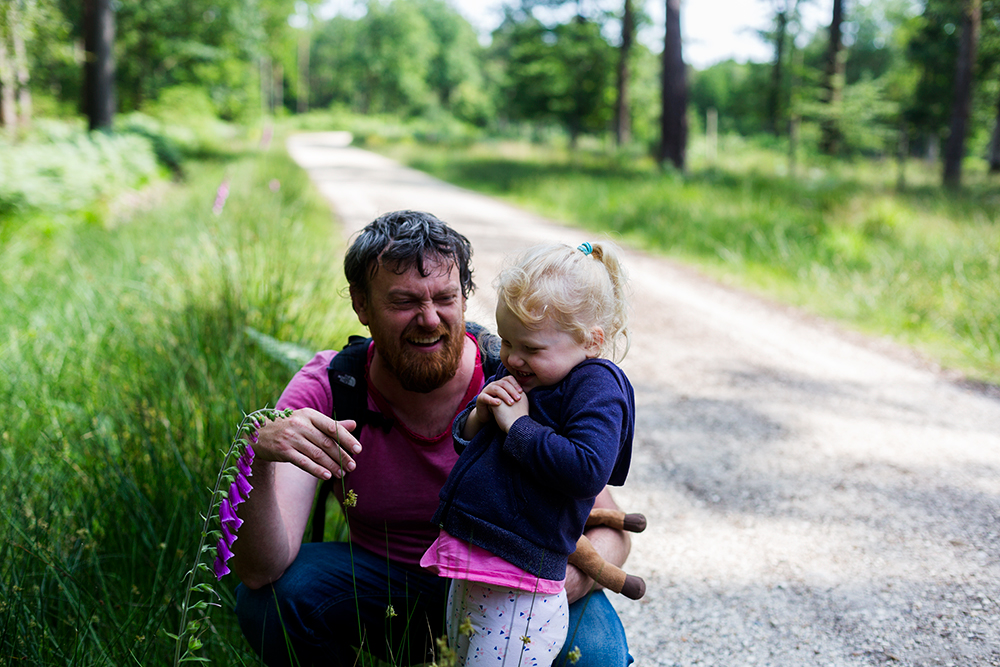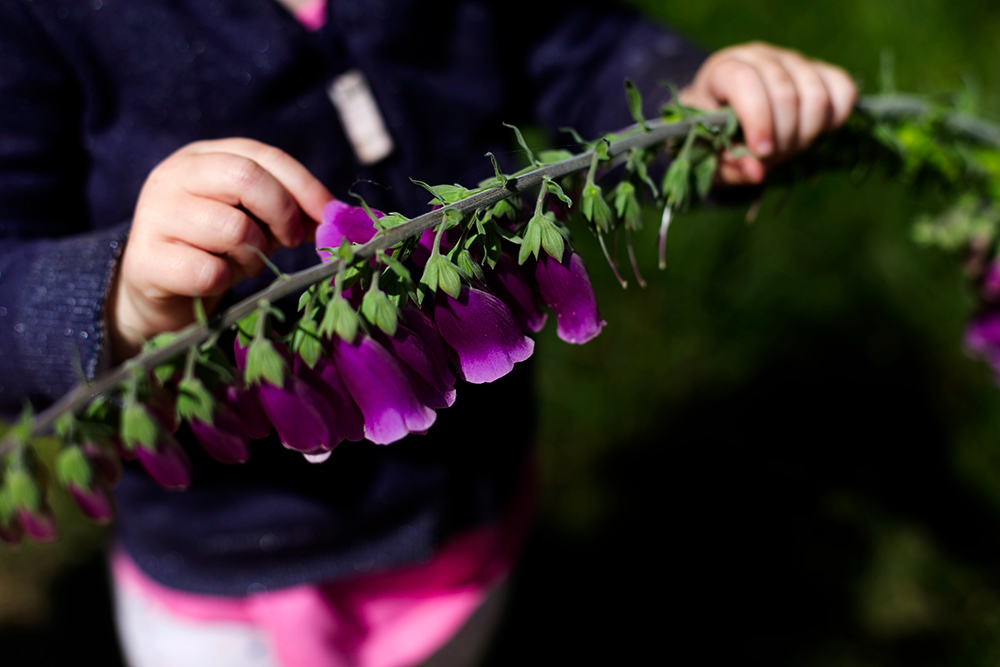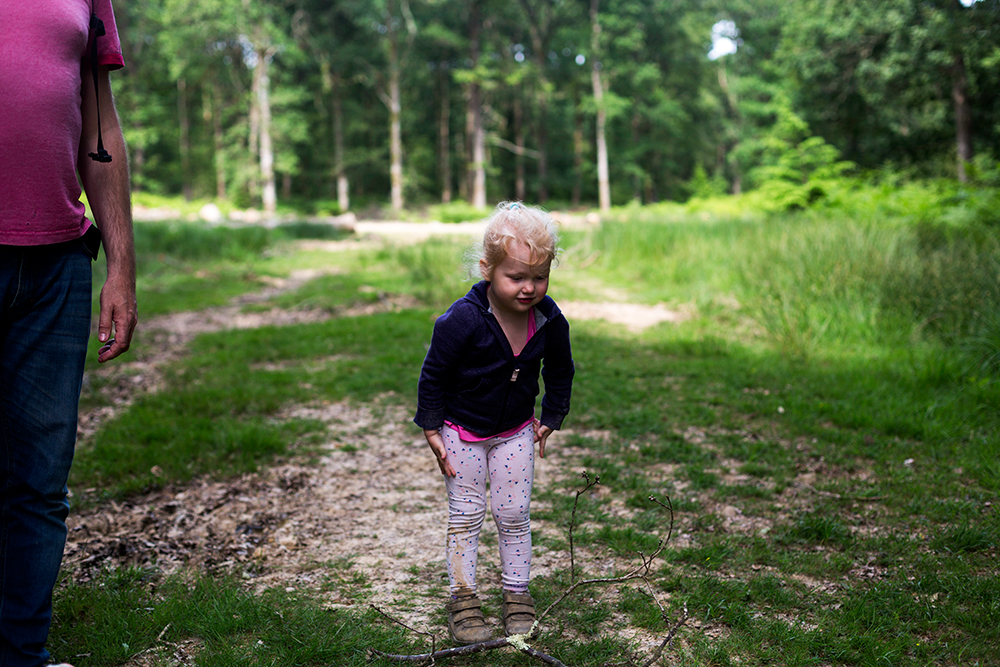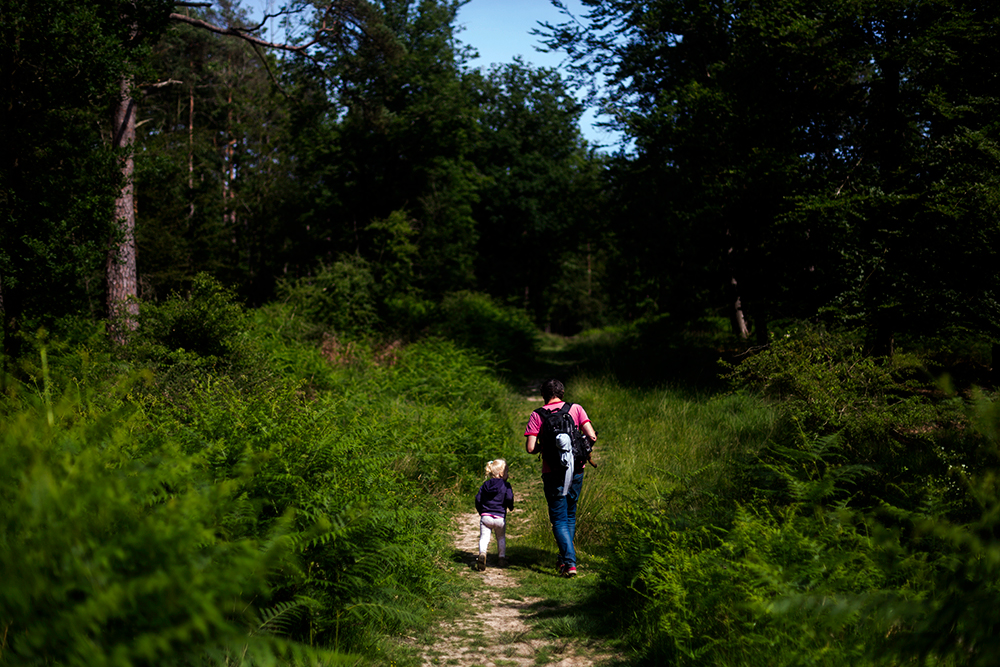 And after that afternoon I was inspired to see how far I could actually get her to walk. On the thursday I had really wanted to head over to the dead tree area, one of my all-time favourite spots but had been avoiding it because it's just too tiring for me at the moment to have to carry her in the backpack or any other way, it's a pretty long walk from our campsite to there. So after breakfast, I packed a picnic and off we went. We headed over to some gates right across the road from the entrance to New Park Hotel and crossed the crazy busy road and headed to Whitley Wood and made our way to the cycle paths which would lead us to the area where I wanted to be. At first there was a bit of protesting coming from Nixie she really wanted me to carry her but I knew she was fully capable of using her own legs so refused to give in even though there were some big upsets but after 20-30min she completely changed her tune and had no issue walking at all! It took us about 1 ½ hours to get there and once there we had a picnic in the most perfect spot which was in the shade shielding us from the hot sun. We were also welcomed with the site of a large herd of deer exploring the same parts of the forest. Nixie ended up having a nap and I ended up having such a beautiful meditation. It felt so incredible to be in this spot together especially without having to carry her in the backpack, for the first time we were having real adventures together with both of us exploring along the way, everything just felt so different, the way we spend our time together had evolved and presented itself with so many more opportunities! Once Nixie woke up we headed back towards the campsite but instead of going back the way we came we made a loop back & got to explore a new part of the forest which we hadn't been to and it felt really special.There's nothing better than that feeling of seeing a place for the first time & slowly but surely i'm beginning to connect more & more of all of the different paths of the forest. I just love all the different environments of the forest, on just our walk back we went through several different areas and came upon a couple of different streams and we even found a tyre swing which Nixie was incredibly impressed with! We didn't get back to the campsite until close to 18:00, just in time for dinner and then showers. Oh & I only ended up putting her on my shoulders twice throughout the whole day and for no more than 5 minutes each time and we must have walked at least 6 miles or so. She really blew me away! One of the great things about her having naps and the fact that we get to enjoy long days is that we're able to hang out with Kevin once he gets home from work around 20:00 which is yet another new experience for us while camping!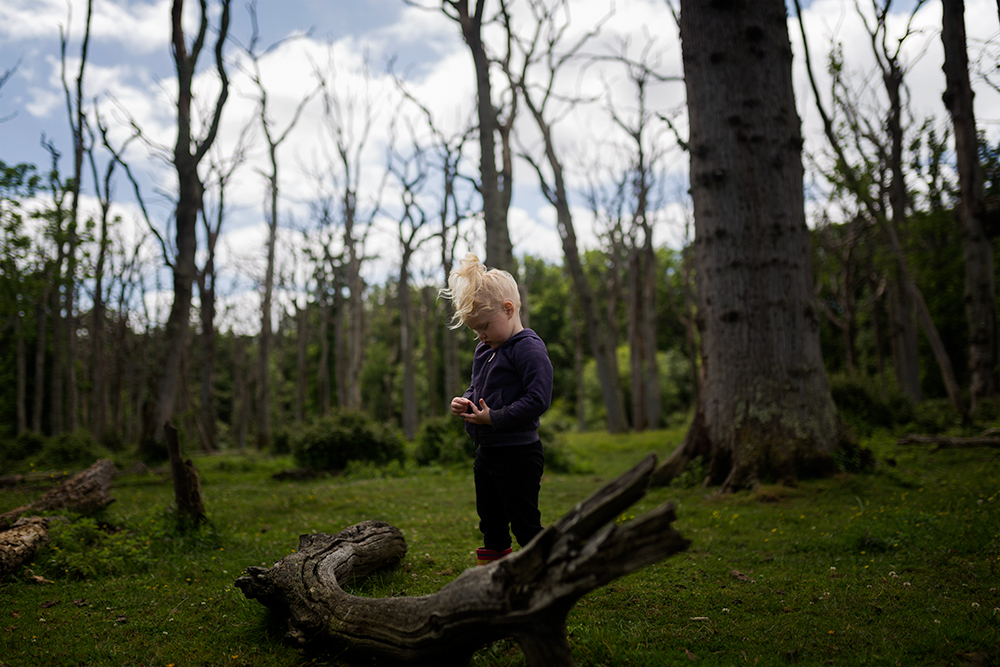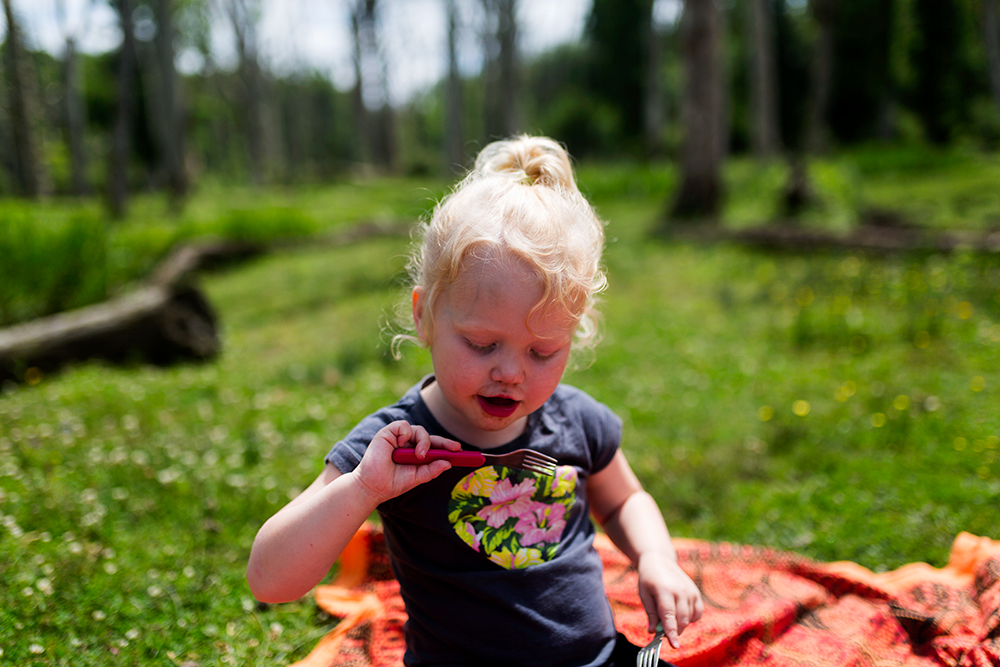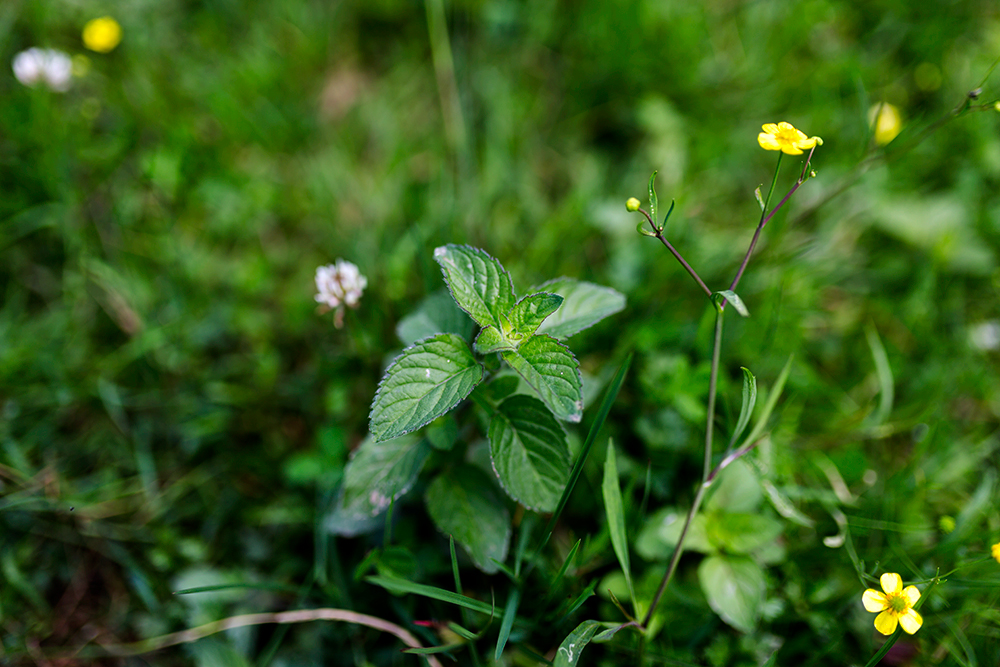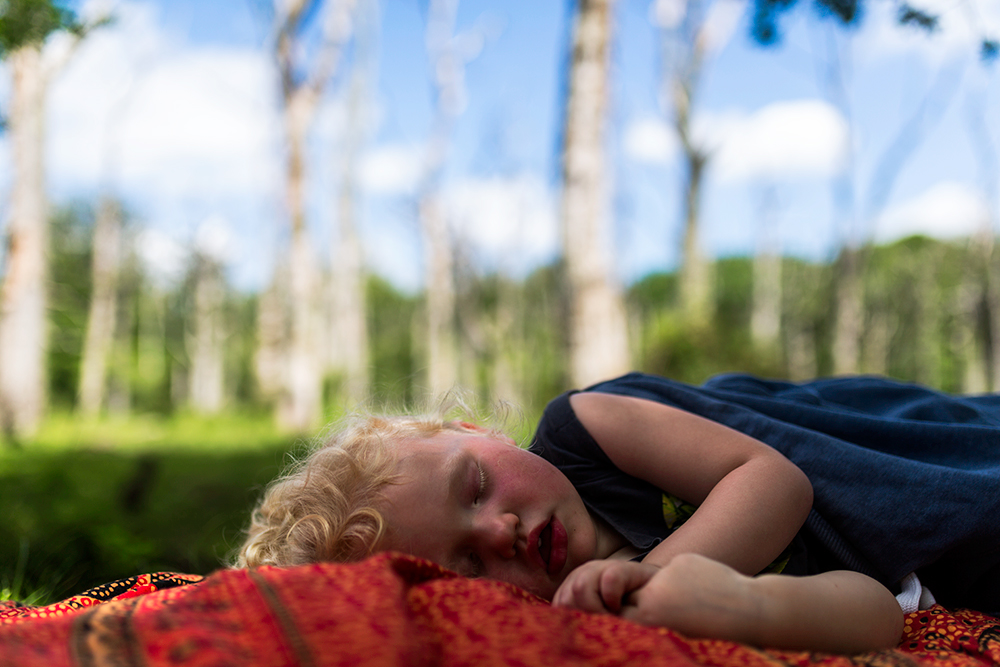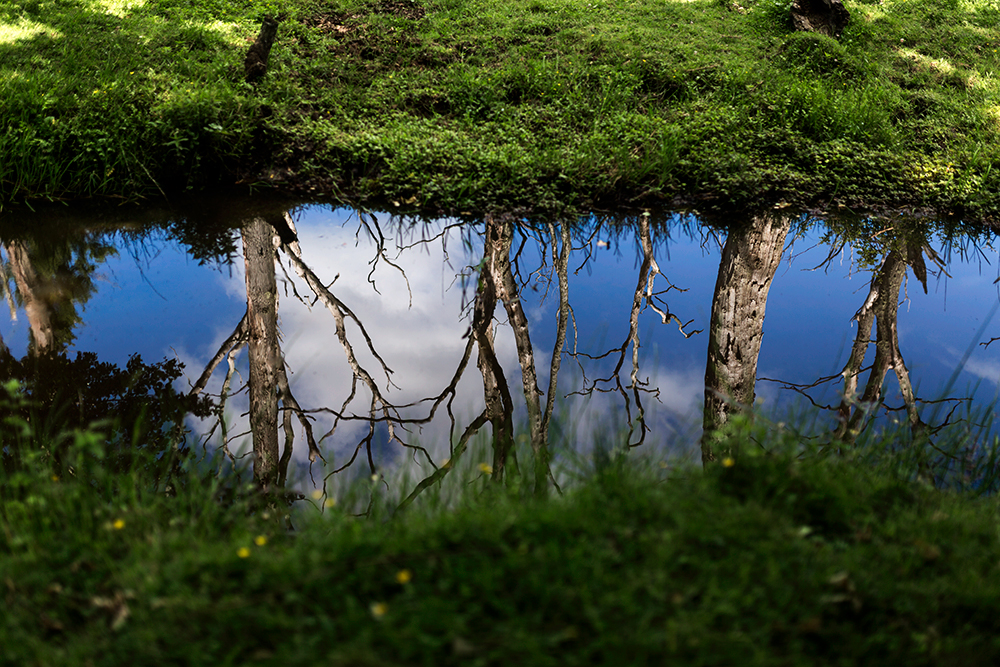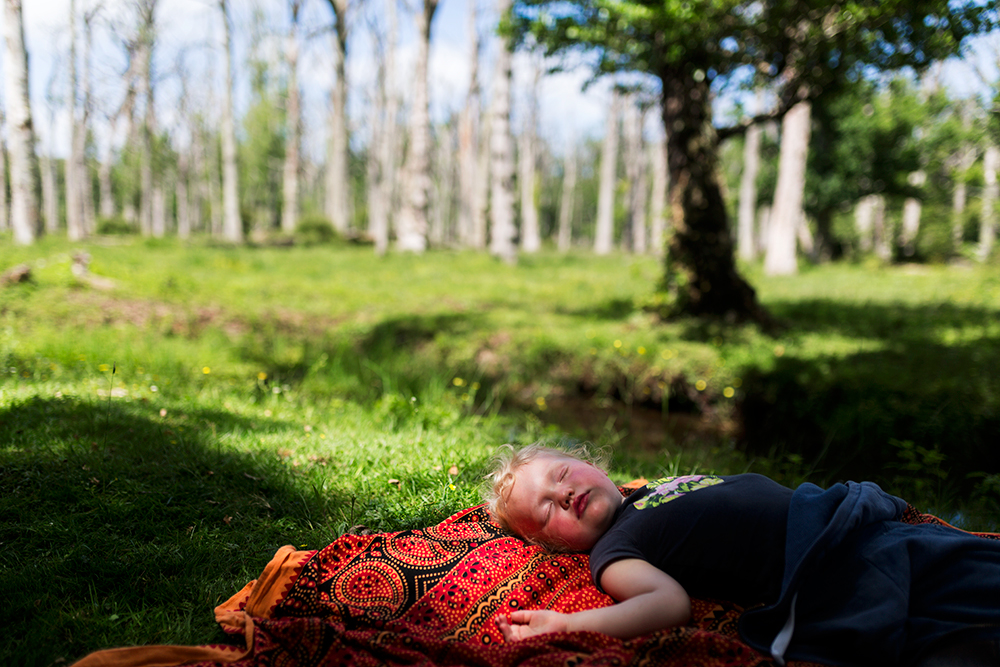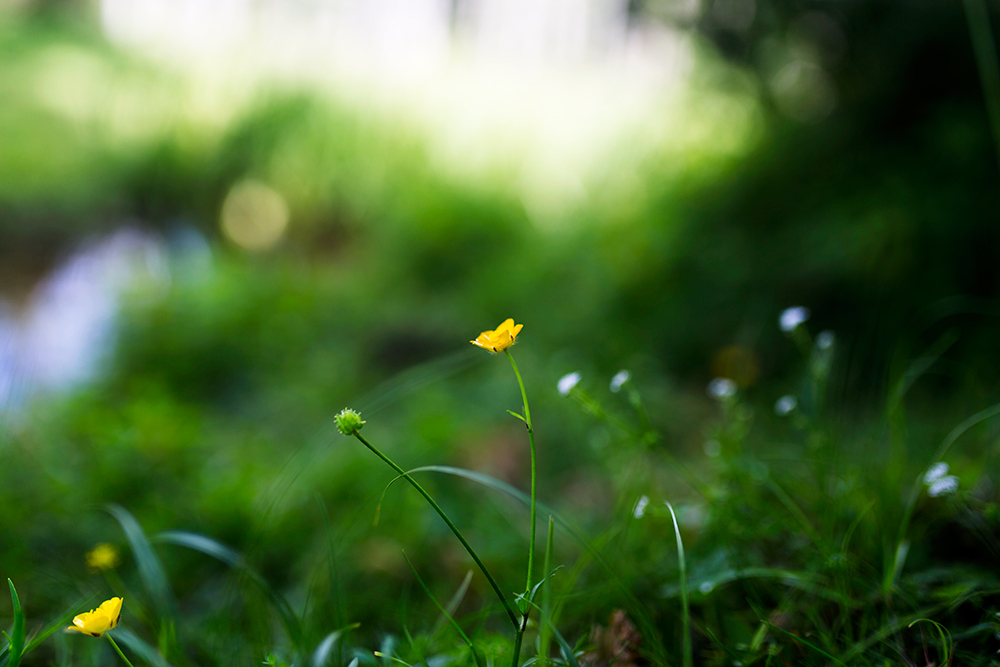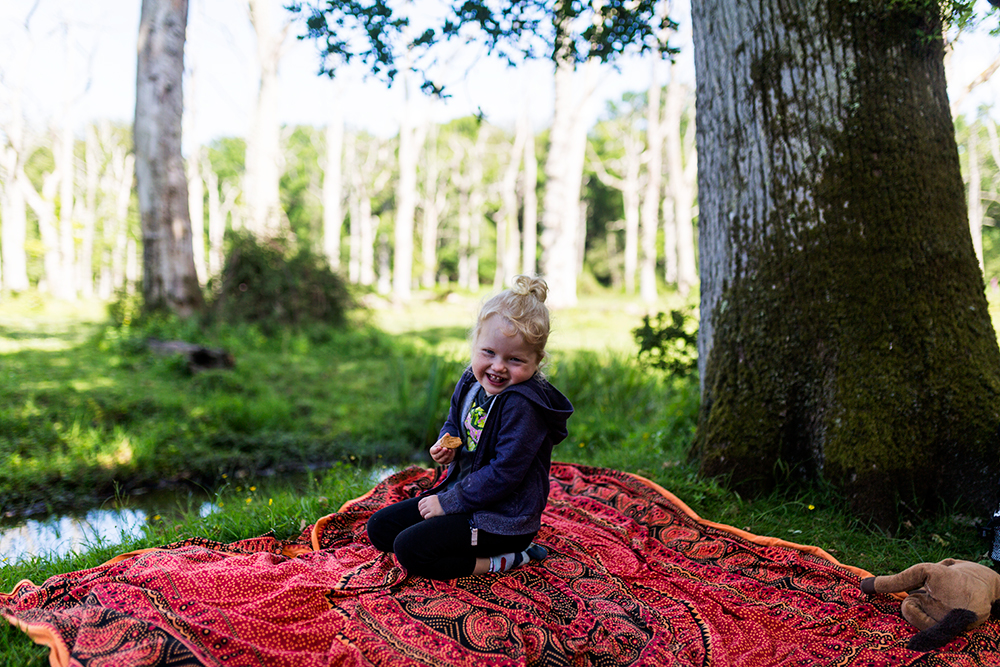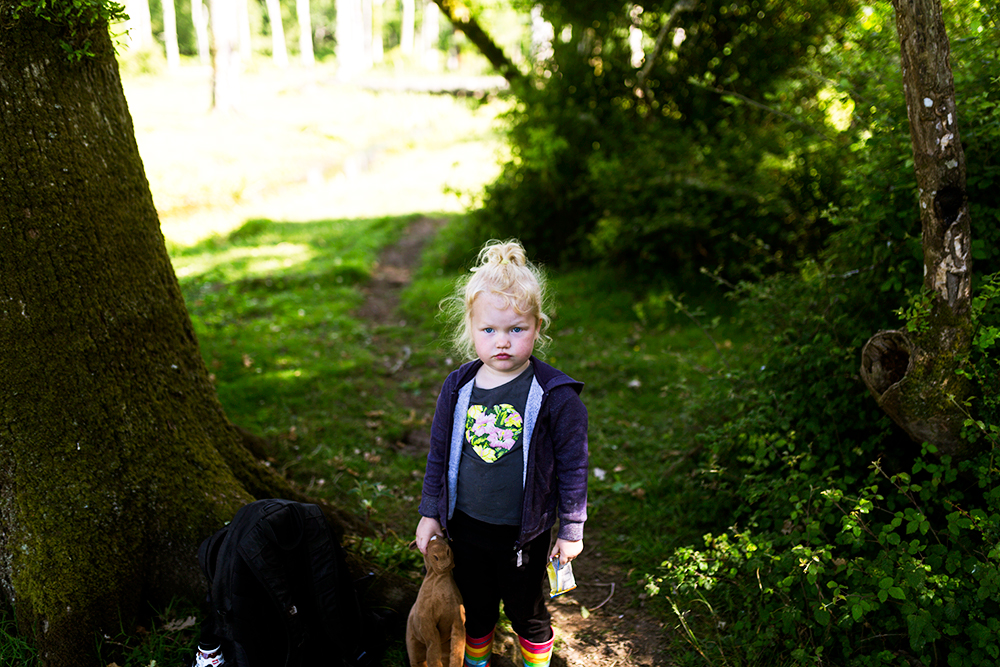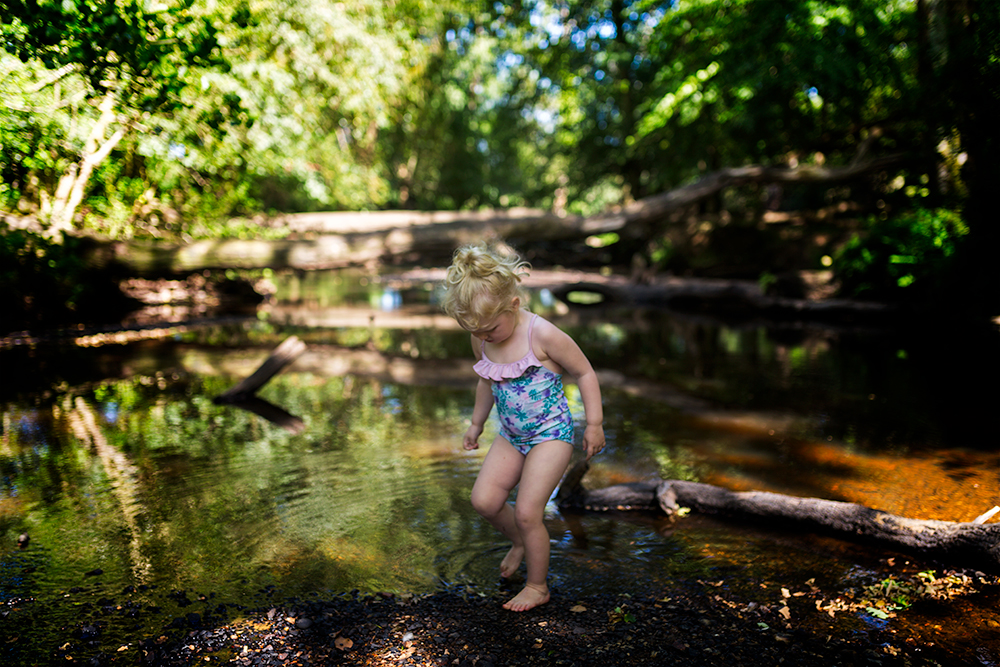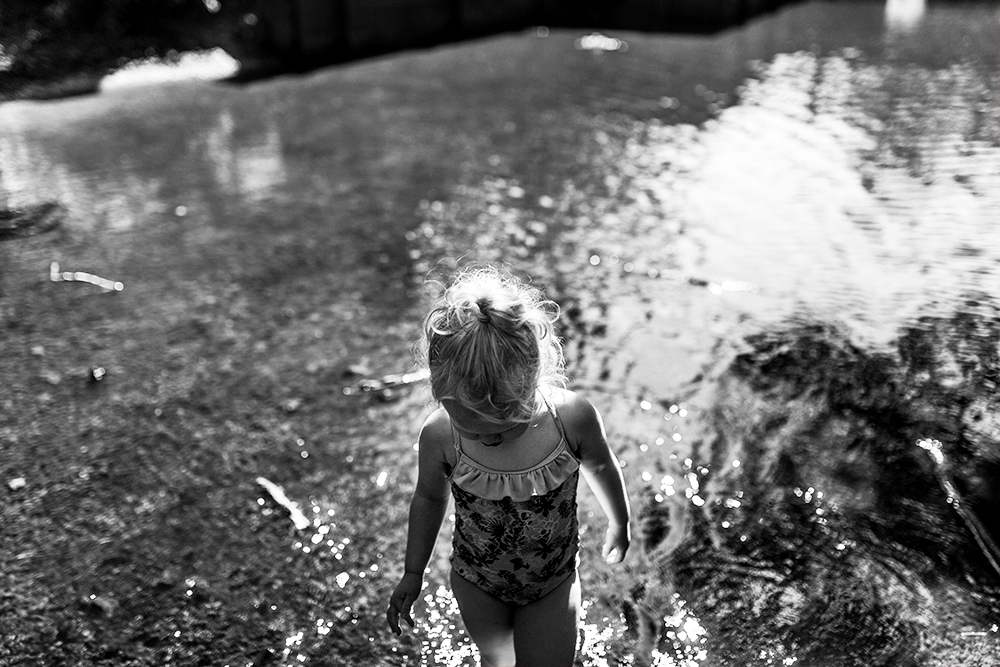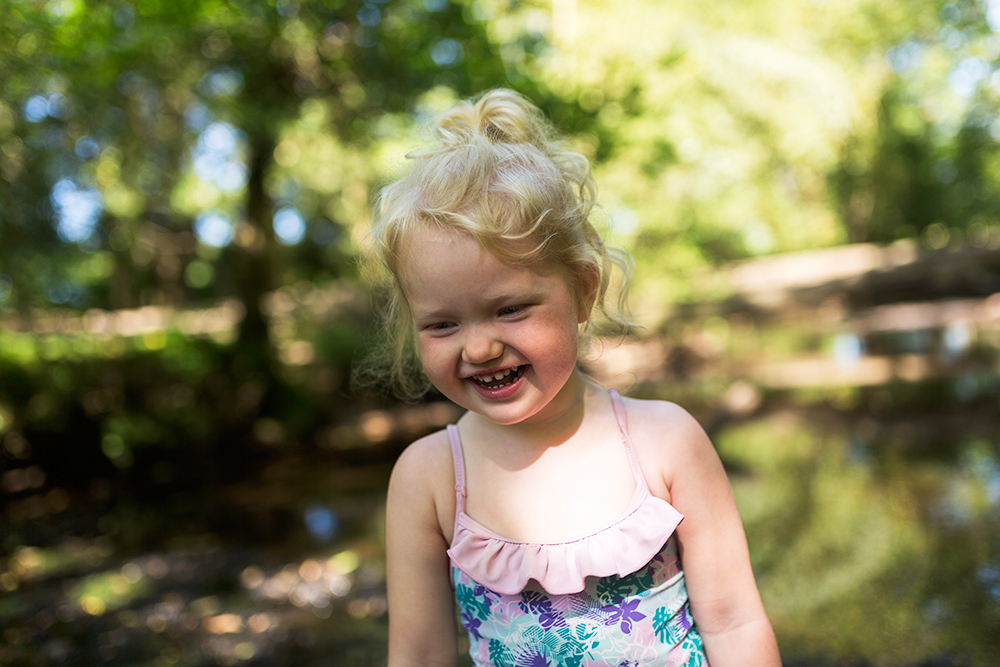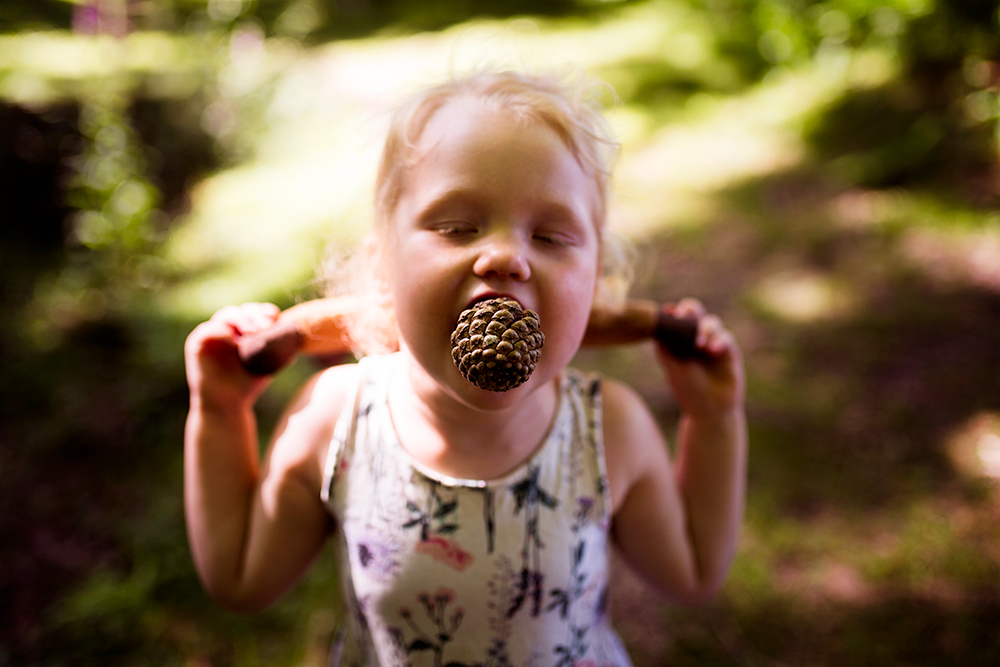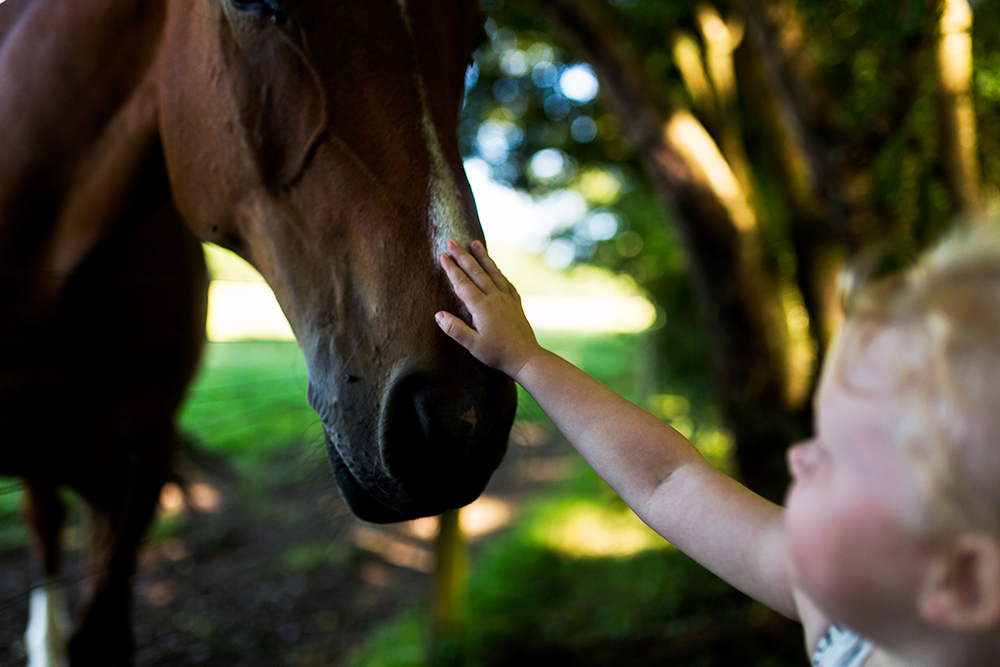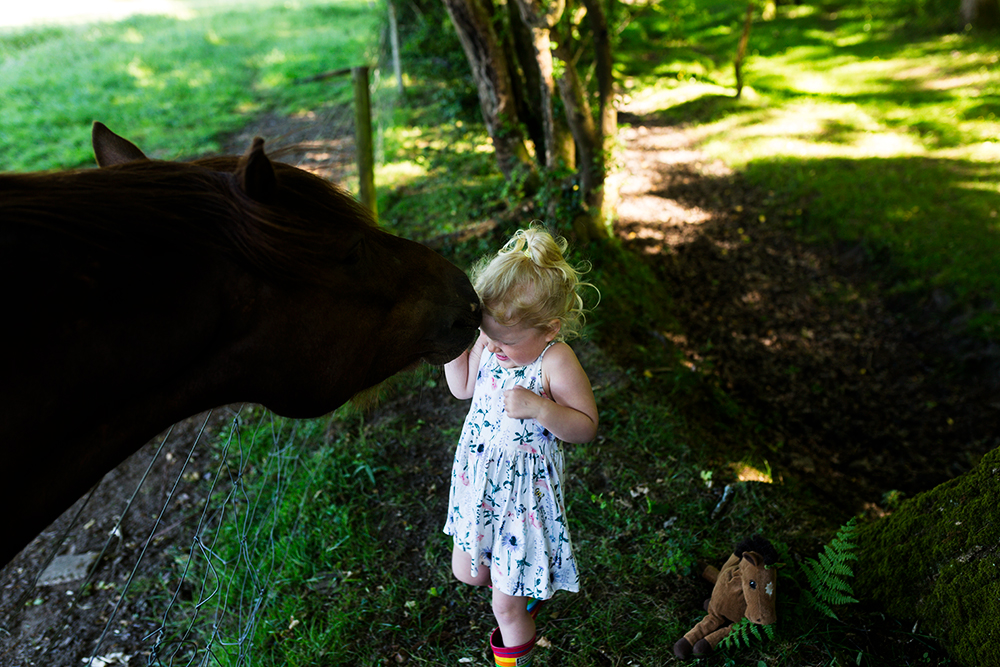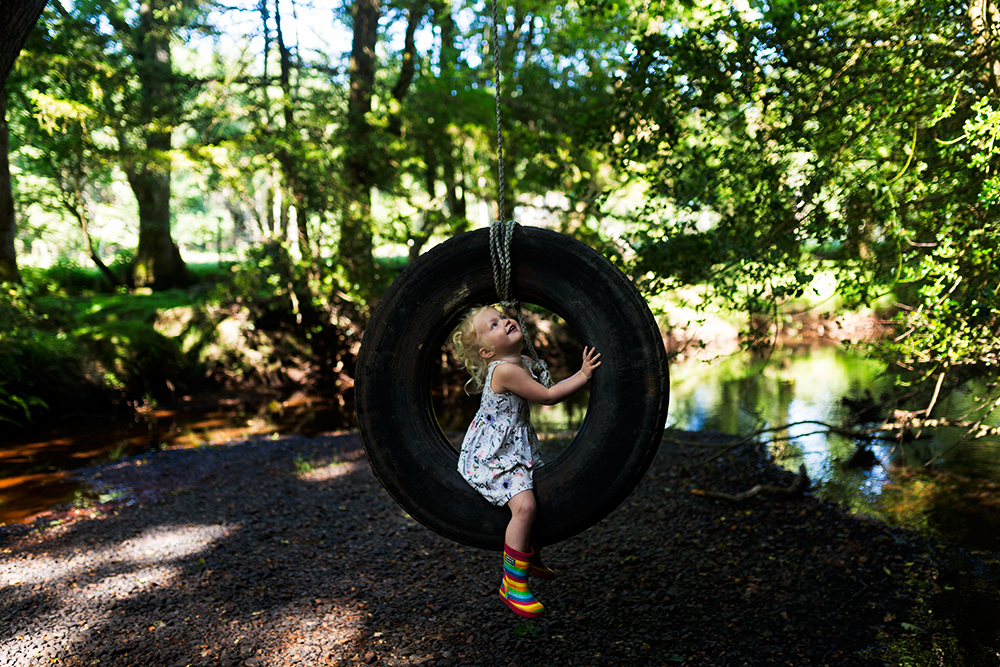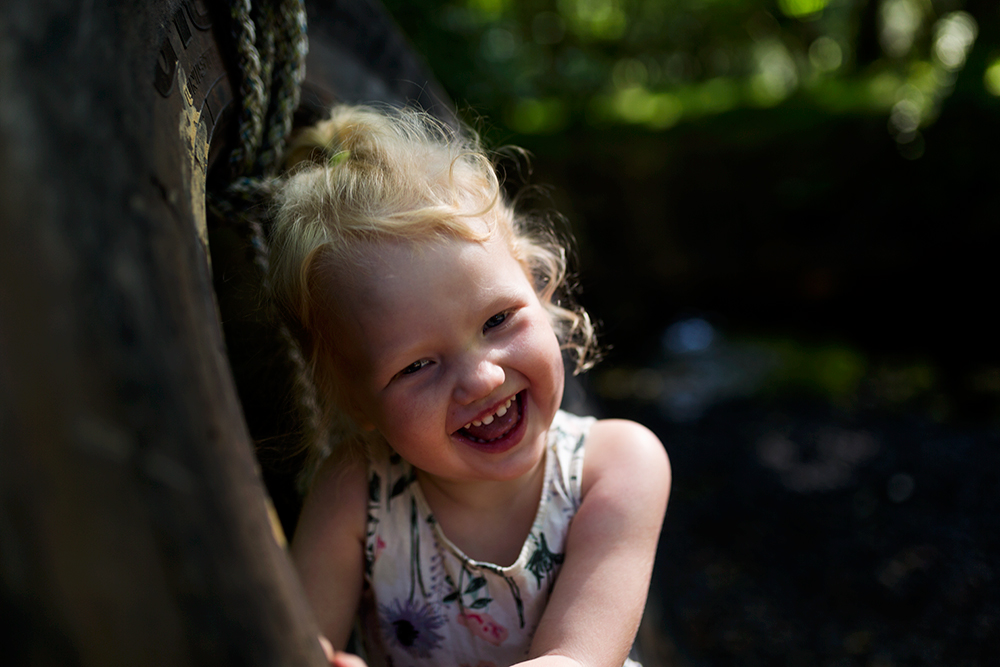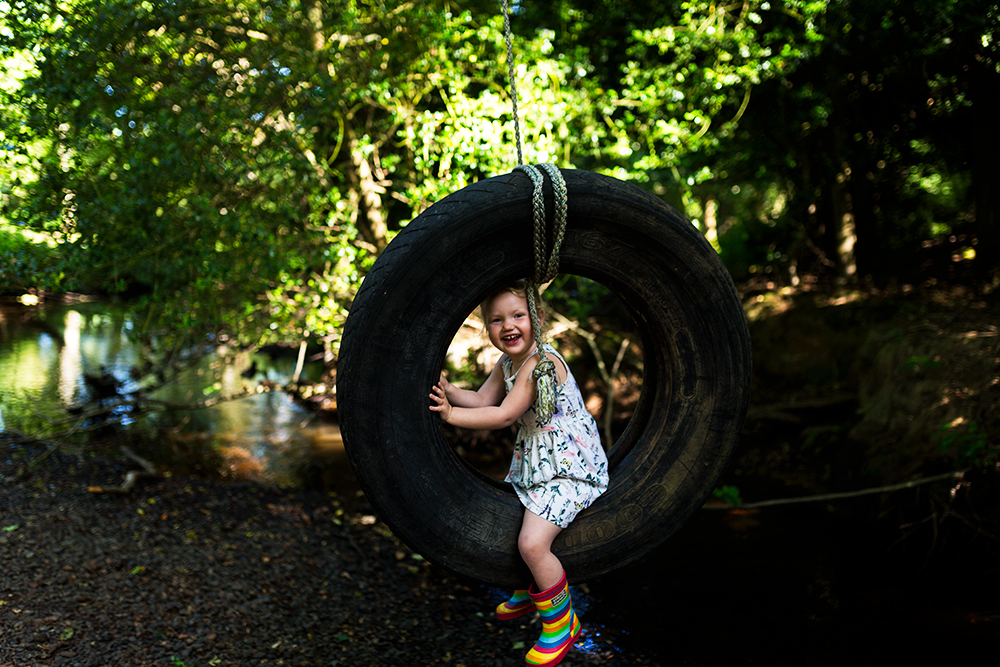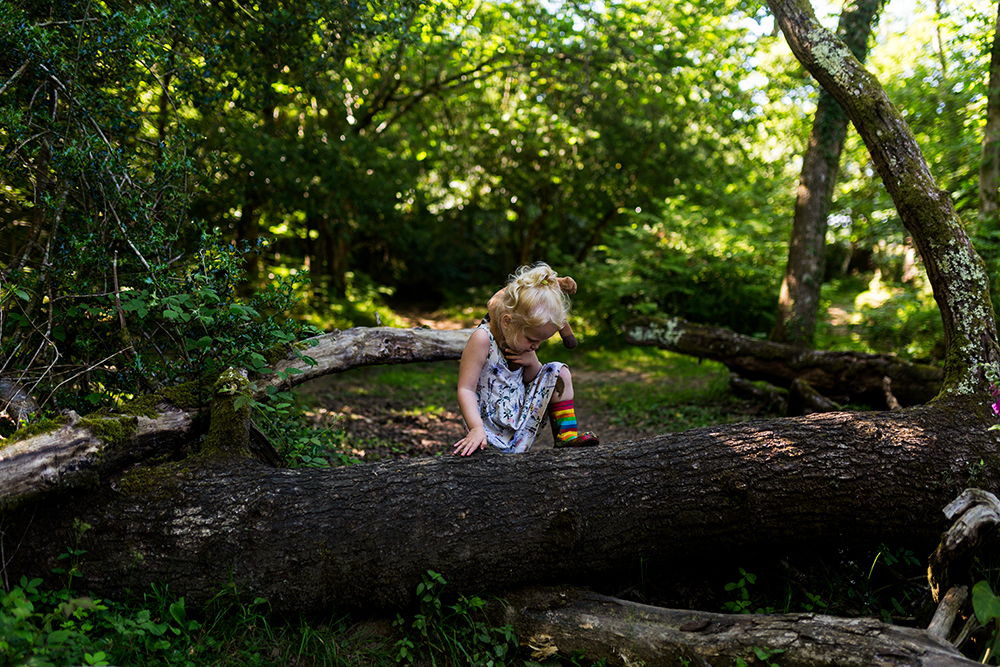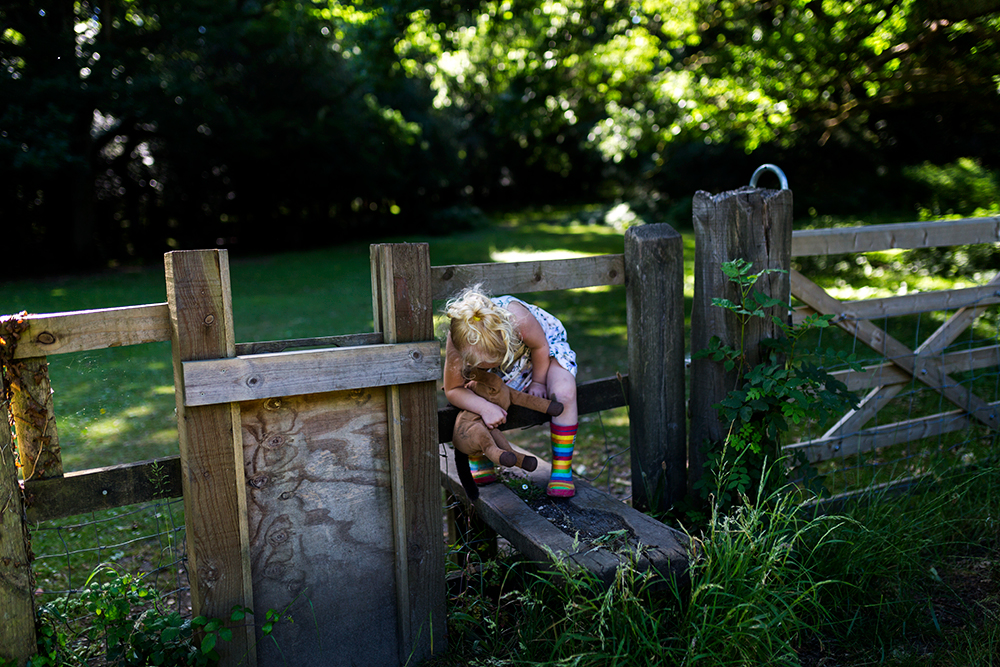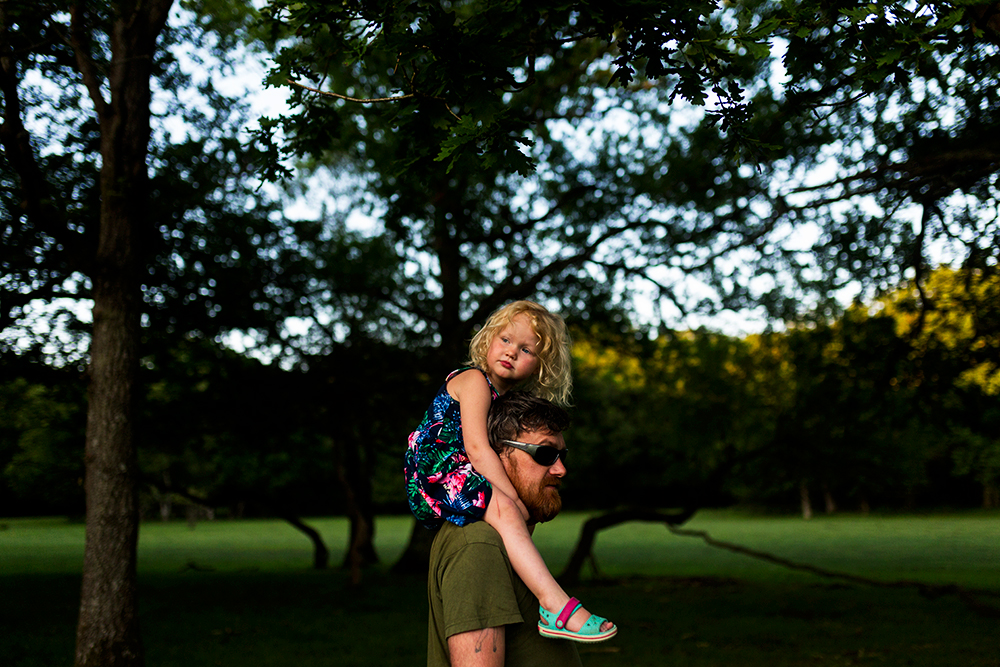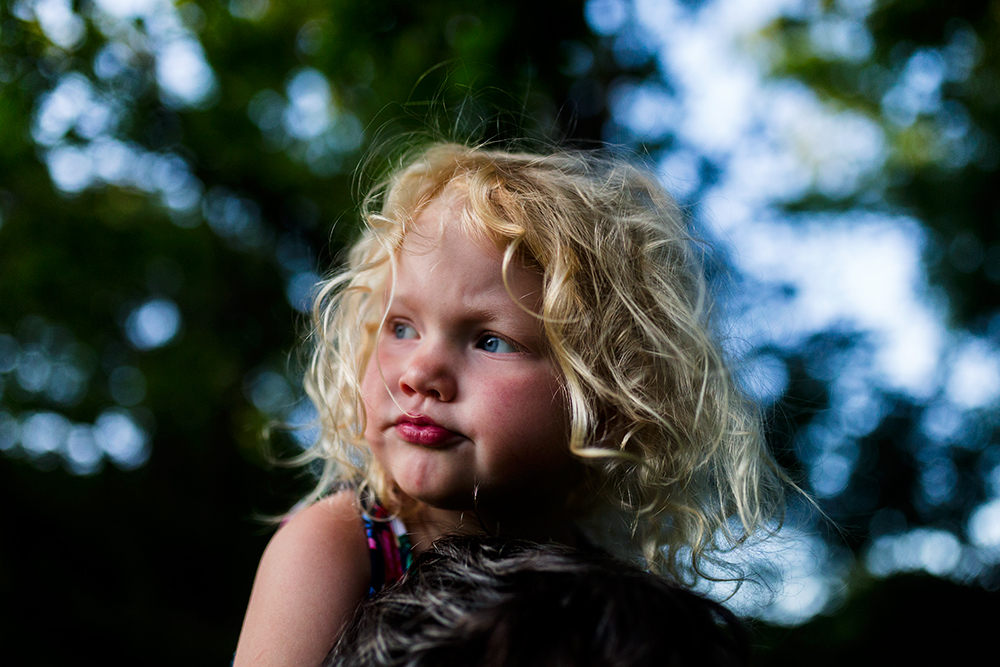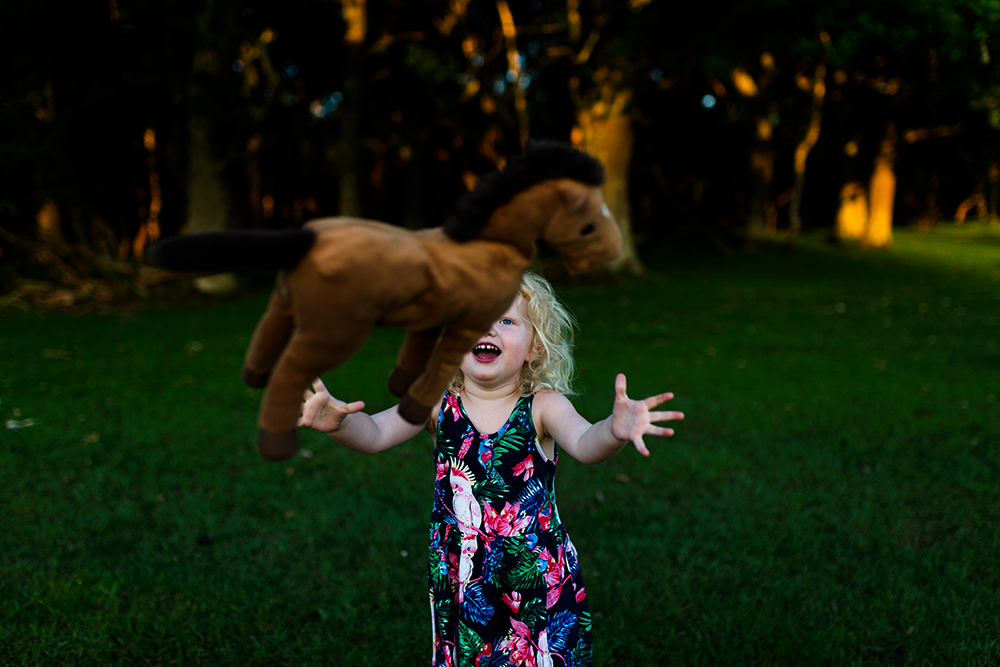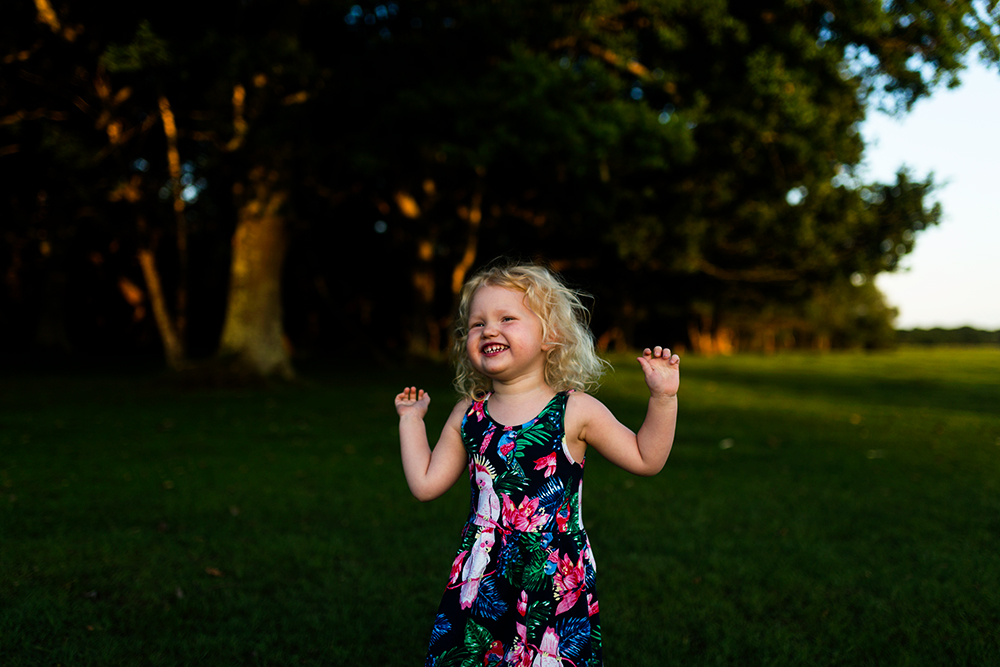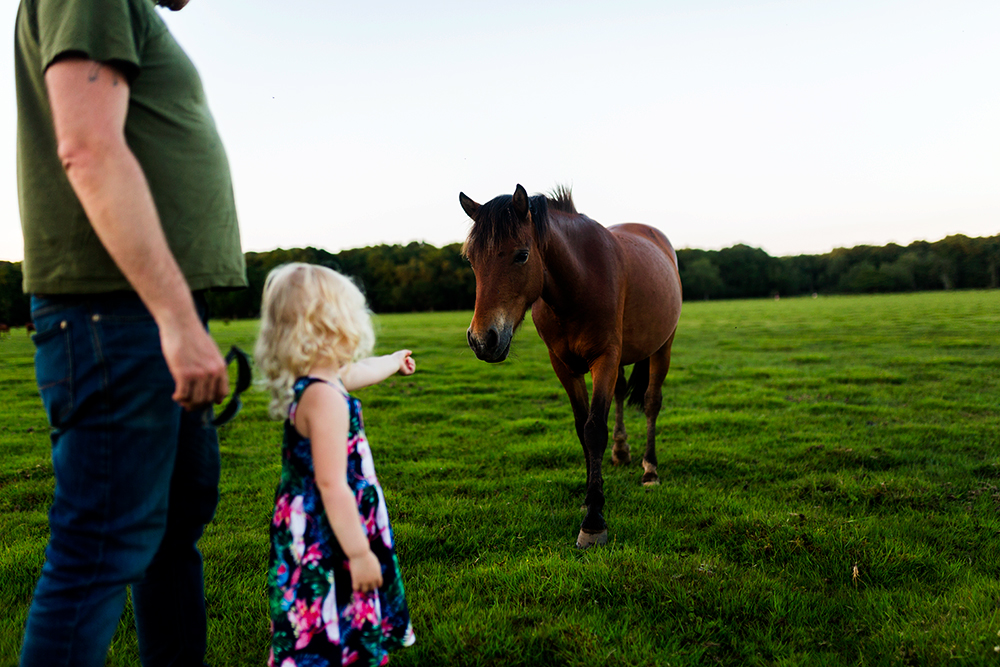 We had yet another long hike on Friday, our last full day. Kevin had a Dr's appointment and was going to be working from home so on his way to the Dr's he dropped us off at Blackwater so that me & nixie could just make our way back. We had quite the adventure. We walked through thick pine forests and the smell of it so soothing to our senses, walked across open heathland, got a bit lost and ended up in a very swampy area and struggled a little bit to find a way to cross it but it made our day feel like a proper expedition! And Nixie loved every moment, she's so adventurous. We had several picnics along the way, stopping a million times to watch the ants & beetles or the bees drinking nectar out of the foxgloves, we hung out in streams & found more toads in the ancient oak forests . Throughout the whole day I felt so incredibly peaceful, I haven't been feeling the greatest but being outdoors makes everything so much better. we were surrounded by so much beauty and so much peace and I couldn't help but be in awe at the sense of scale of our surroundings, Nixie looked so little in them. The whole day we were pretty much mostly on our own, it was pure bliss. And again we must have walked at least 7 miles and I only ended up putting Nixie on my shoulders a couple of times. Since Kevin worked from home he was able to be with us much earlier than usual which was a bonus and we had another perfect evening.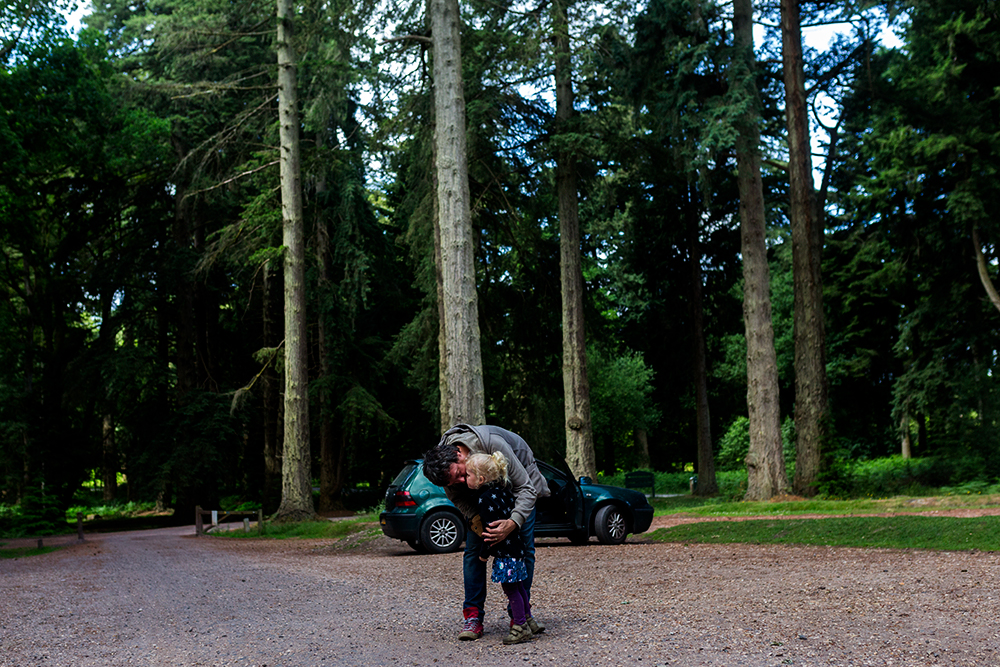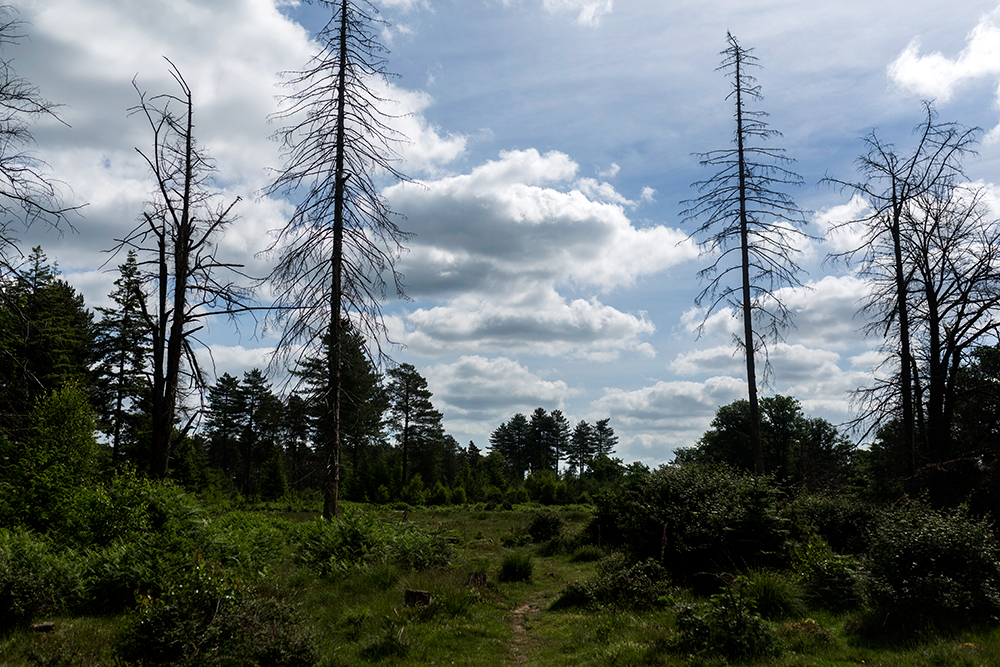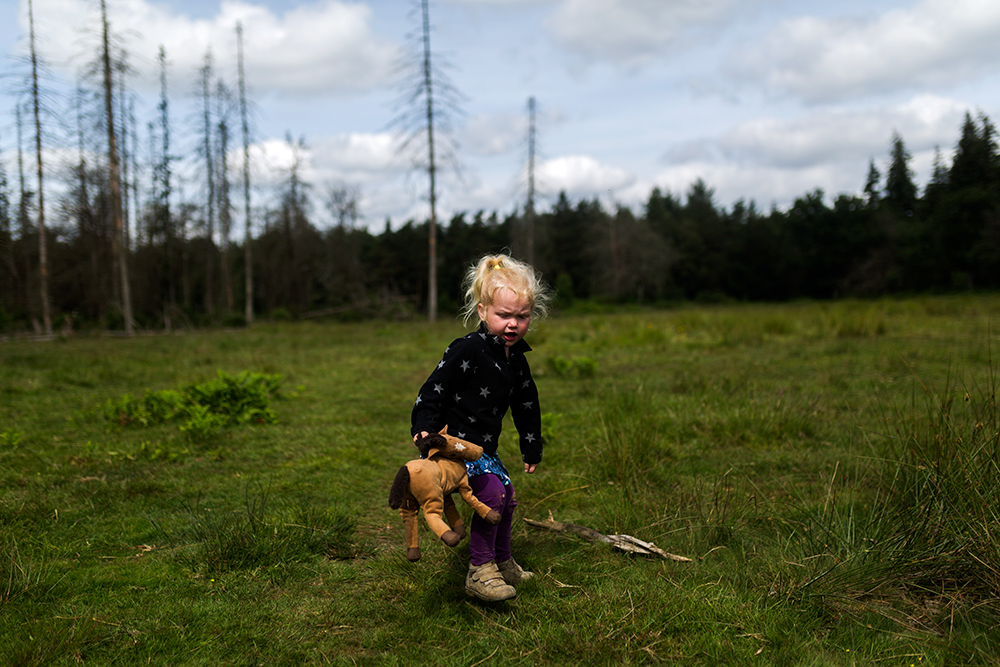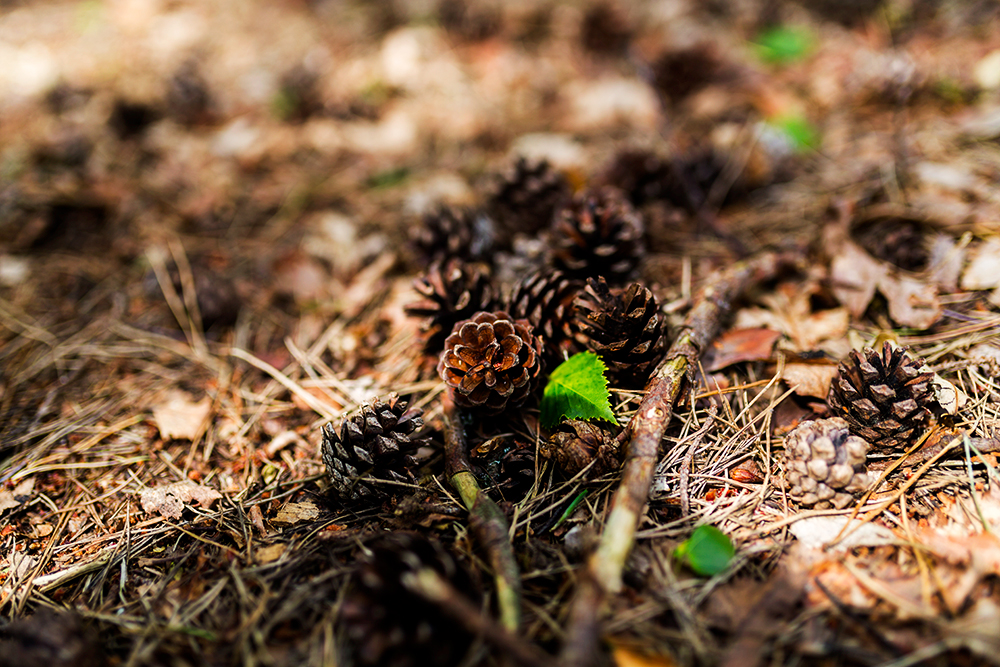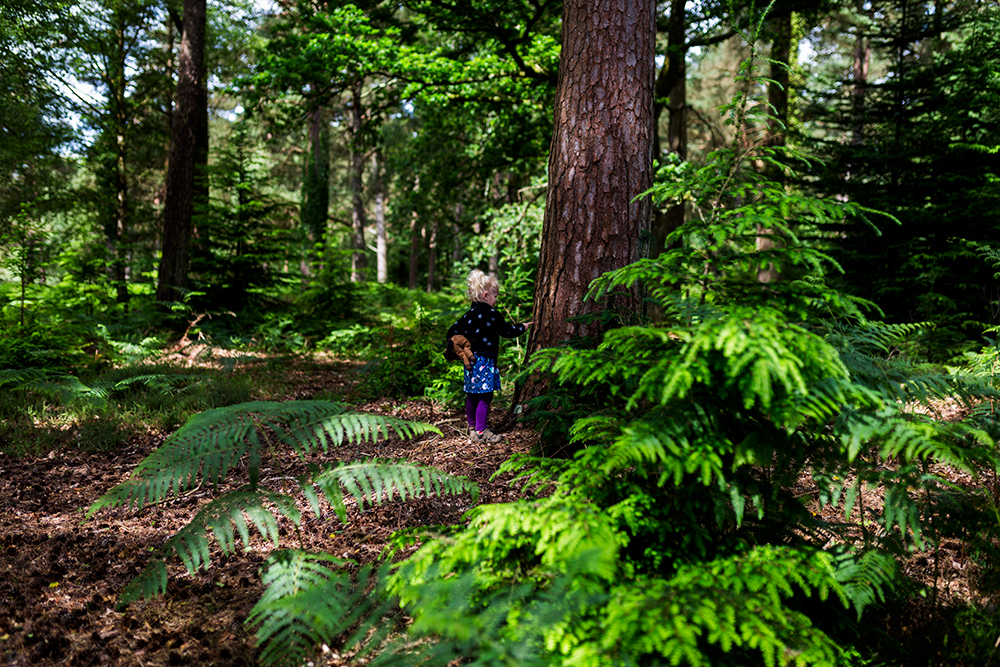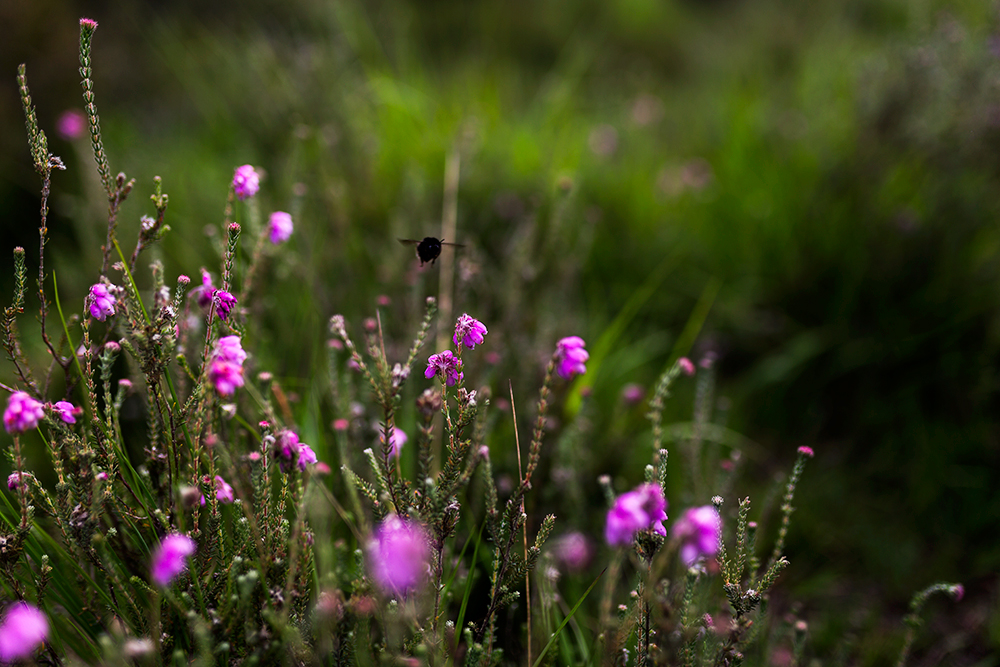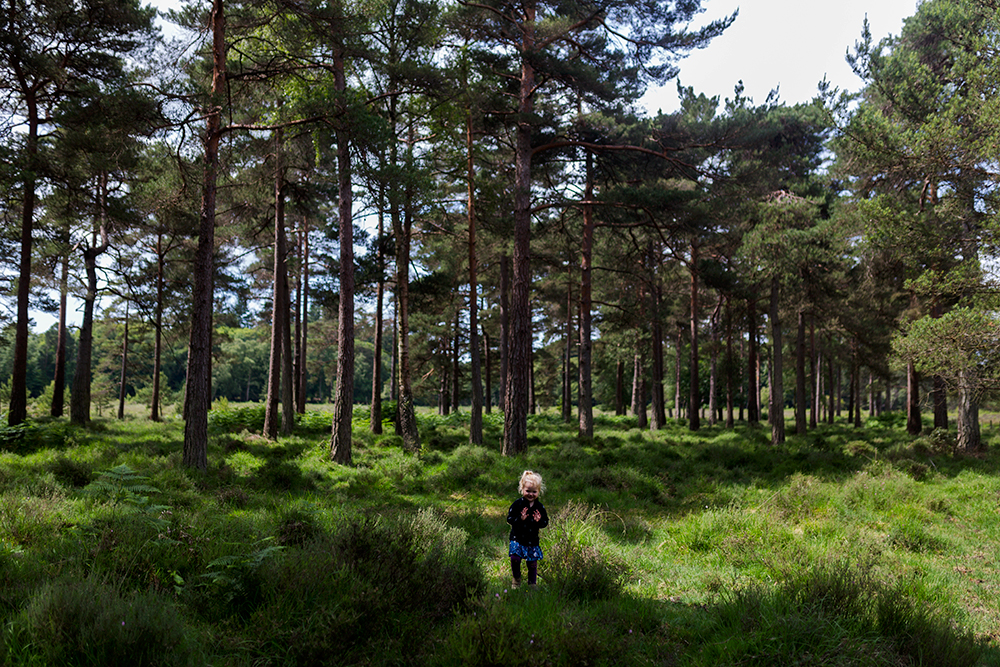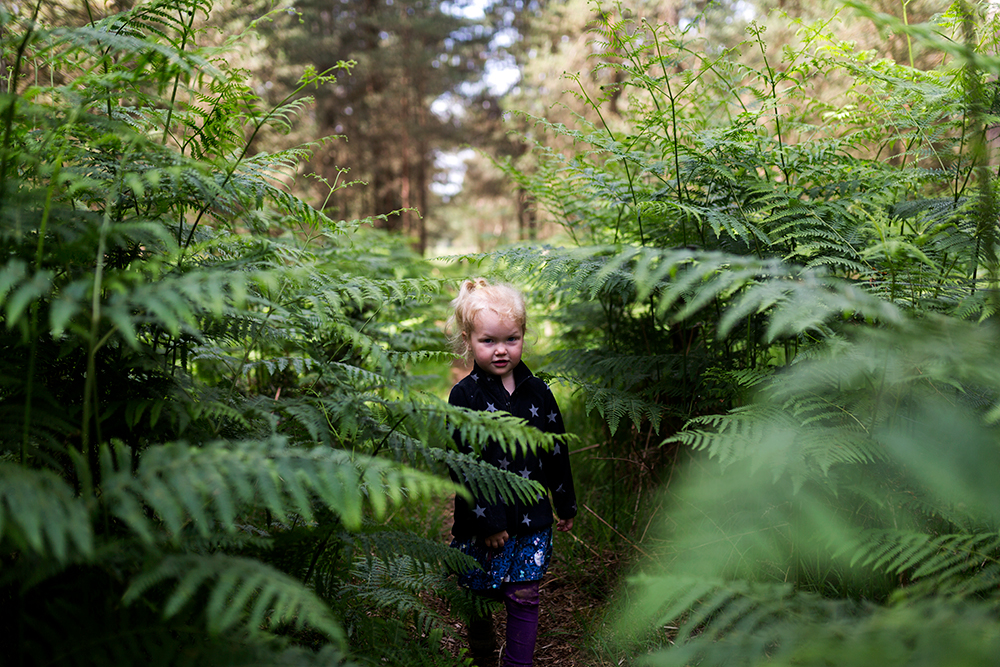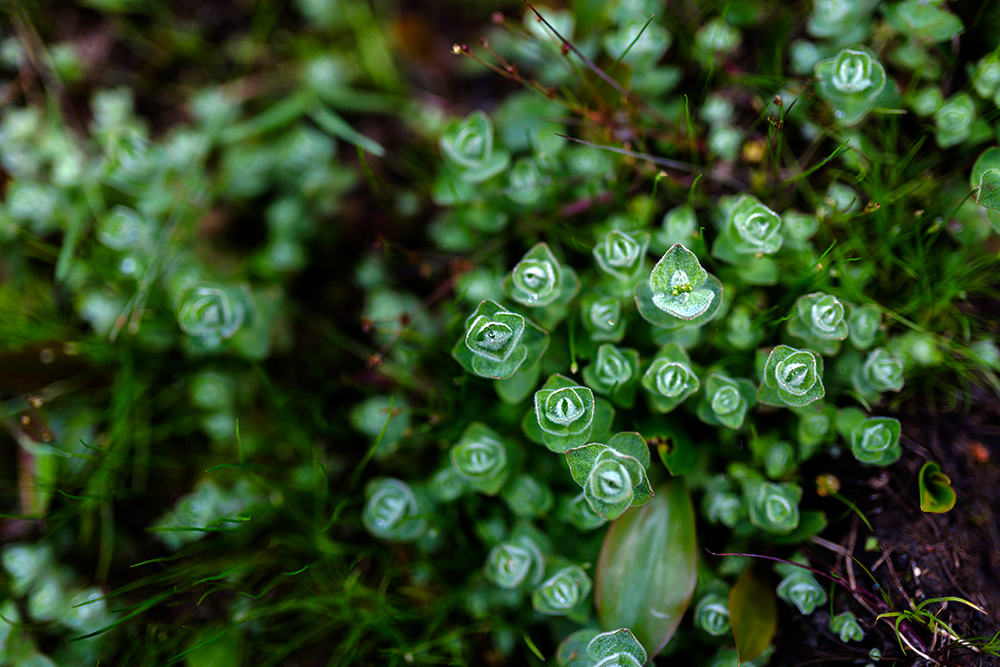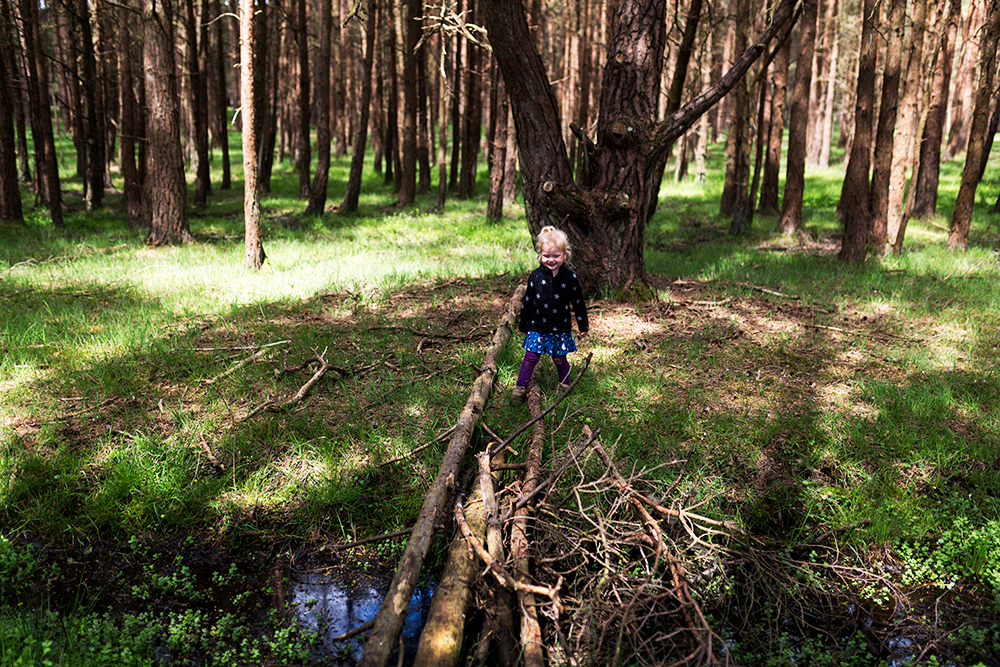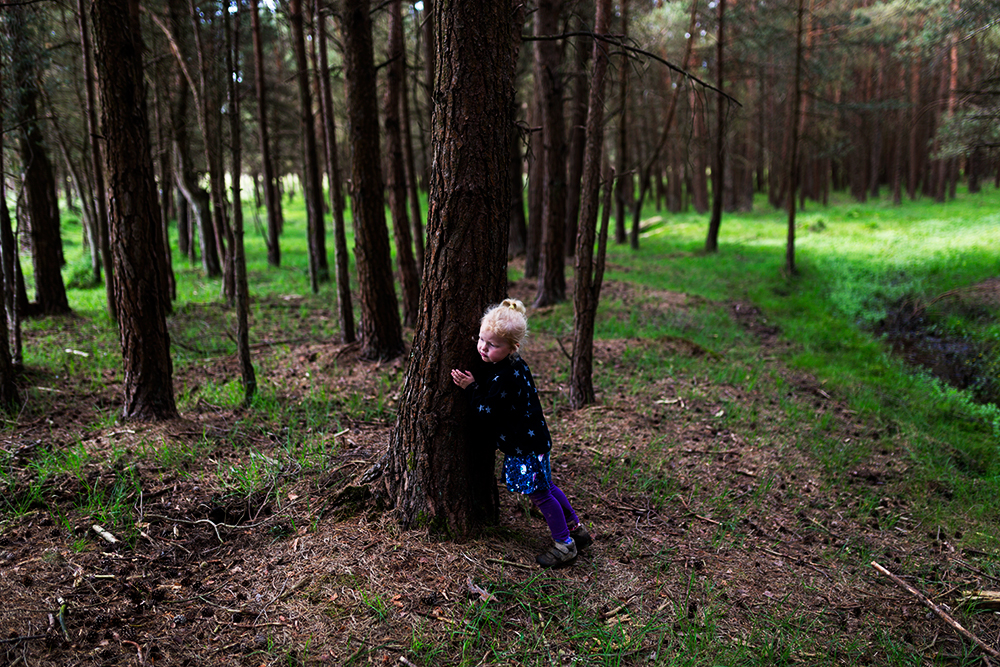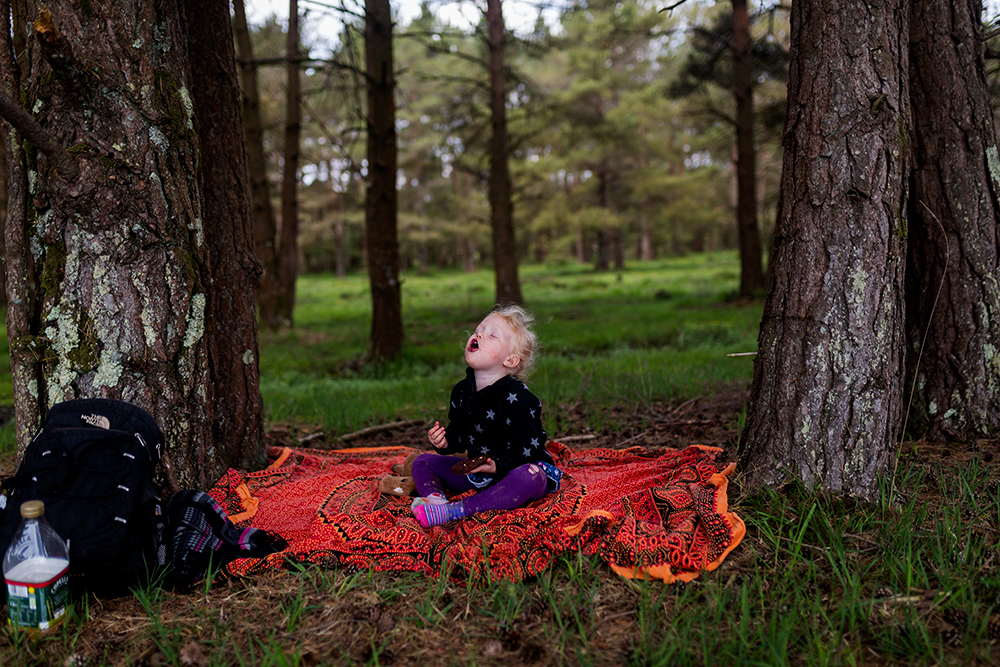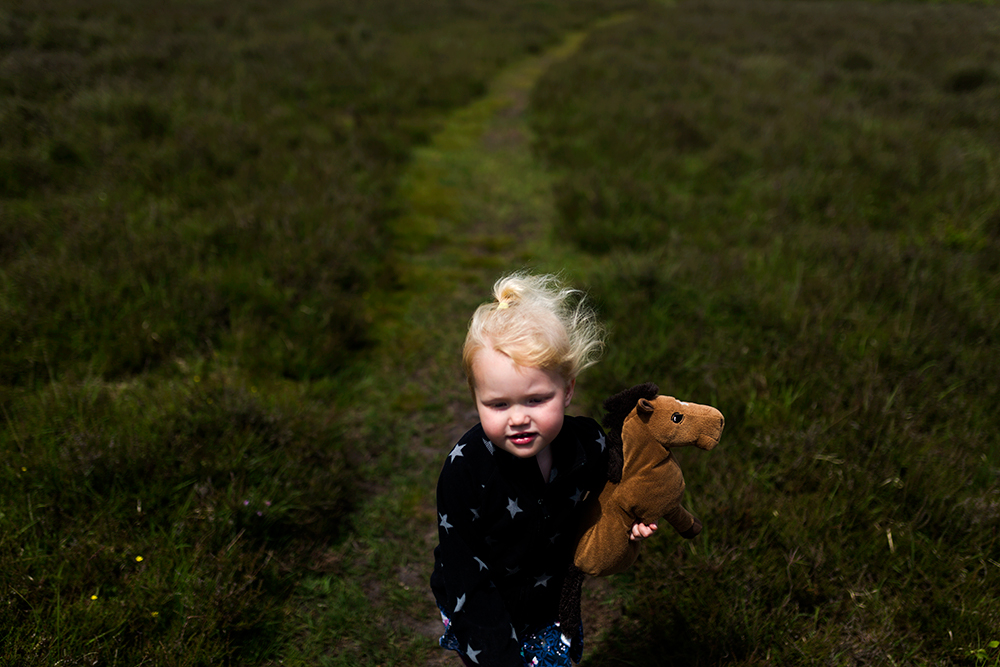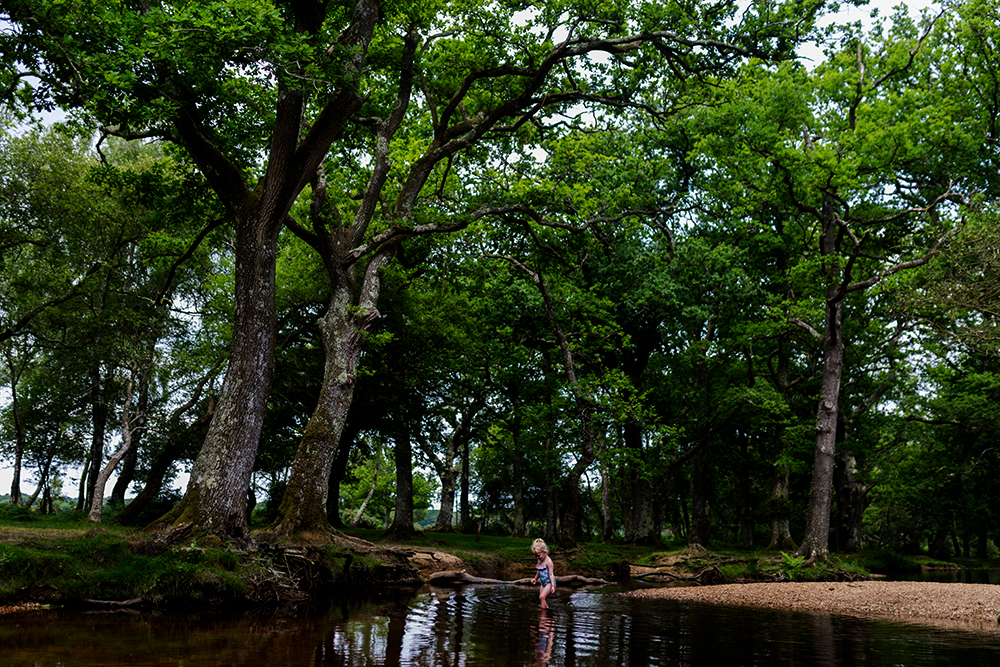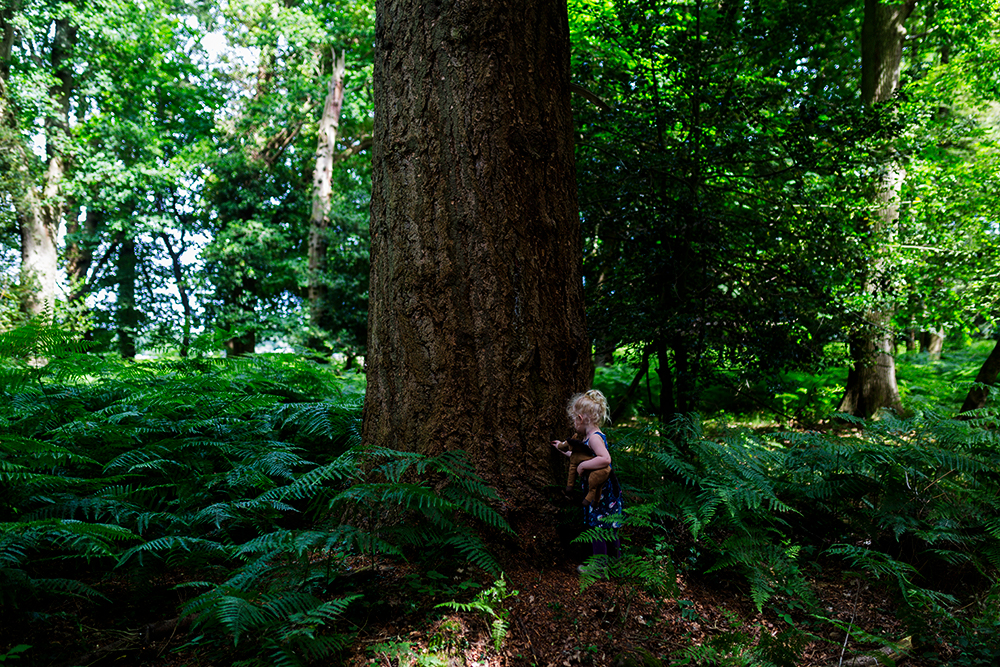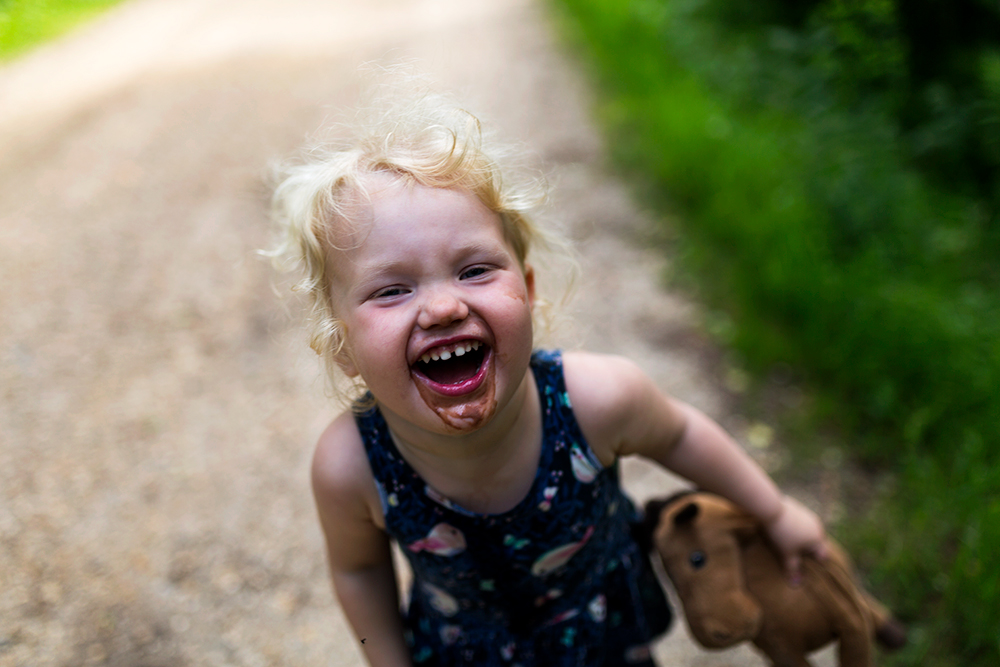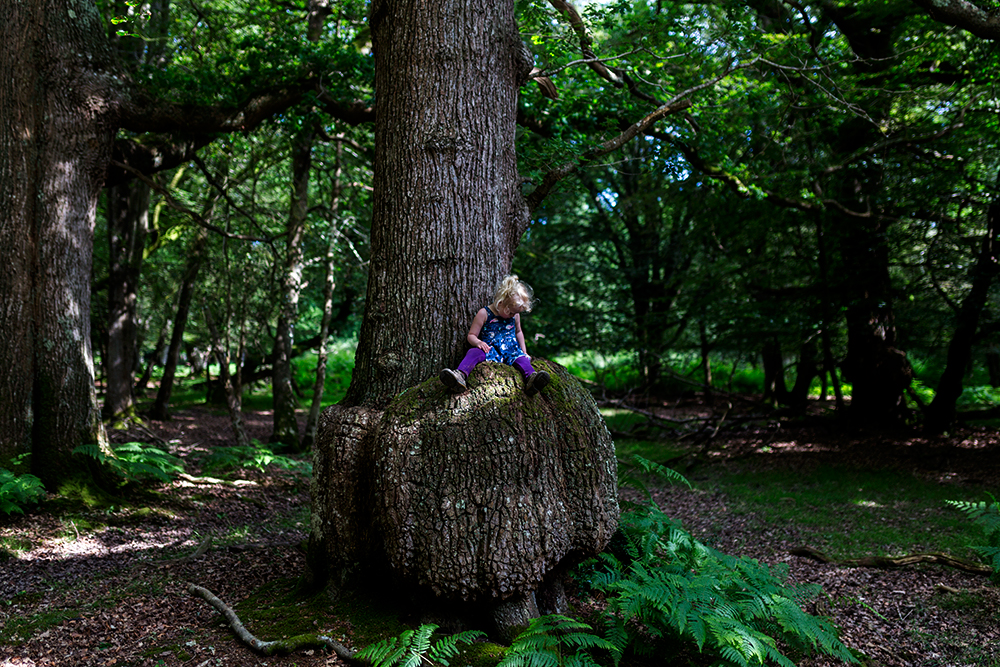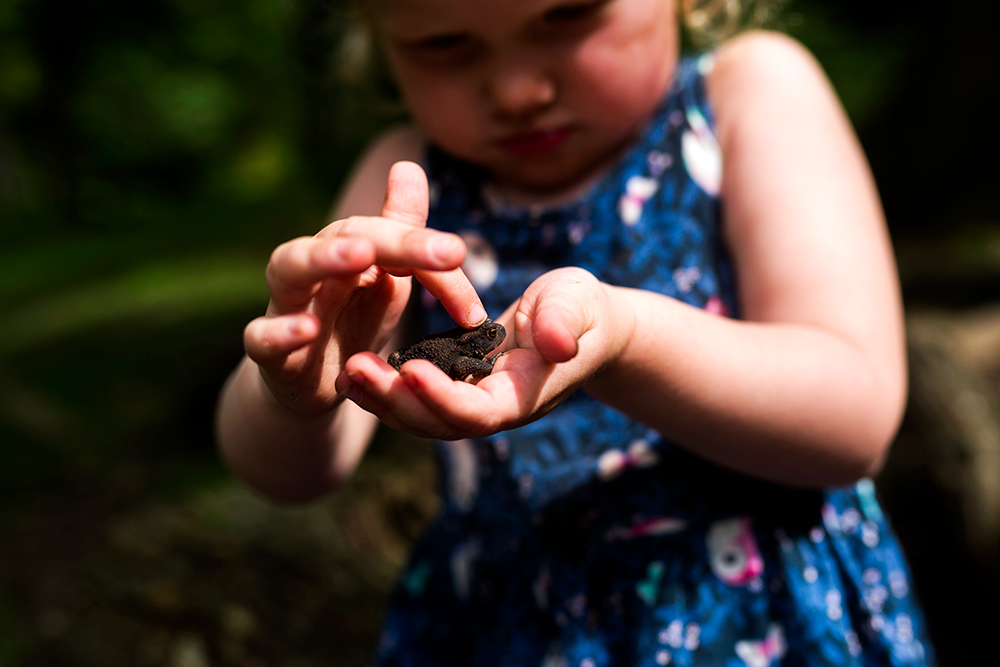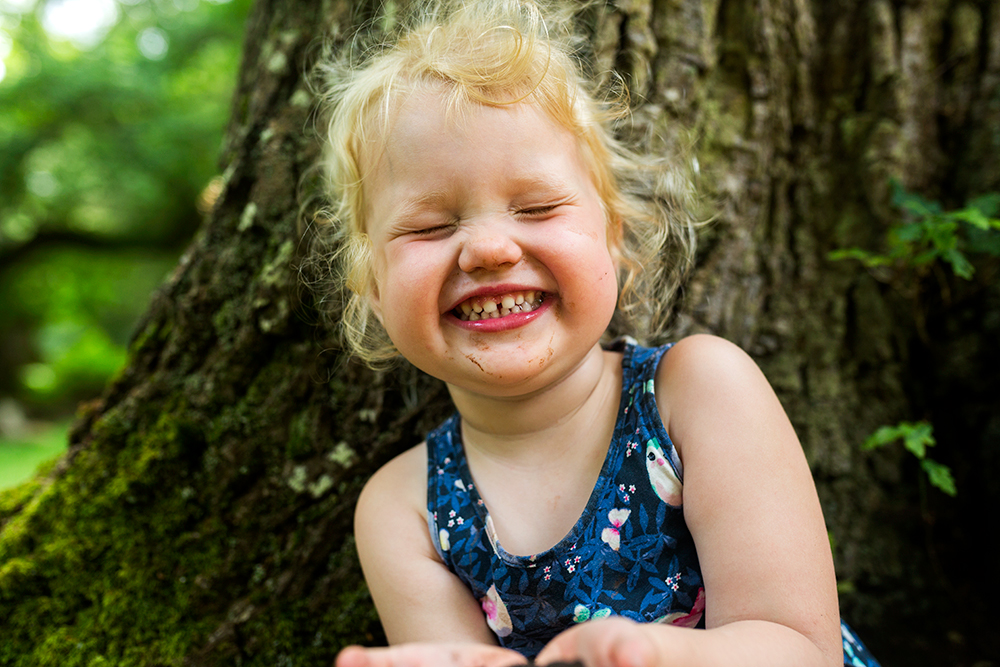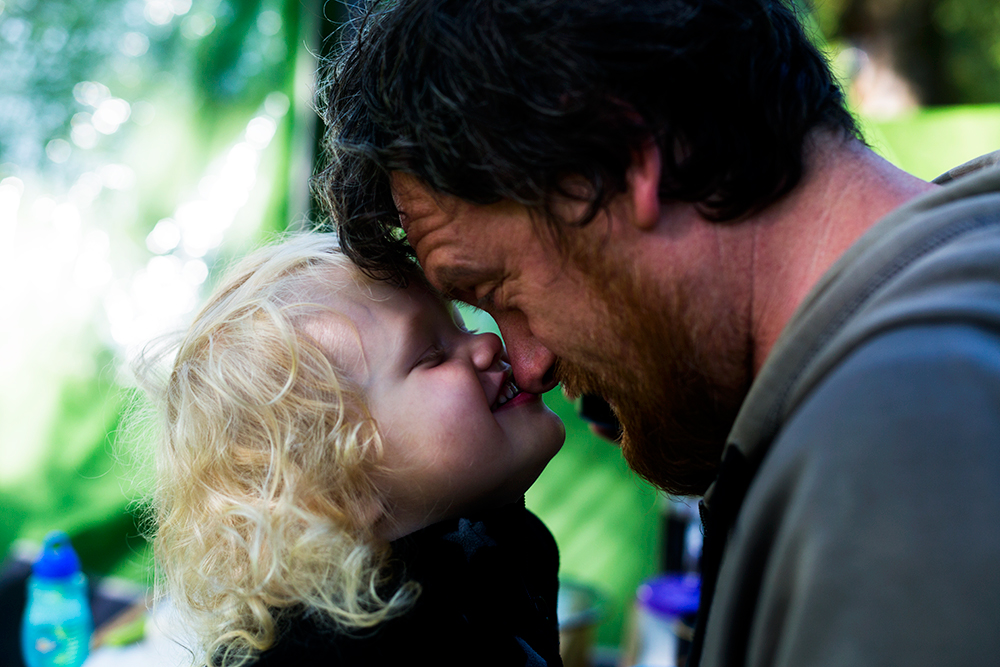 We've been back just over a week now and I'm already counting down the days to our next adventure in the woods!